This past Monday, on July 4th, I participated in the Broward Series' Independence Day Duathlon. I registered for this race because there were about 7 women in my age group registered, which is more of a challenge than the 2 of us registered for the Mack Cycle Trilogy series. That said, when I looked at the results after the race, I saw that only 4 of us actually made it and the rest were no shows. Bummer.
They day started out very early for me as the race site is just over an hour away from my house and I needed to leave plenty of time at the race site to get my packet, get body-marked, set up transition, warm up, etc. I got up at 4:15AM and was out the door around 4:45AM. The drive up there isn't actually bad, it's a straight shot up the turnpike. It was still dark when I got there and it was raining. I was concerned because, while I don't mind running in the rain and I actually like it, riding in the rain is pretty scary considering the amount of turns on the bike course. Luckily it stopped raining just before the race kicked off but the roads were still wet.
I went into the race thinking that the first run was half a mile long but as we waited for the duathlon to start, we were told that the first run was actually 3/4 of a mile. No biggie, in the greater scheme of things as the second run was not 3.1 miles but 3. The gun went off and when I started running I had to consciously keep myself from going out too fast like last time. I picked up a pace I could hold for 3/4 of a mile and stayed with it. It was HOT and it was HUMID but at least it was overcast. The pace I was running was fairly slow so I wasn't even in the middle of the pack. That's OK though, I wanted a better race than last time, not necessarily to place, although that would have been nice.
Transition went smoothly and I got on my bike. The bike was scary around the turns because of the wet roads and I actually saw a woman take a pretty big spill. Despite that, this was my fastest bike leg so far. I felt good on the bike and gave it a lot (more than any other split) but I tried to no kill myself completely as the hardest split was yet to come…the second run. This second run always kicks my ass even though I'm a runner first. I chalk it up too giving the bike too much.
I got off the bike and my legs didn't feel too funny. I started the second run but I still had no idea where I was as far as placing in my age group. There really is no way to know. I just ran and this was definitely my strongest 2nd run yet. I felt good, not great, but good, and was able to run most of it at a fairly decent (for me) pace. I finished the 3 miles in about 33 minutes. This is a HUGE improvement from the previous two duathlons so I was happy. For reference, my stand-alone 5k PR is 29:xx, but that's from January.
Looking at the pictures of me on the run course…I was hurting! There's only one semi-decent picture. As I crossed the finish line, I thought I'd get cute and yell something, which made for HORRIBLE finish line pictures so I'm not buying any pictures. Lesson learned.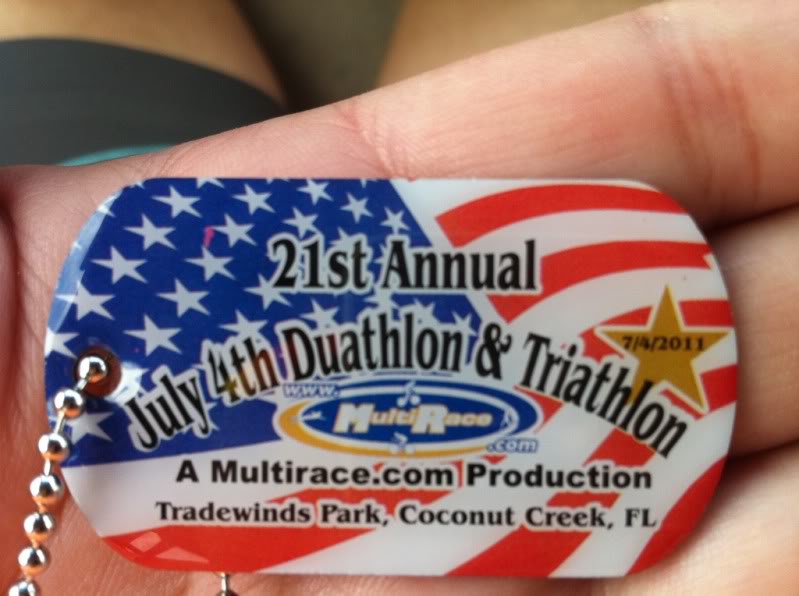 When I checked the results, I saw that I had placed 4th…out of the 4 that showed up. Bummer. However, I am still very happy with this race because it is my best, fastest, strongest duathlon yet and that's what matters (and I even walked the transitions, which made me slower). Placing is dependent on who shows up to race and how much better than you they are. What really counts is your improvement and your race against yourself in your previous races. I did very well in that respect despite the heat, rain and humidity so I'm happy. I was tickled pink with how much better I felt in the second run of this race than in the previous races. That and I didn't barf this time!
I did get a medal for 4th place (they give awards 5 deep) but I didn't stick around for the ceremony so it will be mailed to me. It's a nice medal so it will be cool to have.
Here are the stats, if anyone is interested:
Overall Details
Time01:16:47.94
Category Place4 of 4
Overall Place94 of 123
Gender Place28 of 47
Category Percentile+0
Overall Percentile+24
Gender Percentile+41
Swim/Run0:06:44
T11:29
Bike0:33:55
T21:30
Run0:33:10
Swim/Run Split Details
Time0:06:44
Pace0:08:58 min/mile
Category Place4 of 4
Overall Place95 of 123
Gender Place27 of 47
Category Percentile+0
Overall Percentile+23
Gender Percentile+43
T1 Details
Time1:29
Category Place3 of 4
Overall Place89 of 123
Gender Place26 of 47
Category Percentile+33
Overall Percentile+28
Gender Percentile+46
Bike Split Details
Time0:33:55
Speed17.69 mph
Category Place3 of 4
Overall Place87 of 123
Gender Place24 of 47
Category Percentile+33
Overall Percentile+30
Gender Percentile+50
T2 Details
Time1:30
Category Place3 of 4
Overall Place92 of 123
Gender Place30 of 47
Category Percentile+33
Overall Percentile+25
Gender Percentile+37
Run Split Details
Time0:33:10
Pace11:03 min/mile
Category Place4 of 4
Overall Place93 of 123
Gender Place28 of 47
Category Percentile+0
Overall Percentile+25
Gender Percentile+41

The next duathlon is the Trilogy 2.