Hello! I haven't blogged in four months but I have good reasons, as you shall read about later. I have been meaning to blog, really, but I wasn't ready to talk about recent events in my life Maybe I'm still not ready, but I came across a challenge that I thought would help me get back on the blogging wagon and maybe open up a bit. The challenge is a 31 Day Blog Challenge (see the picture) and I'm gonna give it a shot starting today.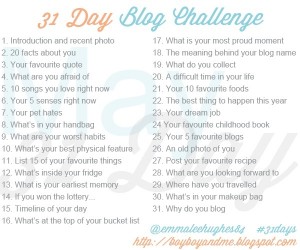 Day 1. Introduction and recent photo.
I don't think I have gained any new readers in the last few months, since I haven't been blogging, so most of you know who I am. I'm still June, mom to a supercute preschooler, history student, (some times) runner, cyclist, and cookbook junky. What most of you probably don't know, and why I hadn't blogged in months, is that I recently separated from my husband, moved into an apartment and thus became a single mom. We are still best friends, it's not a nasty separation, so no need to feel sorry for me, really. That's the part I hadn't been ready to share. I have also been accepted to graduate school and will start in the Fall. Aside from that, I'm still the same person!
As for a recent photo, here it is!