I recently bought a Vitamix blender and I've been using it every day, some times twice a day.  WOW, that thing is powerful!  I bought it because I used my KitchenAid blender often, especially for breakfast smoothies I can drink on the go, but it was never quite good enough to make vegetable smoothies.  It didn't have enough power and the consistency was kinda gross.  Maybe it's just me.  The Vitamix has no issues whatsoever delivering perfectly smooth smoothies, whether they are fruit, vegetable, or both.  I love it so far.
But that's not why I'm posting after SO long!  I just want to share with you, if I still have any followers, an excellent and healthy breakfast smoothie….although I just had it for dinner.  Some time ago I read the book This is Why You're Fat, by Jackie Warner, and one of her recommendations is that you eat oatmeal every day.  The premise is that oatmeal because oatmeal is slow to digest, it gives you a steady stream of energy, rather than a "tide," as other carbs usually do.  Additionally, it's full of soluble fiber, which helps carry fat out of the body.  I like oatmeal, but I never have the time to make it and eat it at home, as I eat my breakfast on the go. Then I came across a smoothie recipe that has oatmeal in it.  I was skeptical at first but I gave it a shot with some modifications and I loved it.  Even my picky four year old, who doesn't even try new foods let alone actually like them, loved it.  So, here it is.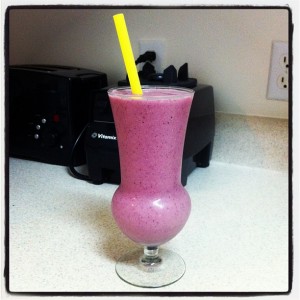 Oatmeal Banana-Berry Smoothie
1/2 large banana
5 medium strawberries
1/4 cup blueberries
1/4 cup old fashioned oats (same as rolled oats) uncooked
1/2 cup unsweetened plain almond milk
1/8 tsp vanilla
Ice to taste (I used about 1.5 cups ice cubes)
Place all the ingredients in a blender and blend until smooth.  Serve.

Makes 1 large serving, approximately 24 oz
Contains approximately 180 calories
I added a packet of Stevia in the Raw because I like things super sweet but it didn't really need it. I don't drink milk and I'm trying to go completely dairy free (pesky cheese, I can't quit it!) so I used almond milk but you can use whatever milk you prefer.  Almond milk is actually quite high in calories so if you use something like flax milk the calorie count will be lower.  If you use regular cows milk, it's about the same.
Anyhow, there it is, breakfast through a straw!