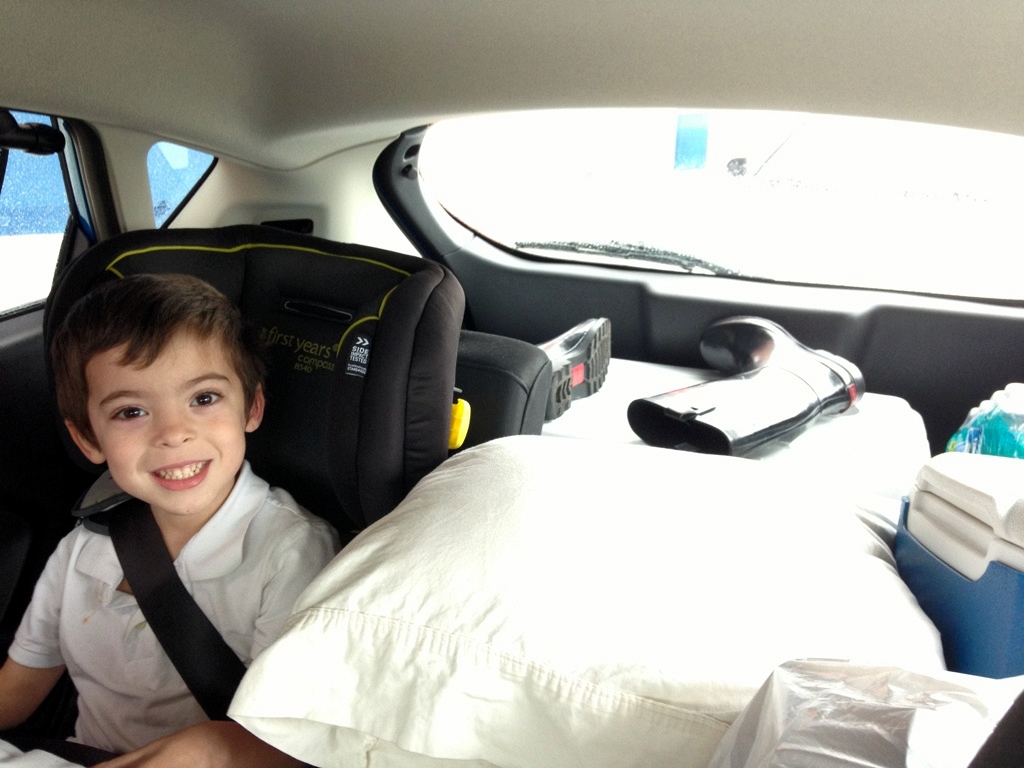 Right when I picked him up. Look at that smile!
It's been over a week since the camping trip to Quiet Waters Park in Deerfield Beach, Florida and I have not posted about it not only because I have been busy but also because I've been trying to figure out how to explain why we didn't actually stay until Sunday, like I had planned, but came home on that Saturday evening. Long story short, it was cold and I wasn't truly prepared. That said, The Monkey had a great time.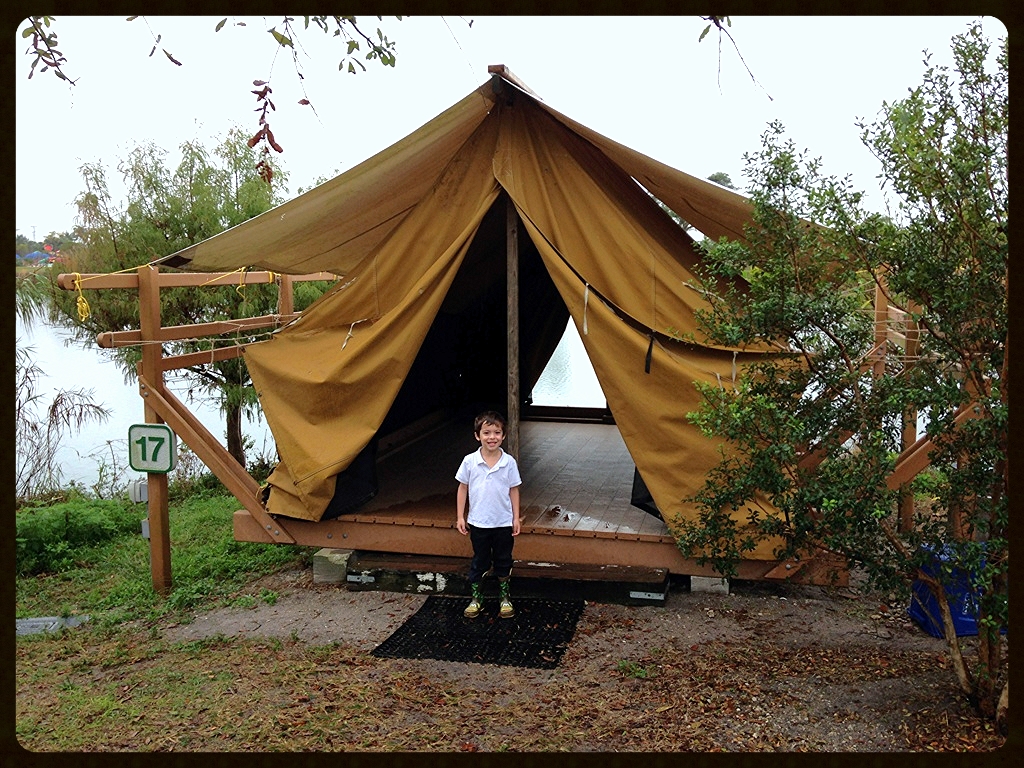 Our tent and The Monkey.
He was so excited when I picked him up from school. He REALLY wanted to go to the big tent. He didn't care that it was pouring rain. I drove the hour and some to the campground and waited in the car until there was a break in the rain to take the stuff into our tent. The tent was more like a canvas cabin. It was slightly elevated so it didn't get soggy in the rain. It was actually very waterproof; despite the torrential rain, the only part of the tent that was wet was the area immediately by the entrance and only because it was open. As for The Monkey, he was bewildered by the whole thing. Every little thing I unpacked and set up was amazing to him. That part alone was worth the effort. He was just besides himself with joy. Of course, being four years old, he wanted to play outside and didn't care that it was raining. I did manage to entertain him while we waited for the rain to stop, which eventually did. Thankfully, I took rain boots for the both of us and we wore those.
That night we got together with the other people from our group and gathered around the fire. We roasted hot dogs and marshmallows. The Monkey LOVED the marshmallows! He didn't want to eat them, I had to do that, but he loved roasting them over the fire. It was amazing, truly, to see this city boy so thoroughly enjoy the outdoors. He was just mesmerized by everything. The kids played together for a long time and it was very difficult to tear him away from the action to go to bed. Once in bed, it took a long time for him to fall asleep, which is to be expected as it was a complete change of environment. He wanted to play with the lamp. I finally got comfortable and he was asleep, at which point I DESPERATELY needed to pee. I didn't want to leave him alone in the tent and walk to the toilets, I was concerned he'd wake up and wander out, so I did what I had to do; I got some toilet paper I had brought and took care of business behind the tent. It's not easy being a girl, take my word for it. I didn't sleep well at all, I kept tossing and turning, and pulling him back on to the mattress every time he fell off, which he did a few times. I was torn between laughing and being mad I wasn't sleeping. Just when I started to sleep soundly, he woke up and wanted to go outside. It was still dark and no one was up so I persuaded him to stay in bed a little while longer.
We had breakfast, cereal for me and a peanut butter and jelly sandwich for him, and met the rest of the group in the common area. Then we went to the Renaissance Faire in the park and spent some time and energy there. He was getting cranky, he as sleepy, and I managed to get him to fall asleep in the car. Of course, this meant parking the car once he was asleep and stay in it until he woke up, which was about an hour and a half. The rest of the day went well but was getting colder and colder. The night would be somewhere in the low 40's, which is cold for South Florida, so after much thought I decided we were done. I don't consider the trip a failure at all, despite the fact that we went home early. The Monkey had an awesome time and I learned that I can take him camping if I'm willing to put up with certain things. Despite this, I have decided to wait at least a couple more years until I attempt camping with him again, at least if it's just the two of us.