Once upon a time, I used to live in London, then I moved back to South Florida; that was in 2007. In no time at all, I started to miss London and the reasons why I moved in the first place became less and less clear. The grass is always greener on the other side. I went back to visit in 2008 but we didn't really do much except push a 2 month old baby in a big stroller around all day. Now we are back in the UK visiting family and took a day trip to London without the kid. It was nice to walk around, aimlessly, and, thankfully, it was a nice day. I only had a small camera around, which was great. We walked from Oxford Circus to Covent Garden via Piccadilly Circus, Chinatown, and Leicester Square. From there we took the tube to South Kensington station and walked all the way to Old Church Street and King's Road in Chelsea. From there, we went to Harrods, our last stop before catching the train back to where we are staying in Buckinghamshire. We walked about 3.5 miles. Here are some pictures.
Piccadilly Circus
Gerrard's Corner, an excellent restaurant for Dim Sum, on the edge of Chinatown
Paella stand on the basement of Covent Garden
A beef and vegetable pastie in the foreground, and a beef and beer pie in the background. Delicious!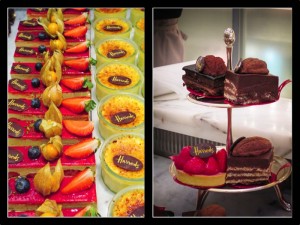 Desserts at the patisserie and boulangerie section of the Harrods Food Hall