Clafoutis, or clafouti if you read American cookbooks, comes from the Limousin region of France and is traditionally made with black cherries.  Actually, it is often made with the pits of the cherry, which release an almond-like flavor into the custard. I don't like cherries, however, but I still love this type of the dessert, as the Francophile that I am.  Unlike other custard or flan based confections, the clafoutis batter contains flour, which allows it to bake at high temperatures for short periods of time without scrambling the eggs or acquiring an otherwise unpleasant texture.  Short cooking times combined with simple a simple and quick preparation make clafoutis a perfect spur-of-the-moment, I-need-some-sugar-now dessert.  I have been known to whip up a clafoutis shortly before bed and inhaled it in time to hit the hay.  I never claimed not to be a piggy.  Last night, during sewing breaks, I did just that; except I exercised some elusive self-restraint and only ate a quarter of it.  I could eat this stuff for days!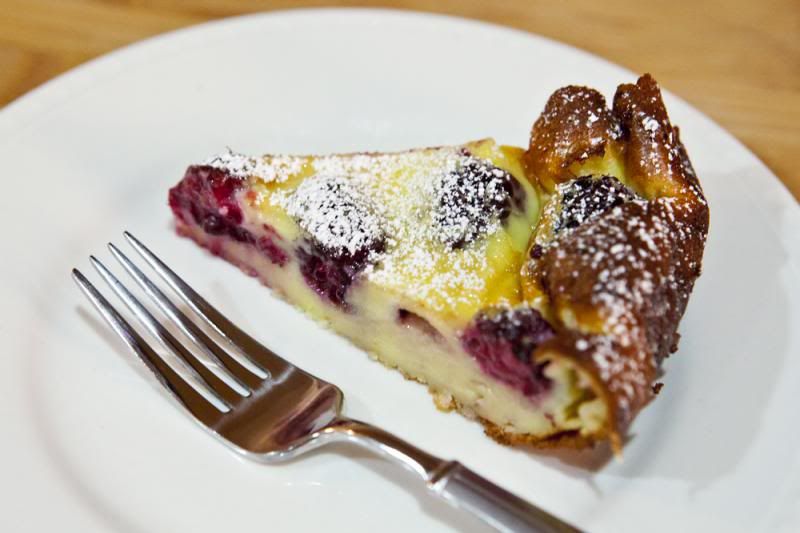 Blackberry-Limoncello Clafoutis
cold butter
1 tbsp granulated sugar
2 cups blackberries (more or less, it's not an exact science)
4 large eggs
6 tbsp granulated sugar
1 tsp vanilla bean paste or extract
5 tbsp all purpose flour
3/4 cups whole milk
1/4 cup heavy whipping cream
2 tbsp limoncello, or to taste
powder sugar
Preheat the oven to 400F and generously butter a 9 inch glass or ceramic pie plate.  Coat with the 1 tbsp of granulated sugar, shaking the excess out.
Place the blackberries on the pie plate and arrange in a single layer.  I'm a medium bowl, whisk the eggs and the 6 tbsp sugar until well combined.  Add the vanilla and flour, whisk until there are no lumps in the batter.  Add the milk and the cream, whisk until completely blended.
Pour the batter over the blackberries.  The blackberries will float and may shift, if this happens, carefully rearrange them so they are evenly distributed in the pie plate.  Bake for 35 to 40 minutes, or until the center is set and the edges look golden brown.  Remove from the oven. At this point, the calfoutis will be puffy but it will deflate as it cools. This is normal.
Immediately after removing from the oven, pour the limoncello over the clafoutis.  Let it cool for 10 to 15 minutes, or until you can't wait anymore, whichever comes sooner.  Dust with powder sugar and serve.  It is best served warm but it will taste great the next day too.
If you are feeling adventurous, you can use apples, pears, plums, etc.  I've even heard of savory ones, but I'm not sure how that's not more of a frittata than a clafoutis.
The vanilla bean paste I used for this recipe is a bit of a gimmicky product that I bought on a break from a macaron class at Sur La Table but I've come like it.  It's easy to use, like extract, but has all the flavor and aesthetics of using the bean.  It measures the same as extract, so if a recipe calls for say 1 tsp of vanilla extract, you can use 1 tsp of the paste. I only use Nielsen-Massey vanillas so I had to try the paste.  I have tried the vanilla powder and I'm not crazy about it.  The limoncello is from a bottle that I bought sometime in 2005, when I still lived in Italy.  I keep it well sealed and it's still as good as the day I first opened it.  Unlike other limoncellos I own (yes, I own several bottles), it is creamy in appearance although it has no cream in it. I bought it in Capri and it's made in Capri. Once I run out, I'm going to have to go on a trip…