I like slow cookers for the obvious benefit: I can prepare dinner ahead of time and leave it cooking all day while I work, and I so use mine every now and then.  I don't use it more often though because I don't like that most things cooked in the slow cooker in the traditional manner taste pretty meh.  I mean, they are edible, but not spectacular.  The only way to get around that most times is to take the time and do some cooking on the stove, like browning meats or sauteing vegetables, before putting everything in the slow cooker.  Sometimes I do that, but, in my opinion, it defies the purpose of the slow cooker, which is to save time.  I don't have time in the morning to brown meat!
For that reason, I was a bit skeptical when I decided to attempt chicken tortilla soup on the slow cooker without any searing or browning of the chicken.  Thankfully, I was surprised with how good the soup was.  It was really good.  So good, in fact, that I happily ate it for three days in a row until it was all gone.  My picky 5 year old son liked it too.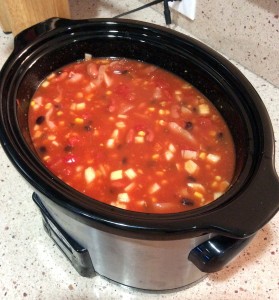 Slow Cooker Chicken Tortilla Soup
2 large chicken breasts, cut into thin short strips
1 small onion, diced
1 15-oz can black beans, drained and rinsed
1 15-oz can kidney beans, drained and rinsed
1 11-oz can corn kernels, drained
1 15-oz can diced tomatoes
1 8-oz can tomato sauce
1 packet Taco Seasoning
3 cups good chicken stock
salt to taste
Tortilla chips
Grated cheese
Combine all but the last two ingredients in a slow cooker.  Cook on low for 6 to 8 hours.  Just before serving, crush the desired amount of tortilla chips into each individual serving bowl.  Garnish with cheese if desired.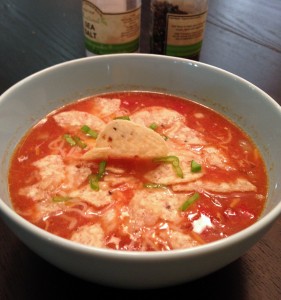 That's it!  Use good stock.  I think part of the reason my soup was so good was that I used homemade chicken stock.
Enjoy!