The men in my family love pizza, but I'm not a big fan. That's not entirely true though; I don't care for the delivery style pizza but I do love proper pizza in the Neapolitan style.  That, of course, is nearly impossible to get around here, and while there are some places that come close, they are geographically far away.  I also like homemade pizza, so when left with the option of homemade or delivery, at least for me, the choice is a no-brainer: homemade.  The difficulty with this choice is, well, the difficulty of making the dough.  Traditionally, making pizza is a messy process that is pretty involved and time consuming, which doesn't make it a realistic meal option for most weekday dinners, so people just don't think about it.  Thankfully, I found a shortcut that while does not produce award winning results, it is perfectly acceptable and agreeable to my palate.  The fact that it is made using a bread machine and I already have one, and it's very hands off, is the cherry on top.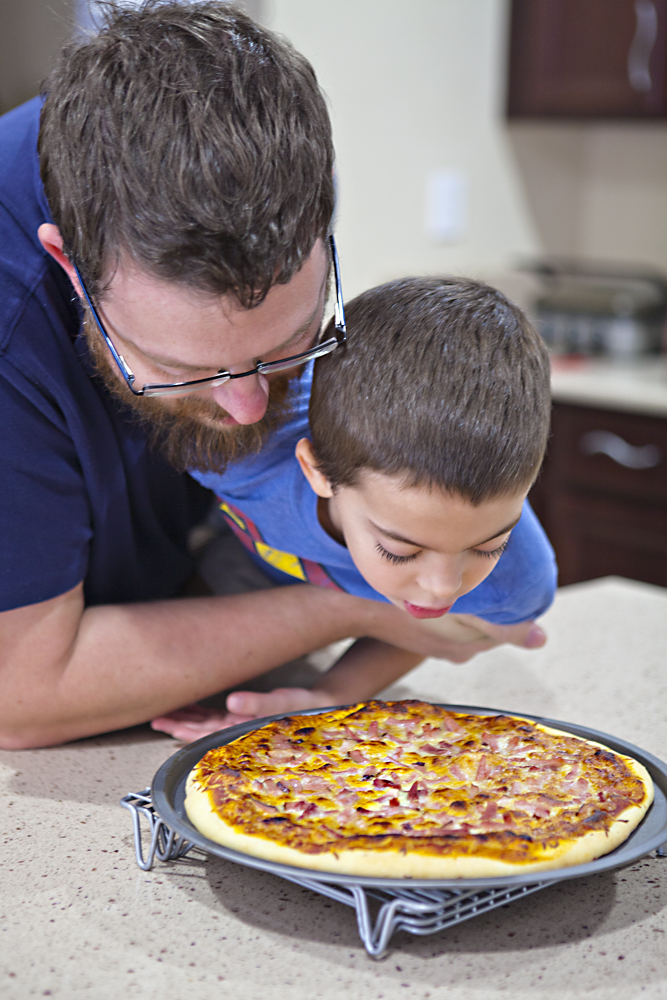 The recipe here is just for the dough, and you can use whatever toppings you want.  I have made plain cheese pizzas with pizza sauce from Trader Joe's. I've made the same combination with ham, and I've even made prosciutto pizza.  While I use pizza sauce most of the time, it's far from a requirement.  One of my favorite pizzas when I lived in Naples, Italy was one called Quattro Formaggi, literally Four Cheeses.  It was a white pizza, meaning no tomato sauce, and the cheeses usually on it were Mozzarella di Bufala, Fontina, Asiago, and Ricotta, but there are many combinations.  The point is, you can put almost anything on pizza dough and call it pizza.
Bread Machine Pizza Dough
Makes two 12-inch pizzas
1 1/4 cups of water
2 tablespoons of extra virgin olive oil
4 cups (about 1 pound) all purpose flour (bread flour may also be used)
1 1/2 teaspoons of salt
1/2 teaspoon of granulated sugar
1 tsp easy blend or bread machine yeast
Find out which order your bread machine requires the wet and dry ingredients to be added.  Reverse the order given here if necessary.  Pour the water and olive oil into the bread machine pan.  Sprinkle the flour over the water, making sure to cover it all.  Place the salt and sugar in separate corners of the bread machine pan.  Make a small dip in the center of the flour and add the yeast.
Set the bread machine to the "Dough" cycle.  If your machine has these options, use either the basic setting or the pizza setting.  If not, the default dough cycle is fine.
When the machine is finished, usually after about one and a half hours, take the dough out and divide in two equal pieces.  Gently shape the pieces into balls and roll out into 12 inch rounds, or whatever shape you want. 
Place on a pizza pan or baking sheet, add toppings as desired, and bake in a preheated 425F oven until golden brown, about 15 to 20 minutes.
If you wish, you may keep half of the dough in the refrigerator for up to three or four days. Transfer the refrigerated dough to the counter to take off the chill about 30 minutes prior to cooking; proceed as above.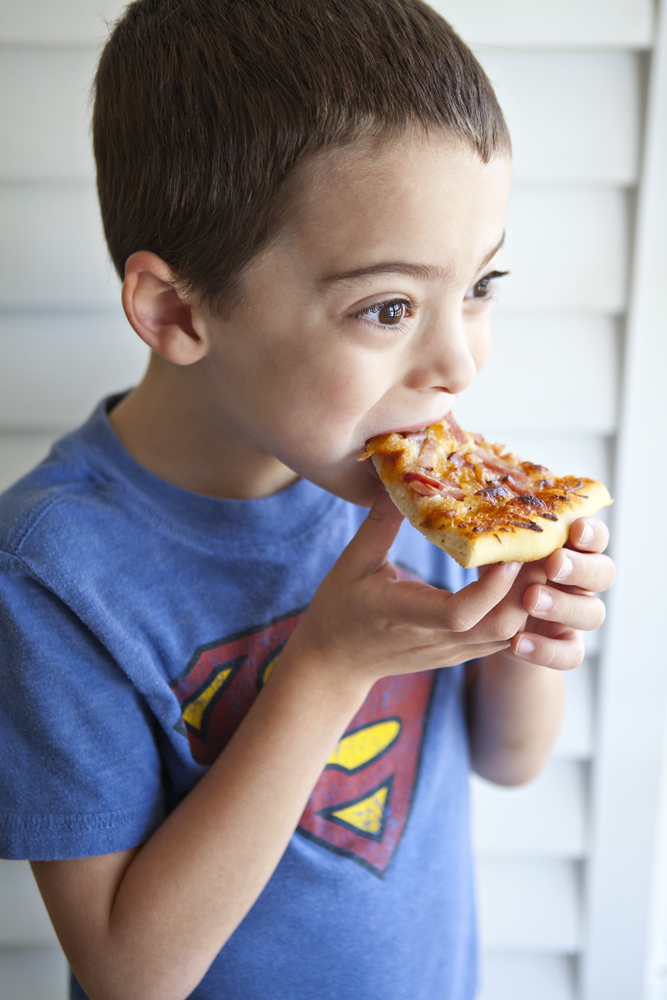 I have found that while the dough tastes fine the day it's made, the flavor improves after being kept in the refrigerator for a day or two.  It tastes more pizza-y.  This is a great way to make though because you can make it say on a Sunday, for instance, eat one pizza, and then keep the other one to eat on Wednesday with little fuss.  There are only three of us in the house so two pizzas is a bit much (not if it was up to my husband!) so that is what I do.