We love potatoes around here, fried, mashed, baked, roasted, you name it, but the same old thing can get old after a while.  A few days ago I was feeling fancy and I decided to try my hand at something I had never made before: Duchess Potatoes.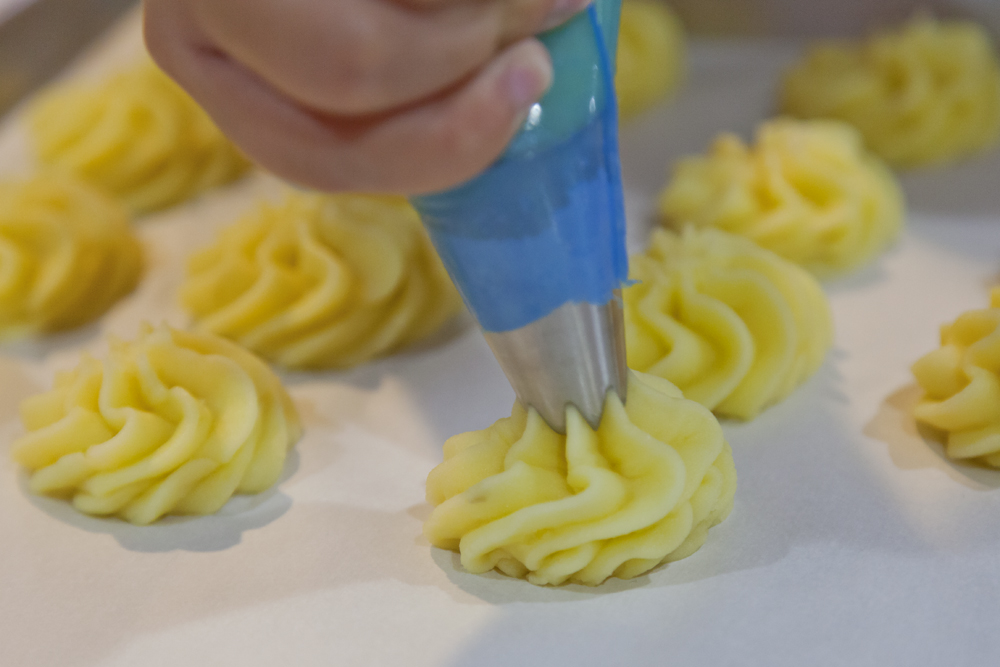 It actually turned out to be easier than expected.  It is a bit more involved than mashed potatoes, since they have to be piped, but not much.  It's not as time consuming as I had believed and they were utterly delicious.  The results were well worth the effort, and we devoured them.  I even took some leftovers for lunch the next day and they heated up beautifully.
Duchess Potatoes
2 1/2 pounds russet potatoes
3 1/2 oz (7 tbsp) butter at room temperature
1/2 cup grated Parmesan
3 large egg yolks
salt and pepper to taste
Preheat the oven to 425 F and line two large baking sheets with parchment paper.
Peel and wash the potatoes, and cut into large chunks.  Place in a microwave safe bowl, cover with cling film and poke two or three small holes into the film.  Microwave the potatoes for 10 to 12 minutes, or until just fork-tender.  Remove the potatoes from the microwave and mash them.  Add the Parmesan, butter, and salt and pepper. Season as needed.
Beat the egg yolks lightly in a small bowl, add to the potato mixture.  Continue mixing the potatoes with a large spatula, making sure to get all the lumps mashed.  When the mixture is ready, transfer to a piping bag fitted with a large star tip. Pipe the mixture into rosettes onto the lined baking sheets.  There is no right or wrong way to do it, just get the potatoes onto the baking sheet.
Place the baking sheets in the oven and bake for approximately 20 minutes, or until the rosettes are golden brown, rotating the trays halfway through.
Remove the baking sheets from the oven.  Allow the potatoes to cool on the sheets for about 5 minutes, then remove onto a serving plate.

Serves 4 as a side dish.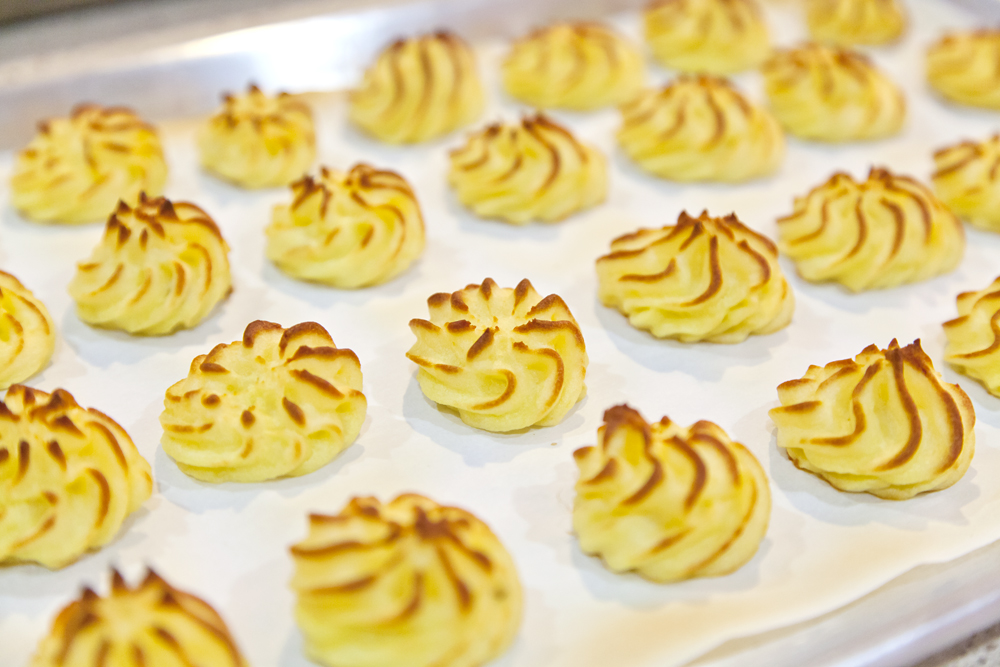 If you don't feel like piping the mixture, you can always just grab small amounts and roll them into small balls instead.  The consistency of the mixture is such that it can be handled well without sticking.  You can steam the potatoes if you must, but don't boil them.  Boil causes the potatoes to become waterlogged and it will affect the consistency.
It really doesn't take much effort to make Duchess Potatoes, but they look like you put in hours and hours of work. Next time you have a dinner party, make these babies and your guests will be impressed with your mad culinary skills 🙂