If you are a long time follower of my blog, especially when it was Thyme for Food, you probably already know that I have a bit of a cookbook addiction. Well, it is not an addiction, I can stop whenever I want.  That's my story and I'm sticking to it.  It is a fact, though, that I own over 400 cookbooks encompassing a vast range of regions and time periods. There was a point in time when I thought that 400 cookbooks was an insane amount too own, but then I joined a site called Eat Your Books and I found that that some people own thousands.  Thousands!  I can't say that I have made something from every cookbook I own, but that is not the point of owning so many cookbooks.  The reason for owning them is, for me at least, purely educational and academic, plus they look awesome on the bookshelves. I'm perfectly aware that I don't need them, but I don't need all the other books I own either, also in the hundreds, and no one tells me I should stop buying more.  "Need" is a superfluous word when it comes to a collection of anything as most collectors, of course, don't need the things they collect.
At any rate, I wanted to introduce you to some of my favorite cookbooks. They are not necessarily the ones from which I cook the most but the ones with the meaning, they are also the ones I use for reference.  The list is far from all-encompassing.  In no particular order: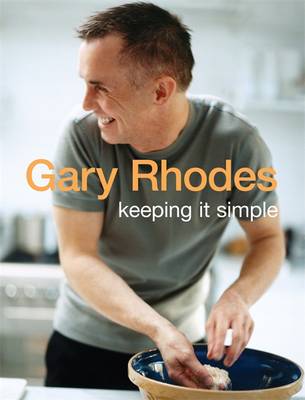 Keeping it Simple, by Gary Rhodes.  This was the first UK cookbook I ever owned.  It was a Christmas gift from my then-still-to-be in laws in 2005.  This book introduced me not only to Rhodes, whom I hold in high culinary regards, but to the yumminess (that's not even a word!) that is British cookery once  you get past the stereotypes and bad rap.  The recipes are truly simple, delicious, and down to earth.
  Apples for Jam: A Colorful Cookbook, by Tessa Kiros. I fell in love with this book the second I laid eyes on it. It was a Borders bookstore in the UK. I was attracted to it by the lovely cover, then I opened it and the deal was sealed.  This is not just a cookbook, it's a personal memoir. Interlaced with the recipes is the story of the author's family and her upbringing.  To me, food and cooking is much more than a set of ingredients and directions.  Food is about personal connections, about heritage, and memory amongst other things.  This book pulls it all together beautifully, and the photography is spectacular and evocative.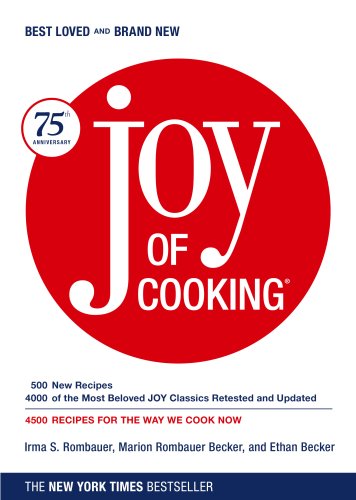 The Joy of Cooking: 75th Anniversary Edition.  This is a classic and no cookbook collection, or kitchen, would be complete with out it.  There is a recipe in this book for just about anything, but I find it most valuable for techniques and other tips.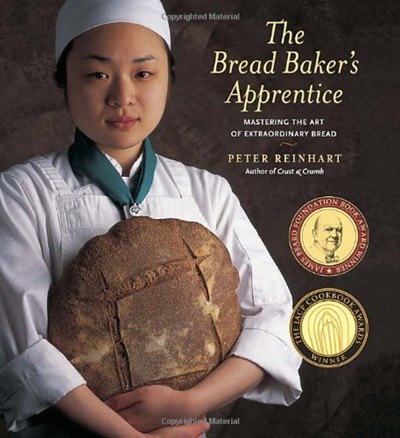 The Bread Baker's Apprentice: Mastering the Art of Extraordinary Bread, by Peter Reinhart.  I got this book when I first became interested in bread baking. Not one to timidly dabble into anything, I jumped in the deep end with this book, which is so technical that it's a miracle I was able to make anything from it.  However, the resulting bread was, is, by far the best bread I've ever made. Yes, the recipes are involved, the techniques are out of the ordinary for the home cook, and I even shattered an oven light bulb once while throwing hot water into the oven, but it's all worth it.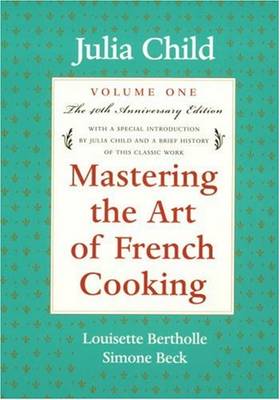 Mastering the Art of French Cooking, both volumes, by Julia Child et al.  As a self-professed francophile, I've had a love affair with MtAoFC since a fateful day I picked it up at the local library at the tender and suggestible age of 16.  I took it home and read it cover to cover, regretting that no one in my family would likely appreciate the delicacies contained within.  It wasn't until many years later that I finally purchased copies of my own, and they are now my go-to books for anything French, and especially for cross-referencing other French cookbooks.  Thank you, Julia Child.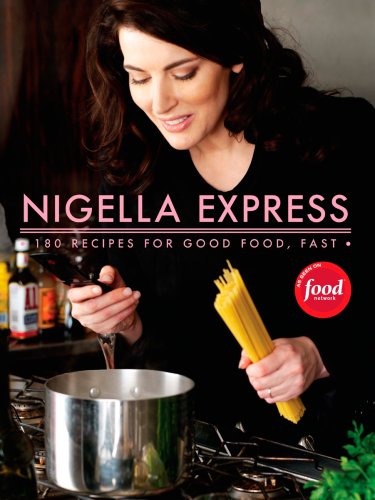 Nigella Express, by Nigella Lawson.  Let me start by saying that I love Nigella Lawson, and I own every cookbook she has published.  I love her simple, homey style and I love that she is so personable.  With that out of the way, on to the book.  This is the Nigella book I use the most.  The food is delicious, decadent, and speedy.  I work full time so quick-cooking meals is what I need during the week, but I also want tasty food.  If that is what you want, then I can't recommend this book enough.
  On Food and Cooking: The Science and Lore of the Kitchen, by Harold McGee.  This book is a new addition to my collection but I can already see it becoming a reference staple.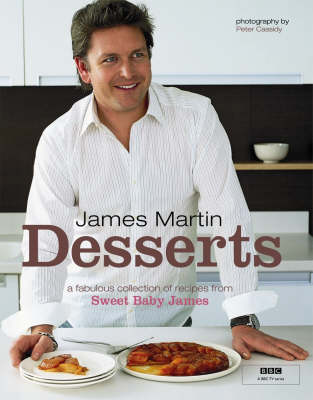 Desserts, by James Martin.  I admit that I have a crush on James Martin, but that is not why I like this book.  I like this book because just looking at the photos makes me drool, and it has nothing to do with Martin.  The book is pure decadence from cover to cover.  Victoria Sponge? It's there.  Sticky Gingerbread Pudding?  Yup.  Passionfruit and Custard Souffle?  Page 53.  Classic Spotted Dick?  Don't blush, but it's there too.  You get the idea.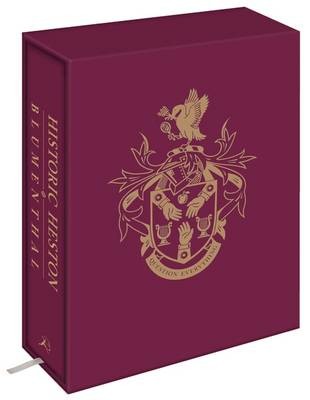 Historic Heston, by Heston Blumenthal.  This is one of the most beautifully crafted cookbooks I have ever seen.  It is a massive tome in scale, content, and price.  It comes in a beautiful case of its on, which is then neatly packed in a box.  In this book, Heston Blumenthal takes historical cookery, a subject near and dear to my heart, and molecular gastronomy to a whole other level. Blumenthal uses historical recipes and remakes them in his own way, and while the resulting foods are probably nowhere near what the historical chefs intended, they are true works of art. The meat fruit alone is mind blowing.  The recipes are beyond my ability and/or willingness to suffer so I'll probably never make anything from it, but it is still a gorgeous and interesting book to own.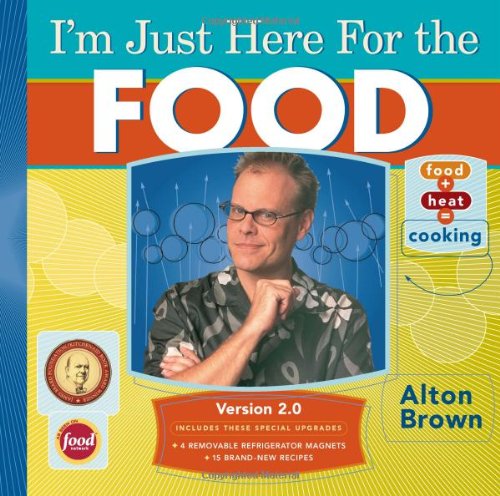 I'm Just Here for the Food: Version 2.0, by Alton Brown.  A few years ago, I went through an Alton Brown phase.  I binge-watched the entire Good Eats series up to that point.  As a result, I got this book, and the next one on this list, for Christmas.  The recipes are not very inspired, but that is not the purpose of this book.  The book is about technique, and it's up to you to apply those techniques to other recipes and add them to your kitchen repertoire.  In that, Brown excels.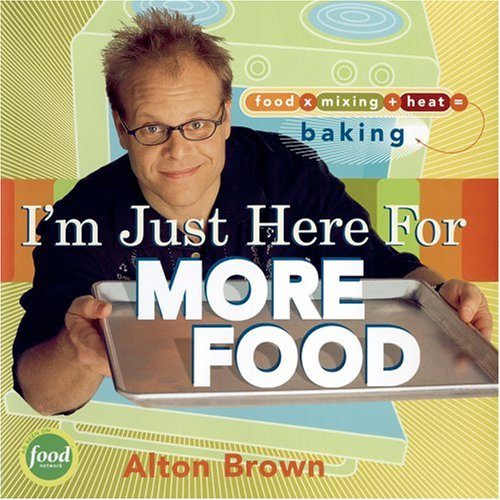 I'm Just Here for More Food, by Alton Brown.  See above, except this one is for baking.
I could go on and on, and maybe I will at a later date.  I hope that I have piqued your interest and that you will take a better look at some of these books.  Maybe they'll become some of your favorites too!