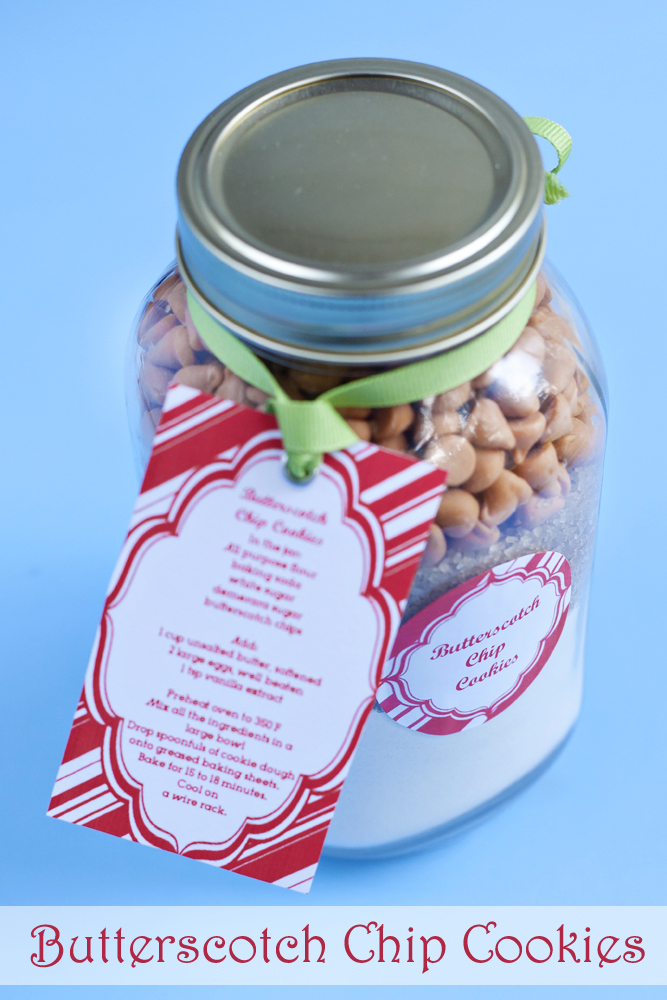 Every year I think about writing a few tutorials for food gifts for Christmas, but every year I wait until it is too late and miss the boat. This year I decided to ask the turkey's forgiveness and do the tutorials starting in November.
First up, is cookies in a jar, or more accurately, cookie mix in a jar. This is a very simple gift that requires no cooking on your part but looks pretty, and anyone with a sweet tooth will appreciate it.  I have included printable sticker labels and tags to complete the job and provide the gift recipient with instructions.
You can buy canning jars at just about every supermarket or craft store.  Walmart, Publix, Joann's, and Michaels carry them.  Online, you can buy them at canning supply stores from Amazon.  I used the Mainstays brand, which I believe is a Walmart brand, so that the jars were plain (no ridges with brand name, measurement markings, etc), but the downside is that they are regular mouth and not wide, which makes packing the ingredients with your hands impossible.
For one jar, you will need:
1 1-quart canning jar with lid (wide mouth is best but not necessary)
a wide-mouth funnel such as the ones used for canning (nice to have but not absolutely necessary)
2 cups all purpose flour
3⁄4 tsp baking soda
1⁄2 cup white sugar
11⁄3 cup demerara sugar (or light brown sugar if you don't have demerara)
1 cup butterscotch chips, or enough to fill the jar
a label and tag from the printables below
narrow ribbon
Clean the jar and dry it completely, this is very important.  In a small bowl, mix the flour, baking soda, and white sugar.  Pour this mixture into the jar and pack it down as best you can. Pour the demerara sugar into the jar, pack it down.  Pack the chips into the jar as far as the rim.  Makes sure to compress everything, you want as little movement of ingredients as possible.  Close the jar and apply the round sticky label.  Using a ribbon or string, tie the instructions tag to the neck of the jar.
That's it!  Easy peasy.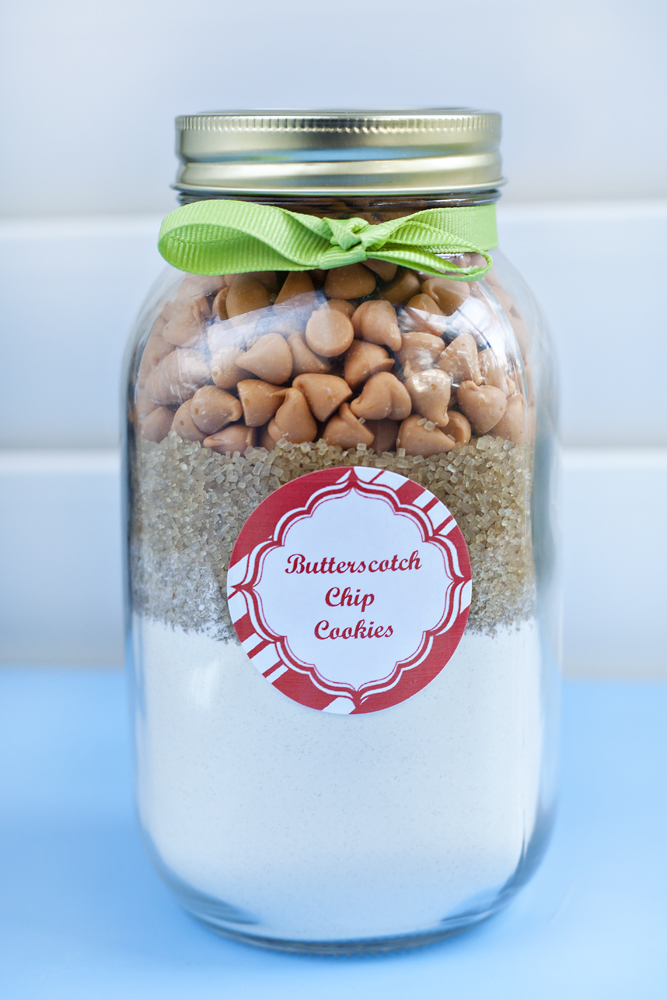 To make the cookies the recipient will need
1 cup unsalted butter, softened
2 large eggs, beaten
1 tsp vanilla extract.
Preheat the oven to 350 °F.  Mix the contents of the jars with the butter, eggs, and vanilla until it is all combined.  Place spoonfuls of the mixture onto greased cookie sheets, and bake for 15 to 18  minutes.  Cool on a wire rack.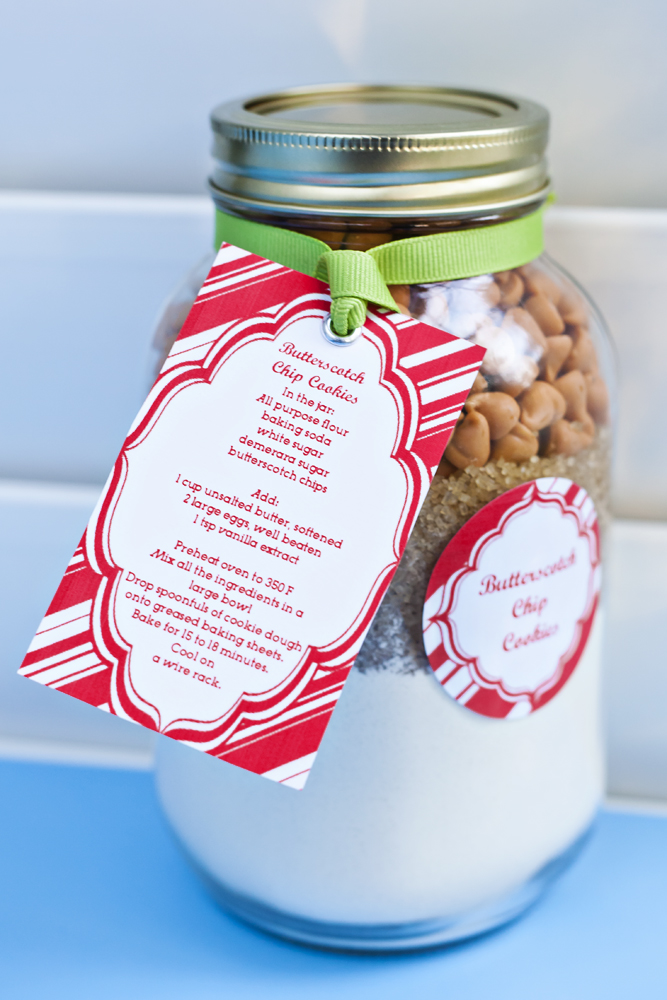 Printables:
Round sticker labels.  For use with Avery 22807.
Instructions tags.  You can print these tags on Avery 22802; you can also print them on heavy paper, cardstock, or matte photo paper (what I did) and punch the holes for the ribbons yourself.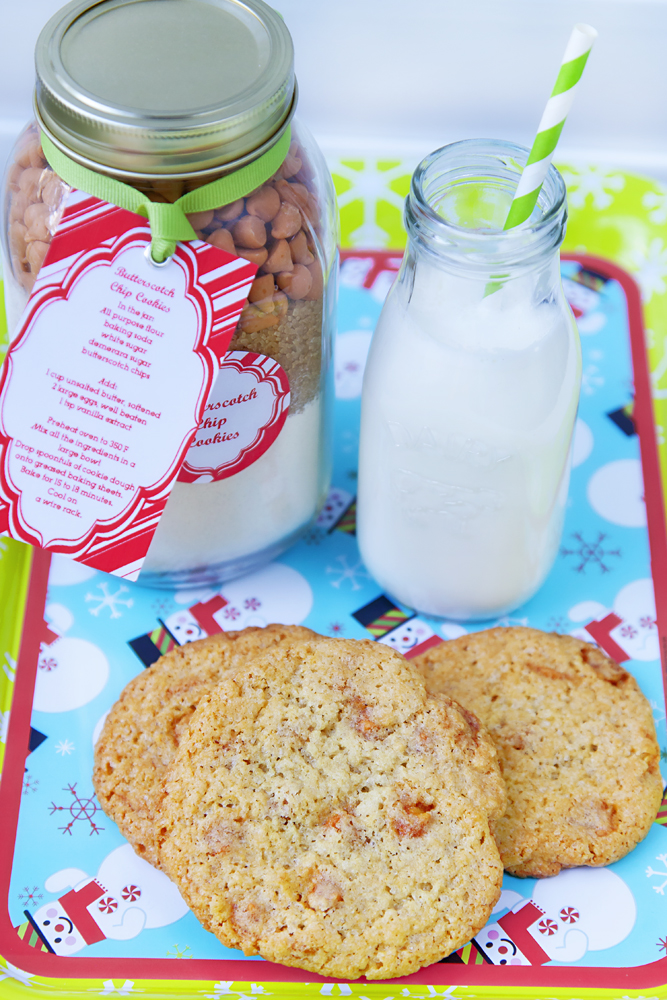 Variations:
Instead of butterscotch chips, you can use chocolate chips or white chocolate chips.