I love lemon curd, just love it. There is just something about the combination of tart and sweet that really appeals to me.  I like lemon curd in cakes, I like it in cookies, and I especially like it smeared on toast.  So, when I had two egg yolks left over from a recipe, and some Meyer lemons laying around, I knew I had to make curd.  I don't make curd often because homemade curd doesn't last very long, whereas the curd you purchase at the store has a much longer shelf life after opening.  Also, I am the only person in the house who eats lemon curd so it seems a waste, but the yolks and lemon would have been wasted anyway so I had nothing to lose.  This is also the first time I make curd with Meyer lemons, and it definitely tastes different than regular lemon curd.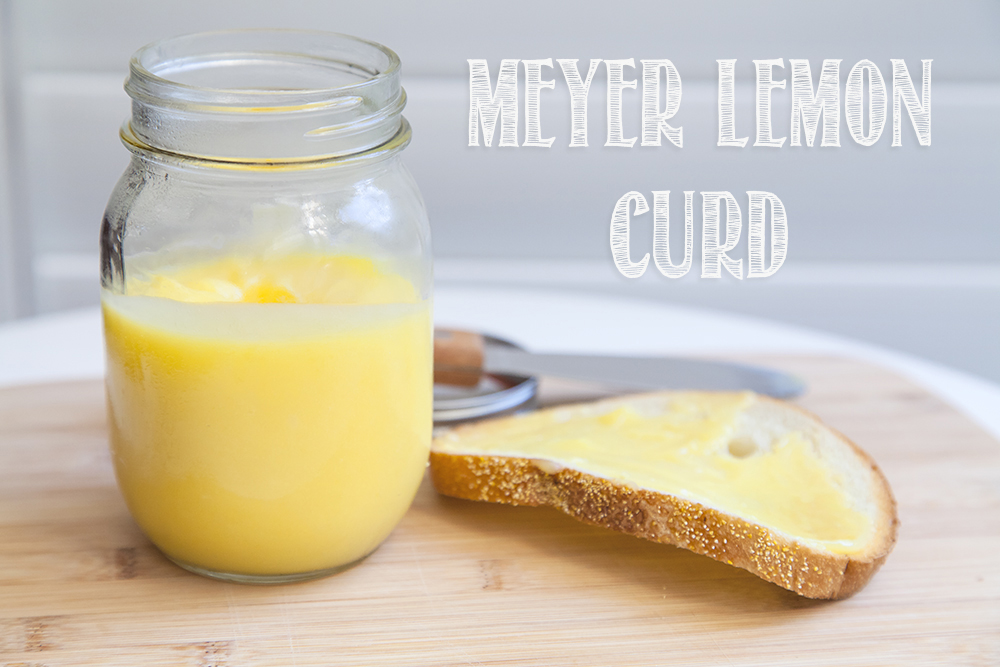 Meyer Lemon Curd
2 large eggs
2 large egg yolks
4 oz (9 tbsp) granulated sugar
4 fl oz (1/2  cup) Meyer lemon juice (or regular lemon juice), freshly squeezed and strained
4 tbsp (2 oz) unsalted butter, cut into small dice
Fill a large bowl halfway with ice and water, and set aside.  This will serve to cool the cooked curd.
Bring a saucepan with about two inches of water to a gentle boil.   Off the heat, take a large heat-resistant glass bowl that will on top of the saucepan to make a double boiler, and combine the eggs, egg yolks, and sugar.  Add the lemon juice, whisk until well combined.  Place the bowl with the egg mixture over the boiling water and cook, whisking constantly, until the curd is very thick and does not immediately blend back into the mixture when it is dropped on the surface.  Depending on the heat, this will take approximately 7 minutes.  While whisking, make sure to scrape the sides of the bowl to prevent the eggs from scrambling.  Do not allow the curd to boil or it will cause the eggs to scramble.
Remove the bowl from the heat and run the curd through a strainer into a bowl that will fit inside the ice water bowl.  Use a spatula to help the curd through but do not press the bits of scrambled eggs, if any, through the strainer.  Add the cold butter to the curd and stir until it is completely melted and blended in.  Press a piece of plastic wrap onto the surface of the curd, and place the bowl into the ice water bath.  Allow to cool completely.  Transfer to a lidded pot and refrigerate. 
Consume within a week.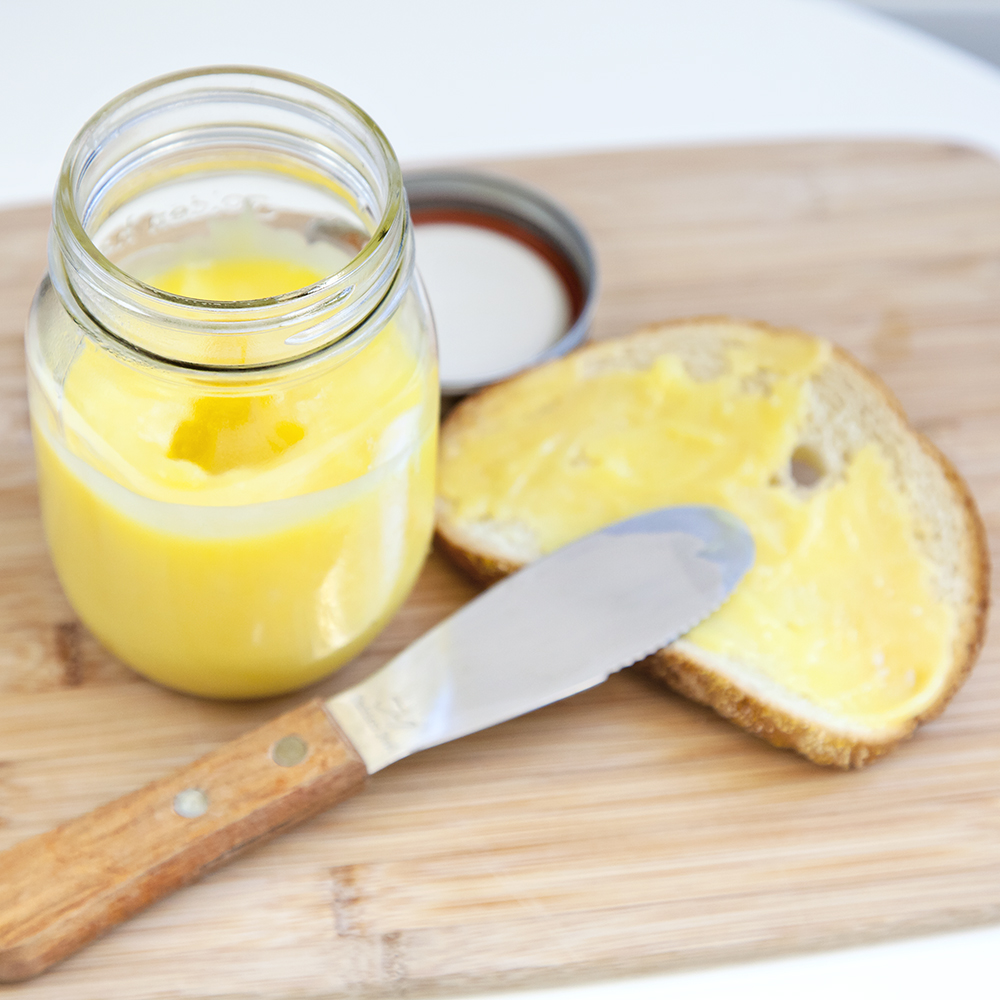 I've given instructions here on how to rig a double boiler because the truth is that, despite the fact that double boilers as such do exist, most people do not have purpose built double boilers in their homes.  Honestly, there is no need to invest in one when a bowl set over a pot of boiling water works just fine.  In this case, since we are dealing with high acidity ingredients, you'll want to use a non-reactive bowl to make the curd.
I love lemon curd on toast, but there are many uses for it. If you like cake, this can be a nice cake filling.  It is thick enough to hold its shape so it will not run off the cake or soak into it.  It can be used as a base for other desserts, you can add it to plain yogurt, etc.  The curd is lovely, so when life hands you lemons, don't make lemonade; make curd instead!