I love an elaborate dessert as much as the next girl, but there is something to be said for a simple yet scrumptious dessert.  The kind of dessert that takes virtually no time to make and disappears nearly as quickly.  The kind of dessert that is made of few ingredients but packs flavor like you would not believe.  Eton Mess is such a dessert.  If you are American, chances are you have not heard the name Eton Mess  before, but if you are British then you have probably had it often.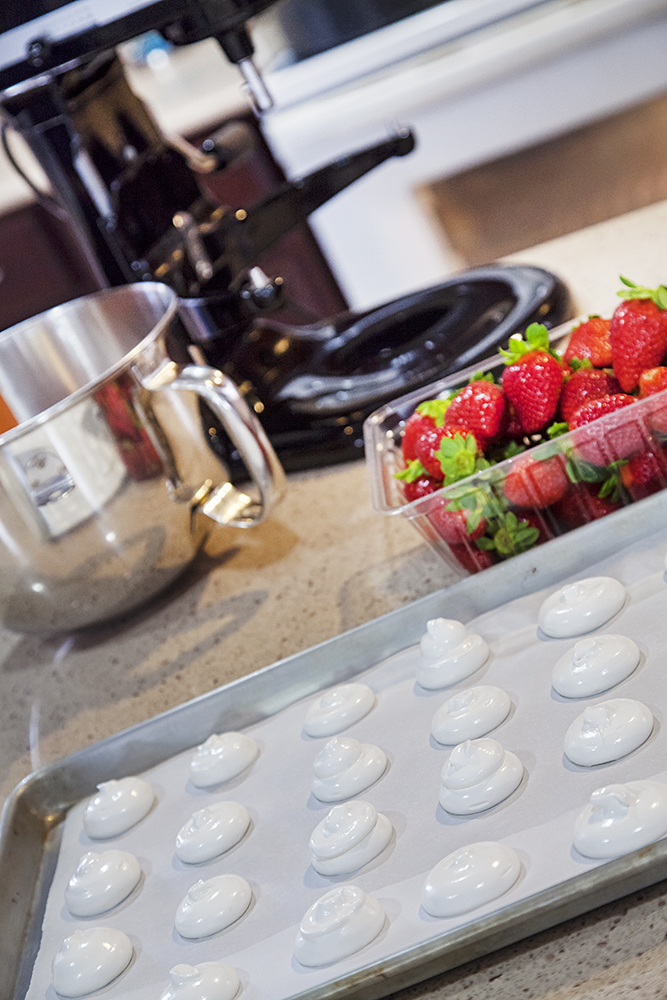 Eton Mess is a dessert made from fresh strawberries, cream, and meringues.  Some people add sugar too but it's not strictly necessary.  Other people don't even whip the cream, just add it in liquid form.  It really doesn't matter. I first had it at my now in laws' house when I was first dating my very British husband and I fell in love right then and there….with Eton Mess.  It's not like it was difficult, I do love strawberries, and I do love cream, and I do love a good meringue; put them together in it's heavenly.
This time, the Eton Mess was made better by the use of fresh from the farm and deliciously sweet strawberries.  When you pick way too many strawberries, you have to find ways to use them!
Here I make my own meringue, but that takes time.  For a quick and effortless version, you can use store-bought meringue shells.
Eton Mess
For the meringues:
2 egg whites
1/2 cup granulated sugar
Preheat the oven to 225ºF. Line a baking sheet with parchment paper.
Place the egg whites and sugar in a mixing bowl set over a pot of about two inches of simmering water (double boiler).  Whisk, taking care not to scramble the egg whites, until the sugar has dissolved and the mixture no longer feels gritty. This is a quick process so check early and often.  Remove from the simmering water and whisk until the meringue is completely cool and stiff peaks form when the whisk is lifted.  Spoon the meringue into a piping bag fitted with a large circular tip.  Pipe into small mounds onto the parchment paper lined baking sheet. They do not grow so you can pipe them close to each other.  Alternatively, drop the meringue onto the parchment paper lined baking sheet by the spoonful.  Place the baking sheet in the preheated oven and allow the meringues to dry for one and a half hours, but not to the point of browning.  Remove from the oven. Within a few minutes, the meringues should be crusty.  Allow them to cool fully before using.
1 cup heavy whipping cream
4 tsp vanilla sugar (or regular granulated sugar)
1 pound sliced fresh strawberries
Place the whipping cream and vanilla sugar in a mixing bowl. Whip until stiff.
Crumble the meringues into large pieces and distribute evenly into four serving dishes.  Arrange the strawberries on top of the crumbled meringues. Top with the whipped cream.
Serves 4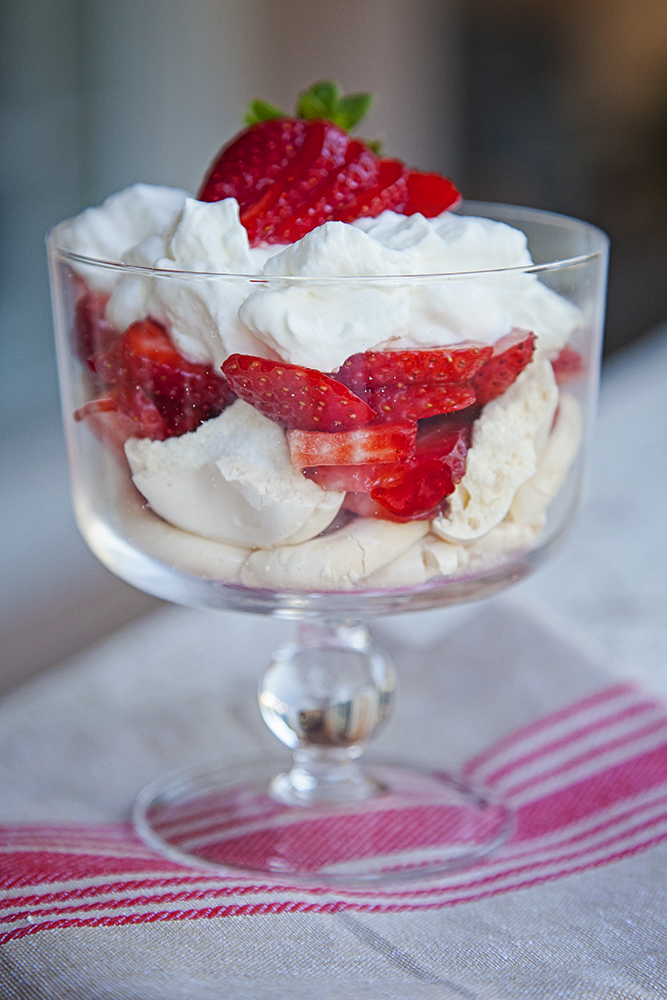 I think this is a really good dessert to serve at large gatherings.  All you have to do is have the ingredients in serving bowls and then let everyone assemble their own dessert.