When I was in the wedding planning stages about a decade ago, I thought it would be a great idea to register for a complete Victorian chintz tea set on our UK registry.  We were moving to the UK after the wedding, and I dreamed of all the afternoon tea parties I would have with my gorgeous china and all the friends I would make.  Someone did buy us the set, but the tea parties never came.  However, I have held on to this tea set all this time, and through one trans-Atlantic move that destroyed half of the cups and left me in tears.  For years, it just languished in a cupboard, but then I decided that I was going to use it, tea parties or not.  Ever since, I've pulled the set out every now and then and have tea by myself, because my husband doesn't even drink tea.  I love tea, especially with all the accompaniments, and I love that I can drink it in proper style.  It really is a shame that I just don't have the time to do it more often.
Of course, tea alone does not afternoon tea make!  My favorite thing to have with tea are scones.  There is a local tea room, called Madi's Tea Garden that has scrumptious scones; scratch that, scrumptious everything. I love it.  That is the same tea room that I went to for the Downton Abbey inspired Valentine's tea last year.  This past weekend I was in the mood for a full afternoon tea, but didn't have the time or the reservations for Madi's so I decided to just make some scones at home and have them with homemade strawberry jam and real English Double Devon Cream.  The cream is imported form the UK and I have found it at Whole Foods and sometimes at Publix (I think?).  It wasn't Madi's scones, and it wasn't a full tea service, but they were great nonetheless. I had them with Earl Grey.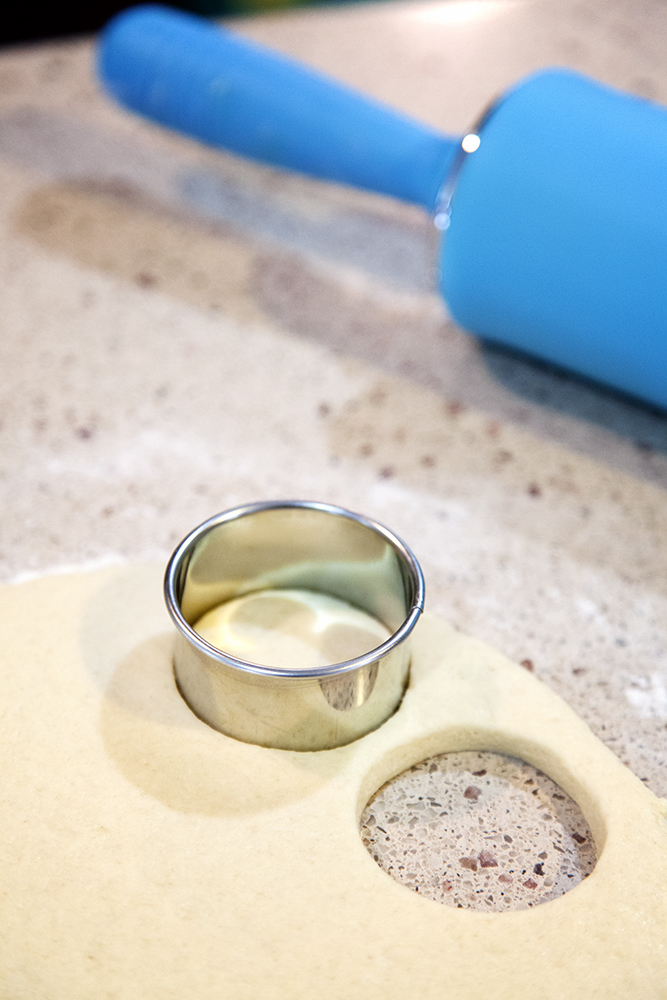 The recipe I chose, in the spirit of the Britishness of afternoon tea, is by Mary Berry.  Mary Berry is, essentially, the British real life equivalent of Betty Crocker. She's the queen of baking and I have yet to try one of her recipes that isn't spot on.  This particular recipe is in "Mary Berry's Ultimate Cake Book."  My copy is a UK edition, but you can buy it on Amazon.com or Amazon.co.uk and get it imported.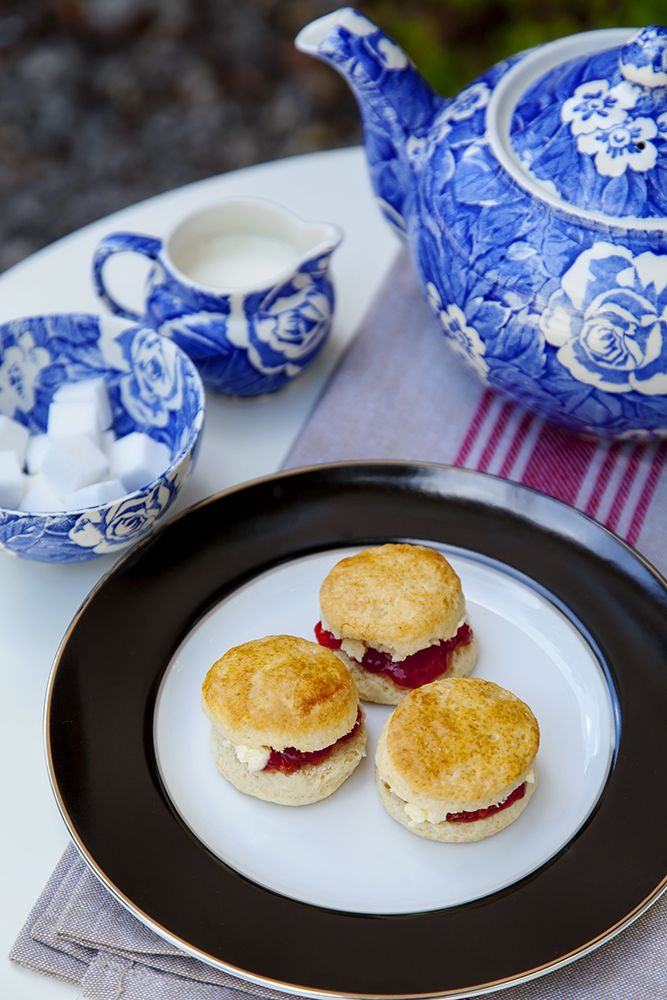 The recipe with some minor changes in procedure and for American standards:
Scones
8  oz (225 g) self-rising flour
2 teaspoons baking powder
2 oz (50 g) butter (salted is fine)
1 oz (25 g) granulated sugar
1 egg
milk
 
Preheat the oven to 425ºF.  Line a large baking sheet with parchment paper.
Mix the flour and baking powder in a large mixing bowl.  Cut the butter into small, equally sized cubes. Add the butter to the flour mixture and rub with your fingertips until the mixture resembles fine breadcrumbs.  Stir in the sugar.
Break the egg into a measuring cup, then make up to 5 fl oz (150 ml) with milk, whisk until blended.  Stir the egg and milk into the flour mixture – you may not need it all – and mix to a soft but not sticky dough.  Turn onto a lightly floured surface, knead lightly and then roll out to a thickness of 1/2 inch (1 cm).
Cut into small rounds with a 2 inch (5 cm) cutter and place them on the lined baking sheet.  Brush the tops with the left over milk and egg mixture or with extra milk, and bake in the oven for about 10 minutes or until they are pale golden brown.  Cool on a wire rack.  Eat as fresh as possible.
Makes approximately 12 mini scones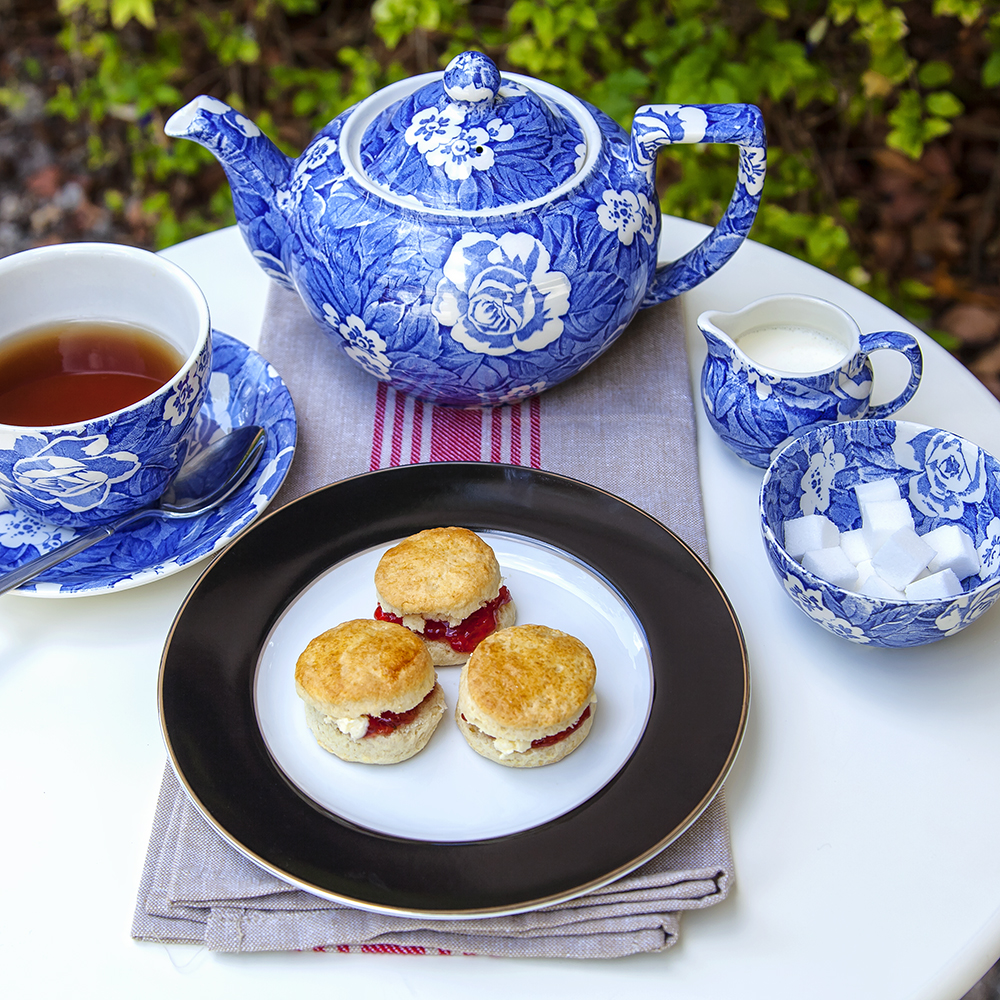 Mary Berry says on the intro the recipe that although butter gives better flavor, margarine can be used instead.  Don't you dare!  No! As Paula Deen would say, butter makes it better!  If you are going to eat the same amount of calories, why waste them on something that doesn't taste as good when you can have something better? Besides, from a health standpoint, margarine is worse for you than butter.  Always choose butter.
So, I hope that these simple scones inspire you to have your own afternoon tea party for one, even if you don't have the fancy tea set.  If you do treat yourself to afternoon tea, whether with these scones or not, I'd love to see what you make and how you serve it!  Email me, send a tweet, or let me know on Instagram!