Like any other cruise ship, the Magic has a variety of restaurants that range from the main dining rooms to the grab and go burger joint.  Unlike most other cruise lines, however, you are not limited to just one of the main rooms, there is a rotation program. The Magic has three main dining rooms: Luimiere's, Carioca's and Animator's Palate, and it is precisely the dining rotation that sets DCL apart from other cruise lines when it comes to main dining.  In other cruise lines, you are assigned one dining room for your entire say, and if you choose to dine at the main dining room, that is it.  DCL rotates all the guests through all the main dining rooms, which means you have the opportunity to experience them all, and they all have different themes so that is a good thing.  Even though you change dining rooms every night, your serving staff remains with you, like they would in any other ship that has traditional dining.  You will get your rotation schedule when you check in at the terminal.  Dining is structured, and you do have to choose a seating time, and stay with it, so if you like the anytime dining option other lines have, you will feel restricted here.  The seating times are Main Seating at 5:45pm, and Second Seating at 8:15pm.  We chose the Main Seating, and while it looks early on paper, as it were, it is the perfect time if you have kids because actual eating doesn't really start until 6pm-6:15pm, and you'll be done with dining service at about 7:30pm or so, so it is not really that early.  Second dining would have been too late for us, and quite frankly, a nightmare with my kid.
Lumiere's is a French themed restaurants inspired by the Beast's castle.  There is a large mural with a scene from the movie, and the light fixtures on the central area of the restaurant even have red roses in glass domes.  DCL claims the food at Luimiere's has a "French flair," but I'm not convinced.  Carioca's is a Brazilian themed restaurant inspired by the Three Cabelleros cartoons. Animator's Palate is designed to look like it was hand-drawn; the walls are covered in character sketches, doodles, etc, and the columns look like paint brushes. There are screens all around the restaurant that are used to show random animations in progress but also for the shows, which I'll go into later on. The food at Animator's Palate, as per DCL, is Pacific Rim cuisine, and it was, at least for us, the most consistently good of the three restaurants.
Of course, you do not need to dine at any of the main dining rooms, there are other options, but I highly recommend you do not miss Animator's Palate on your first night of the rotation there, and if you are on a 7-day cruise, on the night of the Animation Magic show.  On the first night of the rotation, Animator's Palate has as show called Drawn to Magic, which shows the evolution of animations from pencil sketches to the final color animation that is released.  At the end of the show, Sorcerer Mickey comes into the dining room and parades around.  It is wonderful, but even more wonderful is the Animation Magic show.  The night before this show, your server will ask that you arrive a few minutes earlier the next day. The reason for this is that you will be given a sheet of paper onto which to draw a figure.  This figure, and those of all other guests, will be turned into animated cartoons dancing alongside Disney characters, and will be shown along with music towards the end of the meal.  Kids love it, and it was the highlight of the dining experience.  I highly recommend you don't miss it.
All three main dining rooms have a kids menu with more or less the same foods, and the same foods you'd find at any land restaurant.
The other complimentary restaurant option is the buffet, called Cabanas.  Unlike on other cruise lines, the buffet is not always a buffet and it's not always open.  It will not open for dinner on the first night of the cruise nor on the last night of the cruise.  Additionally, dinner is not buffet style but rather, it's table service. This came as quite a bit of a shock to us on the one night we decided not to have dinner in the main dining room. I think the reason they have dinner at Cabanas as table service is because most people actually go to the main dining rooms every night, which is certainly not the case on other cruise lines.  The night we had dinner at Cabanas we were one of no more than five or six tables. The food was the same as in the main dining room with the exception of lobster and a few other things.  The only advantage of going to Cabanas for dinner rather to the main dining room is that you don't have to dress up as much, and you can arrive at any time you are hungry. Lunch and breakfast are buffet style, and the food is quite good.  Because sodas are included in the fare, there is no drink service at the buffet, you must get your own drinks from the soda machines.
In addition to the large dining venues, the Disney Magic has a few quick service options.  These include Daisy's De-Lites (not pictured), which serves light meals like salads, sandwiches, and cookies.  Pinocchio's Pizzeria (not pictured) serves pizza, and Pete's Boiler Bites serves burgers, chicken fingers, fries, a few other hot grill items, and shawarma.  We didn't try the pizza so I can't vouch for that, but we did try the burgers and they weren't great.  They were edible, but pale in comparison to other burgers we've had on other cruise lines.  The chicken tenders and the fries, however, were very good. Again, we didn't try the shawarma.
Right next to Pete's Boiler Bites is an ice cream and milkshake counter that is not complimentary, and right next to that is the complimentary soft serve machines.  There are four machines, if I remember correctly, and each one has two flavors plus the option to swirl them.  The soft serve is not available around the clock like on other ships; it opens late in the morning and closes sometime around 10pm.  This can be good or bad, depending on whether you want to restrict the kid ice cream intake or not because they will eat it 24/7 given the choice.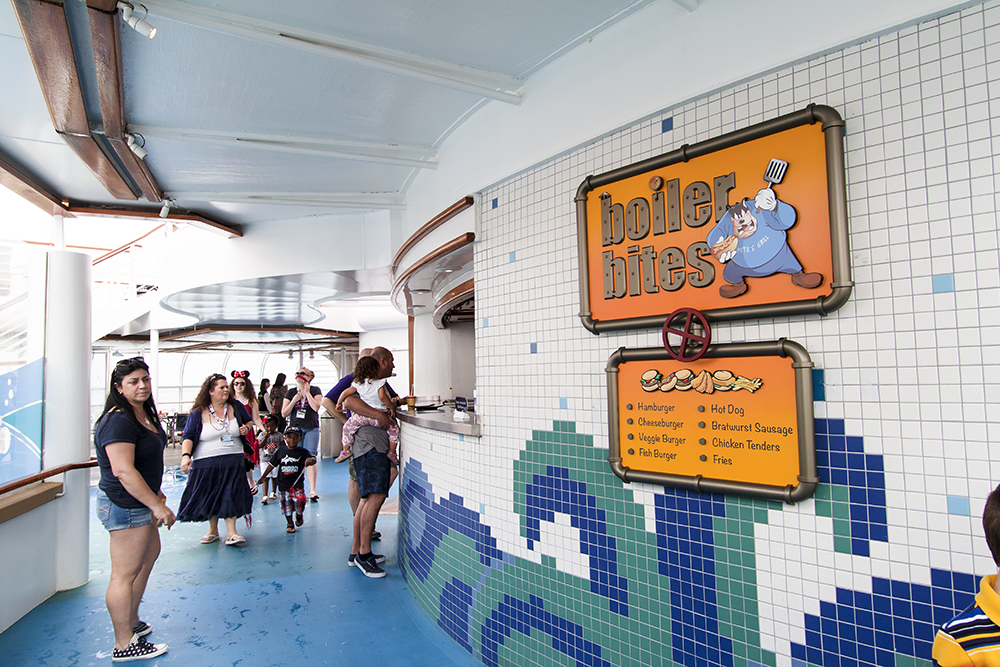 Of course, there is also room service. We did not try it, but it is complimentary and made up of mostly quick items like cold sandwiches, salads, and things like that.  it is available 24 hours a day.
Overall, we were very pleased with the quality of the food on the Disney Magic.  The service was impeccable and the staff goes out of their way to accommodate you. One night at Lumiere's my kid wanted pizza but it wasn't on the menu, he asked our server and somehow he made it happen. They remember your (soft) drink preference and it's ready on the table when you sit down.  Tip them well, they do a fantastic job!
For breakfast, you can go to one of the main dining rooms for a la carte dining, to Cabanas for buffet style breakfast, or to Daisy's De-Lites for lighter fare.  For lunch, one of the main dining rooms and all the other dining venues are open.  On one of the nights, the Pirate Party night (which I will discuss in a later post), Cabanas was open for a late night buffet.  During the evening O'Gills Pub serves complimentary snacks, but this area of the ship is adults-only at night so the kids will have to eat somewhere else!
On the subject of dining, you can bring wine on board and have the serving staff serve it to you during dinner.  They will tag it with your name and table number, and it will follow you around on your dining rotation.  There is a corking fee, I believe, but I'm not sure what it is as we did not do this.  Alternatively, you can leave the wine in your room and drink it there free of fees.
Next up on the series is Palo, the only fee-added restaurant on board the Disney Magic.
The previous post on the series was Embarkation Day and Cabin.