Disney, and Disney Cruise Lines, is in the business of entertaining people, so as one can imagine, entertainment on board the Disney Magic is big, elaborate, and abundant.  Like most cruise ship, there are several entertainment venues ranging from low key bars to big, ornate theaters.  But, as far as live entertainment goes, the venue is not the highlight, the shows are the star.  In expected Disney style, the evening productions, which take place in the Walt Disney Theater, are mostly geared towards kids, but they are enjoyable for adults as well. There is a different show every night, and some of them are variety shows as opposed to theatrical productions.  During our sailing, the evening shows were as follows Day 1: All Aboard: Let the Magic Begin; Day 2:Twice Charmed: An Original Twist on the Cinderella Story; Day 3: The Physical Comedy of Max Winfrey; Day 4: Villains Tonight!; Day 5: Cinderella; Day 6: Disney Dreams: An Enchanted Classic; and Day 7: Remember the Magic: A Final Farewell.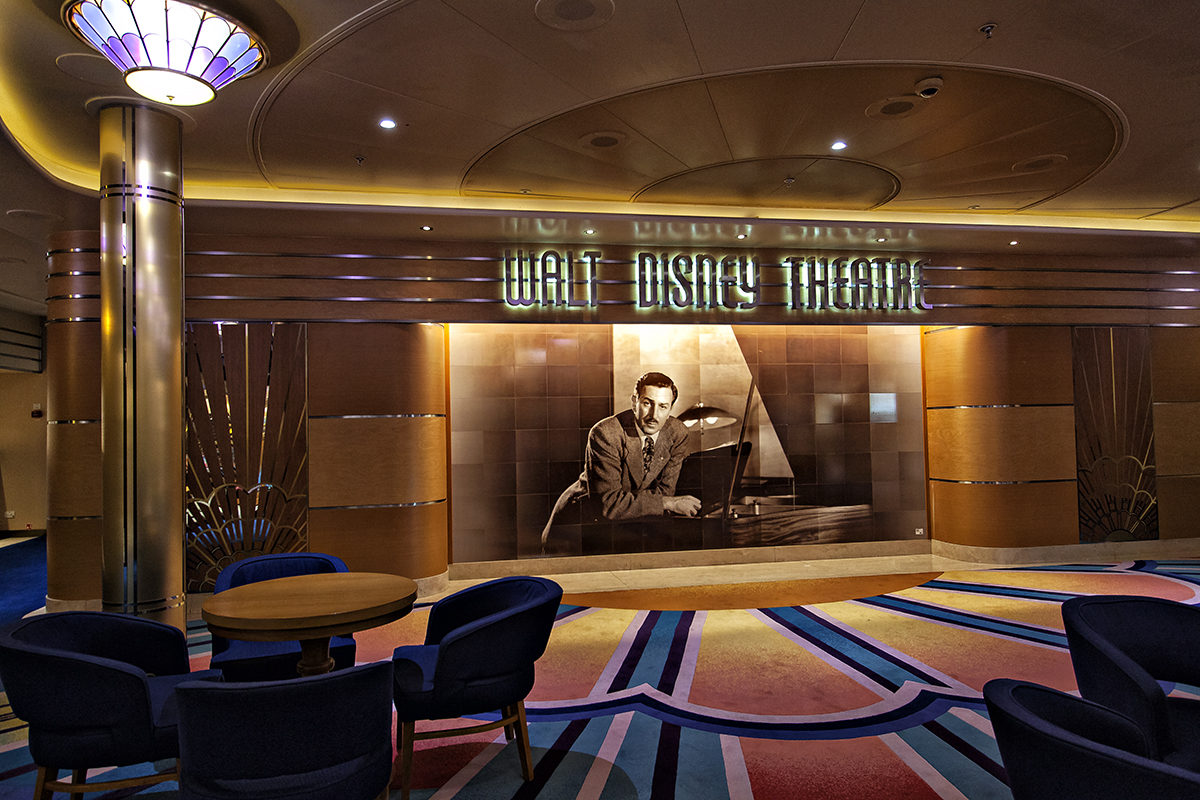 All the shows were excellent, but my favorite was Twice Charmed.  I don't want to give any spoilers though so I won't go into detail about the shows content.  Many of the passengers with whom I spoke also liked Villains Tonight! quite a bit, and it was funny, but not my personal favorite.  On day 5 instead of a live show, they screened the new Cinderella movie, which had just been released into theaters at the time of sailing.  On the last night of the cruise, there was an additional informal show, called 'Til We Meet Again.  It does not, however, take place in the theater, rather, it takes place in the lobby, right in front of Lumiere's.  It is a farewell show where characters, including those from the live shows, come around and sing, dance, mingle, etc. It is cute and a great send off.  You'd do well to be there early so you can get a good spot as everyone stands and it gets crowded.
There is a second theater, the Buena Vista Theater, which is used mostly as a movie theater.  We didn't see any movies there but did go inside an it is designed to look like a Deco movie theater, red curtain and all.
In addition to the theaters, the Disney Magic has several low-key entertainment venues, bars, etc.  Nearly all have live performers at some point. Behind the lobby and Lumiere's is the Promenade Lounge, which is open to everyone, and there is D Lounge on Deck 4, but the majority of the adult entertainment venues are on Deck 3 Forward, in area called After Hours.  Until 9pm, this area, which also contains the duty free alcohol shop, is open to everyone, but after 9:00PM it is an adults-only zone.  And yes, there are cast members at the only entrance to the area monitoring who comes in.  They don't ID everyone, but they do not allow any children in.  In a ship that caters to families with small children, adults-only areas like After Hours are wonderful to have.  I love my kid (not so much everyone else's!), but I also value my sanity and sometimes I just don't want to be around kids, period.
The venues in the After Hours are Fathoms, O'Gills Pub, and Keys.  Fathoms is a comedy club style venue, it hosts variety shows, stand up, dancing, etc.  It hosts some family-friendly activities during the day.  O'Gills Pub is, well, a pub.  They offer late night snacks, a place to hang out, watch tv. etc, and also hosts family friendly activities during the day.  Keys is a piano bar, and a great place to go during the day if you want to be alone.
There are two things you will not find on the Disney Magic, one of which is a shame and the other a good thing.  First, you will not find a library on board this ship. There is no designated space for this purpose.  On other ships, the library servers not only as a book repository, but also as a place where families can gather and play board games, or just relax.  I love shipboard libraries and I was bummed to find out the Magic lacks one.  There is a place where you can play board games; O'Gills Pub has a nice selection, along with video games, but it's not the same.
The other thing you will not find in the Magic is a casino.  Thank goodness!  I hate, hate, hate walking through casinos, and most ships have them right in the center of the entertainment section. Casinos are big cash cows on cruise ships so you are forced to walk through them to get around that deck, unless you are willing to  go up or down one deck to bypass it.  This is blissfully not an issue on the Disney Magic, or any other Disney ship for that matter.  We didn't even realize this until the second or third day, and it was such an joyful revelation. Way to go, Disney!
Overall, entertainment on the Disney Magic is excellent, and one of the highlights of the Disney cruising experience.
Next on the series is kid's areas and character appearances.