Disclaimer: I have corrected some factual errors that appeared in the first publishing of this post.
As can only be expected, the Disney Magic shines in the child entertainment department. After all, Disney is all about children and making them happy. The Magic has several kids clubs for various age groups, from babies to teens. The Disney Cruise Lines has implemented the Magic Band system for the tracking of children in and out of the kids clubs.  The first time you take them (at least for the 3-12 age group), they will be given a band, you will set a password, and that will be how they check in and out. Most of the photos here were taken during the various clubs open houses, when parents can go in and play with their children, or just look around.  During open house hours, children cannot be in the clubs unattended by a parent, at least the younger ones.
It's a Small World Nursery is for children between 6 months old and 3 years old.  It is not complimentary, there is an additional cost for what is essentially a group baby sitter.  I don't have babies so I didn't make use of this facility but I imagine that it is the kind of place where you can take your babies for a couple of  hours a day, or night, while you enjoy some adult time.  I did have a look inside the nursery and the babies looked happy.  Like the rest of the Disney experience, it was a high quality place with tons of things for the little ones to do, not just cribs. It opens anywhere from 7 am to 9 am, depending on the day, and it's open until 11pm.
The Oceaneer Club and Oceaneer Lab are for children ages 3-12.  While that is a pretty vast age range, the children are broken down into narrower age groups for group activities. At this club, the children are under the supervision of cast members but if they are old enough to do their own thing and roam the club alone, they can do that too.  The Lab and the Club are joined by a direct passageway that does not have any other entrances or exits.  If your child is old enough to play on his or her own and move around, and they want to go between the Lab and the Club, they may do so. They cannot get lost between the two, and because they use the Magic Bands, when you go pick them up the cast members will be able to tell you in which area they are.
The Oceaneer Club has several themed areas, including Andy's Room, Avenger's Academy, and Pixie Hollow. Each area has toys, games, and other activities.  The Oceaneer Lab is Pirate themed and more hands on when it comes to the fun.  They do crafts, have workshops, and other activities, or they can just watch movies on the giant screen. Both places feed the children lunch and dinner if they are there at meal times.  My child LOVES all the kids clubs on the ships on which we have sailed, but the Disney Magic ones are his favorite; no surprise there. He would have even slept there if he could.
Edge is the club for children 11-14 years old.  There is some overlap between the Oceaneer places and Edge, so if your child is in that gray area, there are more options.  I expect that most 11 or 12 year olds will not want to hang out with tiny tots of 3, after all.  I did not go inside Edge so I don't know what it looks likes, but we stayed on this deck and there seemed to be quite a bit of activity there. Children in this age group can check themselves in and out of the club.
Vibe is the area for 14-17 year olds. It is a cool, small place on Deck 10 made to look like a pub, or decked out living room, with its own bar that, of course, serves soft drinks, and for an additional fee, smoothies.  They have a giant tv with video games, computers, couches, and areas to play games.  They also have parties and karaoke at night.  There were no guests when we went during open house, but the cast members sure were having fun.  As far as I could tell, there were no stations for kids to touch their Magic Bands so they most likely come and go as they please. The kids are old enough not to need a Magic Band for kids club purposes.
On to the character appearances, but I want to start by saying that even though there will be cast members taking photos with their camera to sell to you as part of the ship's photo program, you can use your own camera to take photos.  They will still take theirs.  You'll see everything from parents with phones to the crazy eager parents with with all the bells and whistles of multi thousand dollar camera equipment. I was somewhere in the middle.  The light is terrible so no matter what,  your photos will not be amazing, and neither will be those taken by the cast members.  It is what it is.
You could probably spend your entire day just following the character appearances around, they are that numerous. Most of the character appearances take place in the atrium area, either in the lobby, just in front of Lumiere's, or on the deck above.  The exceptions are the ones that are poolside, and the Frozen characters, which I will go into later.  Unlike at the parks, you will not stand in line for more than a few minute to meet your favorite characters. The lines are short, and, thankfully, under air conditioning.  If you have ever stood in line for a character at a Disney park, you probably know this is no small mercy.  As long as you are in line within the time frame of the character appearance, you will have your chance.  For example, if the Personal Navigator (the daily program) says that a particular character will be at the atrium from 10am to 10:15am, as long as you are in line by 10:15 am, you are good to go.  They will rope off the line at 10:15am though. The characters include most of the usual suspects, inducing some princesses.
On formal nights, Minnie and Mickey make appearances in Preludes in their black tie garb. The lines are long. Don't say I didn't warn you.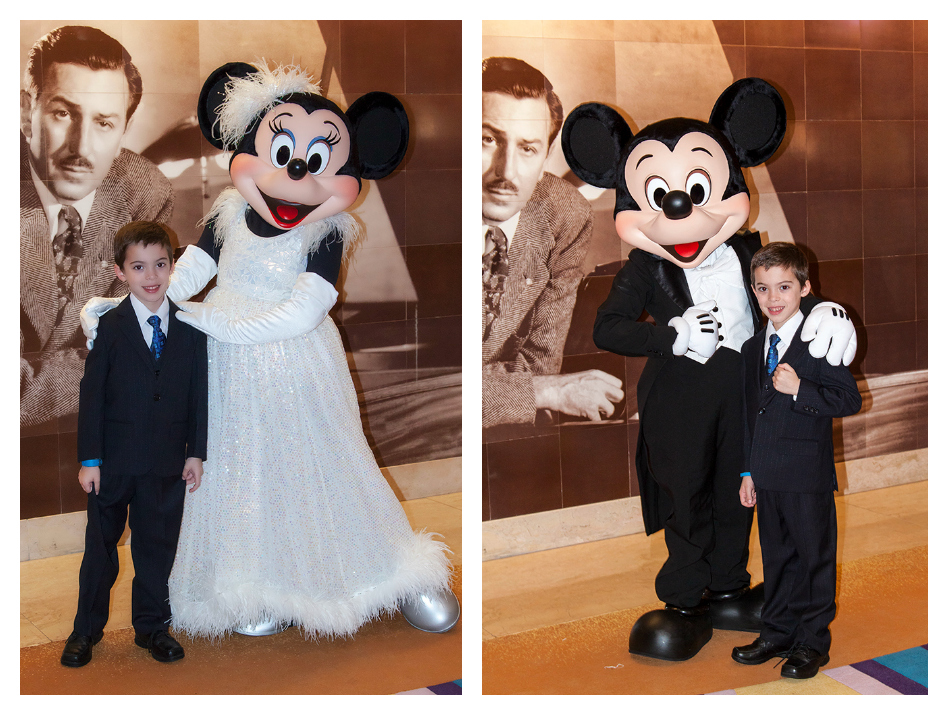 There are only two character appearances that that are ticketed events because of the popularity.  One is the Princess Party, where Belle, Cinderella, Tiana, and Princess Minnie appear together at the lobby (some of them appear on their own at other times).  This takes place in the atrium, in front of Lumiere's.  The other appearance is that by Anna and Elsa from Frozen, which takes place in Carioca's dining room.  These two events are a bit more involved, and the characters take more time to talk to the children (or adults!), sign autographs, etc. Most little girls dress up like the princess for these events; I put my son in trousers and a long sleeve shirt. Both events are free and happen during sea days, but you can only get tickets for one session of each event (one Princess Party and one Frozen), as far as I could tell.  To get tickets, you need to go to the shore excursions desk. We went a couple of days into the cruise and got tickets for the second sea day.  I got them close to each other in time so that I didn't have to dress my son twice, once for each event.  He loved it. I know that boys are not the target audience, but kids just love characters.
So, as far as children entertainment goes, Disney Cruise Lines hits it out of the park. I expect nothing less from Disney.
The next, and last, installment in the series will be about outdoor spaces and pools!