This is the last installment of the Disney Magic review series!  With all that's been going on in my life lately, it has been very difficult to sit down and write this post. Excuse me if I'm not as detailed as in previous posts, but I can't really delay it anymore so here it is.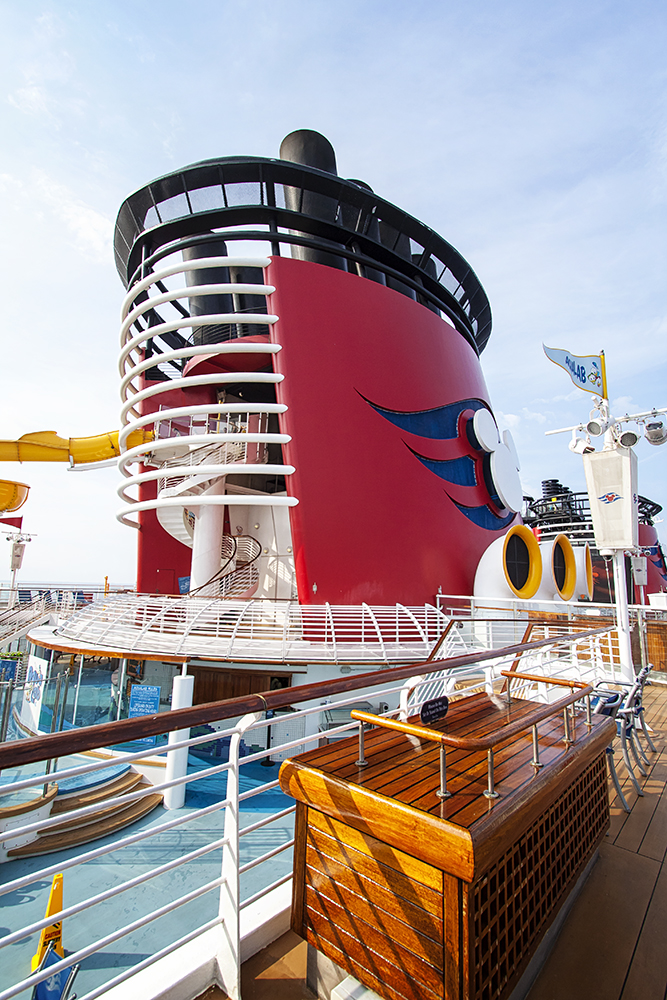 One of the mean features of any cruise ship is the pool deck, and the Disney Magic has not one but THREE pools on deck 9.  The aft pool, called AquaLab, is a shallow pool with a splash zone and various water squirting features shaped like Donald Ducks' nephews. This pool area, meant for young kids, is sandwiched between Cabanas (the buffet restaurant) and Pete's Broiler Bites; this means you can get food for the tots and feed them without ever leaving the pool area. There is a lifeguard, and there is also a separate splash area called Nephews' Splash Zone for children 3 and under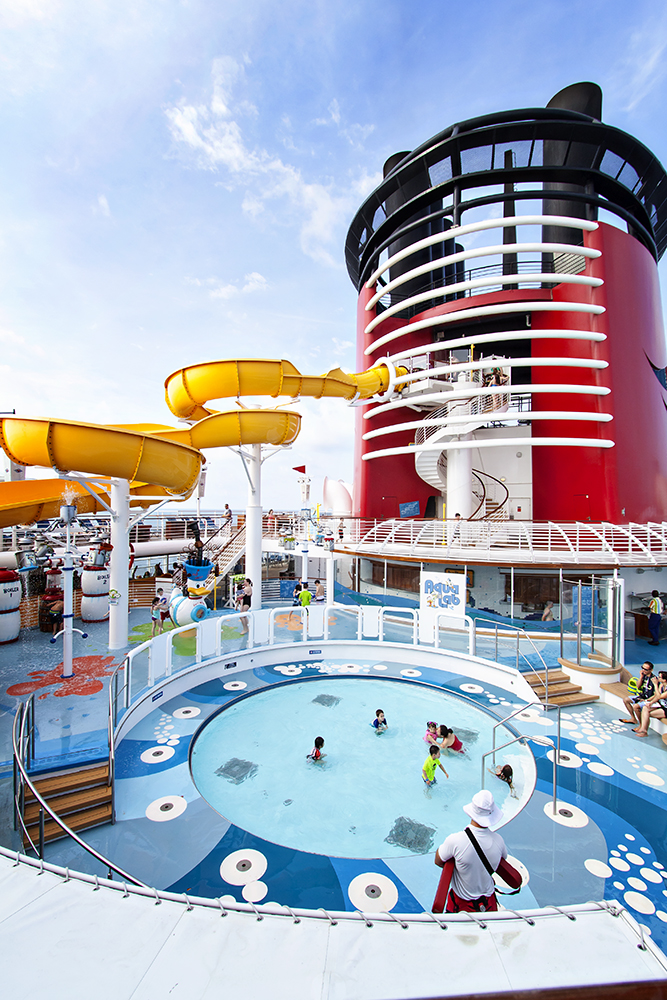 This area also houses the Twist 'n' Spout waterslide.  I went down the slide and it's pretty awesome.  It will probably be scary for very young children but not for older children.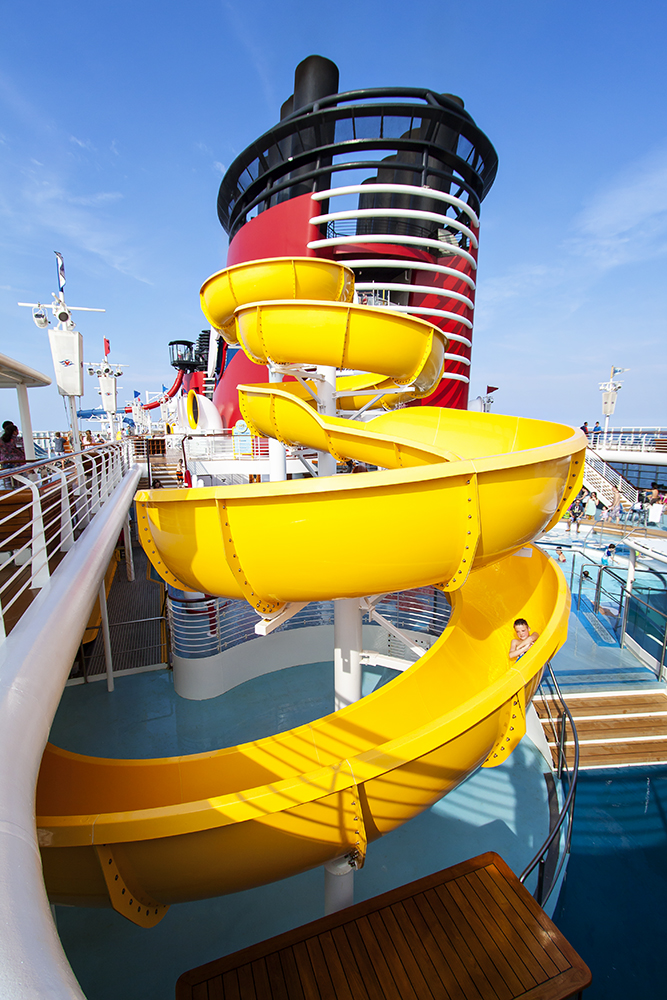 The midship section of deck 9 is home to Goofy's Pool, Magic's family pool, and two hot tubs.  From this area you can watch the jumbo screen on deck 10, and, if you're feeling up to it, take a ride down the AquaDunk.  AquaDunk is a three story waterslide where you stand at the top and the bottom drops out.  Part of the slide goes over the side of the ship before emptying out onto deck 9.  I didn't try this, but I heard screams, which is enough for me.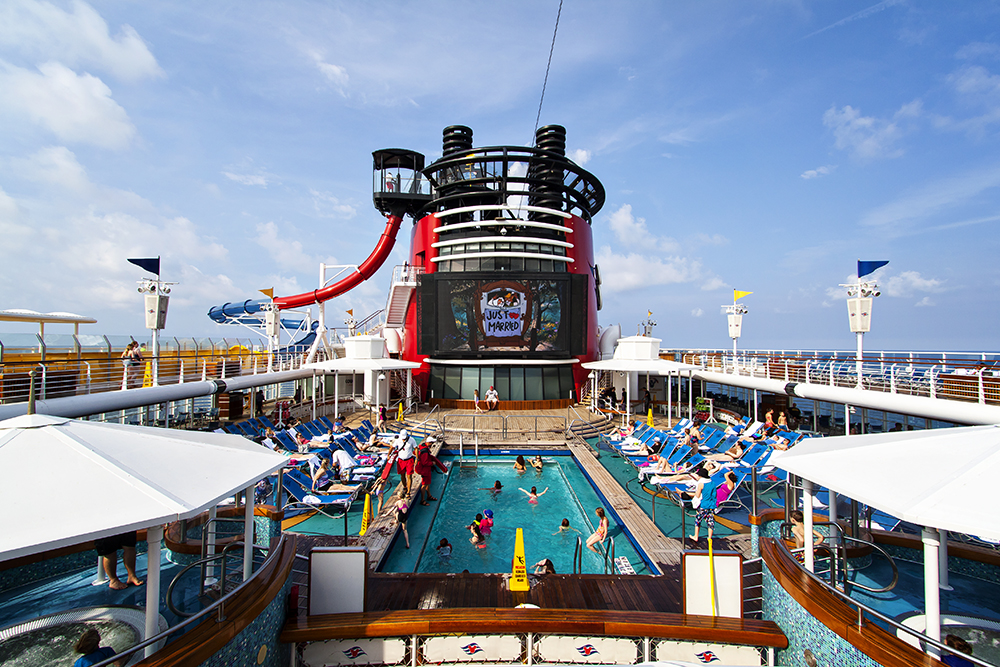 Please be advised that children CANNOT wear diapers, even swim diapers, in any of the pools, hot tubs, splash zones, etc. Ergo, children must be toilet trained to go in those places. Let's face it, everyone pees in the pool, but no one wants a diaper blowout in the pool.
The other pool on the Disney Magic is the Quiet Cove Pool, and adults only area that also has two hot tubs.  This area was pretty quiet most of the time, which is the point.  There is a poolside bar, and coffee place, as well as pretty comfortable padded lounge chairs, sofas, etc.  In a ship that caters almost exclusively to families with young kids, adult-only areas like this are great.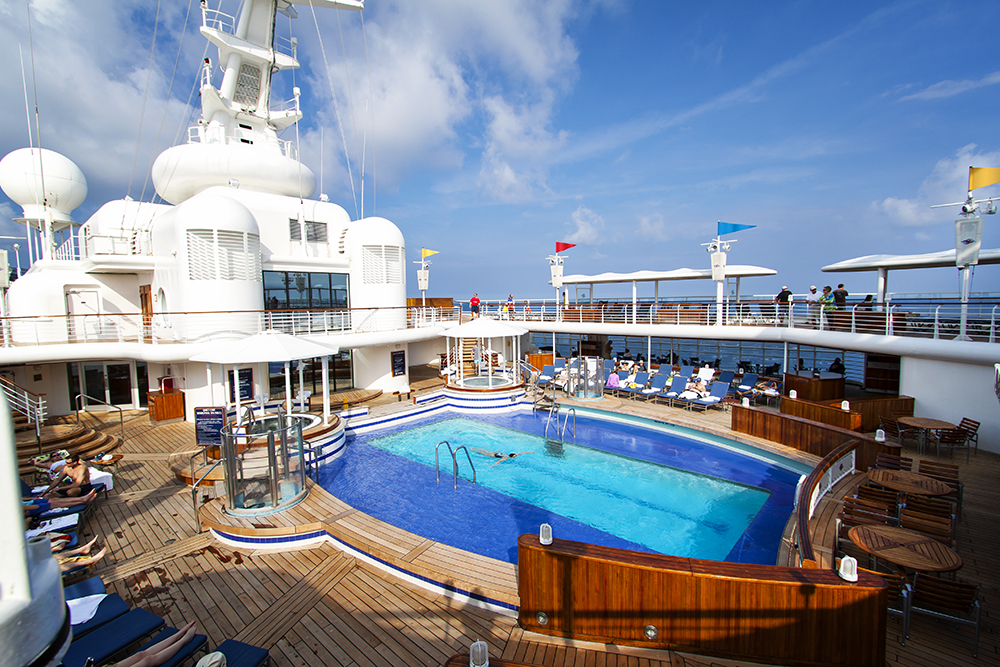 A note on adult-only areas; while for the most part these areas were kid-free as intended, I did see some children around from time to time.  Adult-only areas should be respected.  Do not allow your kids to roam these areas, or worse, do not be the parent who takes their kids to these areas on purpose; have some respect for your fellow passengers.  I'd wager that most of the adults in those areas made the conscious decision to leave their kids in the kids' club or with someone to enjoy some kid-free time; the last thing they want is to have to put up with your kid, no matter how well behaved you think he or she is.
So, with that, I end this series. It's been a long time in the making but life happens. I hope it has been useful.
Now, go!