Whenever I have leftover heavy cream that I need to use because it's nearing its best by date, I make creme brulee, but this time I was in the mood for something different.  While brainstorming about what to make, I remembered a recipe I saw in one of my cookbooks and I decided to make a variation of it based on what I had at home.  It just so happens that my version, which uses milk in replacement for some of the heavy cream, is slightly healthier.  And so this Sütlaç, or rice pudding, was born.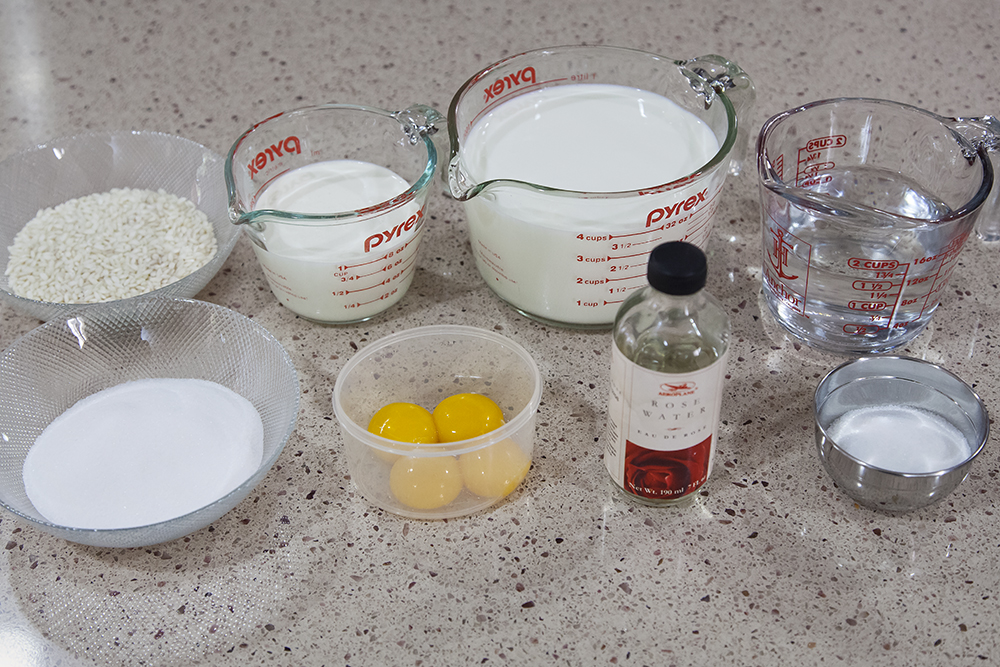 It is easy to make, and although it takes some time, it's not much active time.  Without further ado, here is the recipe.
Sütlaç
3/4 cups short grained rice such as Arborio, Valencia, or other risotto-type rice
1 1/2 cups water
4 cups whole milk
1 cup heavy whipping cream
3/4 cups granulated sugar
1 tbsp rose water
4 egg yolks
4 tbsp granulated sugar for topping
chopped pistachios for garnishing, optional/
Put the rice and the water in a heavy-bottomed large pot over medium heat.  Bring to a boil, reduce the heat, and simmer for 6-8 minutes, or until the water has been absorbed.  Take care not to burn the rice.  Add the milk and cream, and simmer, uncovered, on very low heat for 30-35 minutes, or until the rice is tender but there is a bit if liquid left.  Stir occasionally to prevent the rice from sticking.
Stir the 3/4 cups of sugar into the rice. Add the rose water and stir well.  Remove the pot from the heat.  Beat the egg yolks well in a small bowl.  Take a ladle-ful of the rice and add it to the egg yolks in small increments, stirring well after each addition. This will temper the eggs and prevent scrambling.  Add the egg yolk mixture to the pan, and stir well to combine.  Pour the pudding into a serving dish, cover the surface with plastic wrap, and allow it to come to room temperature.  Once at room temperature, refrigerate.
When ready to serve, remove the plastic wrap and sprinkle the surface of the pudding with the 4 tbsp of granulated sugar.  Using a kitchen torch, caramelize the sugar.  If you don't have a kitchen torch, place the dish under the broiler and broil until the sugar is melted and slightly caramelized.
If desired, sprinkle with chopped pistachios.
If you don't like rose water, and it is a bit of an odd taste if you didn't grow up with it (I did not), you can just use vanilla.  Obviously, the taste will be different, but that's the point, no?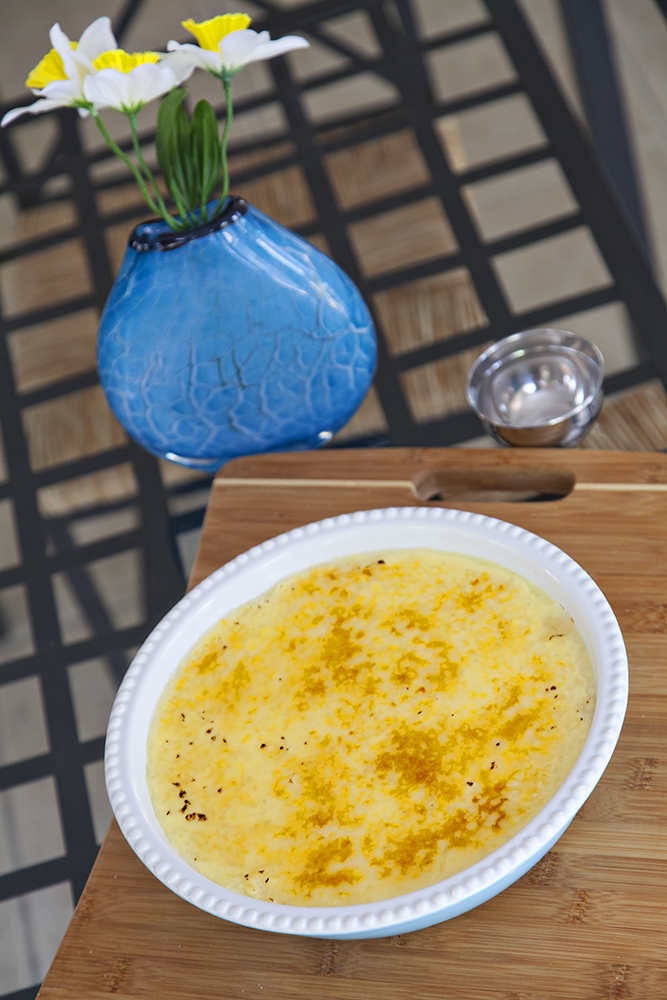 I love the idea of rice pudding with a caramelized sugar topping, and I will employ this idea for future rice puddings.