It's National Pretzel Day!
It's totally a made up food holiday, but aren't most holidays made up???
Anyway, I want to share with you a (relatively) quick recipe for soft pretzels that doesn't require a pre-ferment, multi-day proofing, or anything like that.
Plus, chances are you already have most of the necessary ingredients at home, in case you want to make them TODAY.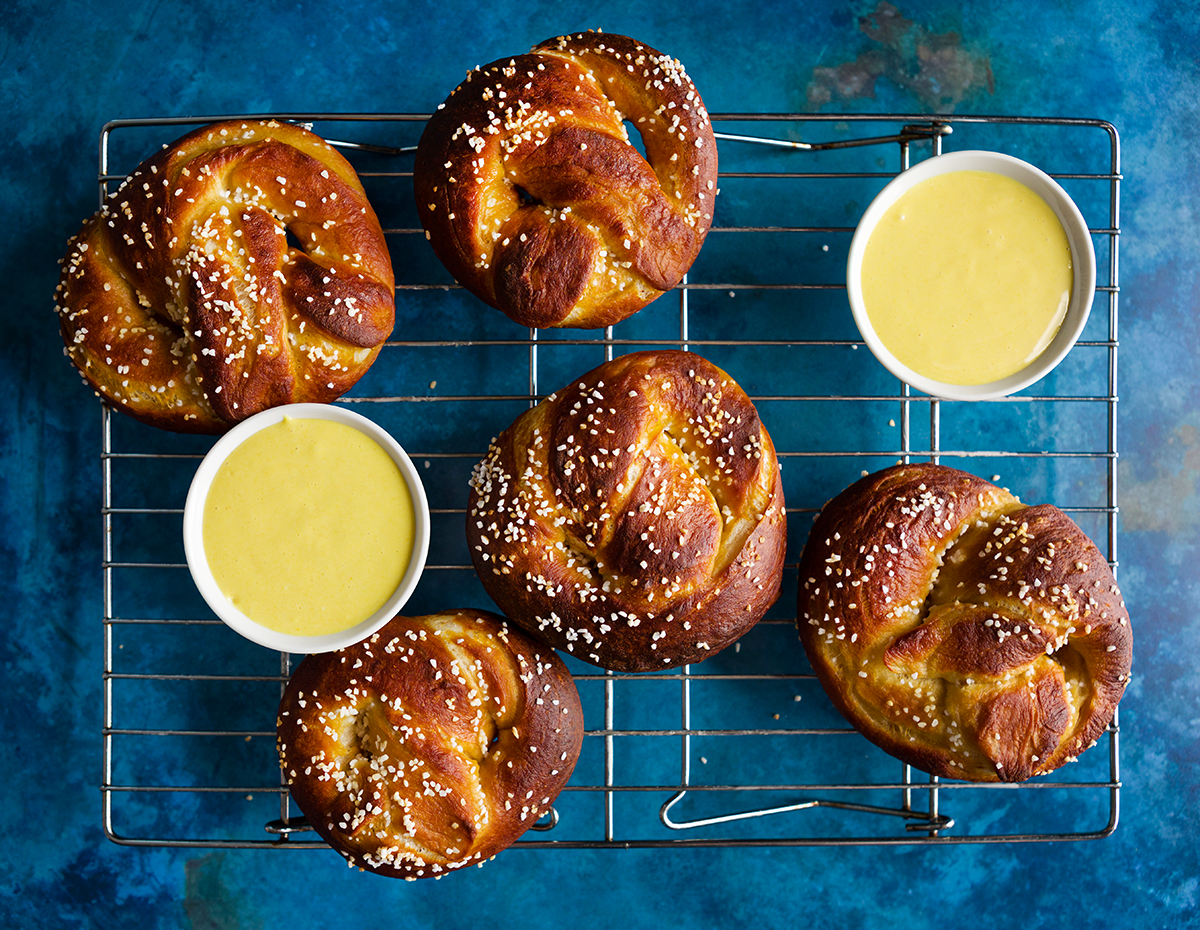 I live in New York City, and so you'd be forgiven for thinking that I can just step outside of my building and buy a pretzel from one of the many pretzel carts around. The reality though is that those carts are mostly in Manhattan, and more specifically in touristy areas.
Besides, those pretzels are very expensive and not even that good.
I can't remember the last time I had a pretzel before I made this batch. Even in pre-pandemic times, I just wasn't around pretzels enough to eat them regularly.
But, I do love pretzels, so I wanted to try making my own. I even bought special pretzel salt!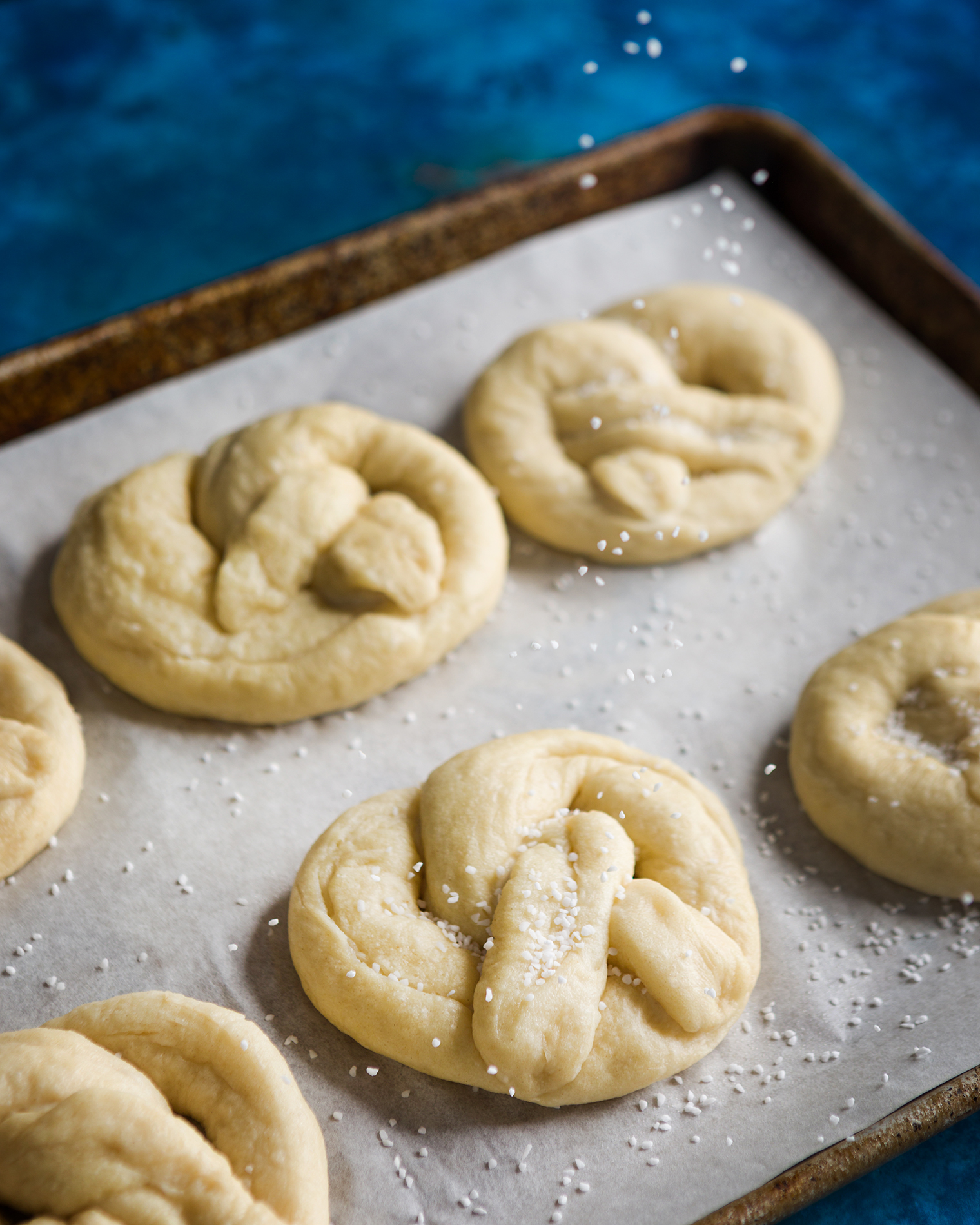 In this recipe, I use something called diastatic malt powder, an ingredient that aids in the chew and color of the pretzel. Most pretzel recipes for home bakers don't call for this, and it's not absolutely necessary, but professional bakers do use it and it does improve the dough.
You can buy it from a variety of places, including the King Arthur Baking Company website. But if you don't have it, don't sweat it. Your pretzels will still be fine without it.
If you DO want to get it, make sure you get diastatic malt powder, not the non-diastatic variety. The latter just helps with color, not texture, rise, etc.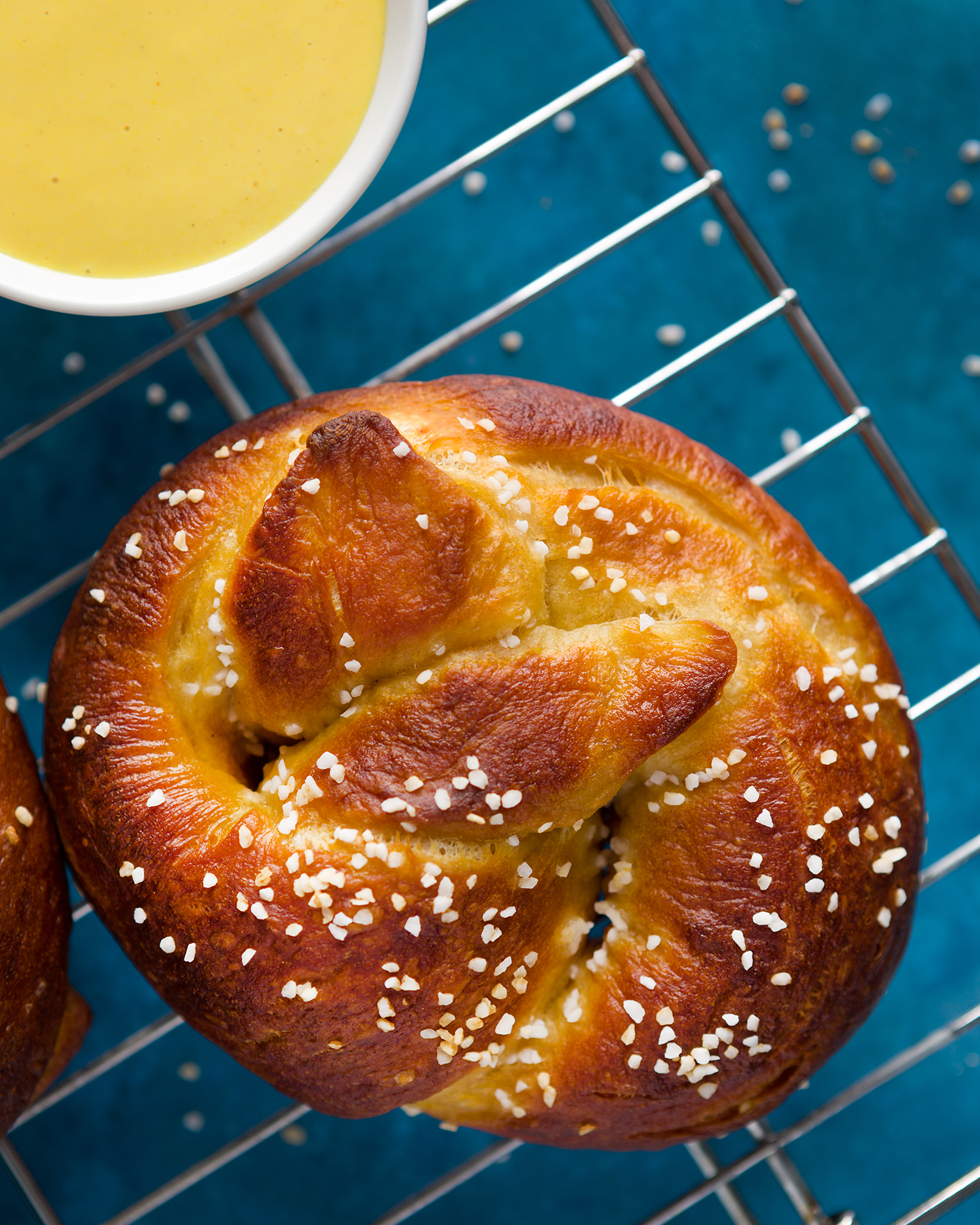 Another particular method that professional bakeries use for pretzels is a lye bath. That is not recommended for home bakers though. The lye bath gives the pretzel its characteristic look, but it is also highly caustic or corrosive, and requires protective equipment.
Like most home recipes, this recipe skirts that issue by using a baking soda bath instead. It doesn't reproduce the lye effect 100%, but it's pretty close and it won't hurt you.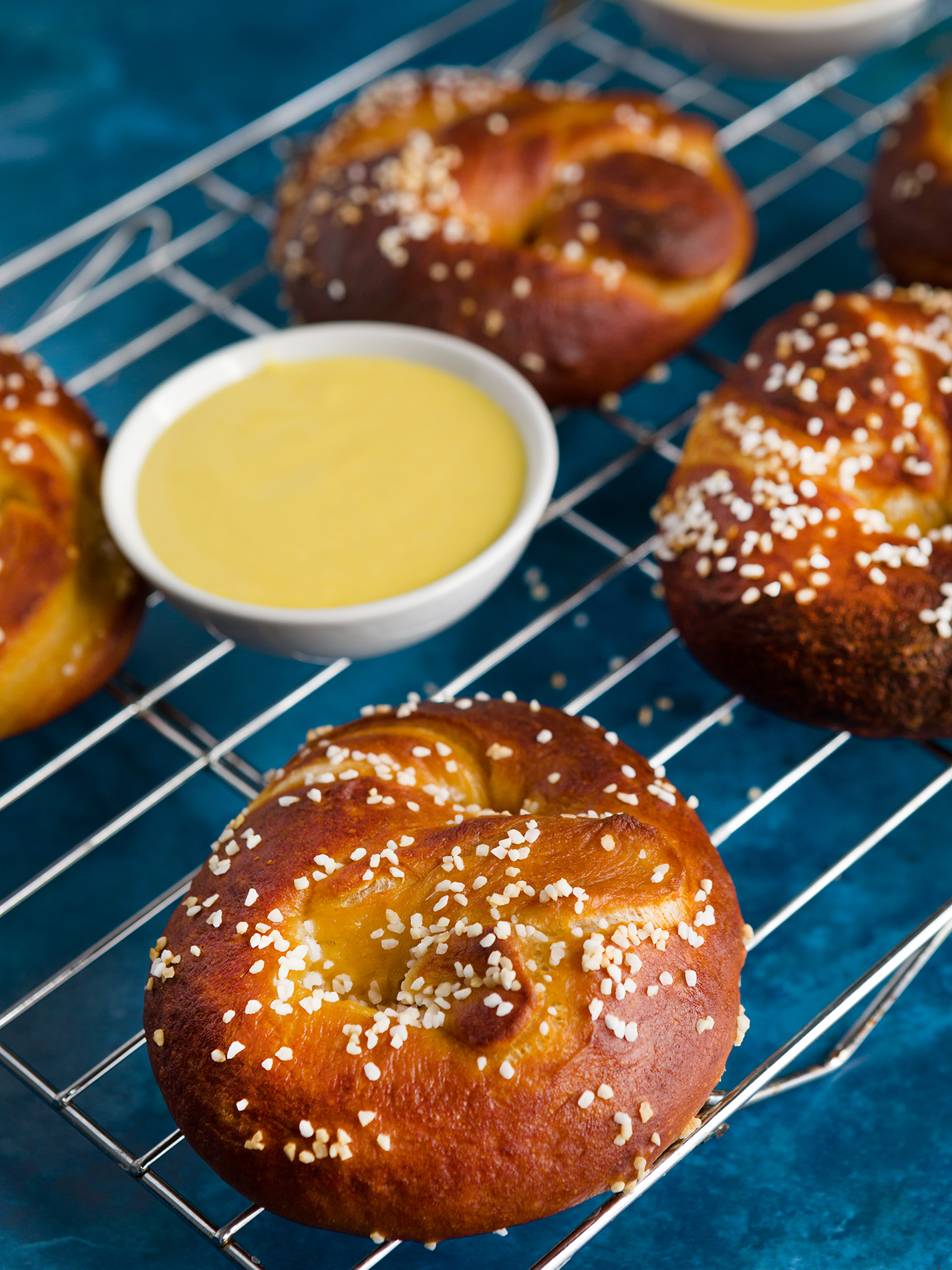 Before I get to the recipe, I want to address the fact that I use grams for large quantities of ingredients and tablespoons and teaspoons for small quantities. The grams is just because weighing ingredients like flour and water, and specifically weighing them in grams, is more accurate. The US has lagged in the ingredient weighing practice but we are slowing making progress.
For small amounts though, tablespoons and teaspoons are more accurate. Kitchen scales cannot accurately measure small quantities like that. I assume most people don't have jewelers' scales so spoons it is. If you want to do a lot of bread baking though, you should get one. They are not expensive and many serious bread books give measurements even for small amounts in grams.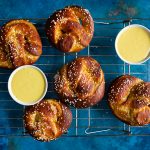 Soft Pretzels with Honey Mustard Dip
Print Recipe
Ingredients
350

grams

water, between 80° and 90°

3

tbsp

vegetable oil

2

tbsp

honey

585

grams

bread flour

3

tsp

kosher salt

2

tsp

instant yeast

1

tsp

diastatic malt powder

optional

¼

cup

baking soda

pretzel salt or kosher salt for topping
Dip
½

cup

good quality mayonnaise

2

tbsps

yellow mustard, like French's

(NOT powder!)

2

tbsp

honey

1

tbsp

Dijon mustard
Instructions
In the bowl of a stand mixer, combine the water, oil, and honey, whisking until well mixed.

Layer the flour, 3 tsp of salt, yeast, and diastatic malt powder on top of the liquid. Having the liquid at the bottom rather than at the top aids in the mixing process, requiring less bowl-scraping.

With the dough hook and on the lowest setting of the stand mixer, mix the ingredients until they come together, scrapping the bowl if needed.

Increase the speed to your mixer's recommended dough setting (2 on most Kitchenaid mixers), and knead until the dough clears the sides of the bowl, is smooth, and elastic. That takes about 8 minutes.

Knead the dough by hand on a lightly floured surface just enough to form into a ball. Transfer the dough to a lightly oiled bowl, cover the bowl with plastic wrap, and allow the dough to rise at room temperature (about 70°) until doubled in size; about 1 to 1½ hours.

About half an hour into the rising of the dough, place one oven rack in the top third of the oven and another in the bottom third. Preheat the oven to 425°.

Line two baking sheets with parchment paper.

Punch down the dough to deflate it, and transfer it to a lightly floured surface. With your hands, form the dough into a rectangle about 12 inches wide.

Using a pizza cutter or a bench scrapper, cut the dough into 10 or 12 strips where the short side of the rectangle is the long side of the strips.

Keep the dough you are not currently working with covered with a towel or plastic wrap.

Roll each strip of dough into a long rope about 20" long, keeping it as even in thickness as possible. Make a long U shape with a wide base with the rope. Twist the ropes about ⅓ of the way down from the ends together twice, then bring them down to the base of the U. Press the ends down to secure them. The dough may fight back a bit and want to shrink, that's just what gluten does. It's OK if your pretzels don't look perfect; they will still taste great.

Place each pretzel knot side up on the lined baking sheets, leaving some space between them. Lightly spray them with cooking spray, cover with plastic wrap, and let them rise for about 15 minutes.

In the mean time, bring 4 cups of water with the baking soda to a boil over medium heat in a saucepan.

Working one or two at a time, place the pretzels in the water for about 45 seconds, turning over once halfway through.

Remove the pretzels, knot side up, to a cooling rack to drain, then place them back on the lined baking sheets.

Sprinkle the pretzels liberally with either pretzel or kosher salt. Bake for 15 minutes, or until they are nicely browned. You may need to rotate the baking sheets halfway through.

Remove the pretzels to a cooling rack and cool for a few minutes. Serve warm or at room temperature.
To make the dip:
Combine all the dip ingredients into a small bowl and whisk until fully combined.
Forming the dough rope into a pretzel is not hard, but it's a bit difficult to explain. If you need a visual, you can see it here in this King Arthur Baking Company video. They are making a much larger pretzel, but the process is the same.
These soft pretzels are delicious with the dip shortly after they come out of the oven, but they are also great the next day with butter. Store the pretzels in plastic bag. The next day, slice one in half, toast it a little bit, and slather it with butter.