I'll let you in on a little secret. The real reason I got into sewing to begin with was to make my son cute diapers. We started cloth diapering when he was 6 months old and I was gobsmacked by the sheer amount of beautiful cloth diapers out there. It's an addiction….an addiction that I have had to work hard to fall into. So bought a good sewing machine and the rest is history. Now, ask me how many diapers I have actually made. OK, OK, I'll tell you, sheesh! Two. A grand total of two diapers. As you can see, I took a different route after that first diaper.
We use mostly prefold diapers during the day but it is nice to have some easier to put on diapers for those times when my family watches him. They are slowly learning to use prefolds but it's still much easier for them, and anybody else truth be told, to use diapers that are put on just like a disposable. So, we have a few fitted diapers and a few pockets. We use the pockets mostly for overnight because we can stuff them with as many inserts as we need….he's a heavy wetter.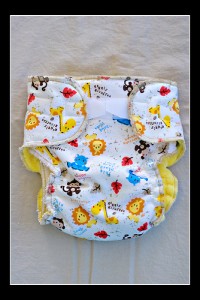 Last month I finally ordered a yard of a super absorbent material that claims to be the best out there. It's not cheap, which is why I bought just a yard to try it out. I finally got to make the diaper last night. The diaper body has three layers. The outer layer is cotton interlock for pretty and the inner layer is minky for keeping the baby's bottom dry. I had meant for the middle layer to be microfiber but I ended up having to use terrycloth because my microfiber pieces are not big enough….DUH!. The diaper has a soaker, for which I use the super absorbent material and covered with minky, sewn to the inside of the diaper but not in between the layers but it the layer closest to the baby. This way the diaper dries quicker. Diapers with internal soakers take longer to try. The closure is Aplix and it has laundry tabs.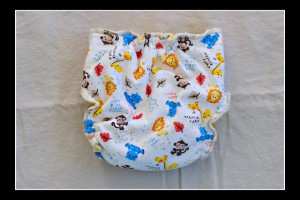 The most difficult part about constructing this diaper was keeping all the layers together and preventing shifting. Even then, there was some shifting. I like the look of serged diapers better, as opposed to stitched and turned, so to make serging it easier, I basted all the layers together in the sewing machine first. I have a walking foot for my sewing machine which makes sewing this diaper easier but I do not have a walking foot for the serger (I don't even know if they exist) so there's a lot more shifting there. The basting definitely helped.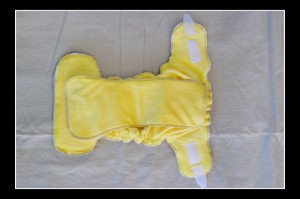 The diaper is not perfect but it's great for my first time trying this style out and my second time making a diaper. The true test, the absorbency test, is currently in progress. Baby is napping in his brand new diaper….we'll see how it performed once he wakes up. I wish I would have gotten a better picture of him in the diaper but he was extra wiggly this morning, changing his diaper was an epic battle.