Hello. My name is June and I'm a jack of all trades….master of none. This is my zillionth blog and the second one dedicated to one of many hobbies. The other is cooking. I can't promise that I will regularly update this blog because I have a 9 month old baby who takes up a lot of time but I can promise I will try.
To start this new blogging adventure, I'm going to introduce my latest creation McCall's 5884. What attracted me to this pattern, aside from the $0.99 price tag, was the collar with tie ends. I have a …hhmm….odd body shape and this tie masquerades my belly very well. The deep V neck directs the eye towards my better assets and the balloon sleeves are cute.
I made two muslins of this blouse. Because of my body shape and significant size difference between my bust, waistline and hips, I always had to make adjustments. Sometimes I am a bit hasty and make these adjustments right off the bat without even trying a muslin on. This time it came back to bite me in the butt. The first muslin was absolutely horrendous. I tried to adjust to it to fit but it would have a taken a lot of work. I decided to try and cut the pattern only grading for the different sizes and not doing the round belly adjustment. What do you know?!?!?! The muslin fit like a charm! With the exception of the sleeves of course, I had to adjust those a bit to fit around my upper arm.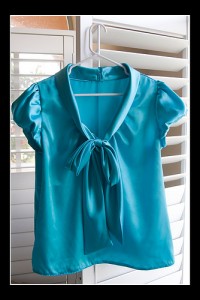 This is a fairly easy blouse to make. The most difficult part was actually cutting the collar pieces. They are huge and would not fit on my kitchen island cum cutting table so I cut them on the floor. I thought it would be fine to cut the end that didn't fit on the cutting mat just on the floor and I screwed up my rotary cutter's blade so I had to buy a new one. I was making this blouse for a cruise I went to this past weekend and I left a few things for the last minute. In my mad rush to finish it up, I accidentally cut a thread in center back collar seam and it was coming undone. I didn't have time to take it apart and resew so I stitched over the entire seam with a decorative stitch. Desperate times call for desperate measures.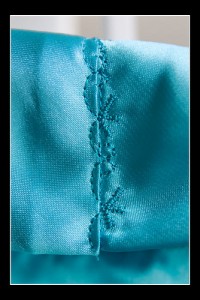 I did make a fairly big, although totally invisible, change. The neck actually has a deep slash below where the collar ties come away from the collar, if that makes any sense. After finishing the blouse I realized this was just too deep for my liking so I just sewed it close with invisible thread. This 100% hidden by the bow so it's really no big deal. If I had realized this earlier I would have altered out the slash altogether. The neckline itself is deep enough that one one should have any trouble getting their heads through.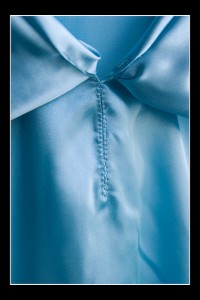 I would absolutely recommend this blouse to anyone. It's very cute and it can be dressy or casual depending on the fabric used. I used a sky polyester charmeuse from www.fabric.com. I wore the blouse with jeans and a stunning pair of shoes for the last night of the cruise. It looked great and I felt great. It was totally worth the pain the butt that working with this fabric was.