For those of you who don't know what Patrones magazine is, it is a pattern magazine, "patrones" being the Spanish word for pattern. It is a monthly magazine published in Spain and it is very difficult and VERY expensive to get here in the US. I have paid up to $25 with shipping for a single issue. The magazine is printed exclusively in Spanish. Luckily, Spanish is my mother tongue however….because the language used in the instructions is pretty technical, they might as well be written in Greek. Each issue has many patterns for all sorts of garments. The patterns only come in three sizes, most often 40, 44, and 48. Those are European sizes roughly equivalent to American 10, 14 and 18 respectively. Sometimes the patterns come in 38, 42, and 46 and usually have some plus size patterns and the patterns do not come with seam or hem allowances, but I digress.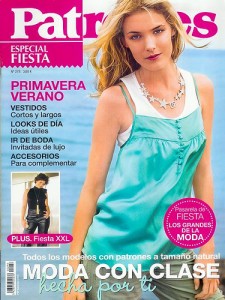 A few weeks ago I started making a pair of shorts from the issue #278 because I really needed a pair shorts and I had already failed with a McCall's pattern. I originally traced a size 48 and graded up a bit on the waist line. I then added the seam allowance and cut the muslin. Right then and there I should have known this pattern was nothing but trouble for me. When I tried on the muslin, I saw all the things that needed altering and I fixed the pattern accordingly. I needed to add a bit of length to the crotch and the the back waist as well as a full thigh adjustment. I am not quite 5'2″ and these shorts were very short on me even before hemming so that needed to be taken care of too.
It too me ages to fix that muslin and I got it to fit. I then took it apart and used it to cut the fashion fabric. Confident that it would fit, I went ahead and sewed everything. It was looking pretty big but then again, I am not exactly a twig so I just kept telling myself it was all in my head. Well, turns out it wasn't. When I finished the shorts and tried them on, they were about 6 sizes too big. I kid you not. To this day I have absolutely no clue as to what the heck went wrong. The muslin fit, I cut the fabric using the muslin, I did not add extra seam allowance or took any away, etc. I didn't do anything different with the actual garment than with the muslin. Still, it was gigantic. I am still gobsmacked at the size of those things.
Not willing to admit defeat and convinced something went wrong along the way, I made a second muslin. This time I cut a straight 48 without grading up at the waist. I added a 1/2 seam allowance, made the full thigh adjustments on the muslin and added crotch length. This muslin fit well, slightly on the loose side but I thought I was OK with it. I went ahead and cut the fashion fabric for the second time. I made the shorts and they fit a million times better than the first ones but were still 1 size too big.
At this point, I was hell bent on getting this damned pair of shorts to work for me and I was not about to give up. This time I cut a 48 again, made the same adjustments but did not add any seam allowance. I also lengthened the shorts considerably and even then, they were only as long as my mid-thighs. I went straight to the fashion fabric, cut, sewed, tried on. Alas, they fit. They are a bit snug on the thighs and lower belly (surprise!) but they pass the wearable test. I thought I had finally subdued these shorts but oh no, no sirree.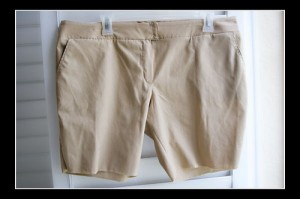 I really wanted to take these on the cruise so I was working on them right until the last minute. I had to abandon the project because I really had to leave for the port. I am having a hell of a time sewing the freaking buttonhole on the waist band. For some ungodly reason my sewing machine refuses to move the fabric forwards and backwards properly so I end up with a wad of thread on the underside making it impossible for the feed dogs to work. So, as of right now, there still is no buttonhole or button. I still haven't hemmed them yet.
On the bright side, after so many tries, I was tired of seeing how plain these shorts are. Instead of the traditional straight stitch topstitching I decided to use a decorative stitch instead on the pockets. This detail I love and I will definitely use again.
So, the more I think about it the more convinced I am the answer is masochism.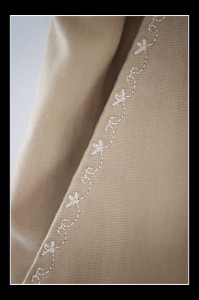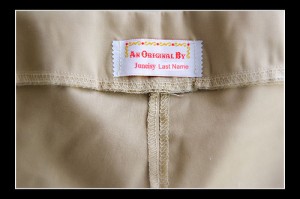 Just wanted to show off my new labels 🙂