I knew it was only a matter of time until I bled (pin pricks aside) while sewing something. While working on this skirt I managed to very nearly impale my little finger on my very sharp Gingher dressmaker's shears. Ouch. it was not a wide gash but it was deep…and I bled….and I cursed.
This skirt is from the very first issue of Burda World of Fashion I ever bought. I had already subscribed but I couldn't wait to get my first issue so I stalked eBay until I found an issue that had something I really liked. This was it. It is pattern 105B in the January 2009 issue, otherwise referred to as 01-2009-105B.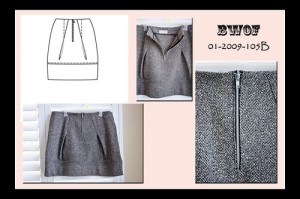 The skirt has really deep pleats that are stitched in place and then top stitched. The hem band is cut on the bias although you can't really tell with this particular fabric. The largest size on the pattern was a European 42 and I cut the muslin in that size. Based on the muslin, I needed to add 3 inches or so to the waist. For some reason I still can't figure out I added roughly 2 inches to the entire side seam instead of just on the waist so it went from a somewhat fitted skirt to a not so fitted skirt.
The muslin with the added inches fit OK so I went ahead and cut the fashion fabric. Now, here lies the issue. I don't know why I even bother with muslins anymore since not a single muslin I have ever sewn has been a true indication of how the final garment fits. The muslin always fit but the garments are too big. So, I ended up with seam allowances that were 1 3/8 in so if I had cut a straight 42 in the fashion fabric it would have been perfect. I am truly puzzled by this muslin fitting issue.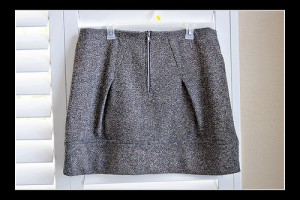 Anyhow….the skirt's construction is actually pretty simple. I attached the hem band to the skirt body with a french seam and I really shouldn't have. The fabric is just too thick and the french seam made the side seams too thick and my machine had trouble with it. However, I after all was said and done, the skirt turned out great, especially considering I am a beginner and this was my first BWOF skirt and second BWOF project.
If you don't know about BWOF, it is a German pattern magazine like Patrones. However, unlike Patrones, the patterns come in more than 3 sizes. This particular pattern was sized from 34-42. Like Patrones, sewing instructions are minimal, they have to be to be able to fit 50 plus patterns and instructions in a single magazine. The subscription is about $80 a year. That's under $7 a month and you get 40-60 patterns for money. It is an amazing deal. Even during the best sales at Joann's, the cheapest you can buy a single pattern for is 99 cents. That's only 6 patterns for the price of a BWOF issue. There is no comparison. I am in love with this magazine.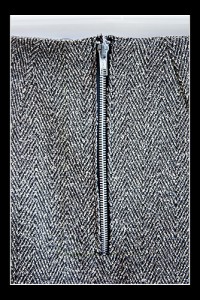 Now, back to the skirt. I had to cut the front body twice because I messed up big time with the first piece. As I mentioned, for someone who is used to having very in depth instructions provided by the Big 4 (Simplicity, McCall's, Vogue and Butterick), BWOF are anything but. I read the instructions for the zipper slit and proceeded. Well, I cut way too far into the skirt and ended up with a useless piece of fabric. Thank The Flying Spaghetti Monster I had lots more fabric and was able to cut another piece. Live and learn.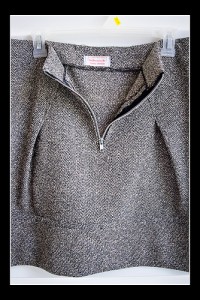 I really like how it turned out. I wish my body shape was different and that skirt could be fitted around the waist and hips but alas, it's not possible. The only change I plan to make to the original design is add belt loops. Skirts without belts or elastic have a tendency to slip down on my body so I really need a belt. I can't wait for the right occasion to rock this skirt!