I just joined the very talented ladies over at Sew Retro! I'm so excited! So far I haven't sewn much from vintage patterns, just a few things here and there from reissued patterns for my son but that's about it. I had been lurking at Sew Retro for a while and I'm always amazed at the talent those girls have. I really want to start sewing more vitange garments so I thought joining them would actually give me an excuse, and encourage me, to do so. I hope my plan works!
In honor of my joining Sew Retro, I am going to do a pattern giveaway! I haven't had much luck with giveaways here (cough….pink soaker…..cough) so I hope this one is more successful. Entering the giveaway is very simple, just leave a comment telling me how you got interested in vintage sewing or just vintage things in general and in two weeks (October 20th), I will pick a winner using www.random.org. Each comment will be numbered in the ordered they are posted. I will then post the name of the winner and an email address to contact me so I can have the mailing info.
Here is the pattern. It's small but who knows, maybe you'll be up to the grading challenge!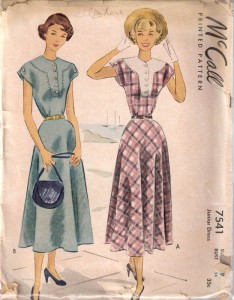 Good luck!