Well, I tried, I really did but still no dice. I have been working on vintage Simplicity 7626 for days. I did a muslin and decided I needed to change a few things. I made the garment with those changes at is was enormous. I went back to the original pattern as was then back, etc. I have ripped more seams than I even care to count but still nothing. It's just not going to work. I got a good fit across the bust but there just isn't enough ease for me. The patter is for a 36 bust with about4 inches of design ease. I have a 40 bust and the bust is quite fitted on me. No big deal, that's not the problem. The problem is that the waist of the pattern is just too low for me and I didn't realize this until it was too late. I tried to make changes to the dress but it just looked odd.
Here are two pictures so you see how horrible this thing looks on me. It is SO unflattering. Maybe the problem is my odd body but either way, it looks gross.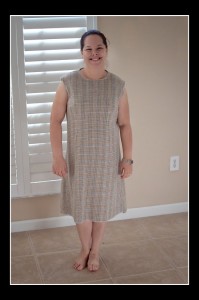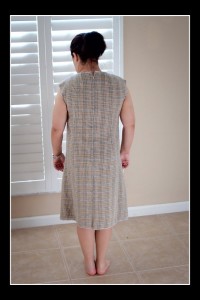 So there, after all that, I'm throwing this one in the UFO pile and off to Wadderland it goes. The fix is simple but I'd have to cut a whole new garment and quite frankly, I can't be bothered. I get very discourged by stuff like this. I don't even think there is anything else I can make from this failed dress. I thought of chopping it up into a top but I don't wear tops that snug. Blah. Besides, I can't say I love the fabric as used here (I originally bought it for a coat).
So long Simplicity 7626!