Finally! I finished this top two weeks ago and I am just now getting around to blogging it!
Does it look familiar? Well, it should! It is the same pattern as this other one. I liked that top so much and it was so easy to make that I decided to make another one. The fabric I chose this time has completely different qualities and it makes for a different look. I think anyway.
I bought this fabric some time last year at Jo-Ann's. It's polyester which I usually don't go with but it's very light , I figured it would be OK for a light dress, a sleeveless blouse or something like it. The drape is much more flowy, if you will, than the fabric I used the previous time. The cowl is far more liquid and hangs completely differently. I really like but I like how the other fabric behaves too.
The only thing I did differently this time was that I didn't do French seams and I finished the neck opening seam a little bit better. I actually tried to bind that seam but it was a nightmare so I decided to serge it very carefully with matching (yellow) thread. It looks MUCH neater than the previous one. Because of how this fabric drapes, the neck opening is much more exposed so I'm glad I did a good job with the seam finishing!
I actually debated adding sleeves this time but I decided against it. I wish I had done so though. I may just give it a shot at some point, we'll see.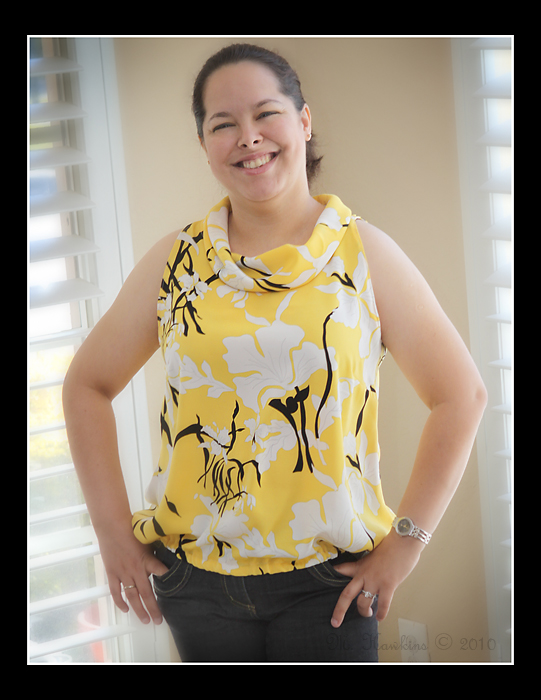 Now, I have a BWOF pattern for a knit top all ready to go….we'll see how long it takes me to finish it and post it. What I REALLY need is bottoms but they are SOOO time consuming! I think I'll just buy some.