I had surgery almost three and a half weeks ago. The first two weeks were pretty hard and I could hardly stand, let alone stand straight. However, the last week and half has been worlds better. I can actually do things like stand almost straight and therefore I can cook, sew, etc. Well, sewing per-se wasn't an issue, the problem was that to sew I had to stand to trace patterns, cut fabric, etc but I digress.
I am now able and more than willing to sew again so as soon as I felt up to it I went ahead and got busy. I have nothing to wear post surgery so I the sooner I can crank out a few pieces the better. I decided I would start with an easy pattern and I couldn't have picked a better one. I chose a pattern for the recent Ottobre Woman, 02/2010. It is literally two pieces, front and back with a gentle cowl neckline.. The most complicated part of this pattern was getting the coverstitch as close to perfect as I could. To do that, I first sewed a row of basting as close to the edge of the inside hem and seam allowances of neck and armholes as I could and then used that to guide the coverstich needles. I kept the row of basting between the two serger needles. It is not absolutely perfect, I missed one little spot on the hem but it's pretty damned close.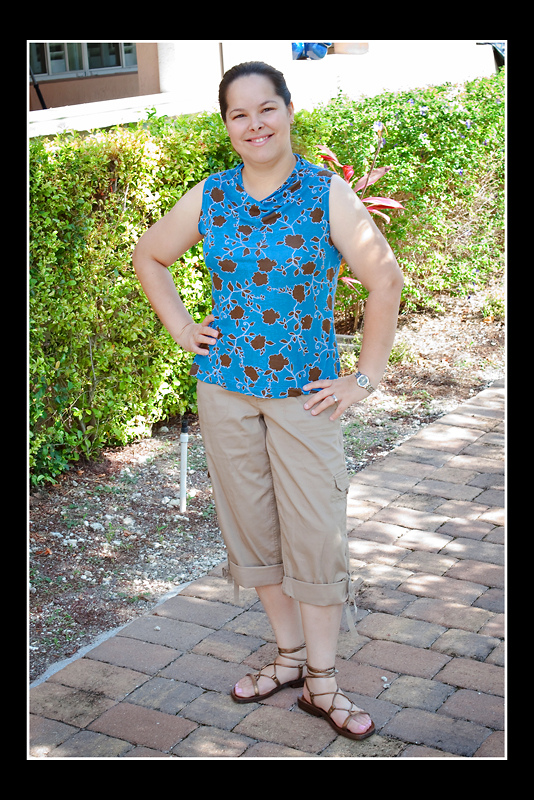 I have to say that I wasn't sure this top would work beacuse I still have my hangups from my old body shape but I was VERY pleasantly surprised when I put it on. There's hardly any sign of tummy when I'm dressed except towards the end of the day when I still swell considerably. Recovery is slow but I'm sure it will be well worth it. I actually considered drafting sleeves for this top but I decided against it. I'm not thrilled about my upper arms but this IS Miami and it gets bloody hot in the summer, I need cool clothes. I think I'm actually going to make this again and add cute fluttery bias-cut sleeves.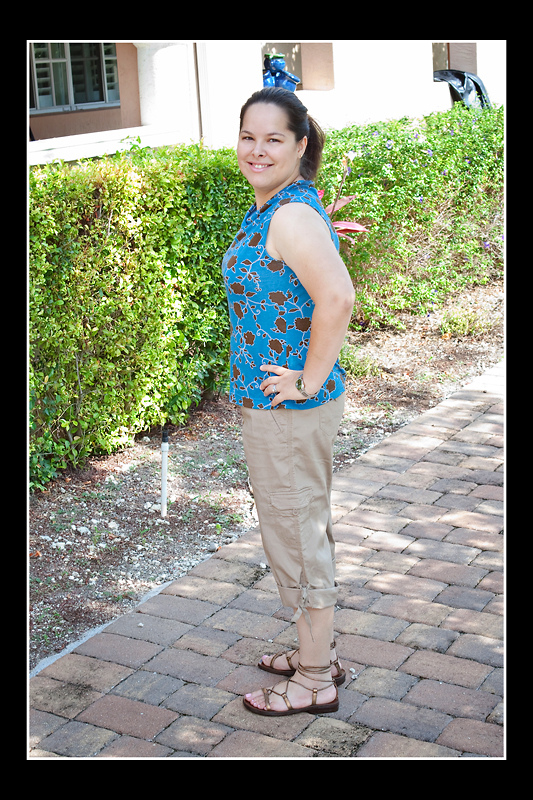 I wore the top out today and it's so comfortable. Working with knits is a pain in the butt but the garments are so nice and comfortable if not always stylish…which this top is certainly not. This fabric is a light cotton knit from Joann's fall line.