Many of you probably don't know this but while I claim to live in Miami, I really don't. I do live in Miami-Dade County but about 35 miles south of Miami proper. I can't even say I live in Homestead, FL because I live just outside the city limits, in unincorporated Miami-Dade County. I'm closer to Key Largo than to Miami as most outsiders think of it. So, if I'm talking to a local I say I live in Homestead and if I'm talking to a non-local I say I live in Miami, but I digress.
I was up in Miami, Coral Gables to be exact, today for some errands and I decided to go into this one fabric store, Rex, that is known for its amazing stock. I had been there once before, many years ago, before I even thought about picking up sewing and I was impressed then. The infatuation was even stronger this time around. This place is just full of the most beautiful bolts of fabric you have ever seen. These are not any fabric though, no sir, these are bolts upon bolts, aisles upon aisles of $150 a yard Cavalli silk, $200 a yard Gucci silk chiffon, Armani, Versace, Ungaro, Valentino, etc. Not to mention the $900 pieces of hand beaded applique.
Readers, this is a haute couture fabric store, not the place you go to buy fabric for your every day clothing and definitely not the place you go to buy stash fabric. This place is to fabric shops what Barney's is to fashion retail, what Fortnum & Mason is to grocery stores, what Manolo Blahnik is to shoes. As the cherry on top, they have beautiful displays. They drape some of their fabrics over dress forms in such a way that they create exceedingly stunning and believable "gowns" worthy of any red carpet; all without a single stitch. They are so beautiful that they make you want to take them off the form and put them on yourself. Worse, they make you want to actually buy the fabric. As I stood in front of the stunning display of Valentino white silk with red flowers draped into a floor length ballgown, actually contemplating buying the fabric, I thought to myself "Wallet, I don't think we are at Joann's anymore".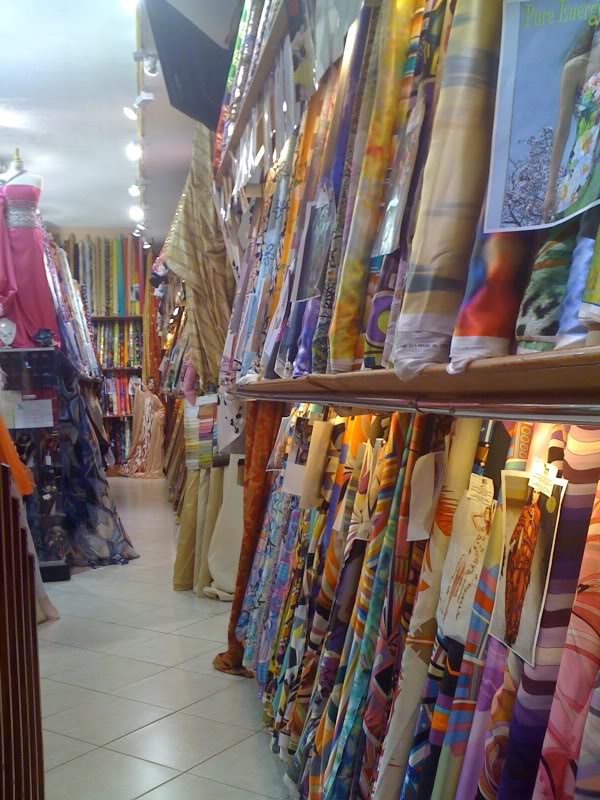 I was able to take one picture but I didn't want to risk more because I don't know how they feel about it. I wish I could have taken more pictures because words do not do this place justice. In case you are wondering, I left empty handed, just as I intended. Maybe some day….