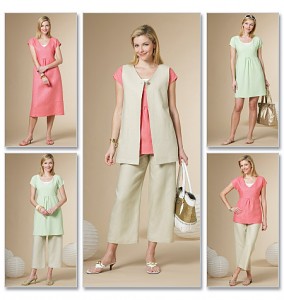 I started working on this dress probably a month ago. I decided to skip the muslin because it was an easy, loose dress so what could go wrong? WRONG! I made the dress and it was ALL wrong. First, it was enormous even though I picked the size that the pattern said I should be based on my high bust measurement. The neckline opening was also really, really big. The dress was nearly falling off me while ON. Craziness. So, I made adjustments and went at it again with a different fabric.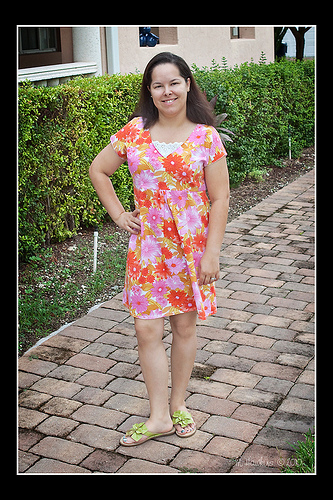 I went two sizes down and cut a size 10. The size 10 FULL bust measurement is (not finished garment, but body measurement) 32.5 inches. My full bust is 38 inches. The amount of ease in this dress is just ridiculous. Even after cutting a size this small, I ended up having to take the sides seams in a bit below the bust because it looked like I was wearing a tent. Before I picked this pattern, it didn't occur to me that the bodice is not shaped at all. This is not a very attractive look. After I had assembled the dress, I decided that I NEEDED to shape it so I added to small darts just below the bust extending down to the skirt. It looked much better that way. The truth is, I was hellbent on making the dress work because I like this fabric and I can't get any more of it. I bought on a trip to Mexico last December. Mind you, this fabric is all wrong for this dress. It is very light and crisp with virtually no drape. This dress needs a heavier fabric with more drape so it pulls it down and does not balloon up under the empire waist seam making you look pregnant. It's not pretty from the side. However, I will wear it for the above mentioned reasons.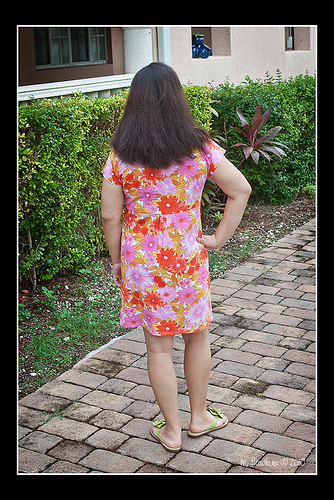 The dress is supposed to be worn with a cami underneath. The V neck is pretty deep (by design) and there is no way I can get away without a cami. I live in South Florida though and I do not want to wear layers so I added a modesty panel attached to the front neck facing. I used some embroidered scallop edge fabric I had. I omitted the ties and roll hemmed the sleeves because there was no way I could do a narrow hem on them. After all is said and done, the dress is far from perfect but I like it. This is, however, a poor pattern.