When I was making the blanket buddy from the previous post, my son came up to me and said with a gleam in his eyes "Is this for ME?" It wasn't, and I felt guilty, so I put on a poker face and pretended I did not hear him. This worked, until he saw it again so I told him I'd make him a toy. He's also started to complain about monsters in his room at night so his dad thought that maybe having a stuffed animal would help, like a security blanket type deal. I'd much rather sew than knit so I showed the kiddo this pattern and asked him which animal he wanted. He picked all of them except for the two pink ones LOL. I found that hilarious because we have never enforced any type of gender role stereotypes, yet he's drawn to "boyish" things. Anyhow, I told him he could pick only one so of course he picked the most intricate, and difficult to sew, one, the elephant.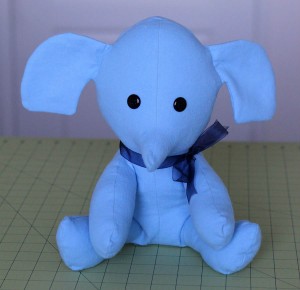 It is not a difficult project nor time consuming, there's just a lot of curves. I'd say that it took about two hours of actual work, including cutting out the pattern, ironing it, etc. I trace patterns onto tracing paper rather than cutting the actual pattern tissue 99% of the time, but because there is only one size per animal here, I didn't feel cutting the pattern tissue would compromise anything. This saved me a lot of time. I also did not iron most of the seams because it's a pain in the pattootie to iron so many deeply curved seams.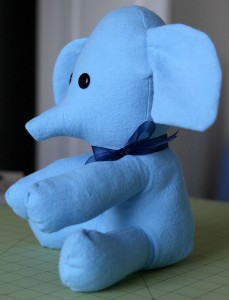 The kiddo has not seen it yet, he's at my mom's this weekend, but I can already picture the huge smile on his face when he sees it. I'm pretty pleased with how it turned out and I'd definitely make it again.