Finally something non-costume and non-knitting related!
I first traced this pattern according to my son's measurements months and months ago, but as always, I got sidetracked by life and the traced pattern just sat in the sewing room. That and I didn't have enough flannel to make the pajamas and just didn't seem to get my act together and buy some. A few weeks ago I pulled the pattern out again, remembered I didn't have enough flannel, and put it back in the envelope. FINALLY, about a week ago I bought some very cute nautical themed flannel, and started working on the pajamas as soon as I was finished with the two other projects I had been working on. In the end, it probably worked out for the best because the pajamas are a bit big on my son now, but when I first traced the pattern it would have been massive. The pattern runs absolutely huge.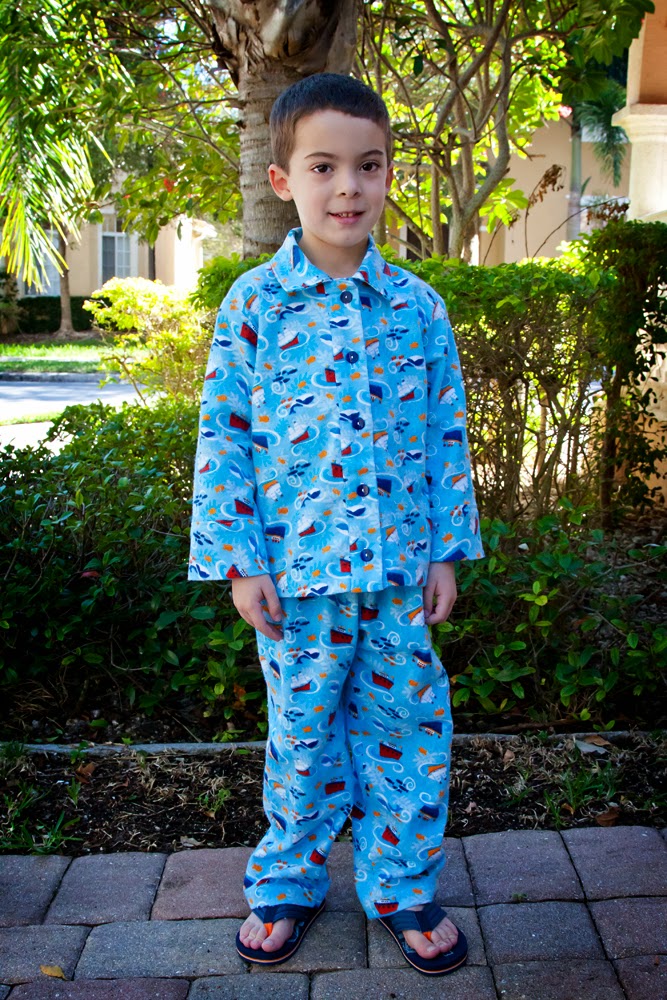 The pattern instructions were actually pretty decent, but despite that, this pattern is not really a beginners pattern, or "easy," as McCalls sells it. The way that the button bands and the collar are sewn makes for a clean finish, which I'm glad I did because, for pajamas, I'd be tempted to go the easy route even if it doesn't look as good from the inside. That said, I skipped the interfacing in the collar. They are pajamas, interfacing is superfluous. I chose view D for the top, which is the view without piping (and obviously, no flounce). If I made this again, I'd do the piping. I do love how it turned out, but I think piping would have really made it pop.
I made the buttonholes in the new(ish) sewing machine, which I hadn't used for buttonholes before. The buttonhole foot comes with a metal plate so that heavy fabric can be sandwiched between the plate and the sewing foot, making the entire piece move as one and not relying on the feed dogs to move the fabric. This make for pretty great buttonholes that would have otherwise been meh due to the thickness of the fabric layers. I am pretty impressed!
My son loves it, like everything I made for him. He stood in front of the full length mirror in the sewing room and said "Do you know what this is? It's beautiful!" 🙂