I first saw this 1968 pattern in a vintage pattern lot I bought in 2009.  I was immediately smitten with the color and the scalloped edge of the center front edge. At the time, I wasn't confident enough in my sewing skills to attempt those scallops and I left the pattern alone.  At the time, I was also considerably heavier and I would have had to make a lot of adjustments since the pattern, as these patterns usually do, only came in one size; size 16 38-inch bust in this case.  I also didn't think it'd be flattering.  The pattern sat in a box with the rest of the lot for a few years.  I took it out again a couple of years ago and although I was confident in my sewing skills and even in my grading skills, I was much lighter then, which would have also required quite a bit of faffing around to make the pattern work.  So I put the pattern back again.  Damned if you, damned if you don't.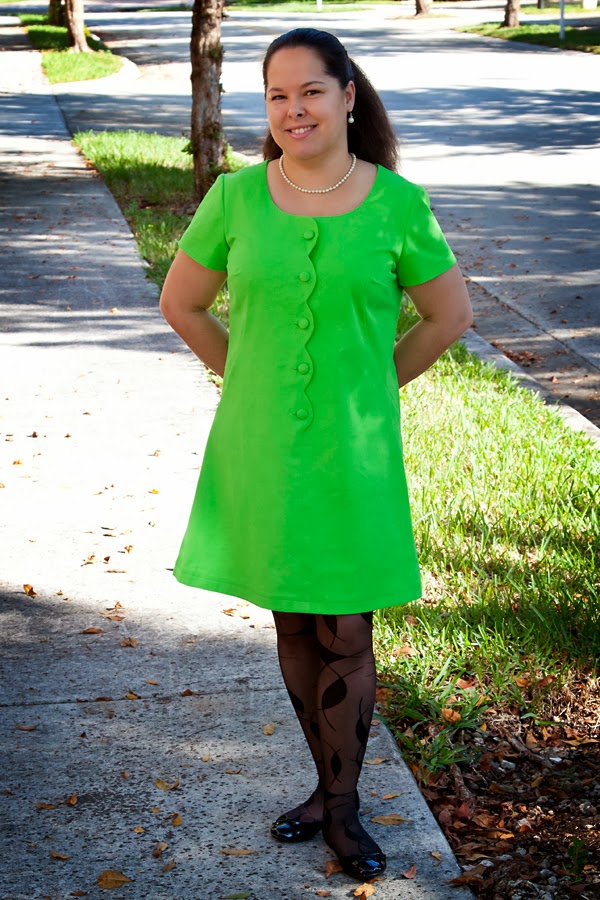 So, in July of last year, after having put on some weight again, I thought it was the perfect time to finally make the dress.  After making a muslin, I searched high and low for suitable fabric; I knew I wanted bright green, and it had to be a heavy enough fabric to give the dress shape but not so heavy that it would be too stiff or bulky.  Not an easy combination of qualities, it would seem.  I ended up buying lime cotton twill from fabric.com and not only was the weave and weight perfect for this dress, I loved the color too.  I mean, it's green, really green. I love it.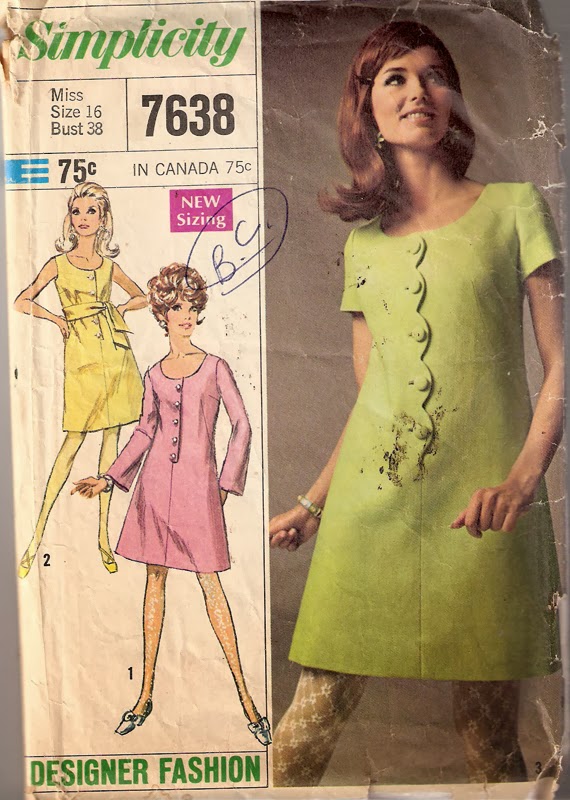 "Juniors' and misses' dress and sash…Designer Fashion.  The lined, collarless dress has lowered round neckline and front button closing.  V. 1 has about wrist-length bell-shaped set-in sleeves.  Sleeveless V. 2 has self fabric sash.  V. 3 has scalloped right front edge and short set-in sleeves."
I did have to make fitting alterations to the length, but none to the bust, which was surprising considering that my full bust measurement is way larger than 38 inches.  I imagine this would be enormous on anyone with an actual full bust measurement of 38 inches.  I'm short, as we've established, so I had to take three inches off in length right off the bat.  Which left me with a two-inch hem, which I think works.  I have big upper arms and added some width to the sleeve.  I also removed some of the sleeve cap ease.  Once I got the fitting done, I cut the fashion fabric, then proceeded to let it languish in the sewing room for seven months.  In my defense, grad school took most of my non-work time and I truly was swamped.  Never mind that I could have just as well finished the dress between when I cut the fabric in July and when school started the next month.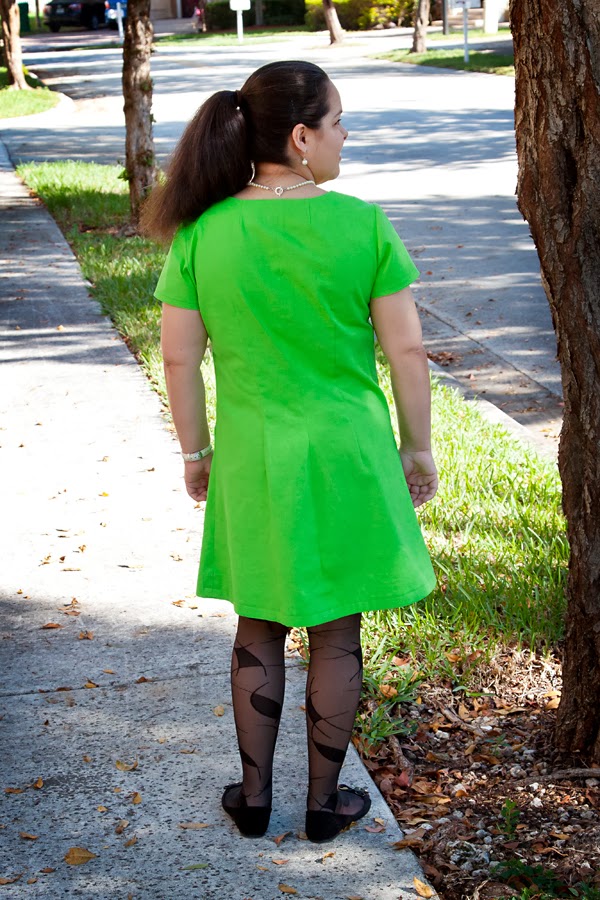 Sewing those scallops to be as rounded as possible was not easy.  I used something like a 1.6 stitch length and sewed very carefully and very slowly.  The photo on the pattern envelope shows bound buttonholes and the instructions do mention bound buttonholes but I chose to make regular machine buttonholes.  I did cover my own buttons.  I did not line my dress, mainly because I didn't see anything about lining in the instructions even though the pattern description says the dresses are lined and there is a fabric layout for the lining.  My best guess is that they assumed people knew how to line dresses, but there really is no mention of lining in the instructions that I could see.  At any rate, I live in South Florida so I wouldn't have lined it anyway.  I finished the seams by serging.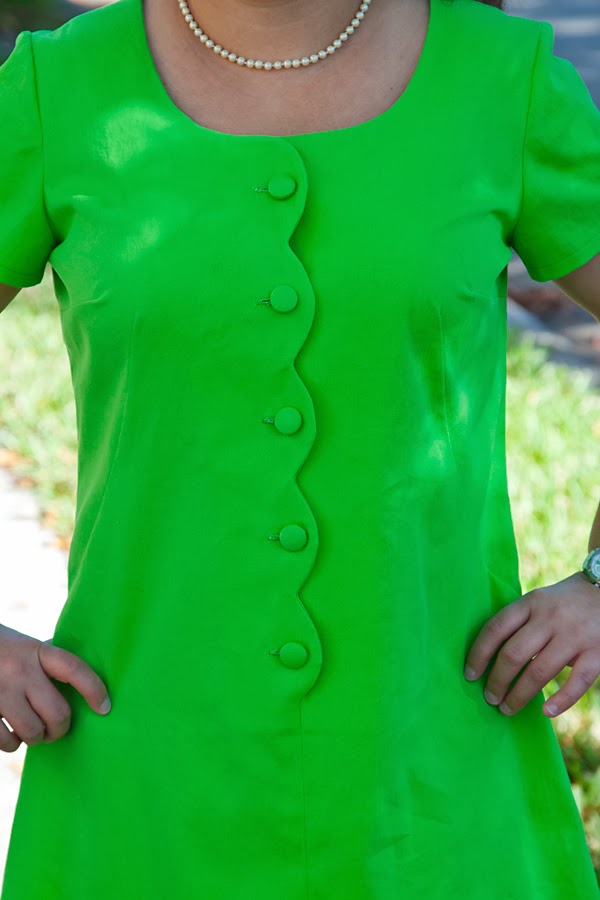 I am very pleased with this dress. I love that it's so distinctive, but I'm also apprehensive BECAUSE it is so distinctive.  Not only is it bright lime green, but it's also a style that is no longer worn by the masses.  I'm going to have to just own it and put on a poker face when I wear it in public if I have any hope of pulling it off.   That said, the dress doesn't look quite so bright green in person, I think it's a bit less obnoxious.