Challenge Description: Use this opportunity to finish off something that's never quite gotten done, or stalled halfway through.
————————————————————–
The Challenge: #8 UFO's and PHD's.
Fabric: Mid-weight linen and cotton duck.
Pattern: Reconstructing History 608.
Year: 1490's.
Notions: Will need cording for the lacing.
How historically accurate is it?  It's machine made, except for the hem. I'd say about 85%.
Hours to complete: Countless if I count all the messing with it over the months.
First worn: Not yet.
Total cost:  About $30.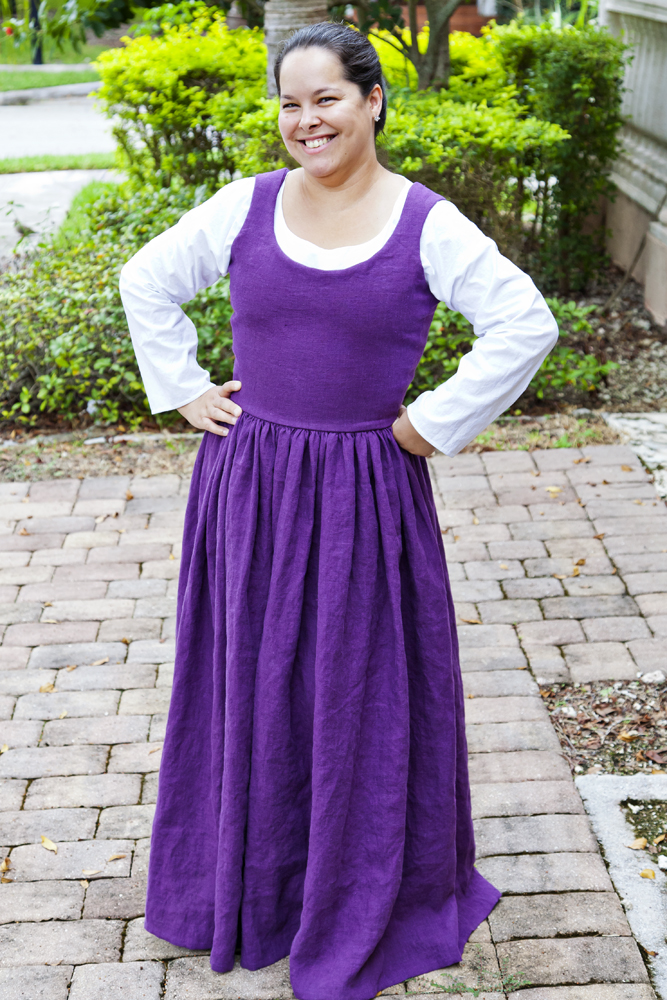 Before I start this post, I feel compelled to say that I am all for supporting small, independent businesses, and that writing bad reviews of products from these companies is difficult because it feels more personal than writing bad reviews of products from large corporations.  That said, I also believe in being honest and bad products are bad products regardless of their origin.  The views expressed in this post are not meant as a personal attack on the designer, it's just an honest review.
With that out of the way…..
I've been working on this kirtle on and off for months, using the pattern Reconstructing History 608 "1490's Pre-Tudor Women's Kirtle."  I made a few muslins a few months ago and gave up because I was so incredibly frustrated with the pattern.  The pattern is very poorly drafted, the sizing is very off, the instructions leave much to be desired, and it's just a nightmare to work with it.  For my first muslin, I measured the pattern pieces and chose to try a size that was two sizes smaller than what the size chart said I should use.  It was HUGE. It wasn't just that it was huge, the proportions were so odd.  It looked like someone had just randomly drawn on a sheet of paper, slapped a number on it, and called it good.  I have worked with a lot of patterns, not all good ones, but nothing like this one.  I adjusted and readjusted the pattern but just gave up.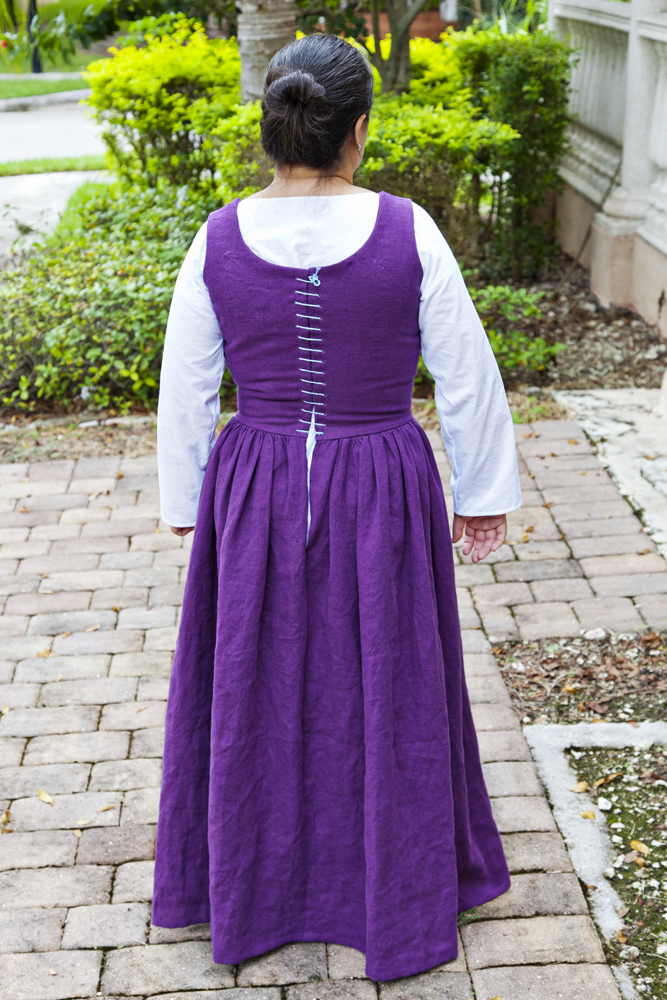 When I decided to give it another shot, I measured again and decided to cut an even smaller size.  I still had to do a great deal of fitting and redrafting of the pattern; so much that I no longer even feel it's the same pattern. In the end, the pattern turned out to be only very slightly better than nothing.  This was the third Reconstructing History pattern I've attempted, and if you look in the blog, there are no reviews of them; that is because they were so bad that I didn't bother to finish them.  It pains me to admit this because the pattern selection of this company is so great, but what good is it to have a great selection of poorly made patterns?  I don't know whether this is true but someone told me that the problem with Reconstructing History is that patterns are drafted for one person and body type, then graded up and down without any standardization, so if your body type isn't like that person's the pattern will be off.  On the other hand, if your body type is like that person's, you're in luck.  So, just because I find them useless for me, it does not mean it's the same for everyone, I just can't in good conscience recommend them, especially considering the price of the patterns.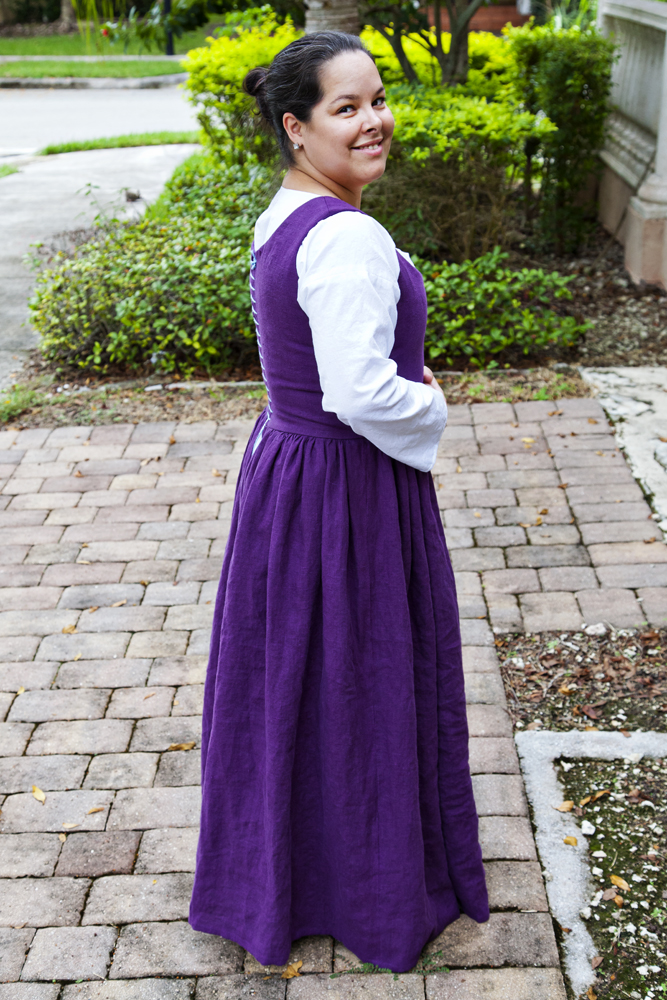 The kirtle itself is made with mid-weight linen. The bodice is interlined with cotton duck and lined with self fabric.  The skirt isn't lined, and it's made from two 57 inch wide panels cut to the length of my waist to floor measurement (plus hem allowance), and sewn together to form the side seams.  I didn't make the bodice to be supportive, although it does offer some support, which is great.  The armhole gapes a little bit at the front, but other than that, I'm very happy with how it turned out.  It will serve as a garment in its own right for a while, but I have plans to make an outfit around it.  I might make some sleeves for it too at some point.
—————————————————————-
Challenge Description: Whip up a fabulous item for under $10 (we'll use US$ as the de-facto standard)
The Challenge: #13 Under $10.
Fabric: Cotton muslin.
Pattern: Drafted using instructions from The Medieval Tailor's Assistant.
Year: 15th century.
Notions: None.
How historically accurate is it?  About 80%.
Hours to complete: About 4 hours.
First worn: Not yet.
Total cost:  About $8.
I made this chemise mostly as a test but it turned out to be  wearable muslin so I killed two birds with one stone!