OK, so I think it's safe to say that I am currently obsessed with sewing knits.  That may or may not have to do with the fact that garments from knits are so quick to sew and not as troublesome when it comes to fit.
Which brings me to why I chose to make this particular dress.  I was itching to make a dress, but dresses from wovens usually take a couple of muslins to get the fit right and I wanted something quick.  I'm also in the processes of shedding a few pounds (a lot of pounds), and I didn't want to go through all the fitting of a woven dress only to not be able able to wear it in a month or two.  Nice problem to have, I suppose, but one I wanted to avoid, so I really needed something that could fit for a longer time.
Enter the kimono-sleeve, wrap-front, elastic-waist knit dress.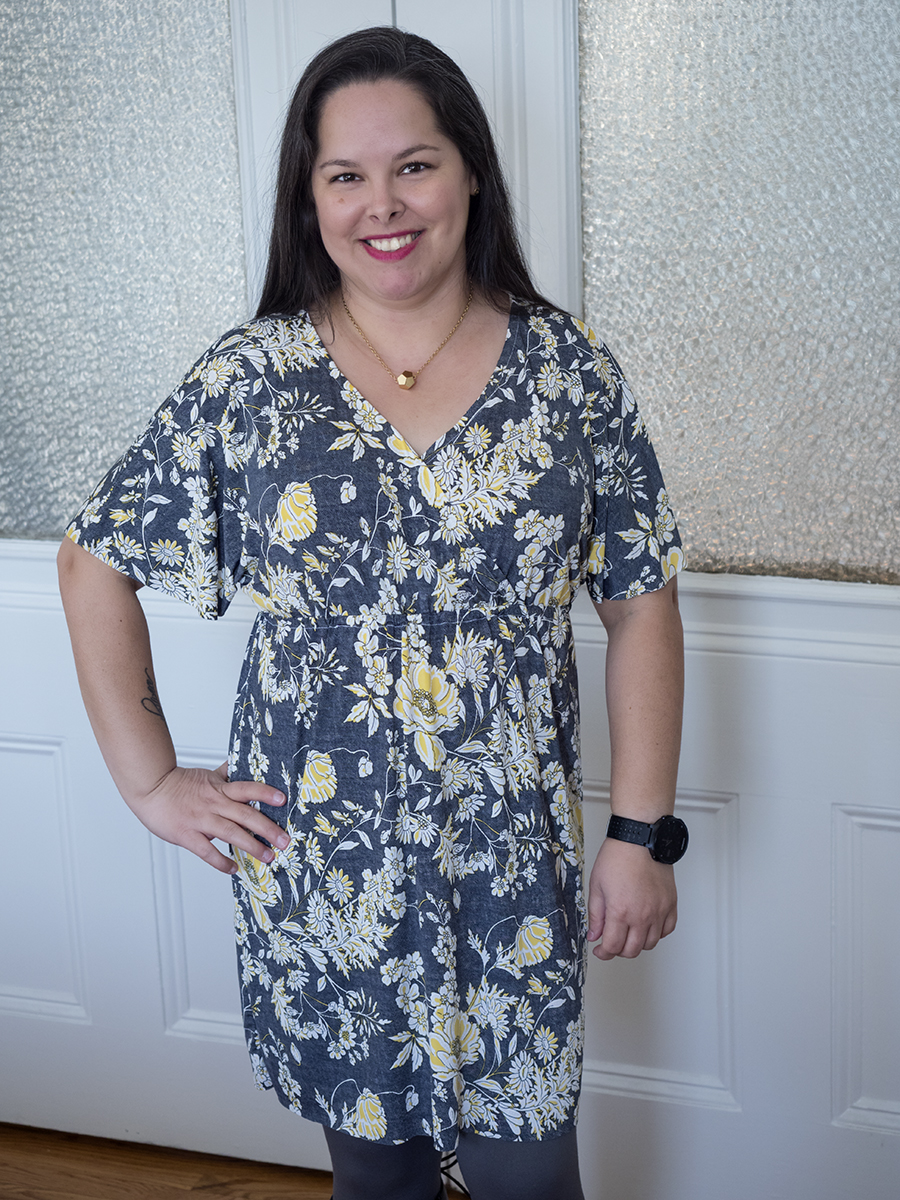 I searched through my pattern collection – which I like to do often – and settled on the New Look 6936.  Then I looked at reviews on Pattern Review and it looked flattering on most people in a wide range of body types and sizes.  So that was that.  I made view C.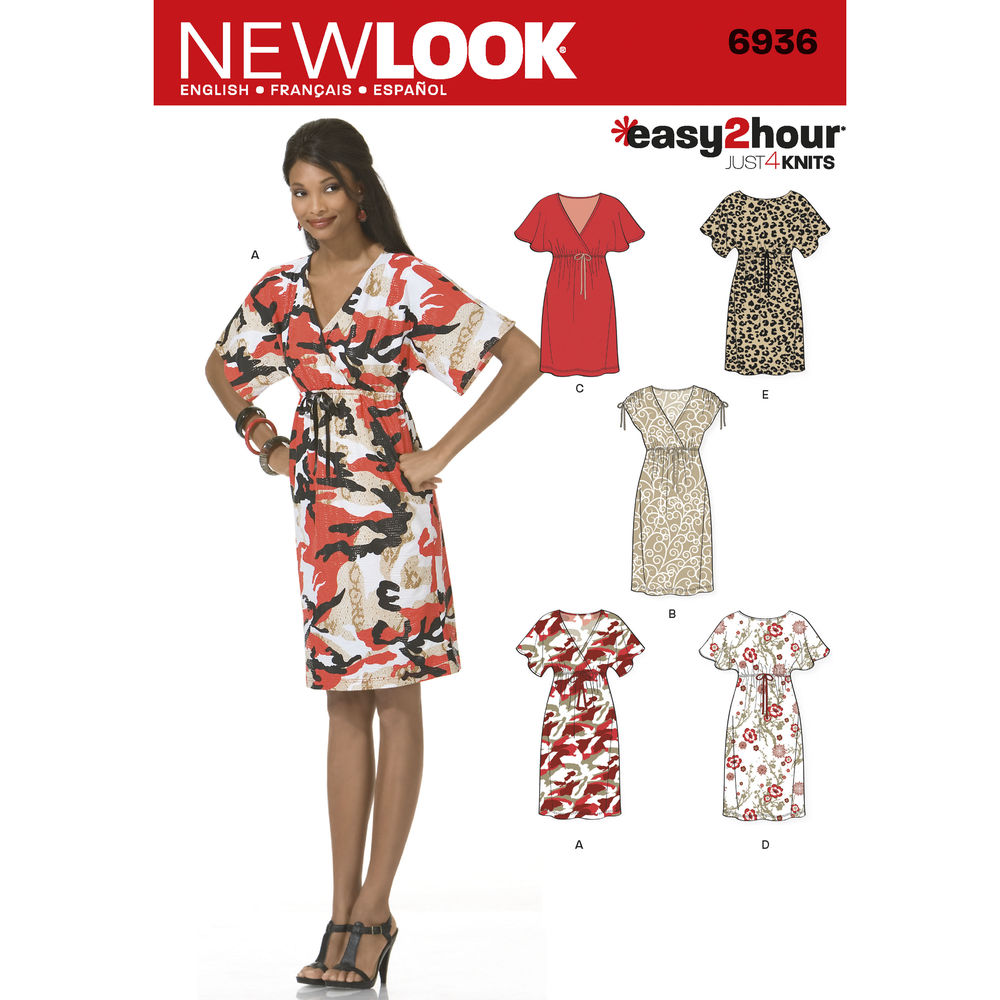 The next step was getting suitable fabric.  I don't (didn't) keep a stash of knits so I bought fabric specifically for this dress.  I went with an ITY knit in a lovely denim color with white and yellow flowers.  It's slightly textured but smooth on the wrong side.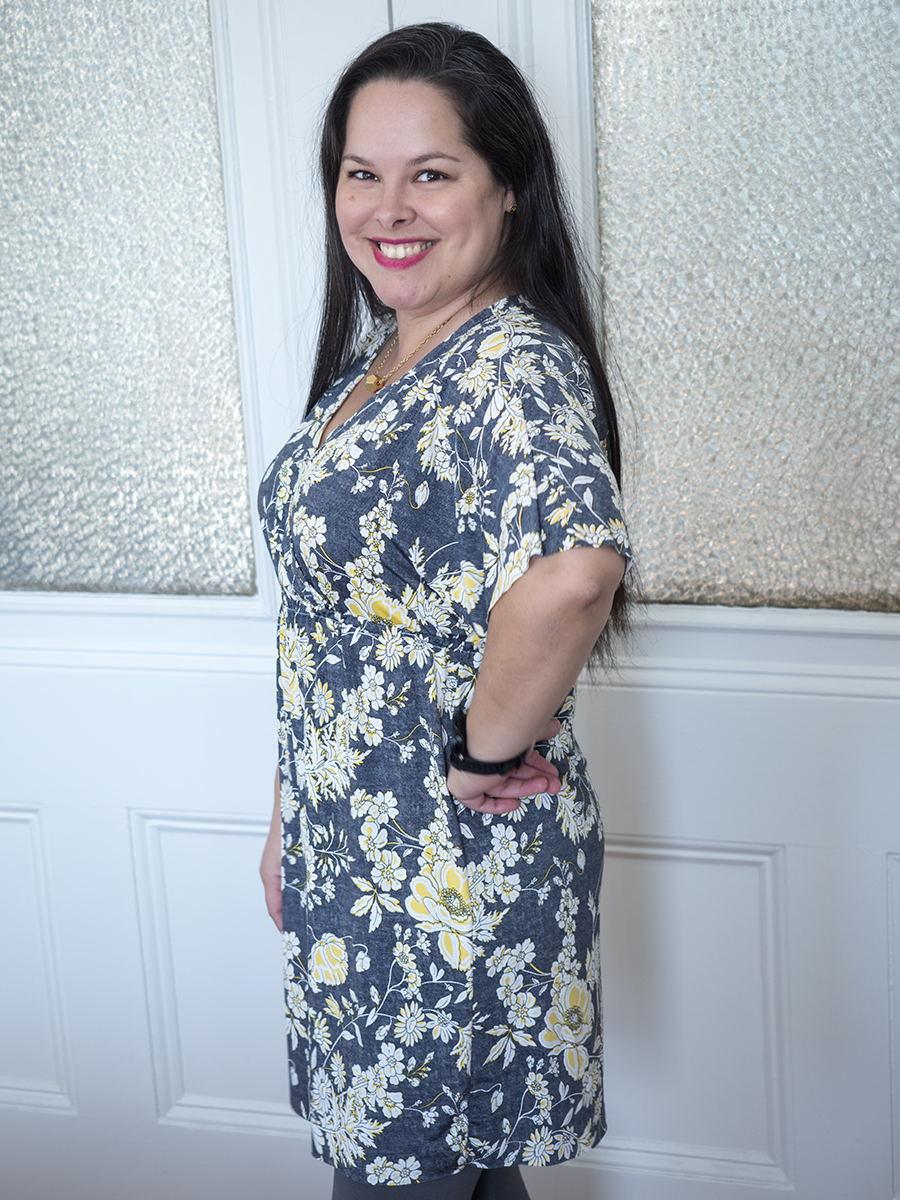 I had never sewn with ITY before and I have to say, it was a dream to work with – until it came time to finish the neckline and hem the dress.
For the neckline, after much consideration about how to finish it – the pattern instructions calls for folding it over twice – I decided to use hem tape.  All the struggle with the initial folding, I think, stretched the neckline a bit, but it's OK, I just tacked it in place by hand where I wanted the V to end to avoid wardrobe malfunctions.  The neckline was the part where I found out that ITY is a royal pain the booty to press.  I ended up having to use my silk organza pressing cloth.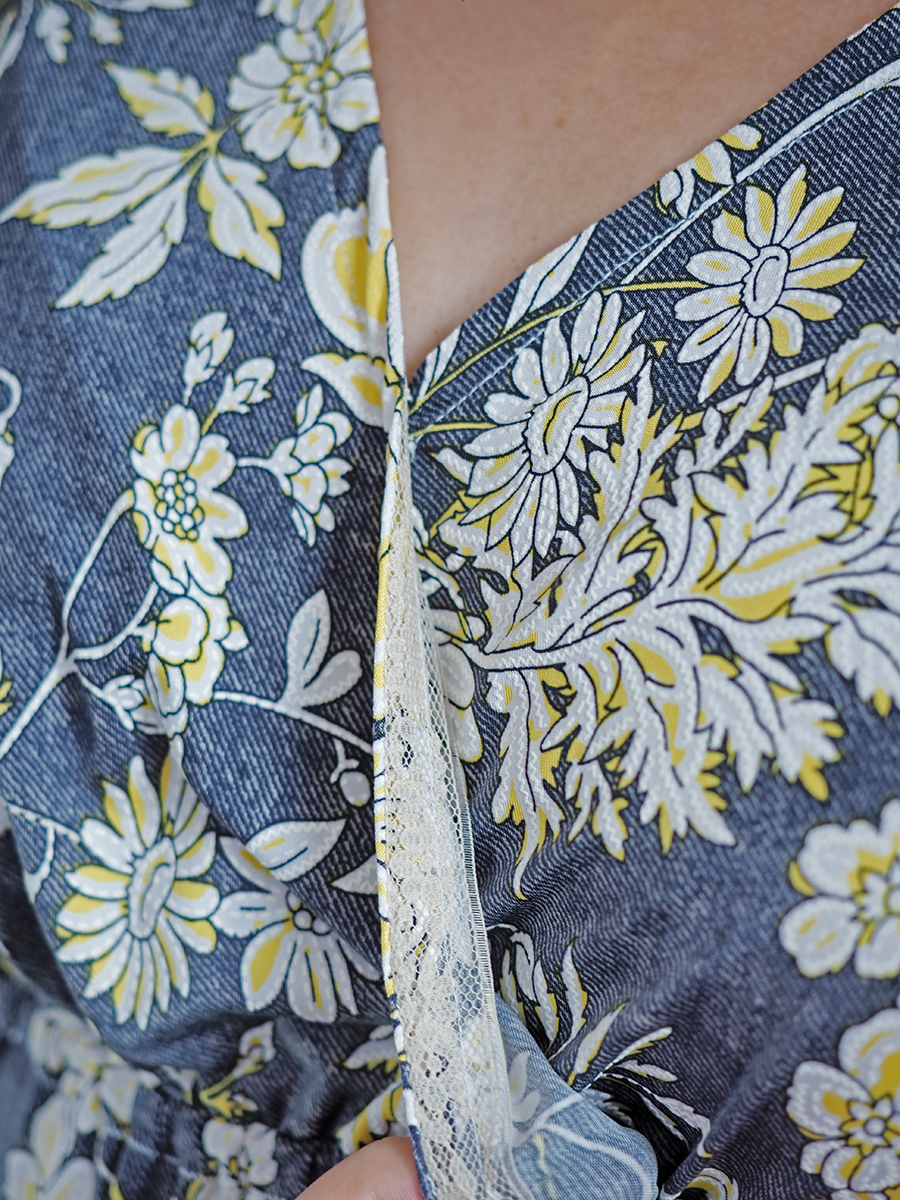 The rest of the construction went fine until I had to hem the skirt and the sleeves.  I tried coverstitching but the ITY was having none of it.  I messed up badly on the sleeves so I had to cut off the seam allowances.  At that point, if I had tried to hem again the sleeves would have been shorter than I wanted them.  I also had shortened the length of the skirt a bit too much initially so it was already sitting at a comfortable place for me and any higher would have been too short.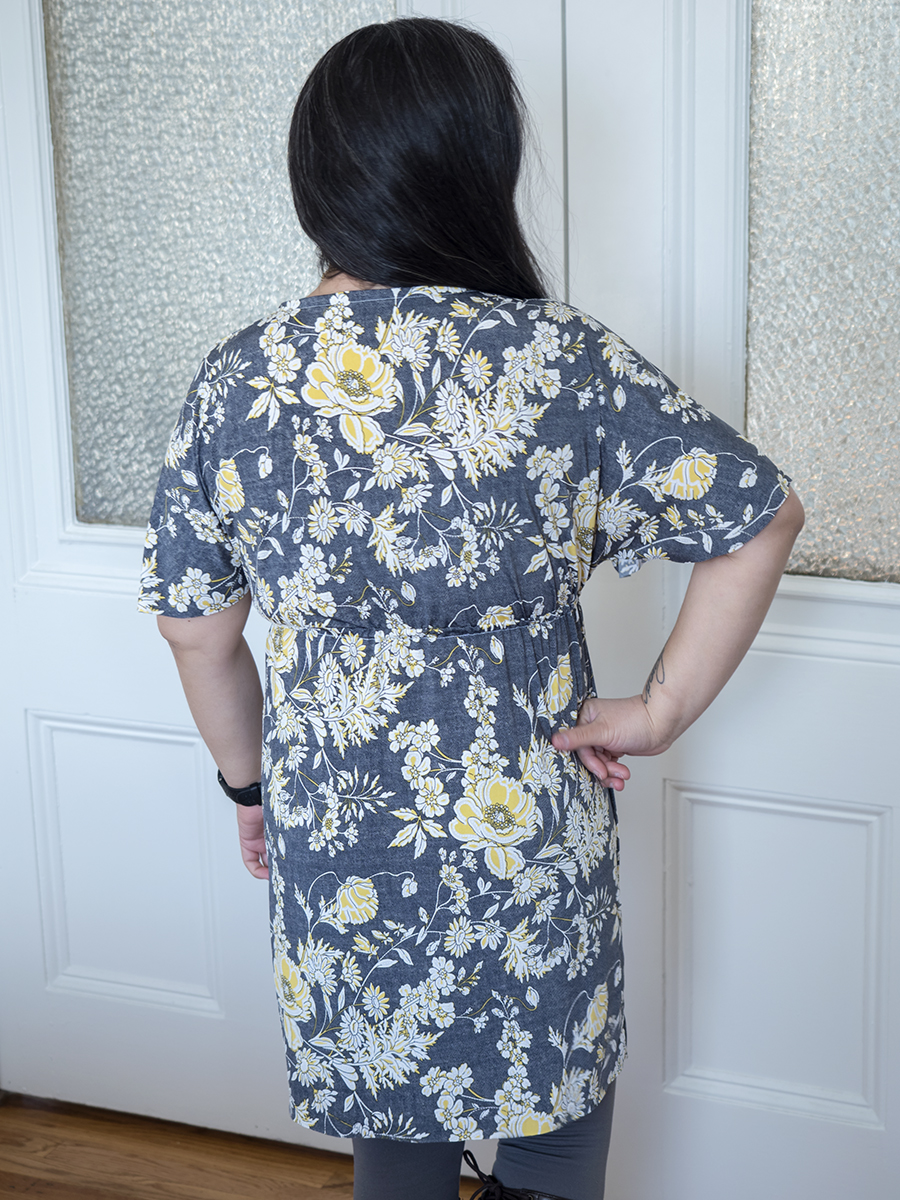 Given all that and the fact that ITY does not fray, I decided to tidy up the hems – as in even out the cutting – and leave them raw.  I have to say, I like them this way.  The flow of the fabric is not interrupted, the sleeves drape nicely, and the skirt is the right length.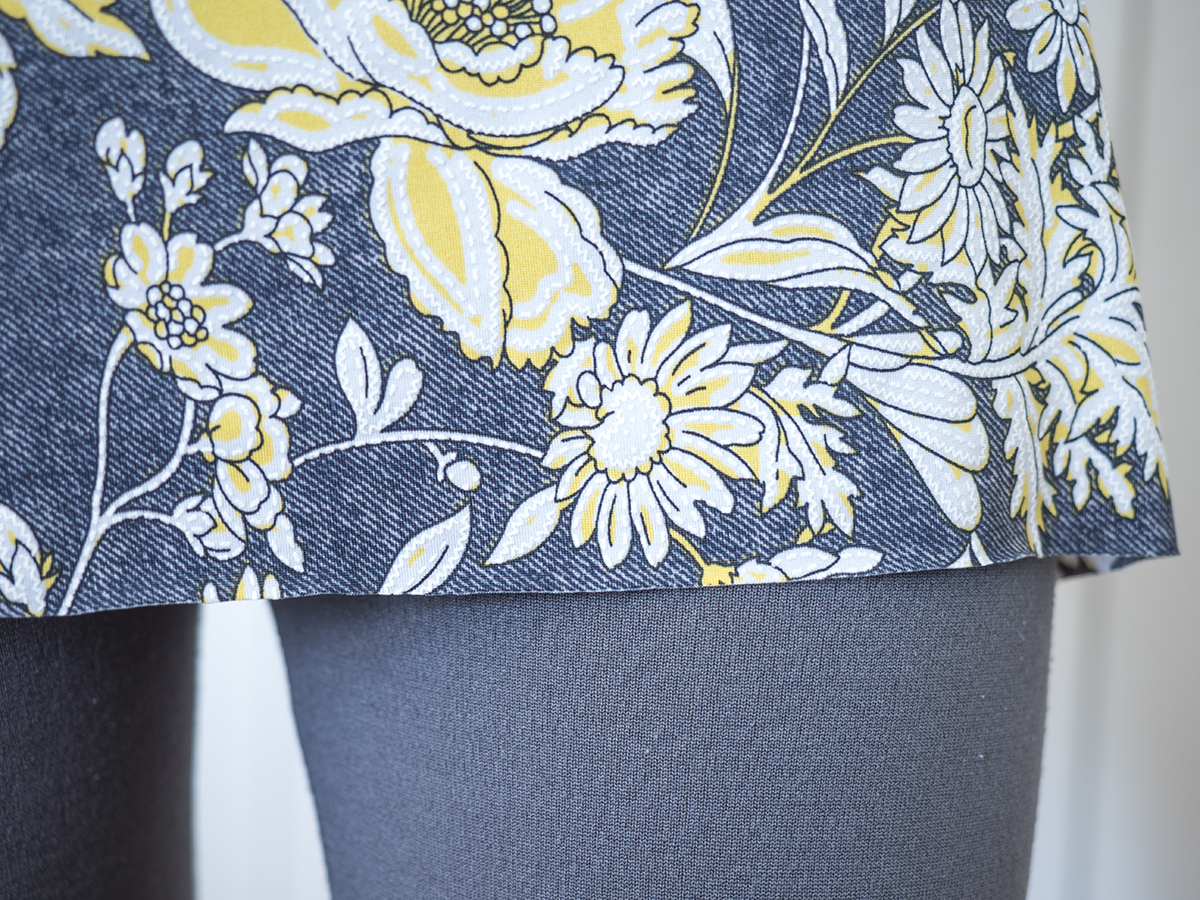 Despite all the setbacks, which made the construction more than the two hours touted by the pattern envelope, I think the final result looks good.  I like how it fits, and I REALLY like the fabric.
One word of warning; the pattern runs HUGE.  There are EIGHT inches of ease in this pattern.  After looking at the finished garment measurements I decided to cut two sizes smaller than the one corresponding to my measurements and that worked out.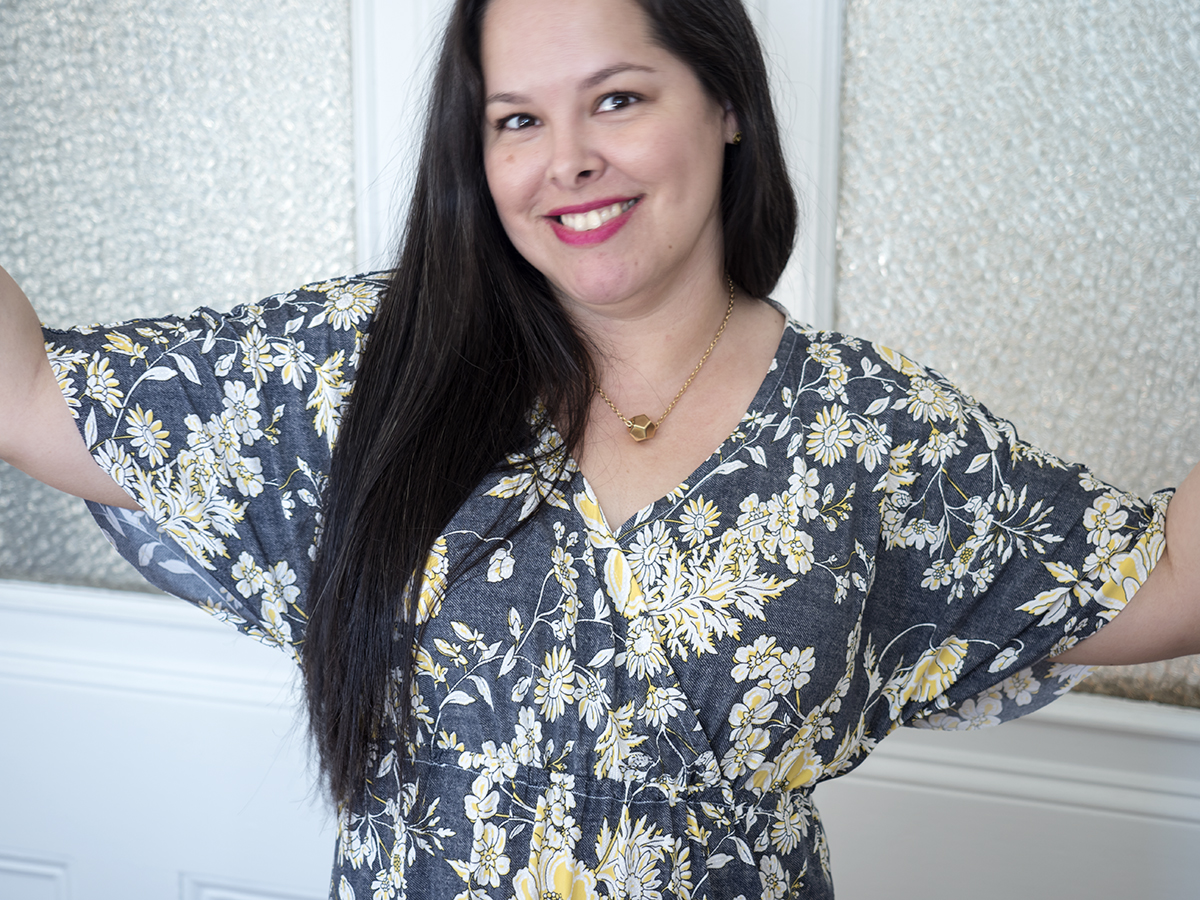 More knits are on the way.  I won't apologize.