I'm currently in the middle of a dress kick, and, quite frankly, I love it.
As I've mentioned before, I don't wear dresses regularly. I think the last time I wore dresses on a regular basis was before I was 10 years old. As a teen, and then an adult, I reserved dresses for special occasions.
Even now, during this dress kick, I find that I have to make a conscious effort to put on a dress rather than shorts or something else. And even then, I don't wear them as often as I'd like to as I am still under the mentality that dresses are for special occasions and why should I wear a dress to be in the house?
Although if I'm honest, when I'm at home I'm usually in pajamas, but that's a story for another day.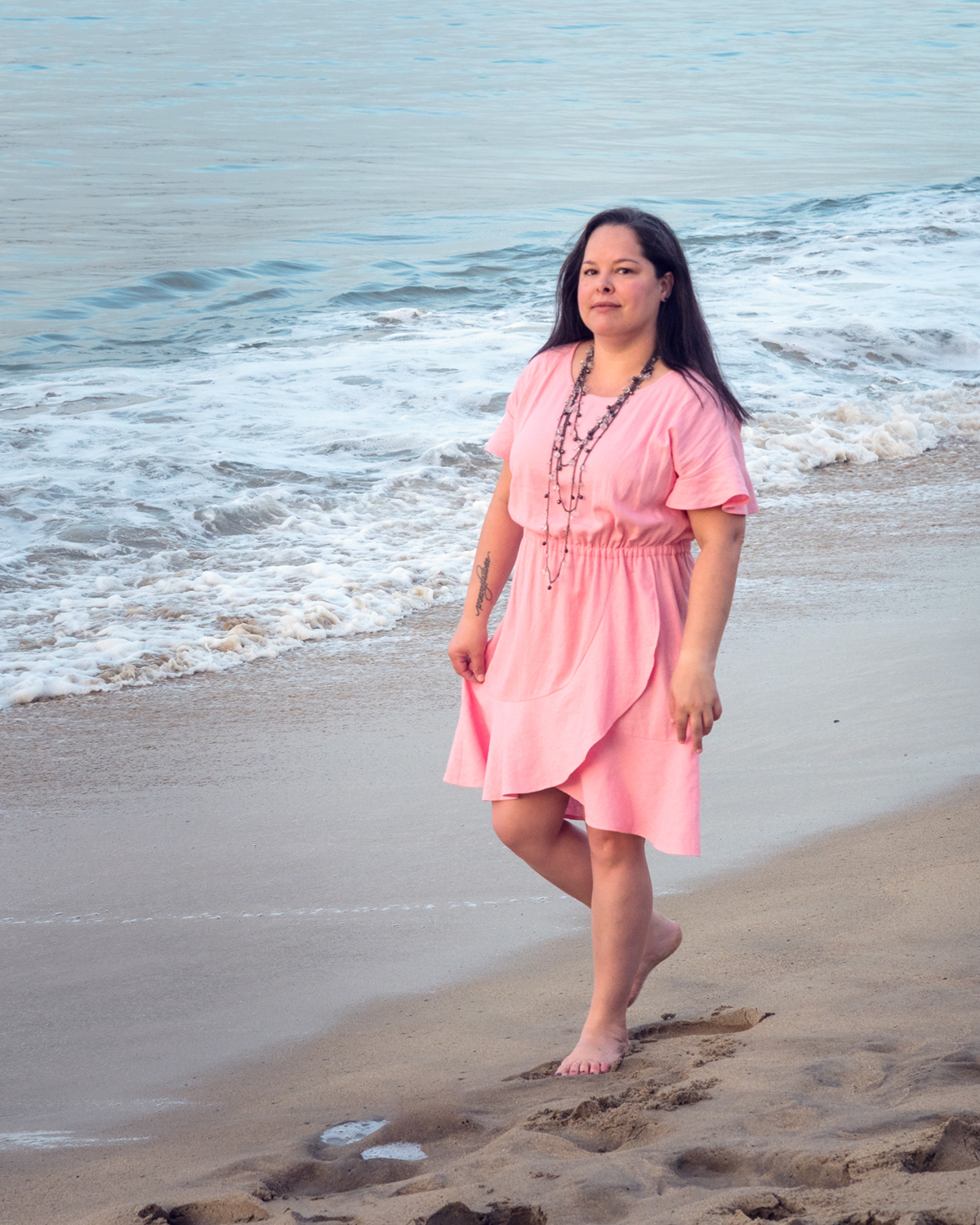 This month I had a pretty special occasion: I presented a paper at a conference for the first time. I guess I'm a REAL historian now.
The conference was in Mexico, where it is hot as Hades at this time of year, so I wanted to strike a balance between professional-enough and not dead-of-a-heat-stroke.
So, a dress that was loose and I could make in a light, breathable fabric was in order.
I settled on the Adrift Dress by Papercut Patterns. The pattern has been in my stash for a long time and it seemed simple enough to make.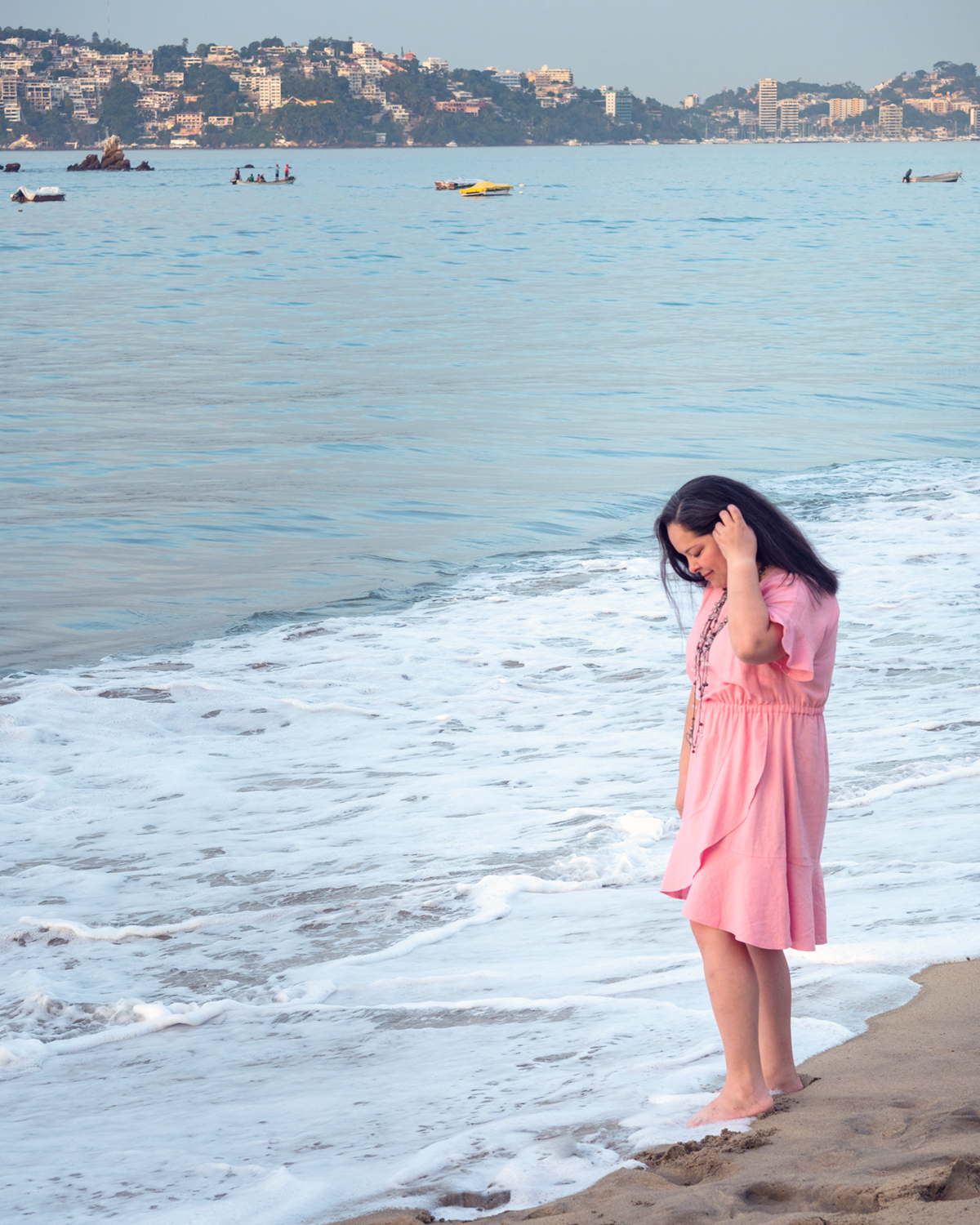 I chose a size M even though my bust and waist measurements put me closer to an L, but it worked out.
One caveat for taller people, the bodice is REALLY short. I'm 5'1.5″ with a large bust and look at where the waist falls. And that's even after I added 1.5″ to the center front, tapering out to nothing at the side seams, to accommodate my bust.
If you are taller, you'll probably have to lengthen the bodice. I've read other reviews that point out the same thing.
In addition to adjustment, after I made a wearable muslin I saw that the darts were too high, they ended above my apex, so I lowered them 1.5″ too for the final version. In hindsight, 1″ would have been enough.
I made one more change, but it was aesthetic rather than structural. The pattern calls for a cord for the waist to cinch it in and tie it. I prefer the way elastic gathers look and feel so I omitted the eyelets/buttonholes for the cord and inserted elastic into the casing instead. I also think it looks more polished for my purpose without a cord hanging down. That said, if I made it again in a nautical fabric, I would do the cord.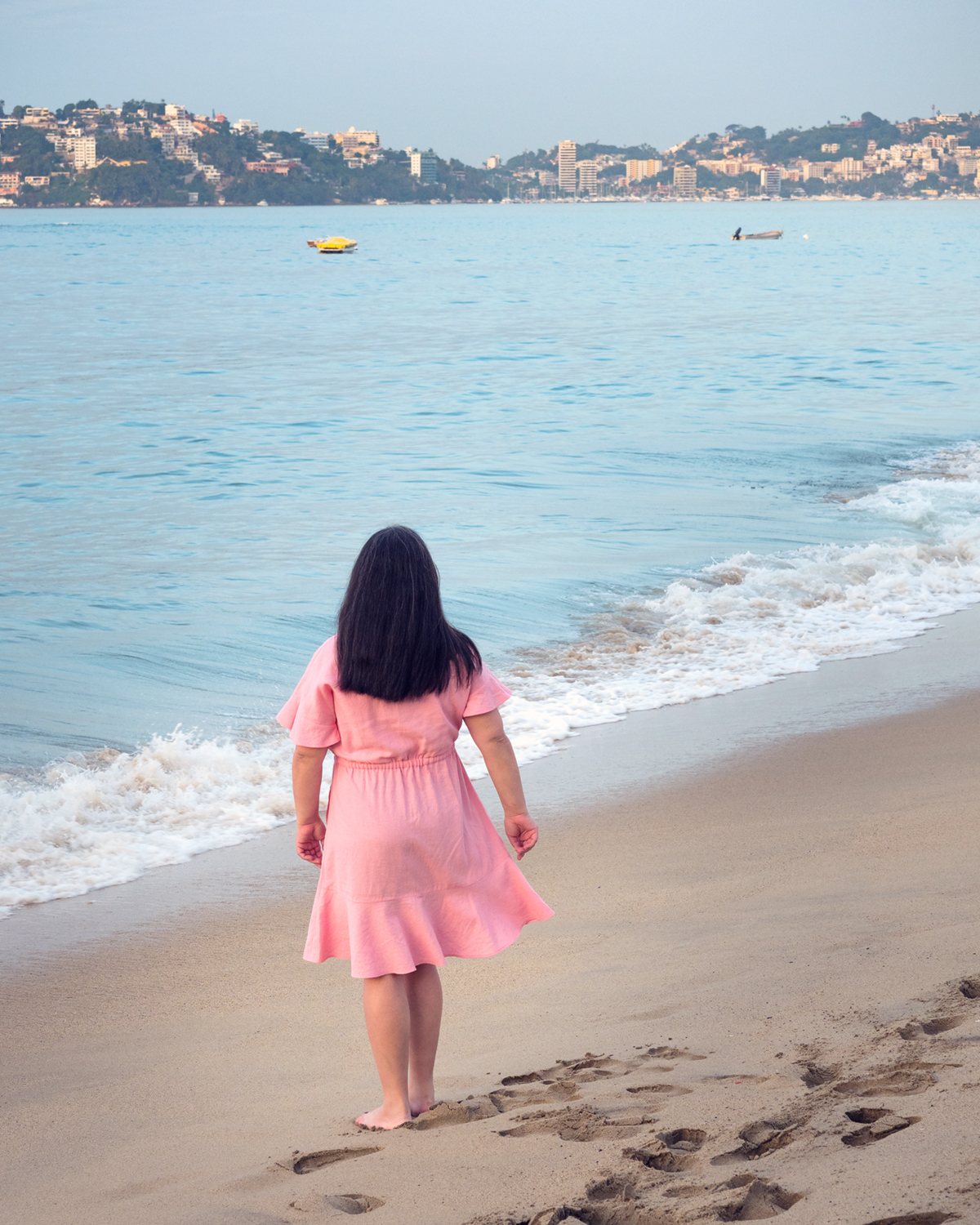 The only thing I am not crazy about with the pattern is the way the sleeves are attached. The side seams and sleeve seams are sewn all at once, which means you have to make a sharp 90 degree turn, then clip the fabric. This creates a small tuck, even when you clip well and grade. Plus the clipped fabric is difficult to finish and doesn't look as nice.
I don't know how else you would attach the sleeves though given the shape of the bodice. That is a minor thing that only you will notice, but it still bothers me a bit.
The fabric is a linen/rayon blend in a color called "blush" but it's really a peachy pink. It's wonderful to work with but it wrinkles like the devil. It did keep me cool, however, and I got so many compliments.
I loved wearing this dress so much. I felt pretty and feminine, which is not always the case. I was worried that pink was maybe too much given that it also has flounces (I didn't want to look like a little girl), but I think it worked out well.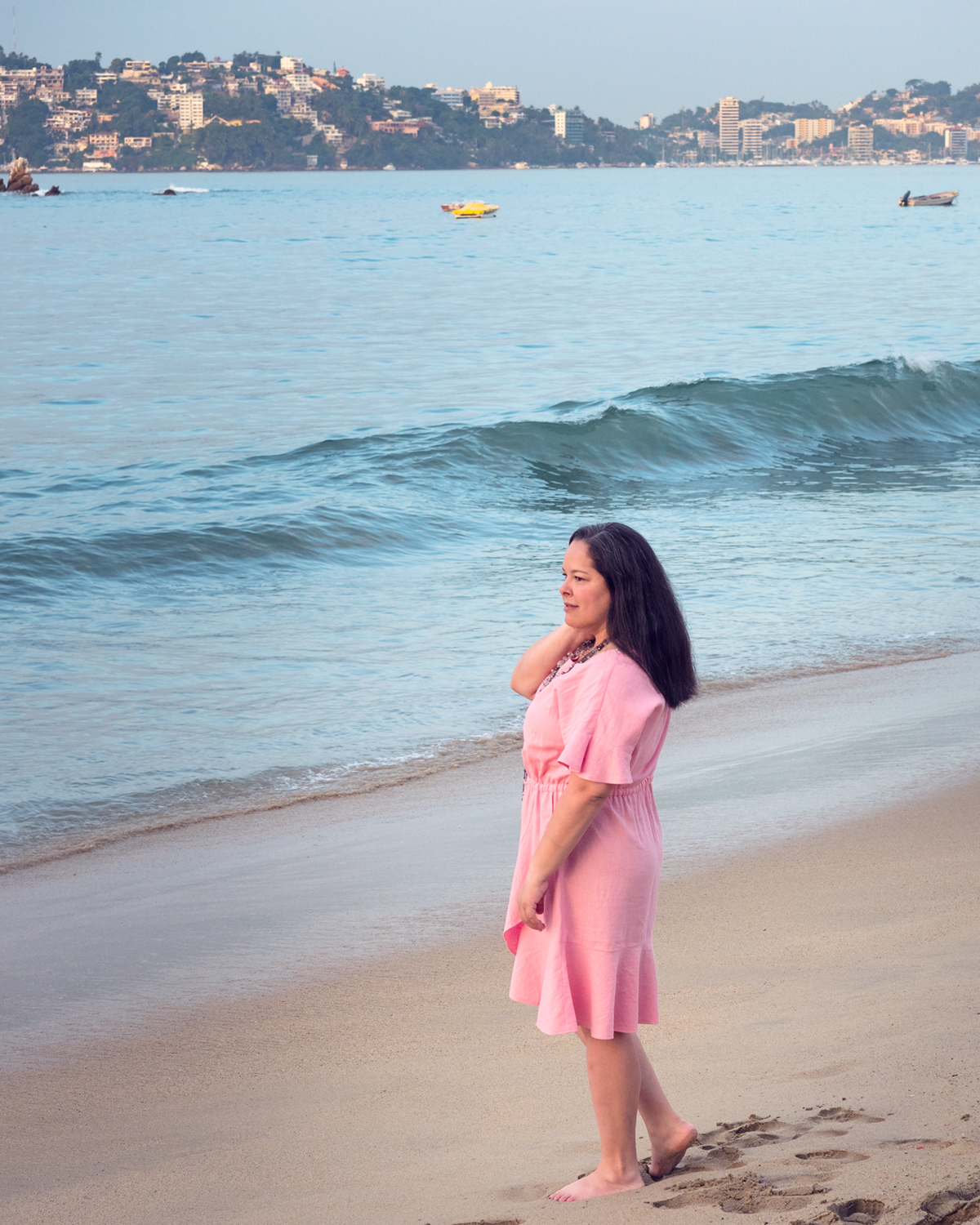 It can be tricky in academia to find a balance between clothes you love to wear and are YOU and what you are expected to wear to be taken seriously. This is a flaw, patriarchy seeped into the system, that is slowly being corrected by women who refuse to play the game, but it's still a balancing act.
I was talking about war and empire, topics traditionally dominated by men, so I figured a bit of flounce and a bit of pink was a good way to rebel, just a little. Besides, who wants to wear black in 100 degree weather?
In the end, the conference speakers were mostly women, by design, so I didn't need to worry.
Whoever tells you clothes and fashion are not political hasn't been paying attention. And "political," of course, doesn't necessarily mean "governmental politics."
But I digress.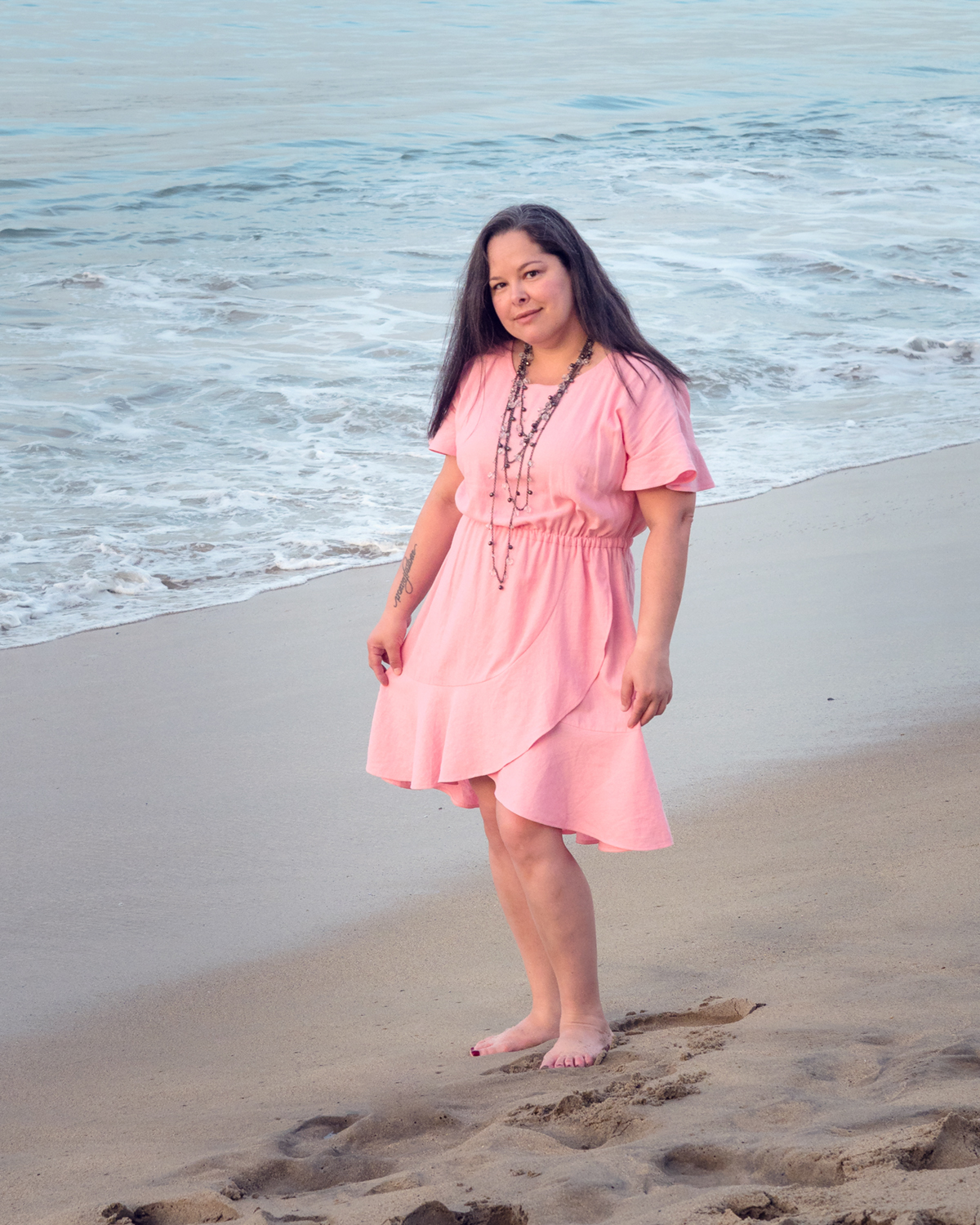 The dress is now in the closet, post-wash, waiting for me to press it within an inch of its life so it's wearable again.