Coats are one of my favorite piece of clothing to admire. I have loved coats my entire adult life, but for most of that life I have lived in places where they were not needed (hhmm…South Florida?). So, when I moved to NYC, one of the things I was most looking forward to was wearing pretty coats.
But hey, who was I kidding? Finding a coat that fits well when you are short and fat is no easy task. So, I wore the same red coat I've owned for 16 years, and the puffer coat I bought just before moving here in 2015. Both of which keep me warm, but neither of which are particularly pretty or stylish.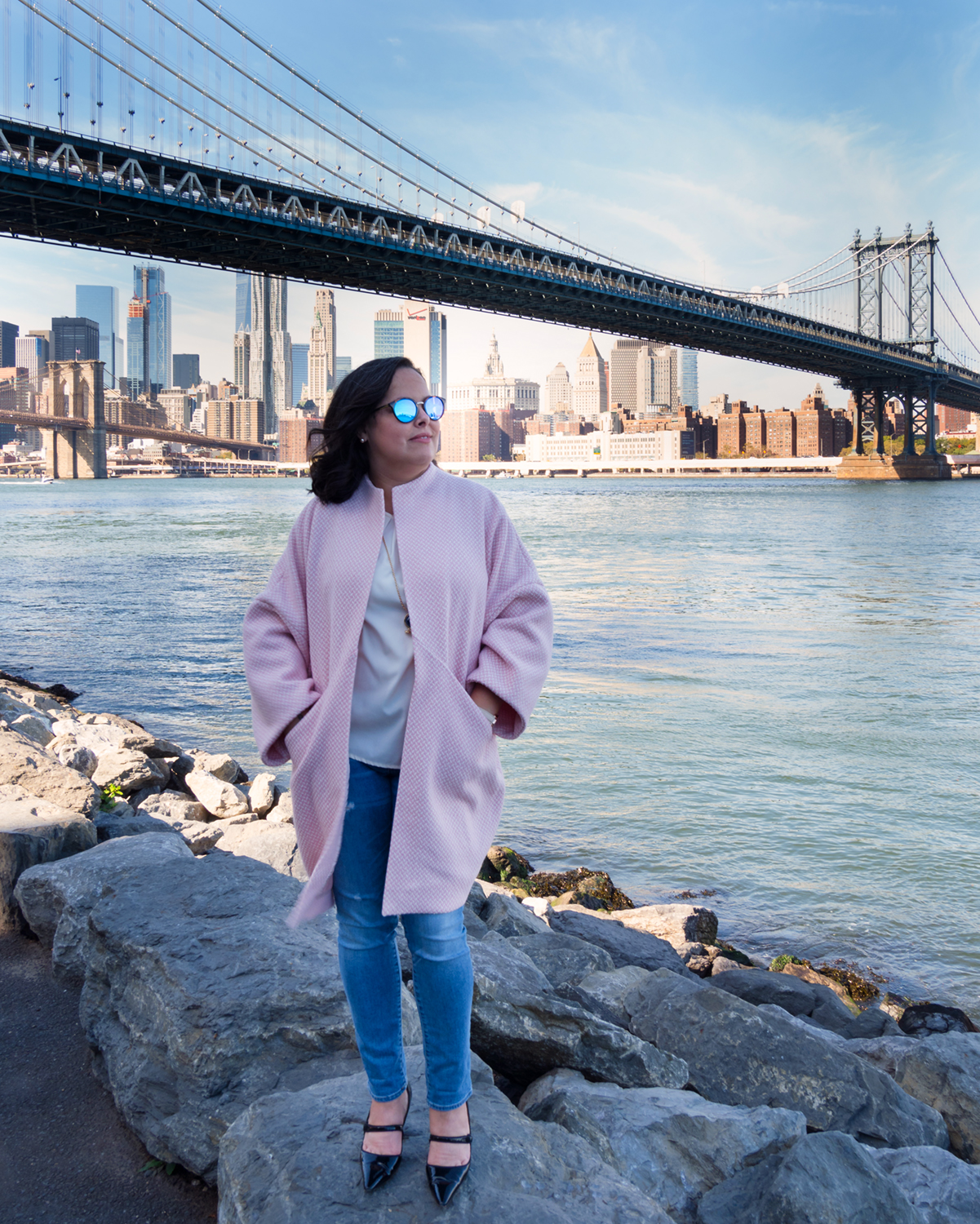 Still, I loved coats, and I loved buying coat patterns. Don't ask me how many I have, I don't know, but it's in the mid double digits, and that's not even counting all the coats in pattern magazines like BurdaStyle, Ottobre, et al. But for all my love of coats, my inability to find any ready-to-wear ones that fit well, and my surplus of coat patterns, I didn't actually pull the trigger to make one. I mean, most coats are a pig to fit, and I thought that the oversize coats that are fashionable now would swallow me (I'm not quite 5'2″), so I kept admiring from a distance.
That was, that is, until Papercut Patterns put out a cocoon coat named Sapporo as part of their Sakura collection earlier this year.
I was immediately drawn to the coat, and its simplicity while still having some great details. I LOVED the in-seam pockets at the front, the angled seams, the kimono sleeves, etc. So, I bought the pattern pretty much right away, but summer came along and coats were all but forgotten.
Then this month Pattern Review's contest was (is) wool coats, so I thought this was as good a time as any to dig into that Sapporo coat.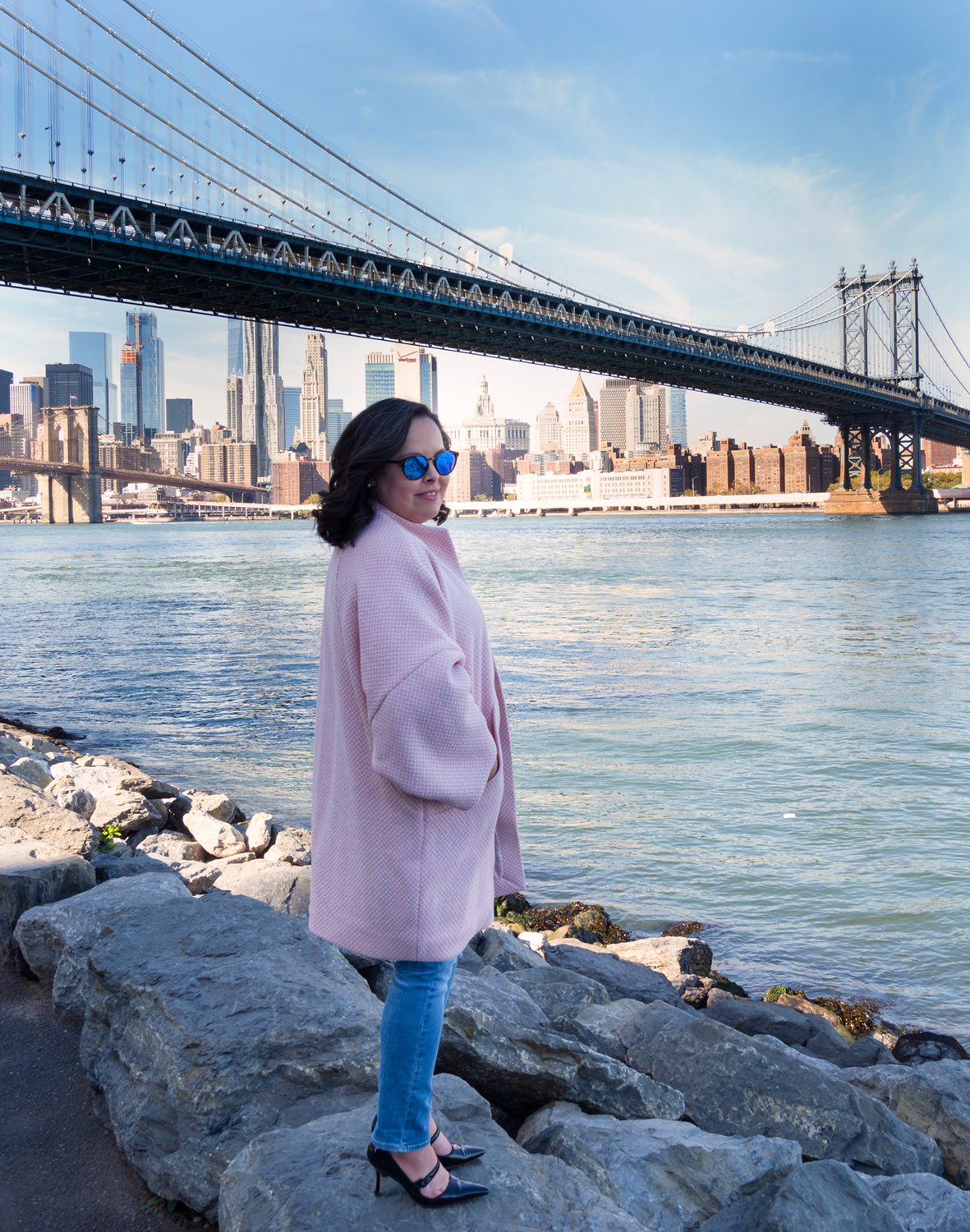 I did not have any wool or lining I could use in my stash so I poured over countless options online, Then I saw this white and pink jacquard wool coating and I knew that was the fabric for Sapporo. The soft pink and off white colors reminded me of cherry blossoms (Sakura!), a perfect theme for the coat. It's 80% wool and 20% polyester, and it so soft but still heavyweight enough to support the structure while also having some drape. I really could not have chosen better fabric.
The lining is china silk and the color is perfect. It is lighter and more sheer than I would have wanted but I think it worked out well. The total cost of the fabric was $65.90 USD (three yards of the coating, and two of the lining), probably the most money I have spent on a sewing project, but I regret nothing! I've seen similar styles in shops here for a few hundred dollars.
Despite being a coat, the construction is pretty simple and I completed the project, from cutting the fabric to the final touches over a Saturday and a Sunday while also doing other things. The most tedious part was hand sewing the lining to the sleeve for finishing it. I hate hand sewing.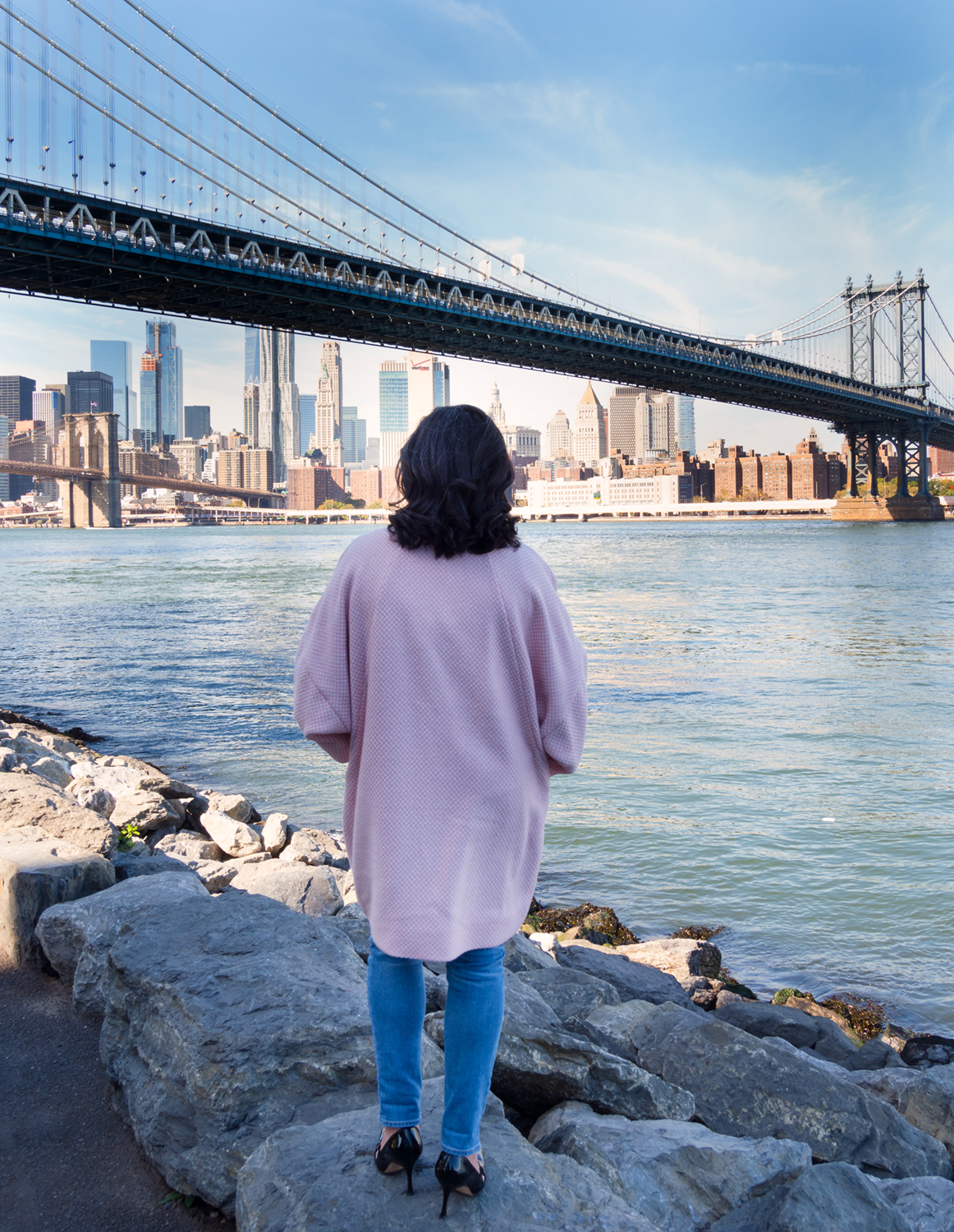 This is an oversized coat, but do watch out, because they mean OVERSIZED. To give you some perspective, my measurements correspond to somewhere between a medium and a large, but the pattern only comes in three sizes: XXS-XS, S-M, and L-XL. I made a S-M, and while I like it, I think I'd make the XXS-XS next time if I was to make it again.
I did not make any fitting changes, there is really no need, but I do wish I had figured out a way of shortening the sleeves. They are supposed to be cropped, but being short, my arms are short so the sleeves to go all the way to my wrists.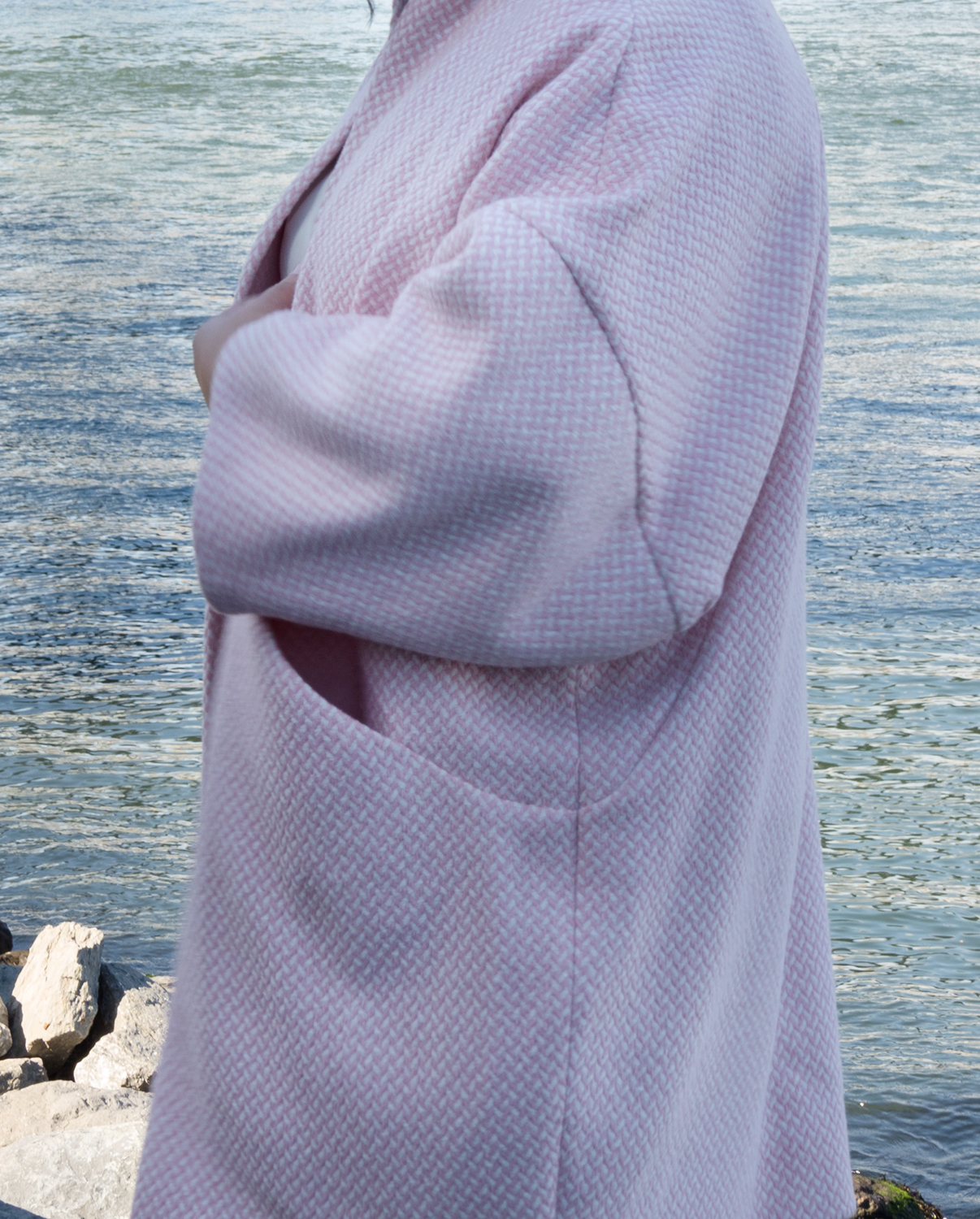 The coat does not have any closure, it is completely open, which does mean it will not stand up well to heavy wind, but this is not a heavy winter coat, at least not for Northern winters. I think it will serve me well until probably December and then again in the Spring. And yes, in case you are wondering, once Spring is here and the cherry trees are blossoming, I WILL take a few photos in front of one!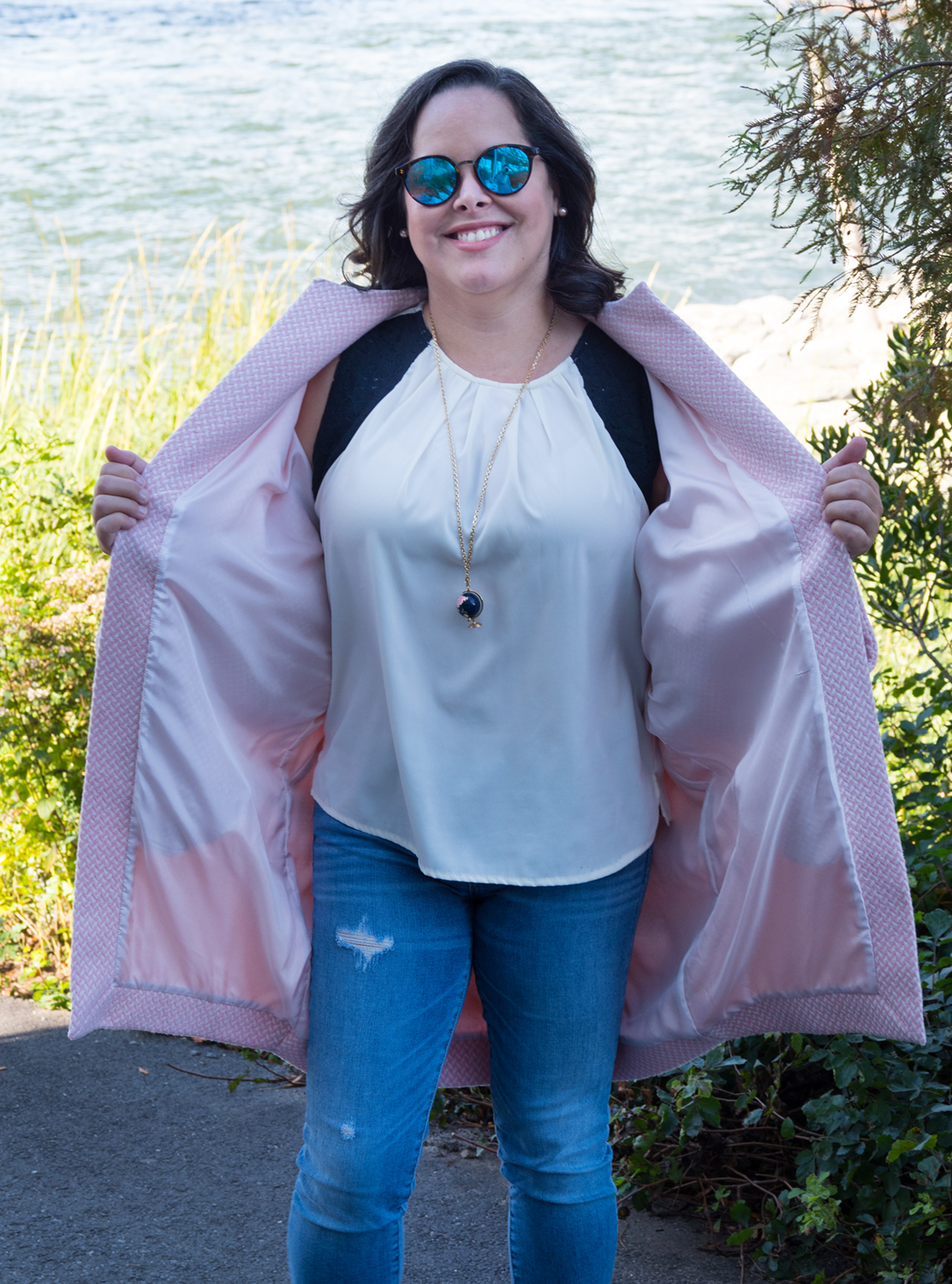 I am SO in love with this coat, which became even more clear to me as I worked into an outfit rather than just trying it on with my pajamas at home when I was sewing it. It is not something I thought would suit me but I just love how it looks. I felt so stylish and grown up walking around Brooklyn Bridge Park in this coat and outfit.
PS. Please note that the color of the fabric in the indoors photos below is all over the place, I just wanted to show you the details.