Ever since I made the dress version of the Closet Case Patterns Kalle a year ago now I've wanted to make the tunic version but didn't want to deal with linen again.
So, one day on a whim I decided to make it out of this Lisette shirting I've had in stash for almost a decade. I know this because I bought it at Joann in season and the selvedge says copyright 2010.
Talk about #makeyourstash!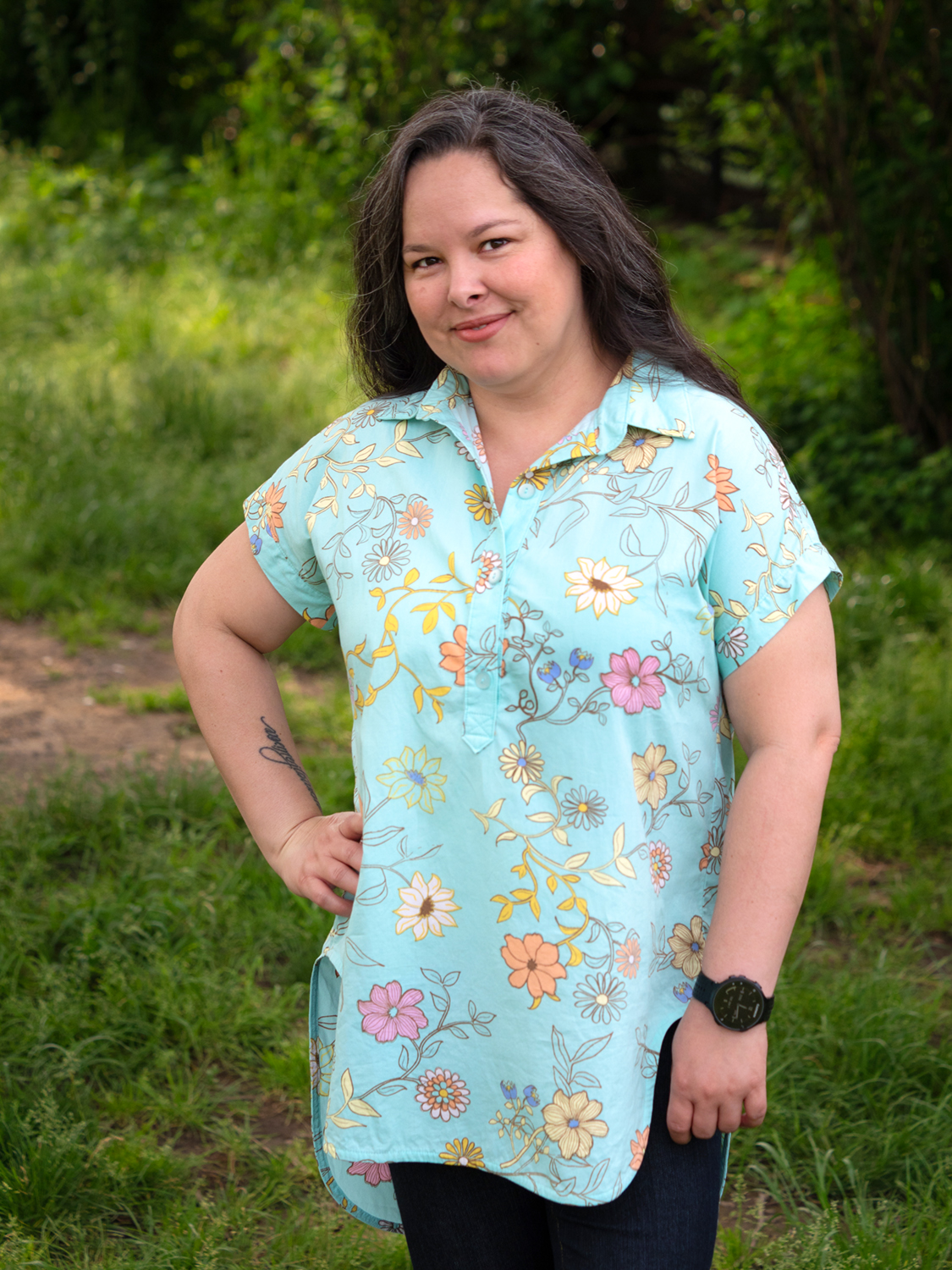 First things first; I made view B, which is the tunic-length version, with the popover placket.
I chose the popover placket for two reasons. First, I didn't have enough buttons of anyone kind to make an entire button placket. Second, I had just taken the Advanced Sewing Techniques class at Workroom Social, where I sewed my first ever popover placket. It was still fresh in my mind and I wanted to practice it before I forgot.
After sweating popover plackets for so long, the placket came out perfectly, if I may say so myself.
My first version last year was a size 12 and roomy, so I thought I'd make the size 10 this time. I put the whole thing together except for the sleeve band thingies (absolutely a technical sewing term) and it was … hmmm…. snug around the bust and biceps.
So, I ripped out the side seams and sewed them again with a tiny seam allowance, something like 1/4″ or 3/8″ at most. That made all the difference.
For the collar, I used a different technique from the instructions and also from what I learned in the Workroom Social class (although I did use some techniques I learned there!). So far I hadn't been able to get a clean finish on the stand using any of the techniques known to me, the center-most portion was always a bit wonky on the inside.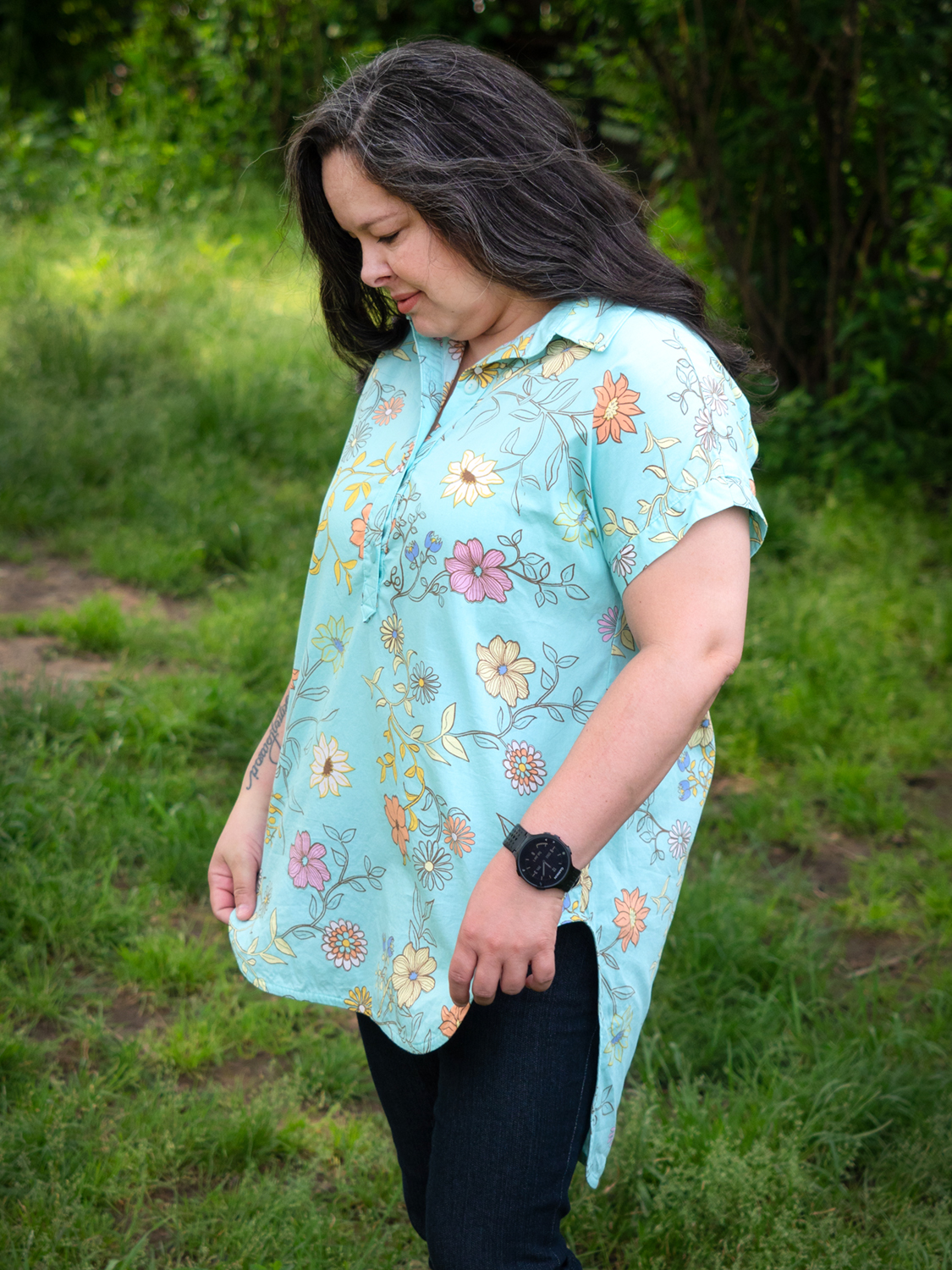 But I was determined to find a cleaner way so I looked around in my sewing reference books and lo and behold, I found it on the Singer Complete Photo Guide to Sewing.
The technique is difficult to explain in text but the first thing that gets attached to the shirt are the collar stands with the shirt sandwiched between them. This way the most visible parts of the inside of the collar when worn are neatly finished without folding and trying to hide a stitch line.
Maybe I'll make a video tutorial of it at some point.
So, the collar was great too.
For everything else I used Closet Case Patterns' instructions and sewalong.
Now to the not so good.
The fabric is lovely, but it doesn't really suit such a boxy and loose design. This design needs a fabric with drape, at least for larger busts and sizes, so that it doesn't look like a small tent. Linen is a great material for it.
This problem could have been ameliorated somewhat if I had remembered that I had meant to turn the box pleat in the back into gathers, eliminating the bulging at the center back.
But as I said, it's not the pattern, it was my fabric choice.
So, all said and done, It was a great project to practice new techniques and constructions methods, but it's not all that flattering so I think I'm going to let it go.
I have a closer look of the shirt on me, including closeup shots of the placket on YouTube.