It is with great trepidation that I share this project publicly because of comments I have made in the past, albeit not here; but I made this thing, I like, it and I need to get over it.
I've been sewing in earnest for six years, and in those six years I repeatedly said that I would never quilt because I didn't see the point of quilting.  I mean, how many bedspreads does a home need?  I've heard stories of women going as far as storing quilts in their ovens because they are out of space everywhere else.  I use my oven, and that just sounds silly to me. So, I really just didn't see the point, and, as it turns out, I also did not, and do not, like old fashioned, traditional quilts.
Then in the last year and a half or so I got curious and bought the odd Quilty magazine issue, but still didn't actually take the plunge.  Fast forward to last week and I found myself with a cutting table covered in little 5×5 squares of fabric about to be turned into a quilted table runner.  What got into me?  More on that later.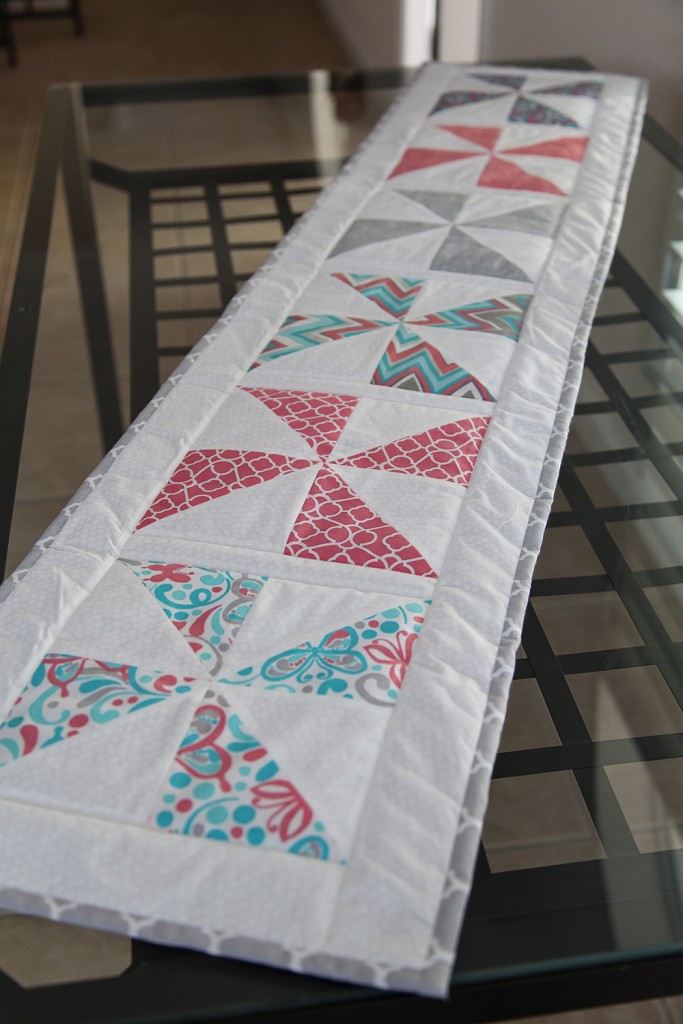 For my very first quilting project, I wanted something that was small enough not to be overwhelming ( I find the idea of cutting, and sewing a gazillion fabric squares together really overwhelming), but large enough to give me a real feel for the craft. After some perusing on Pinterest, I settled on a pinwheel quilted table runner.  I loosely followed instructions for the actual pinwheels as I had never attempted something like that before, but the rest I just sort of winged, measuring here and there. The project I used as a guide was made from something called a charm pack, which consists of pre-cut 5x5in squares, but I relied on Jo-ann for the fabric so I bought the least ugly pack of fat quarters they had.  I say least ugly, but with the exception of one print, I really like them, and I really like how they go together.  I picked this fabric pack because it was there, but also because the prints looked modern to me, and looked like they would therefore produce a modern table runner, which is what I wanted.
In my infinite naivete, I thought "oh, this is a project for a couple of nights!"  Hhmmm..yeah, no.  First, cutting those squares took some time, even though there weren't that many, 24 in total.  Then I had to cut each square into triangles, sew them, and sew on (see what I did there?).  To spare you a boring story, I worked on this thing for six evenings, with the odd hour here and there at the weekend.  The most time consuming part was hand sewing the binding to the bottom fabric.  I did that last bit while watching Game of Thrones, and Law and Order.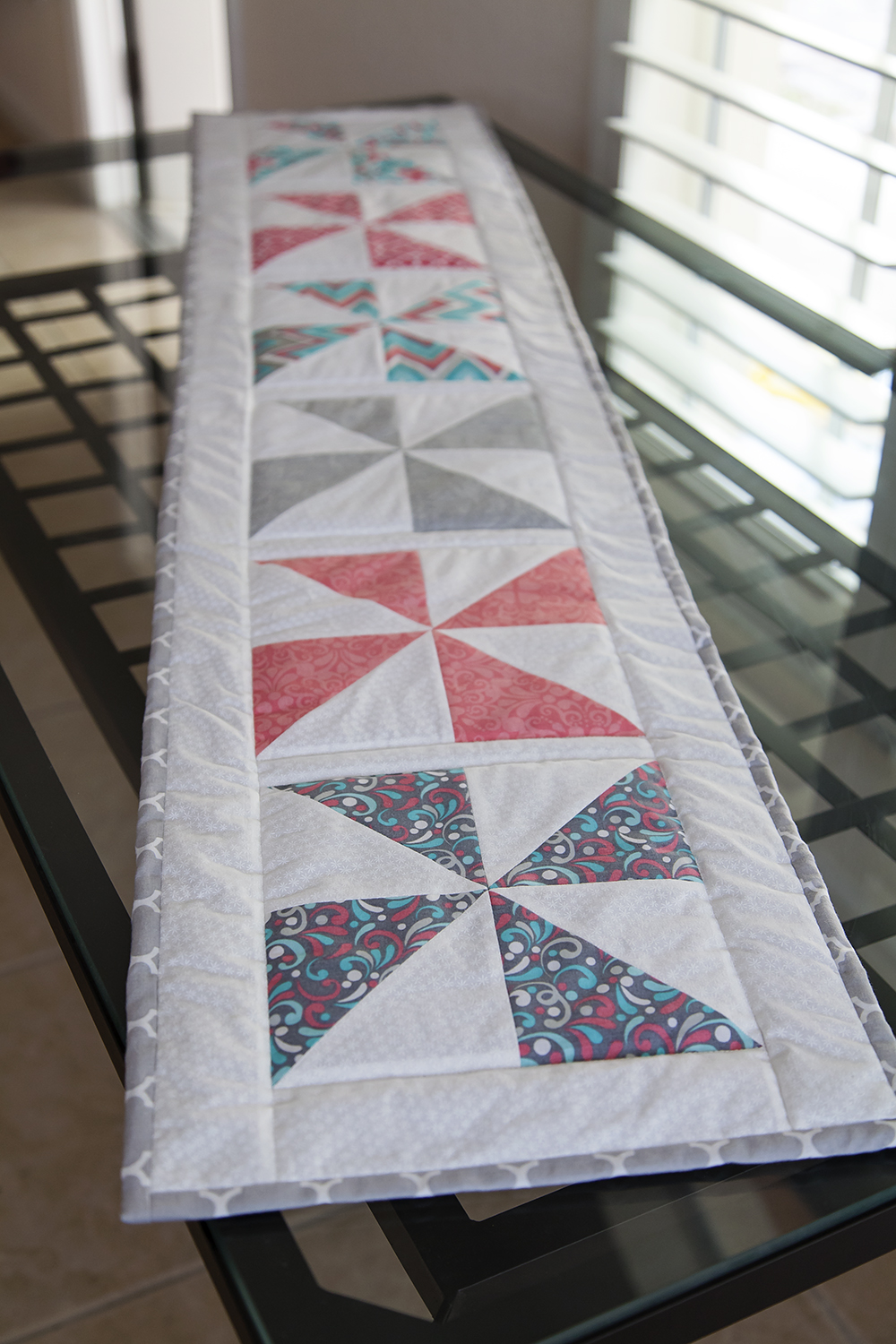 When it came to the actual quilting of the fabric sandwich, I tried free motion quilting on some scraps and it looked horrible.  It was my first time, so it's understandable.  I didn't want to ruin the quilt top, so instead of all-over quilting, I chose to quilt the table runner by stitching in the ditch of all the seams except the interior diagonal seams, the ones that make the pinwheels.
I made a few mistakes along the way, including using batting that is probably too thick for a table runner, but I really like the modern look, and it did allow me to get a taste of quilting.  If I'm honest, I'm already looking around for a good first quilt to make.  When I told my husband this last tidbit, he told me with a straight face "be careful, quilters are a scary bunch," or something to that effect.  He was joking, of course, or so he claims.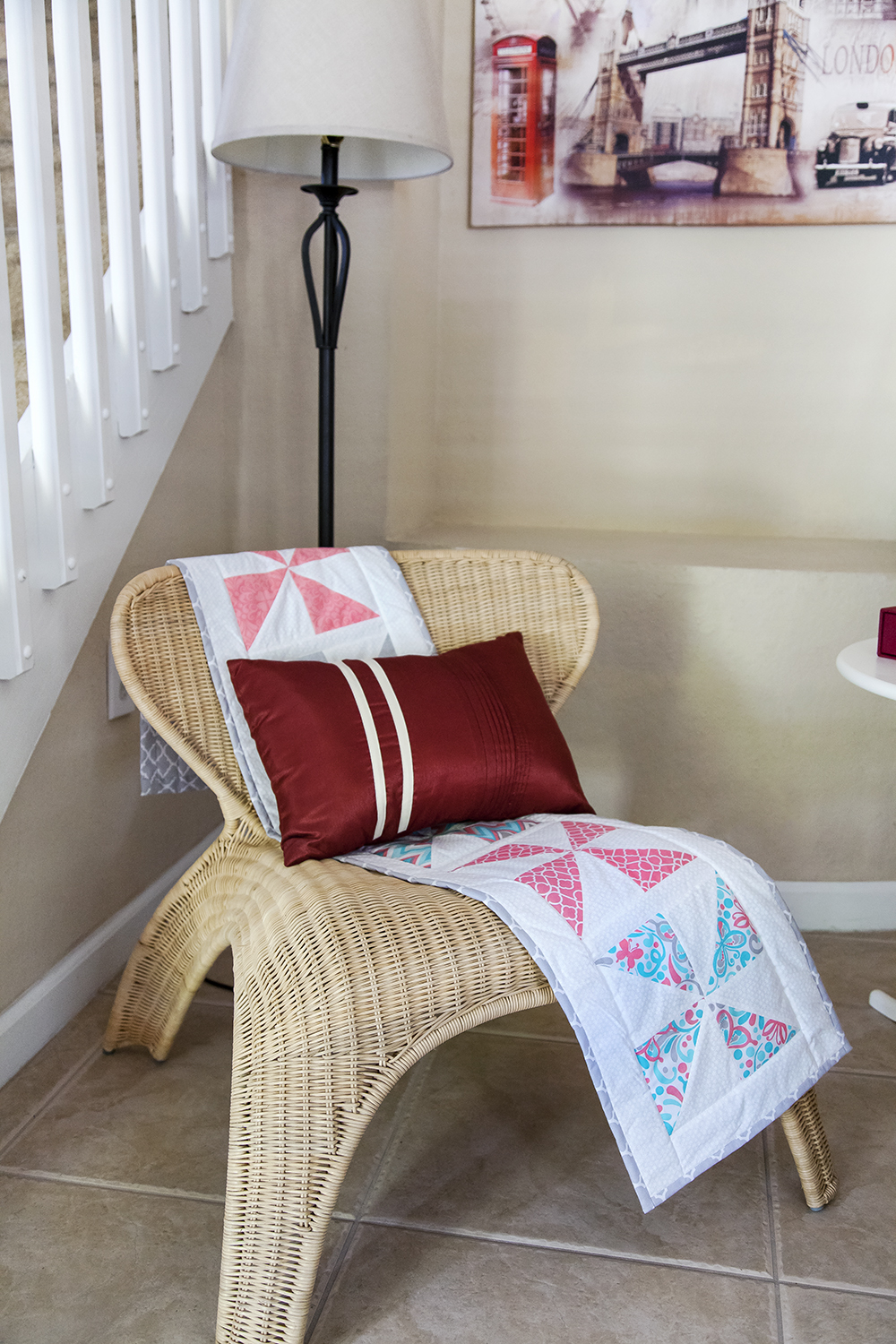 But let's be real, I didn't suddenly decide to make a quilted table runner just for the heck of it.  The truth is, I bought a sewing machine and I wanted a big enough project to test it out but didn't want to deal with the hassles of fitting a garment. Drum roll please….. I am now the owner of a Husqvarna Viking Designer Topaz 50 sewing and embroidery machine!
I've been seriously considering getting a machine like this for a couple of years and I finally got my husband on board with the idea.  I got a great deal on the machine, and while I'm currently suffering from a bit of buyer's remorse, something tells me I'll get over it.  I haven't had the machine long enough to review it, but just look at it, it's so pretty!  So far, it has done a superb job with the sewing and the little embroidery I have tried.  I've had it for a week now and I've used it every day to make sure I give it a full go within the 10 days I have to return it if chose to do that.
The idea with getting this machine was to consolidate my two other sewing machines into one that is great at sewing and embroidering.  But here is the thing, while I'm ready to part ways with the Brother machine (which does embroidery as well as sewing), I'm still not sure I want to get rid of my Singer machine, for which I have a large collection of presser feet and really, really like.  I know we'll be moving somewhere with much more limited space and sewing machines are big, but I'm just not ready yet.  In the mean time, I'll enjoy the new addition.  I never claimed the family member was human.
Embroider all the things!