Earlier this year, in the spring, I bought some baby blue sweatshirt fleece with the intent to make my son a hoodie.  He's been wearing a Disney one for a few years and he's outgrown it by a lot. The pattern I had in mind was the Jalie 2795, which I bought specifically for the purpose. I even bought the zipper based on the size of hoodie I needed to make and everything. But the project just fell through the cracks.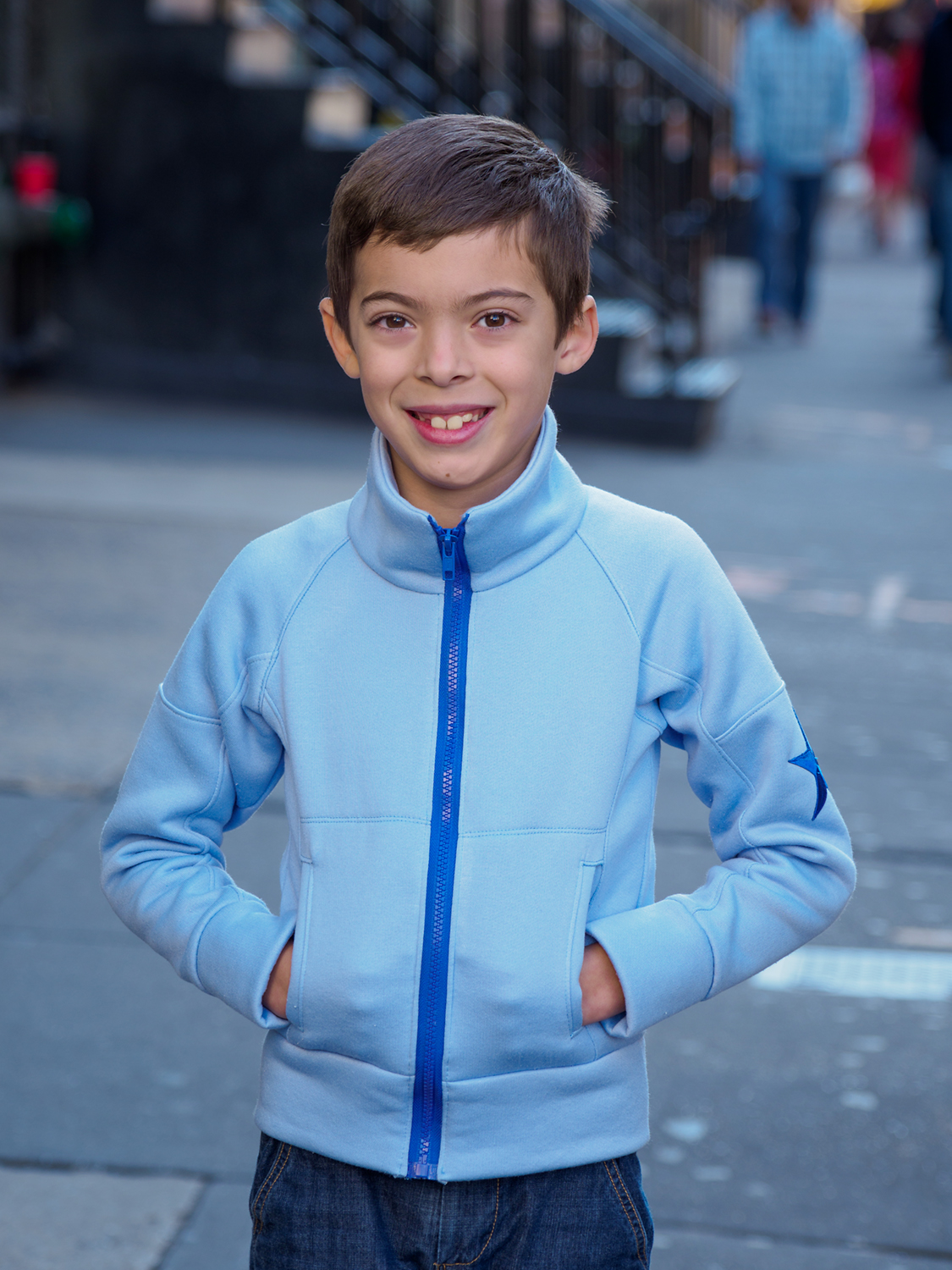 Well, more like I let it slip through the cracks. Every time I thought about getting started I remembered the huge number of pattern pieces this jacket has and said "Nope, not today!" I don't know what got into me this past weekend because I really dove in. First, I realized that the size I had planned on making back in the spring was probably too small now, but it was the largest size I could make with the zipper I had bought so I went for it anyway.
My son is skinny, but tall, and I was worried that the jacket would be too short, what I didn't realize is that it's supposed to a pretty slim-fitting jacket. Everything worked out OK size-wise in the end, the jacket fits him well…for now. He definitely won't get more than a season's wear out of it. I opted for the collar rather than the hood version because, well, I didn't feel like taking all that on.
This thing really was a labor of love. Cutting this fabric was less than fun, as was sewing it. I had to cut the back piece and one side piece twice because the serger ate it up and sewed it unevenly. That's when I realized I HAD to baste the seams before serging to make sure both layers fed through evenly.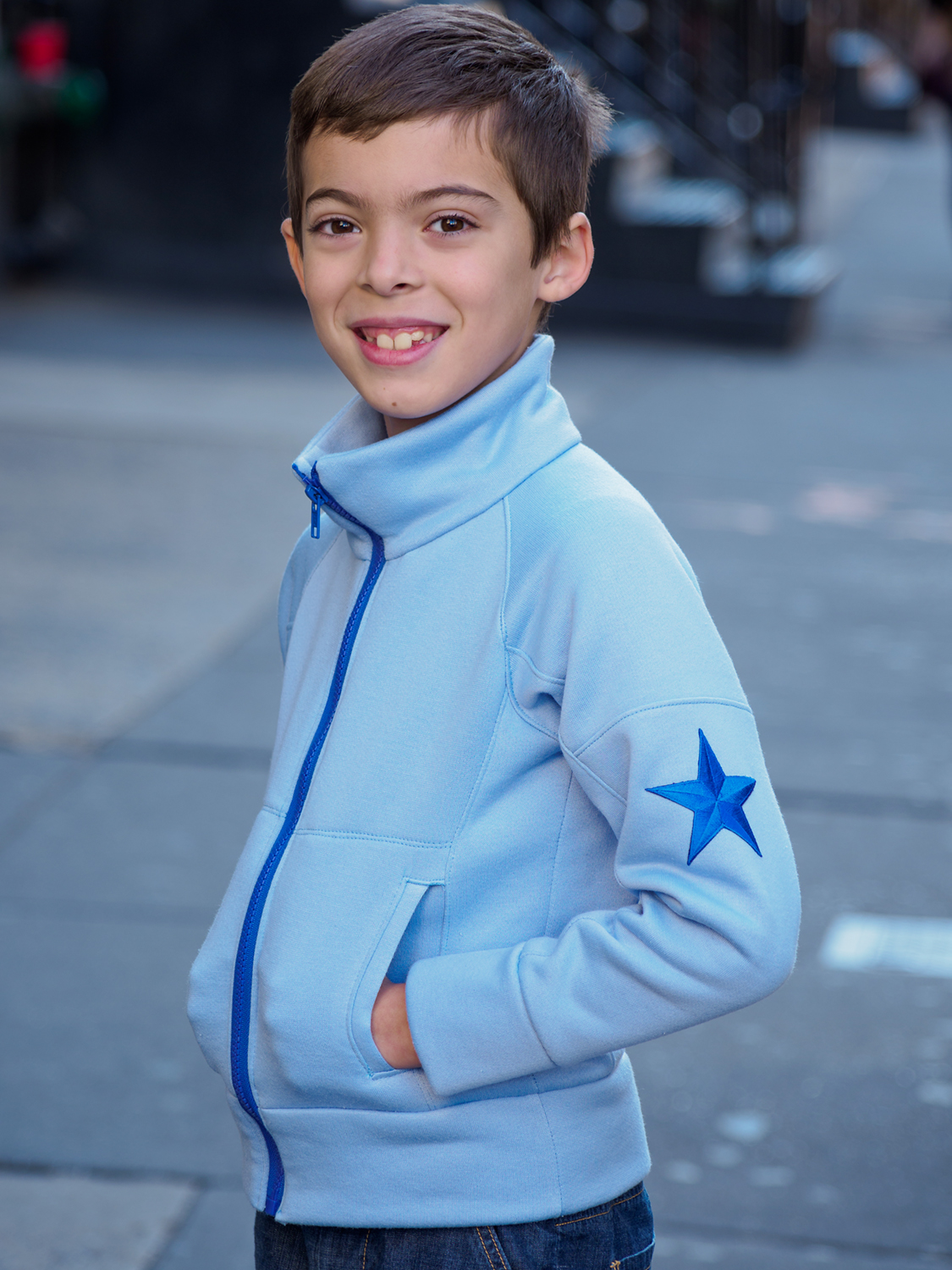 Then I messed up the welt pockets. Make a sweater with welt pockets, they said…. It was beyond repair so I had to cut both front pieces and welts again.
THEN I almost ruined one sleeve while trying to apply the iron-on patch. At that point I had decided I was NOT going to cut anything else again so I left it was it was. I can tell what the issue is, but I doubt anyone else can.
Aside from my own screw ups, construction went well enough. The pattern pieces fit together really well. The only issue I had was with attaching the cuffs to the sleeves. They are pretty small and attached in the round so I couldn't serge them. I had to use a zig zag stitch in my sewing machine and with three layers of sweatshirt fleece, it almost didn't fit under the presser foot. I used a walking foot, which made the process less painful; I imagine a regular presser foot would have likely not been able to cope with so much fabric.
All in all, this was not a quick nor easy sew, even though I did it all in one day, except for the initial pattern tracing and cutting, which I did the night before. There is a ton of top-stitching, which I screwed up on the pockets but couldn't' be bothered to redo, there are lots of pattern pieces and thus lots of seams, and the collar is finished entirely by hand, which I'm not crazy about.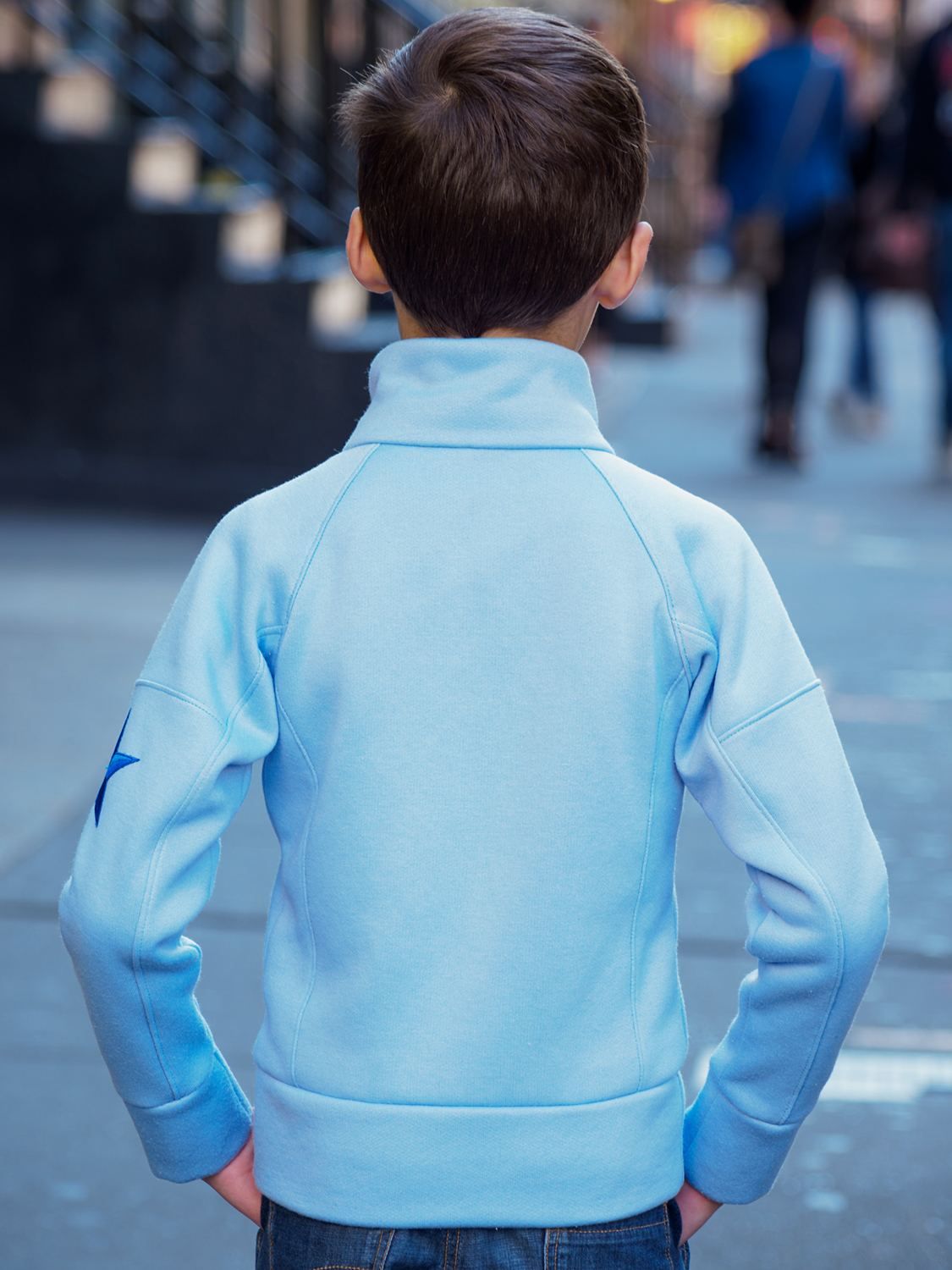 That said, I'm pretty pleased with the result. My son likes it too, and I think it looks great on him.
If he ever claims that I don't love him, I will pull this jacket out from the depths of a closet, even ten years from now, as proof that I do indeed.