Last year I took advantage of the the Indiesew Black Friday sale and bought a few patterns. Among them was the Opal Cardigan/Coatigan by Paprika Patterns.
I love a good cardigan, and wear them regularly, but I had just the year before discovered coat-length cardigans (at H&M, don't judge me) in a thicker fabric so I knew that the Opal was a great option for hand-made.
Plus, it has dropped shoulders which makes fitting so much easier, and the fit much more relaxed and casual.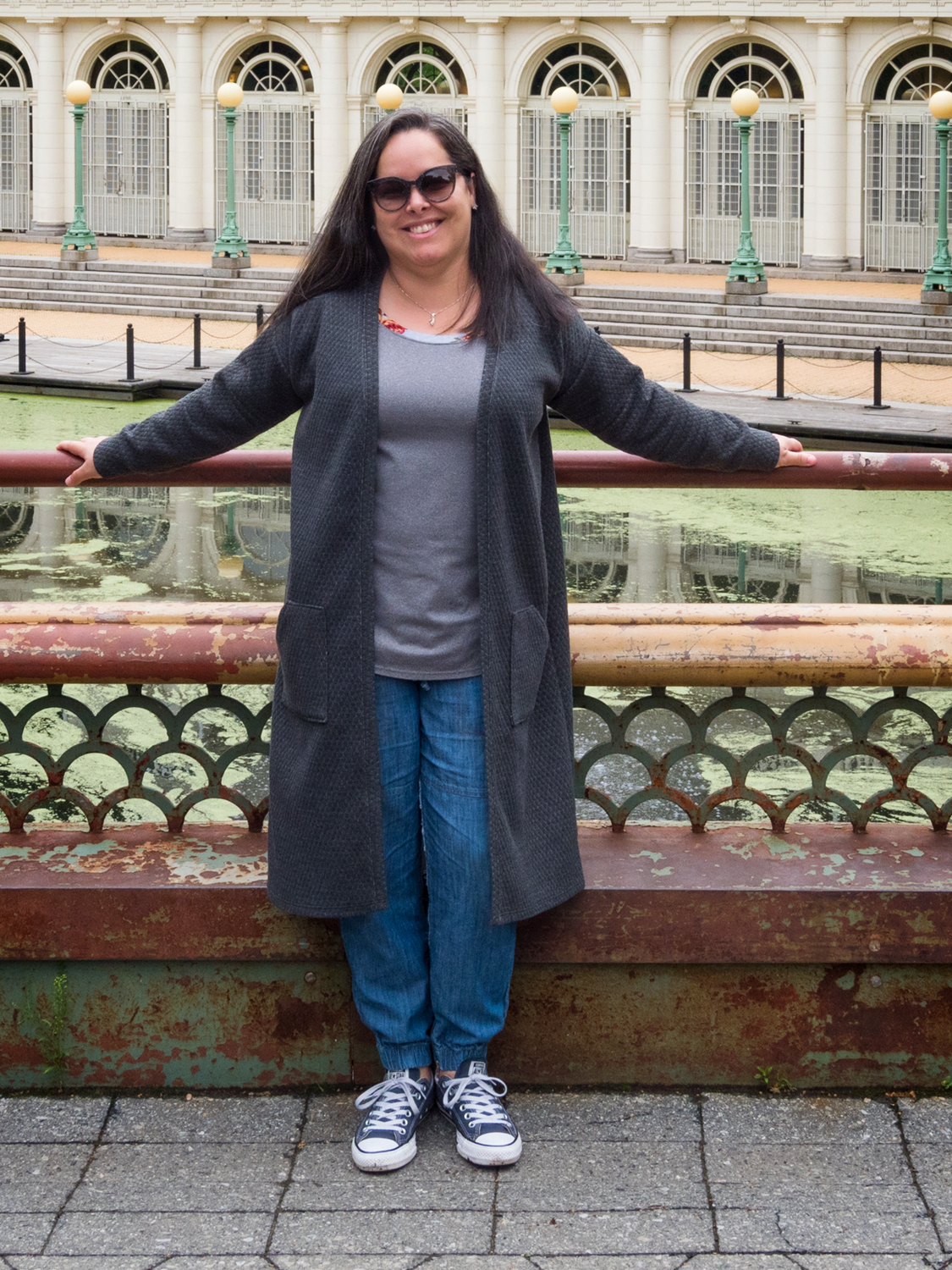 So, anyhow, I bought the PDF, yes PDF, pattern. I know I have said I hate PDF patterns, and I do, but this one has 29 sheets, which is pretty much my absolute limit.
Fortuitously enough, a couple of weeks after I bought the pattern I happened upon the perfect fabric for it. I was purusing the shops in the garment district, as I do on occasion, and I found this beautiful gray quilted knit. It's pretty hefty but stretchy. I'm sure it's 100% polyester but it wasn't expensive.
I love sewing with knits, and stable knits like this are a real treat.
The most onerous part of this whole coatigan is taping the pattern together, the rest comes along quickly and easily.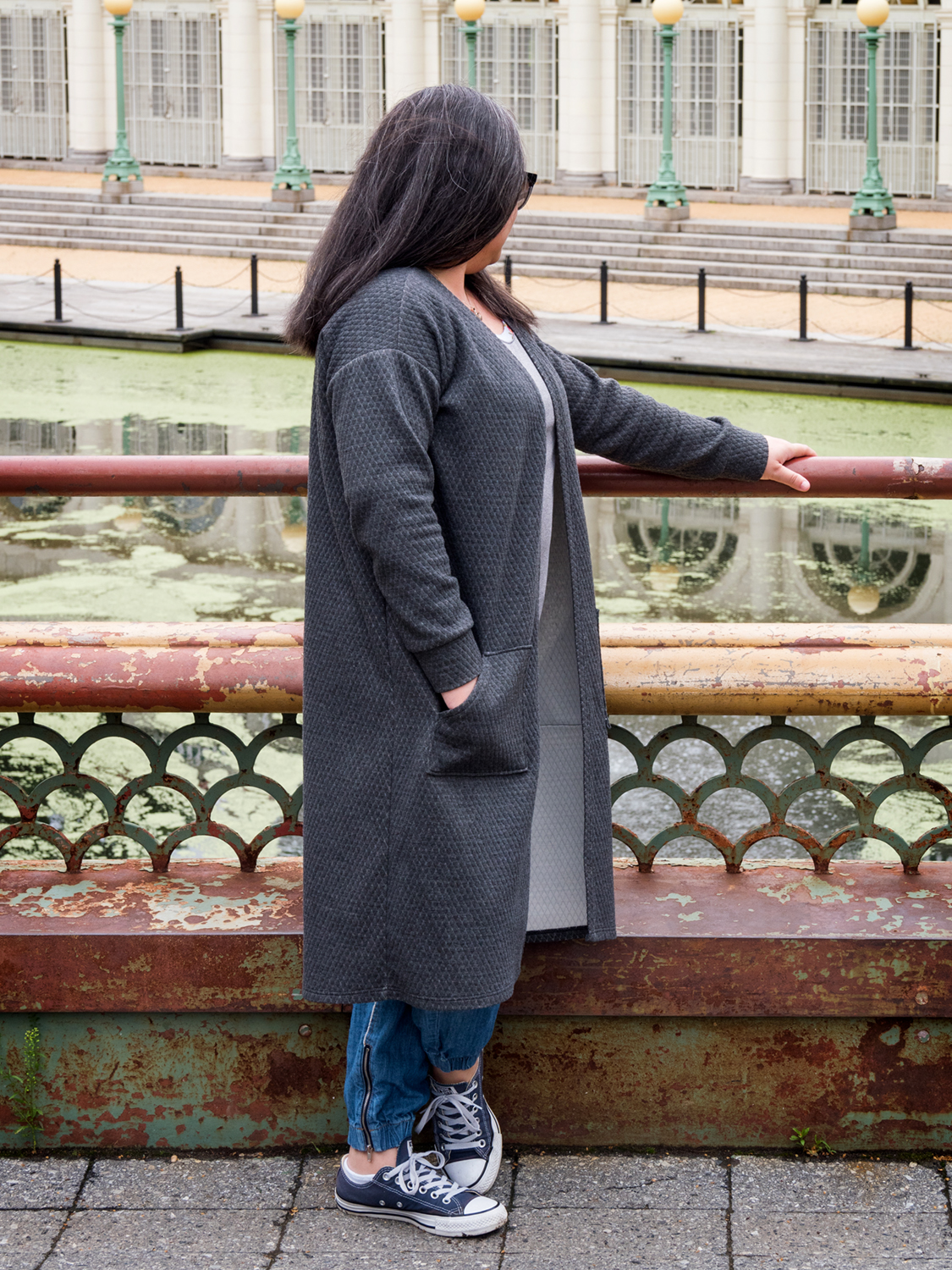 I opted for the full-length version, with the slightly elongated neckline (from view B) and the semi-triangular pockets (from view A).
The sleeves are the full-length ones, but shortened 2 inches, which is still longer than the shorter version.
Note that the longest version of the cardigan is labeled as "knee-length" but it is more like bottom-of-calf-length on me. I like the length, but if you are as short as I am and want true knee-length, you'll have to shorten quite a bit. Or go for hip-length and maybe lengthen a bit.
I am 5'1.5″. I should have that plastered on the home page!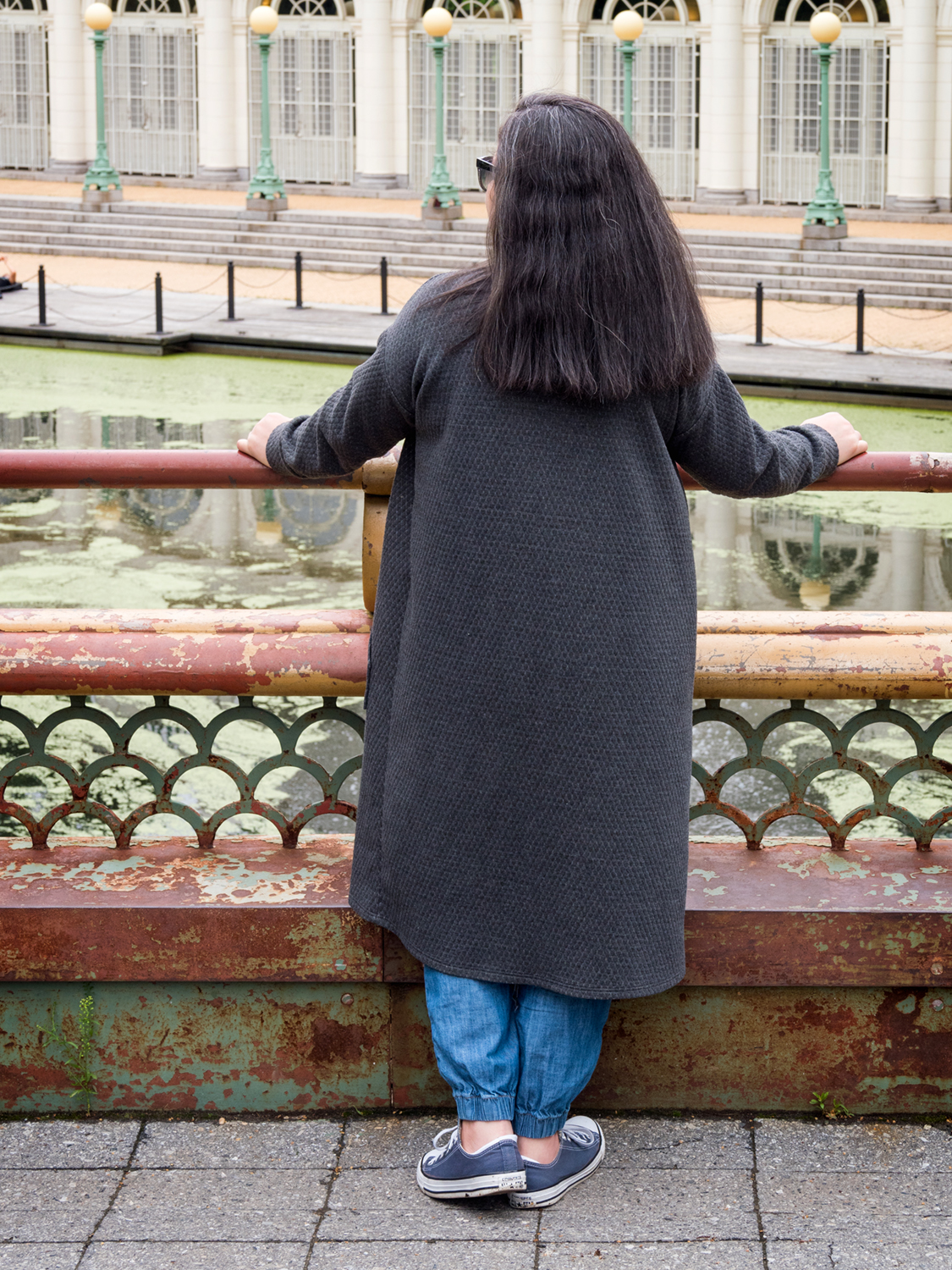 I chose a fabric that gives this coatigan a lot of structure because that's the look I was going for, but this would also look great in a thinner fabric or one with more drape.
I took the coatigan to Seville with me for my 2.5 month-long research trip, expecting that it'd be the right weight, but Seville turned out to be colder than I thought. I didn't start wearing the coatigan there until probably the last half of March.
Then I came back to NYC and it was still too cold for this coatigan, so I had to wait some more to wear it.
Now we are into summer and, well, heavy cardigan season is coming to an end.
Here's a gratuitous photo of me wearing the coatigan while flying a drone because, well, drones!