OK, the pattern is not really called The Cupcake Sweater, it's called Diamond Delight. But my husband said that it looked like a chocolate cupcake with icing and sprinkles and now that's all I think when I think about the sweater.
This was my first stranded colorwork sweater (or any colorwork, for that matter)  and my first adult yoke sweater and the whole process was a lot less painful than I expected.
It all began during the Brooklyn yarn crawl back in April. At my local shop, Argyle Yarn Shop they had this speckled yarn (the colorful one) that Hedgehog Fibres dyed just for them and called it Cherry Blossom.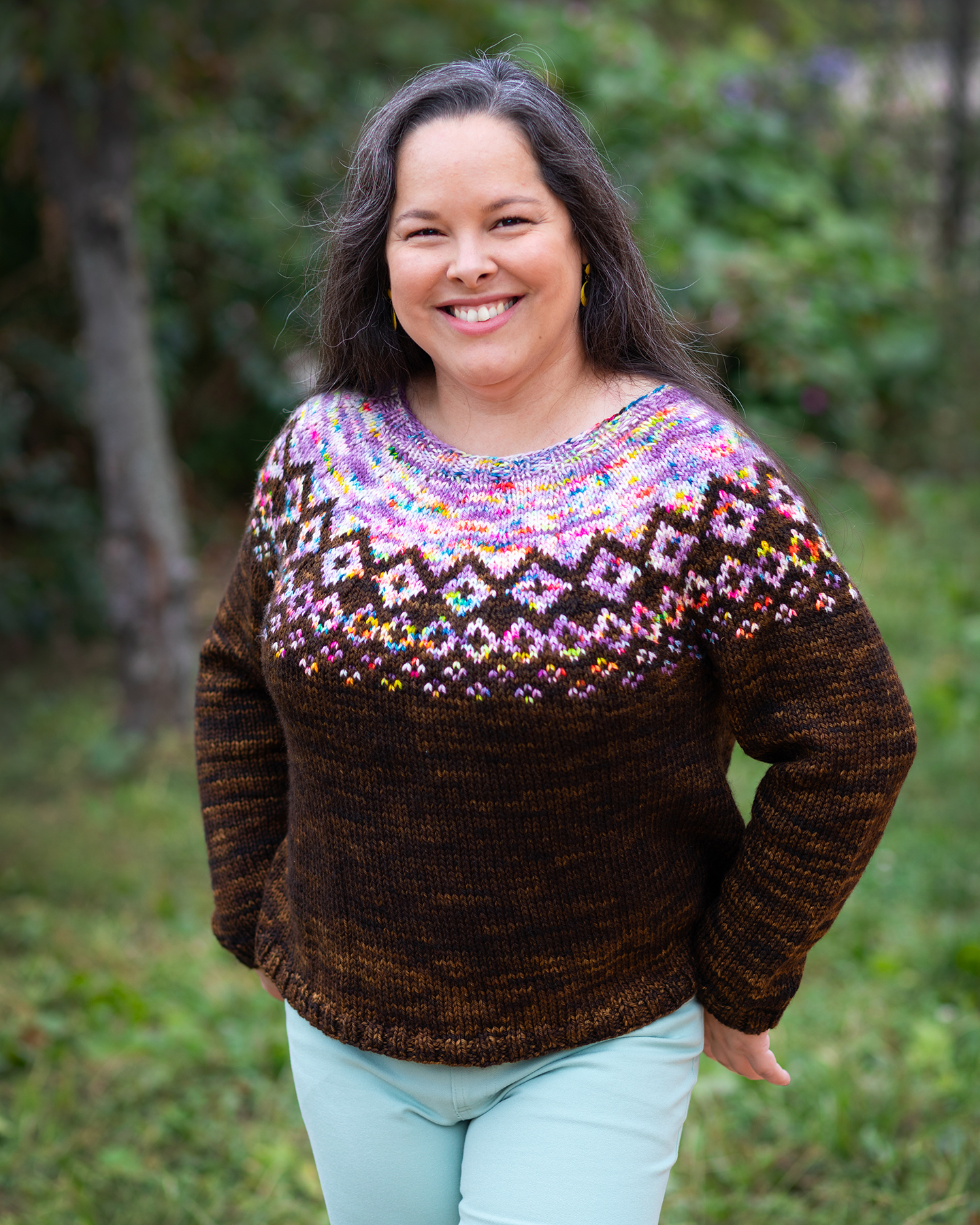 I saw it at the store during the crawl and didn't get it. But I couldn't get it out of my head so I went back the next day and bought two skeins in merino aran.
Quite frankly, I had no idea what I was going to make with it but that didn't matter, the yarn was just too pretty to pass up.
With the yarn at home, the next task was trying to figure out what to make with it. I didn't want a hat, and I tried a scarf but I didn't like way the yarn looked with that particular design.
I don't remember how it happened, probably on Instagram, but I came across this pattern by DROPS and I knew it was the pattern for my yarn.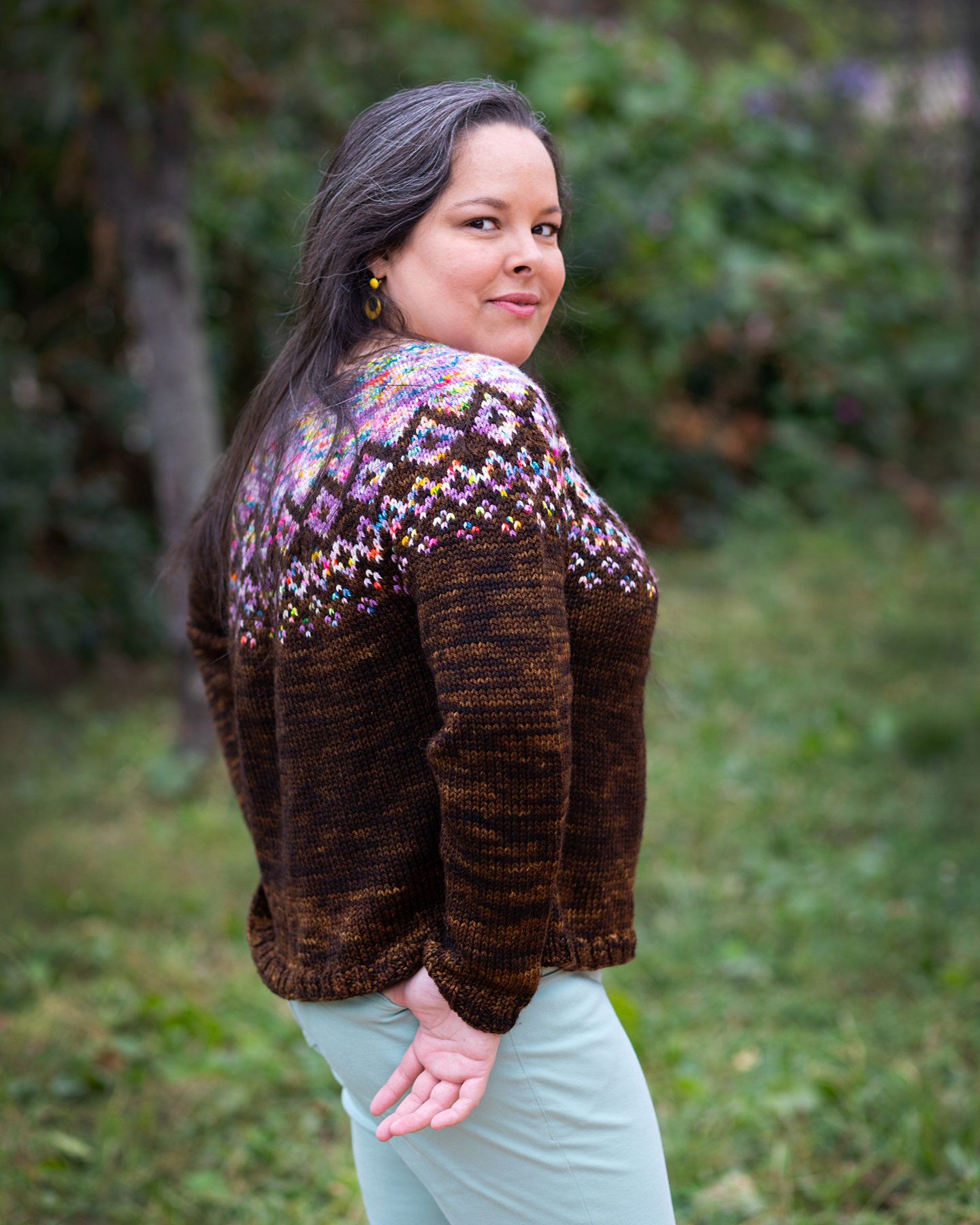 Of course, I only had the yarn for the yoke so I needed to get the same yarn in a solid or semisolid for the body and the sleeves.
I initially wanted a dark blue yarn, but Argyle didn't have enough of it. They only had enough of this brown colorway, called Damned Nation.
So, I resigned myself to brown and brought it home.
To be honest, that was serendipity because Damned Nation turned out to be a perfect combination with Cherry Blossoms.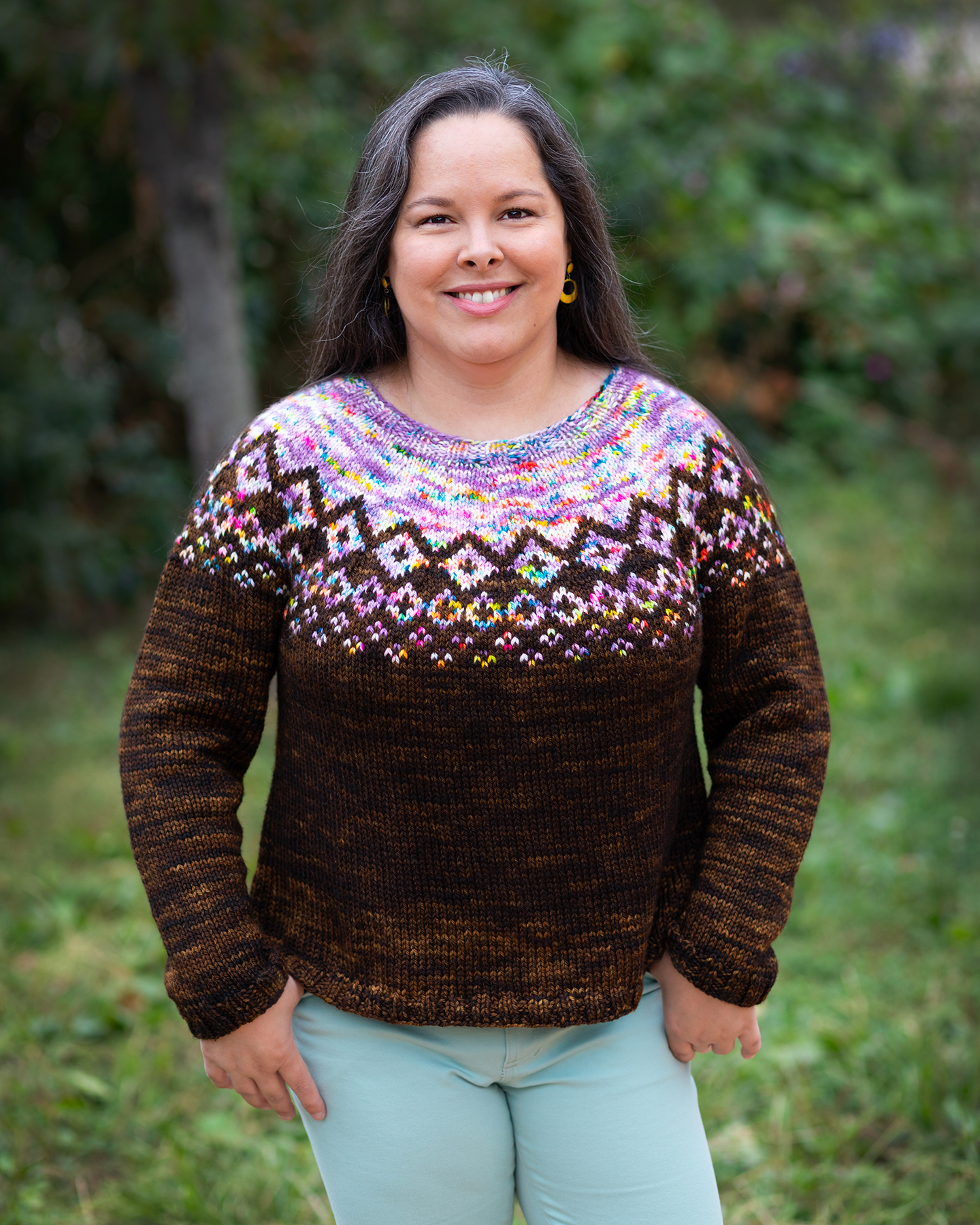 With pattern and yarn secured, I got to working.
I started knitting in size L and knit all the way to where the yoke is joined to form the armholes and the body.
It was HUGE.
So, with a heavy heart but damned determined, I ripped it all out and started again in size M.
I'm so glad I did that because I just would not have worn the enormous size L and M is roomy enough.
The only thing I would have done differently is to make the sweater about an inch and half longer at the body and knit the ribbing with smaller needles so it comes in a bit to account for my small hips.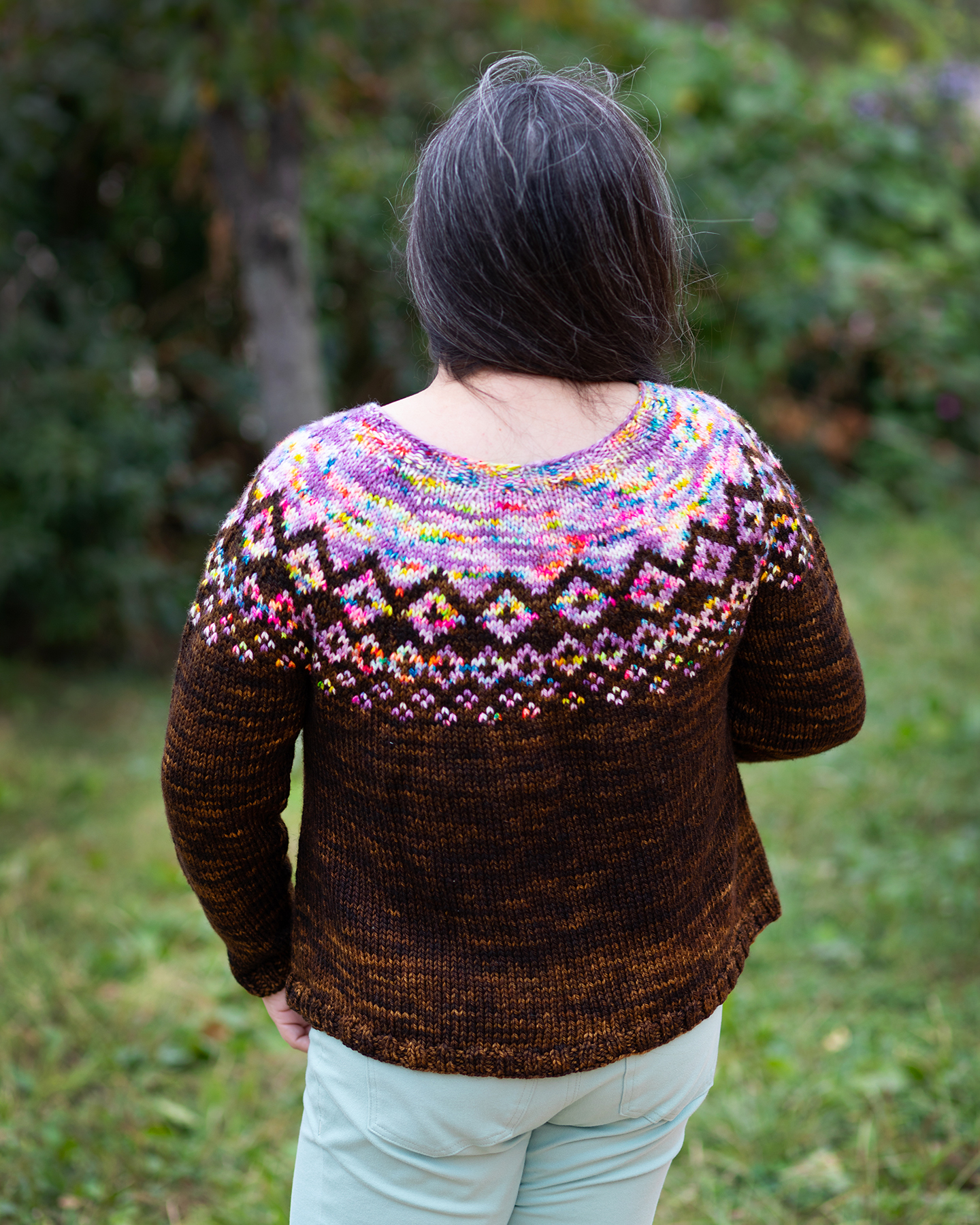 But that is not a big deal.
Anyway, once I started the sweater in the right size, it took me about 3 weeks to finish it.
That was in June, probably the worst time to finish a sweater in the Northern Hemisphere.
I had to wait several months to be able to wear it but now sweater weather is here and I'll wear it every chance I get.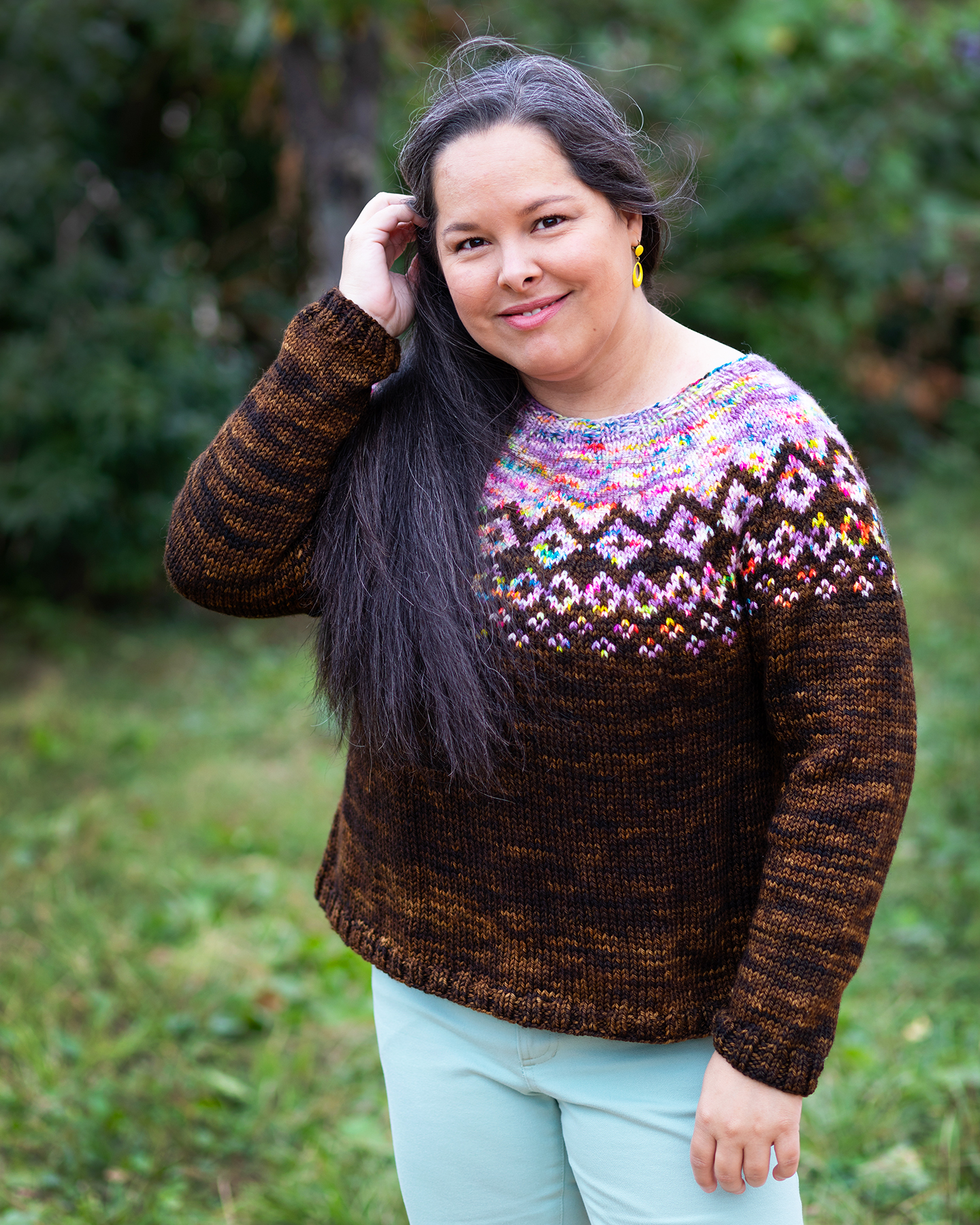 This was the second sweater I finished this year, so far I've completed 3 and I'm about 3/4 done with a 4th.
I guess I'm a sweater person now.