Back in September of last year (2019), I got the urge to make a cocktail dress despite the fact that I pretty much never have occasion to wear cocktail dresses.
But I had a family wedding coming in November, out of town for me, and I thought that I'd have the chance then so I started working on the cocktail dress.
The dress, a pretty simple design with a box-pleated skirt, is one I had tried before in – wait for it – laser-cut pleather fabric. Yup. But, for better or worse, that one didn't work out.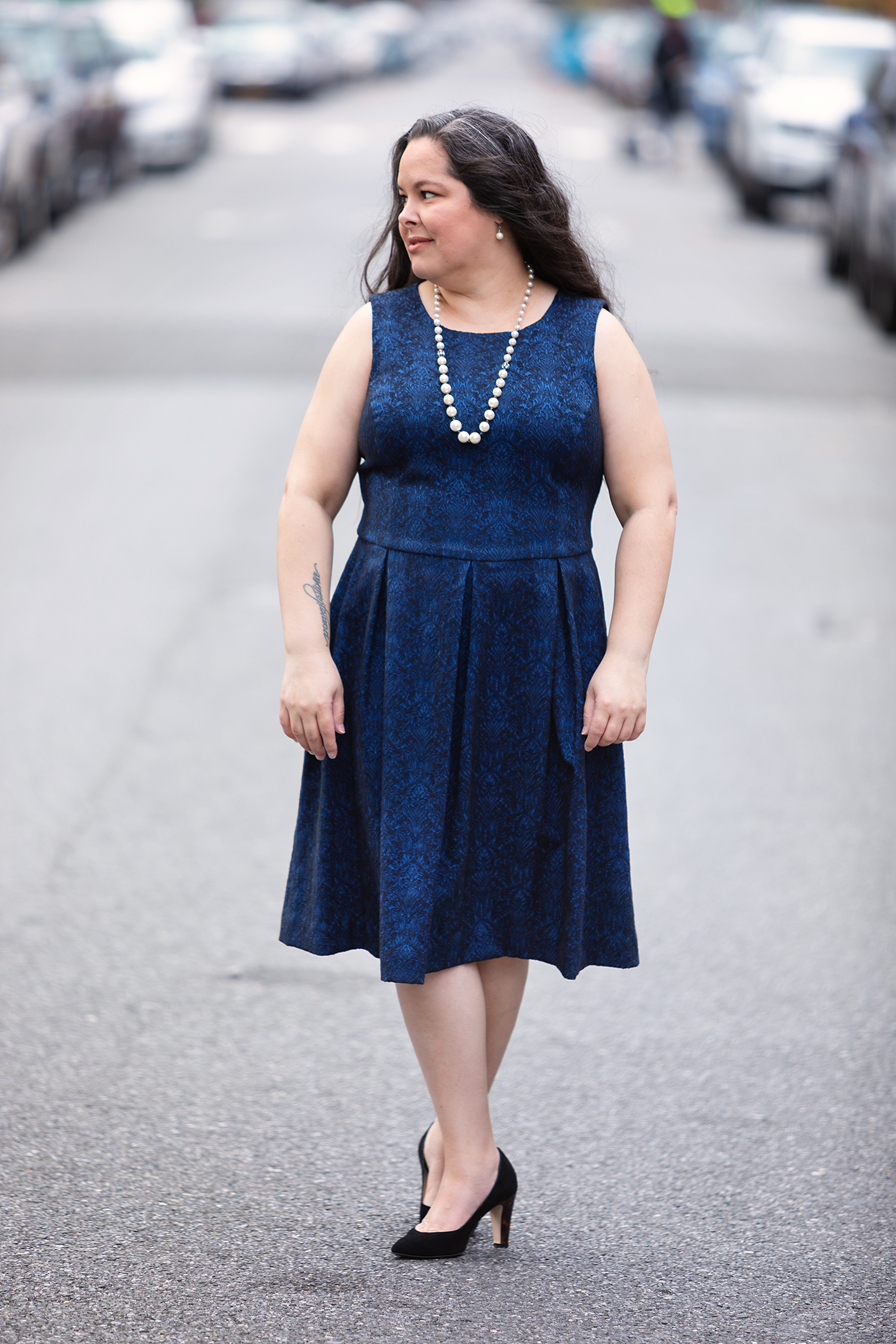 This time I around a chose a more mainstream fabric that I've had in my stash since I moved to NYC in 2015. It was my very first purchase at Mood, once I got over the sticker shock in that store. I was saving it for something special, like this.
The fabric is a cotton/poly/spandex brocade in a luscious blue color with black motifs. It feels soft but is heavy and has tons of body, which makes it great for this sort of dress with a big skirt. It also cost me $30 a yard.
I cut a size 46 and had to do some minor fitting adjustments like swayback. I also took a bit fabric out of the armscye by taking out extra fabric from the top of the front princess seams.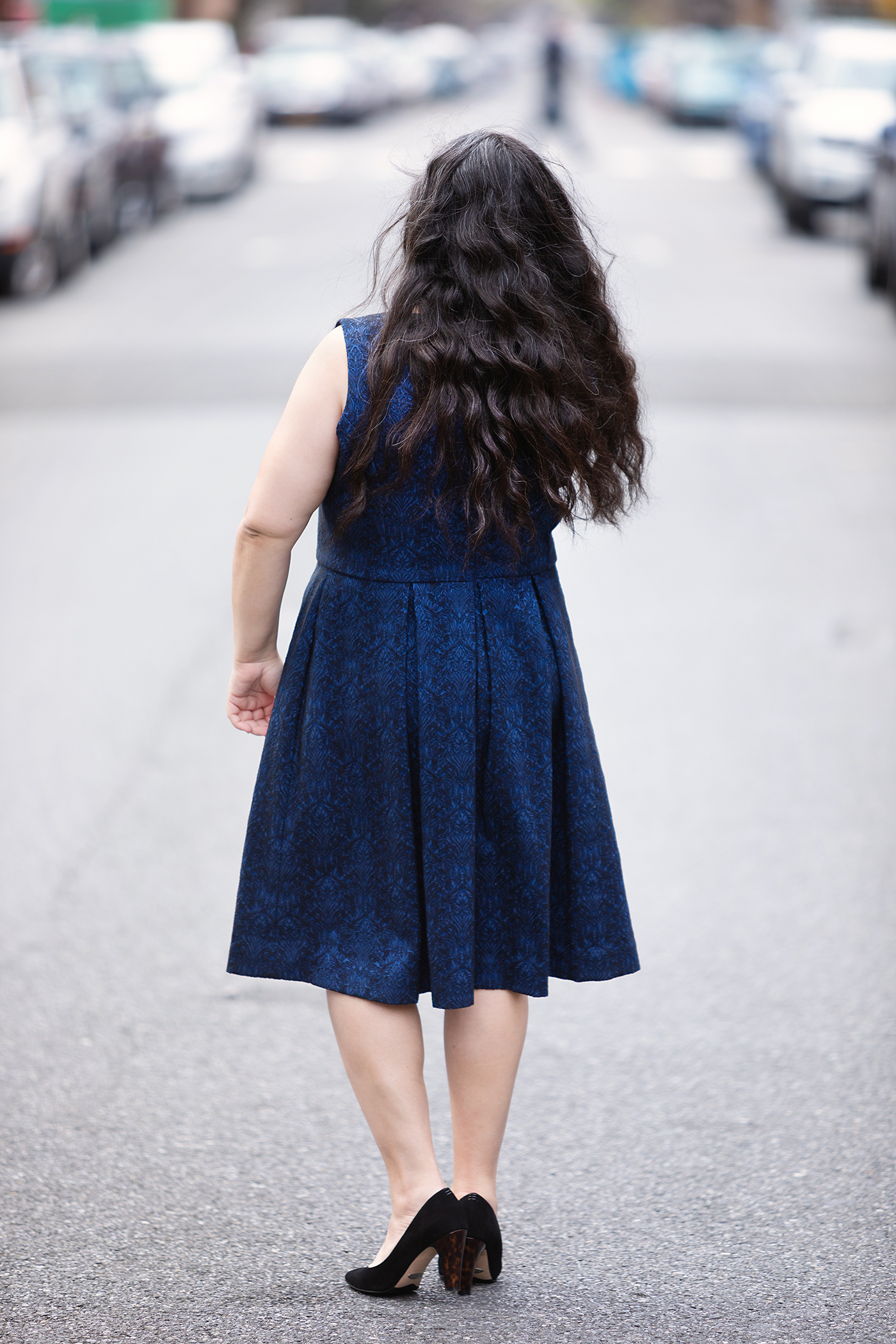 That last step meant that the facings for the armholes had to be redrafted, but it was an all-in-one facing with the neckline too and I decided that instead of doing that I would just line the entire bodice without facings.
For the lining, I used stretch silk charmeuse, also from Mood. I mean, the zipper is from Mood too, so…
This dress is nothing if not fancy.
I also shortened the skirt 2.5″, which is pretty standard for me.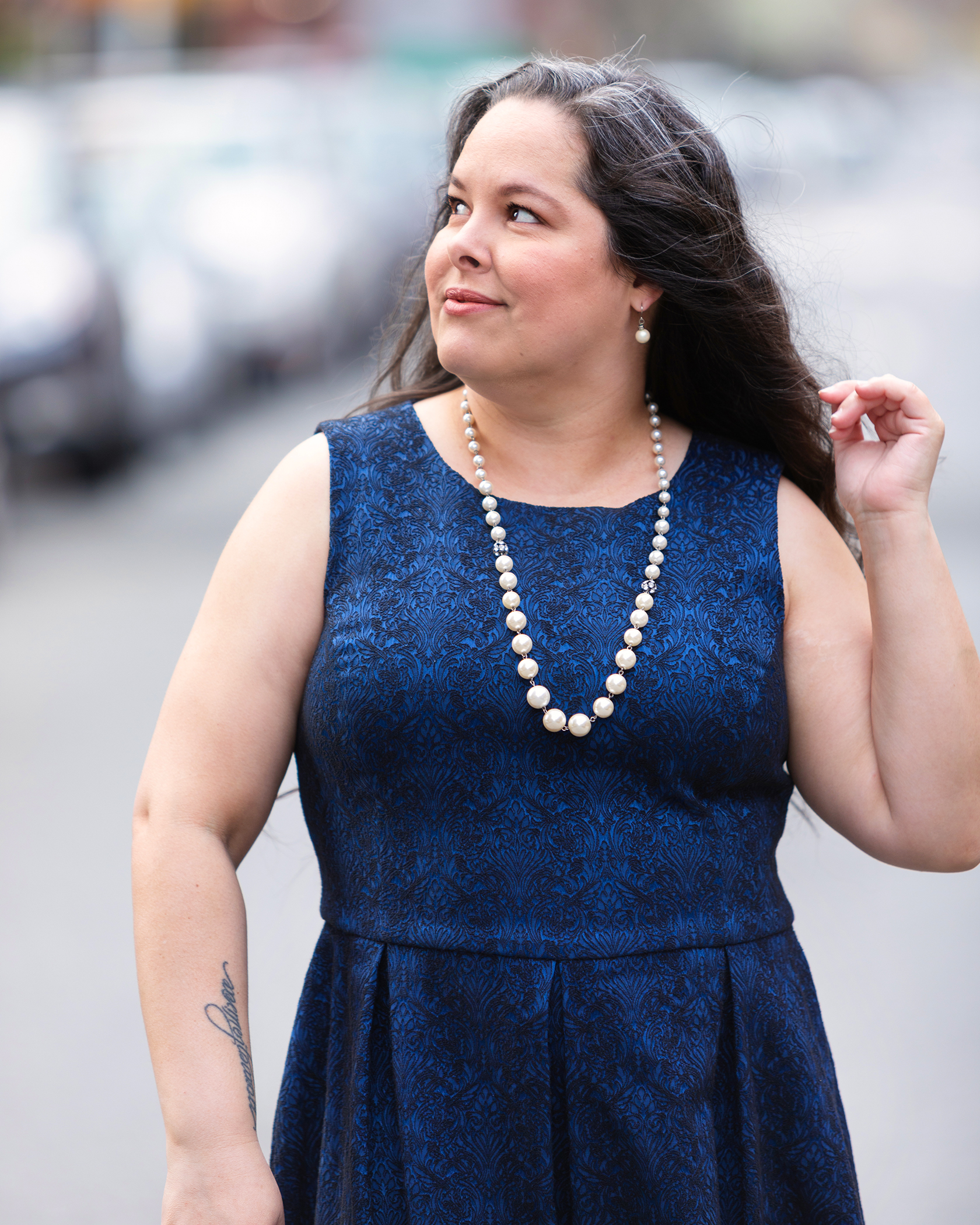 I wanted this dress to be really great looking and of really great quality and workmanship, so I took a lot of care in the construction. As I said, the bodice is lined with silk and hand-stitched to the waist seam.
The skirt is not lined, but I sewed black hem lace to the hem line inside to completely cover it, then sewed the hem by hand. It looks pretty and high end.
I just love how the dress came out and how it looks on me.
My only complaint about the dress and the pattern is that, despite my careful tracing and folding, the side box pleats in the back do not align with the back princess seams the way the front ones do. I don't know if it's pattern or me, because the width of the waist seams is the same for the skirt  and the bodice, but they are offset.
It doesn't bother me because it's not very noticeable, it's in the back, and no one who doesn't sew will even think anything of it.
Things don't have to be perfect to be beautiful.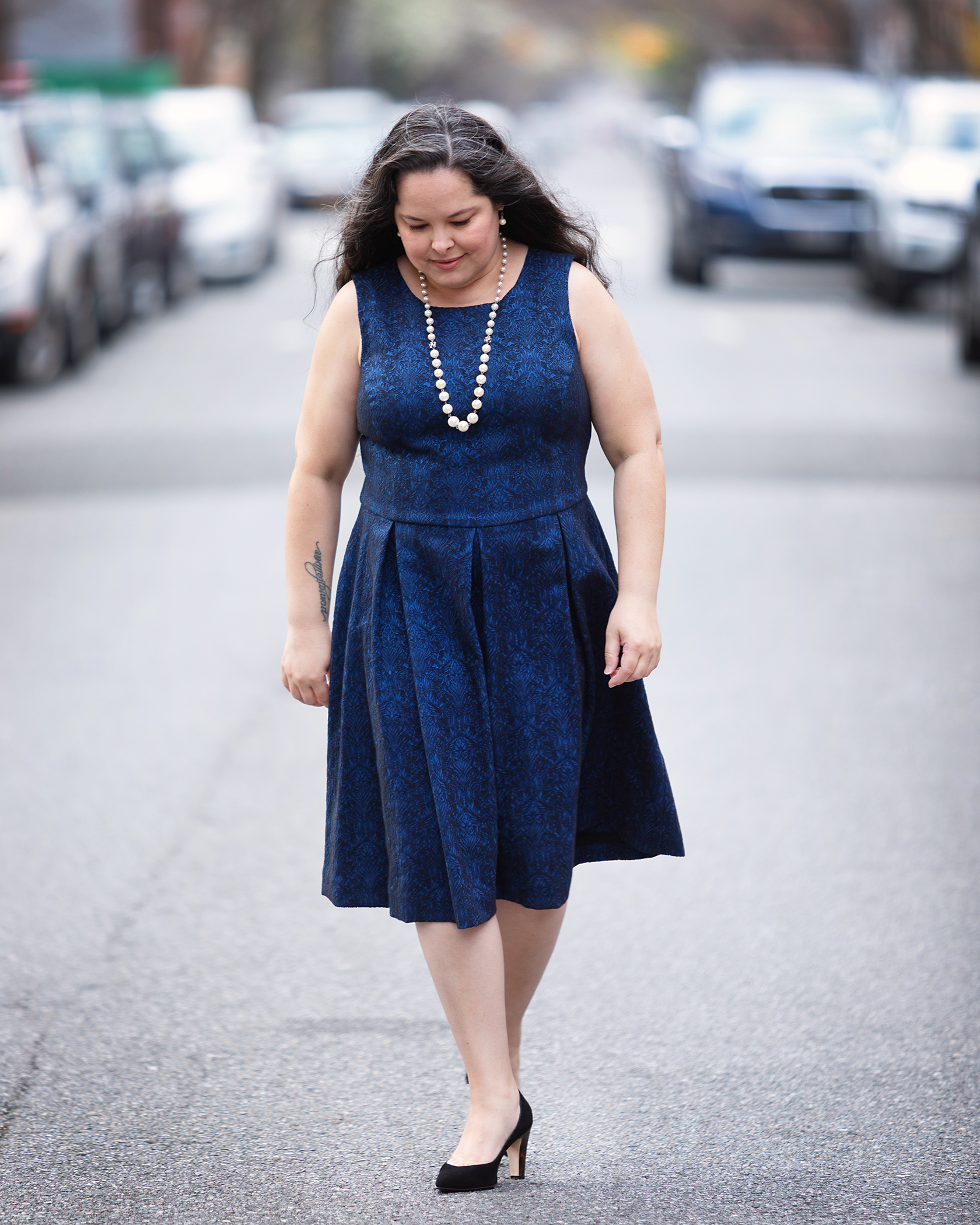 BUT, I didn't get to wear it during the wedding festivities. Then I thought I'd wear it to my wedding anniversary dinner last month but COVID-19 hit so no dice there either.
The last hope was NYC Frocktails, which had been scheduled to take place in May, but life is on hold and that too has been cancelled.
So, I have a gorgeous, well constructed cocktail dress in my closet and still nowhere to wear it.