If I haven't said it a thousand times I haven't said it once: I am a sucker for ruffles. In the least year, I have also come to love drop shoulders and sewing and wearing knits. So, when I saw Papercut Patterns released the Kyoto Sweater and Tee pattern as part of their Sakura collection earlier this year, I knew I had to have it.
I purchased the pattern right away – along with a few others – but like everything else sewing related, it fell off my radar over the summer.
Fast-forward to earlier this month when it started getting colder. I wanted to make a few long sleeve knit tees so I thought it was a good time to make the Kyoto Sweater but in a thin fabric.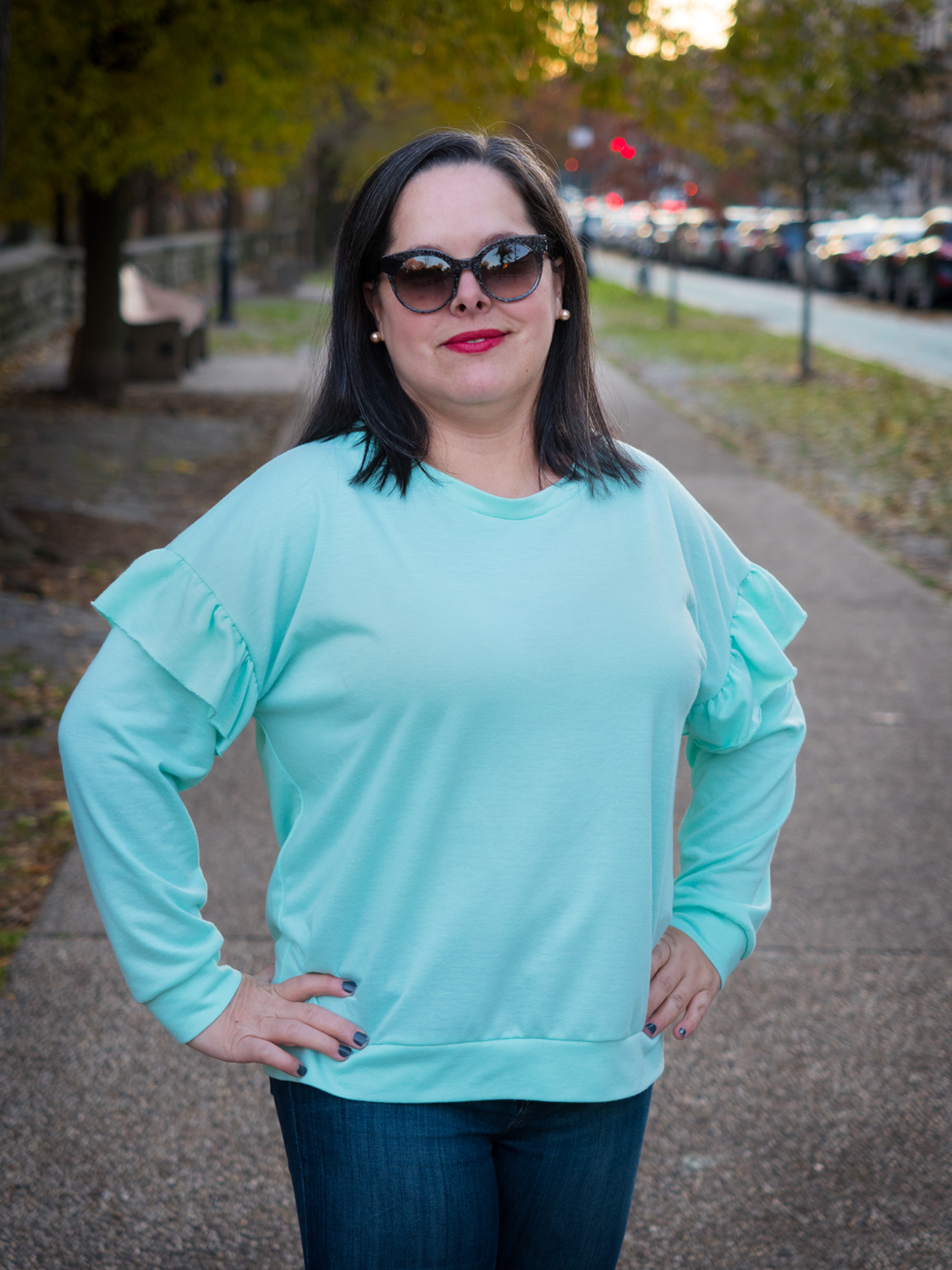 I traced the pattern, cut out the pieces from a yellow cotton jersey I had knocking around and sewed the shoulder seams.
Then my serger crapped out. I don't know what happened or how it happened but the needles started to hit the upper looper, which is not good at all. Basically, it means the timing of the mechanism is off.
I took it in for repair (which was a very simple one and I could have done myself if I had known how) and was told it could take up to two weeks. If you have watched my stories on Instagarm this month you'll know that's not how it went.
Long story short, it took three weeks and would have taken longer if I hadn't put my foot down. Then when I went to pick the machine up after they called to say it was ready, they had not tested it to see if the repair had worked. It was a saga and a half.
Anyway, I brought the serger back home and picked up the tee again. I screwed up with the yellow jersey because I wasn't paying attention, but I had already bought this gorgeous mint green thin french terry that I KNEW would be a Kyoto Sweater.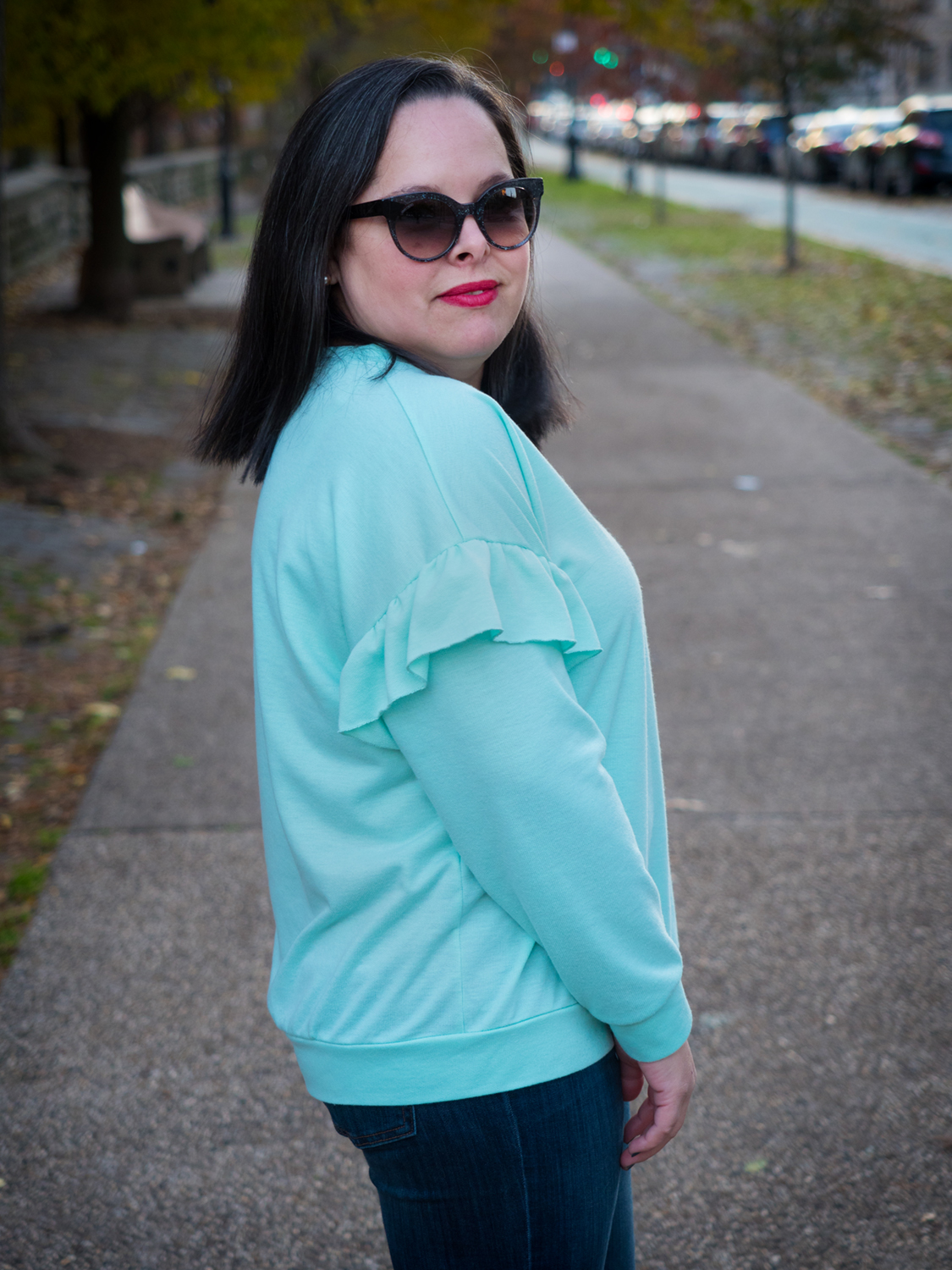 This time I was more careful and didn't ruin anything. It's a very quick project, with the most complicated part being attaching the ruffles, but that's not saying it's complicated at all.
The only thing I did differently from the instructions is that I did not narrow-hem the ruffles. Instead, I did a rolled hem on the serger. I completed the entire thing, except for the gathering stitches of the ruffles, on the serger.
Fitwise, I didn't do much. I cut a size Medium, then shortened the front and back 2 inches, and the sleeves 3 inches. I'm short.
For the next one, I think I'll make it one size down all over for a closer fit and perhaps go down one more size at the hips, or take some of the seam allowance at the hips off.
I am SO in love with the tee. I love the color, I love the design, just love it. It's fits pretty loosely, which is fine; the fabric is thin enough that it works.
On the subject of the fabric, I LOVE IT. Yes, I know it has a lot of polyester, but it feels so good on! It was also great to work with. I have some fabric left for a short sleeve t-shirt of some sort, but I'm seriously thinking about buying more because I love the feel of it and the color so much. I think mint is second only to blue in my book.
I have a purple bamboo jersey that is screaming to be made into a Kyoto.