There are few things in clothing I love more than the color blue and fluffy sleeves. So, when one day I came across a hacked version of the Myosotis Dress that had fluffy sleeves AND it was blue, I knew I needed one in my life.
I mean, it's wearable cottagecore, and since I found out about cottagecore style last year, I've been a fan. Well, a fan of the clothing if not the actual lifestyle.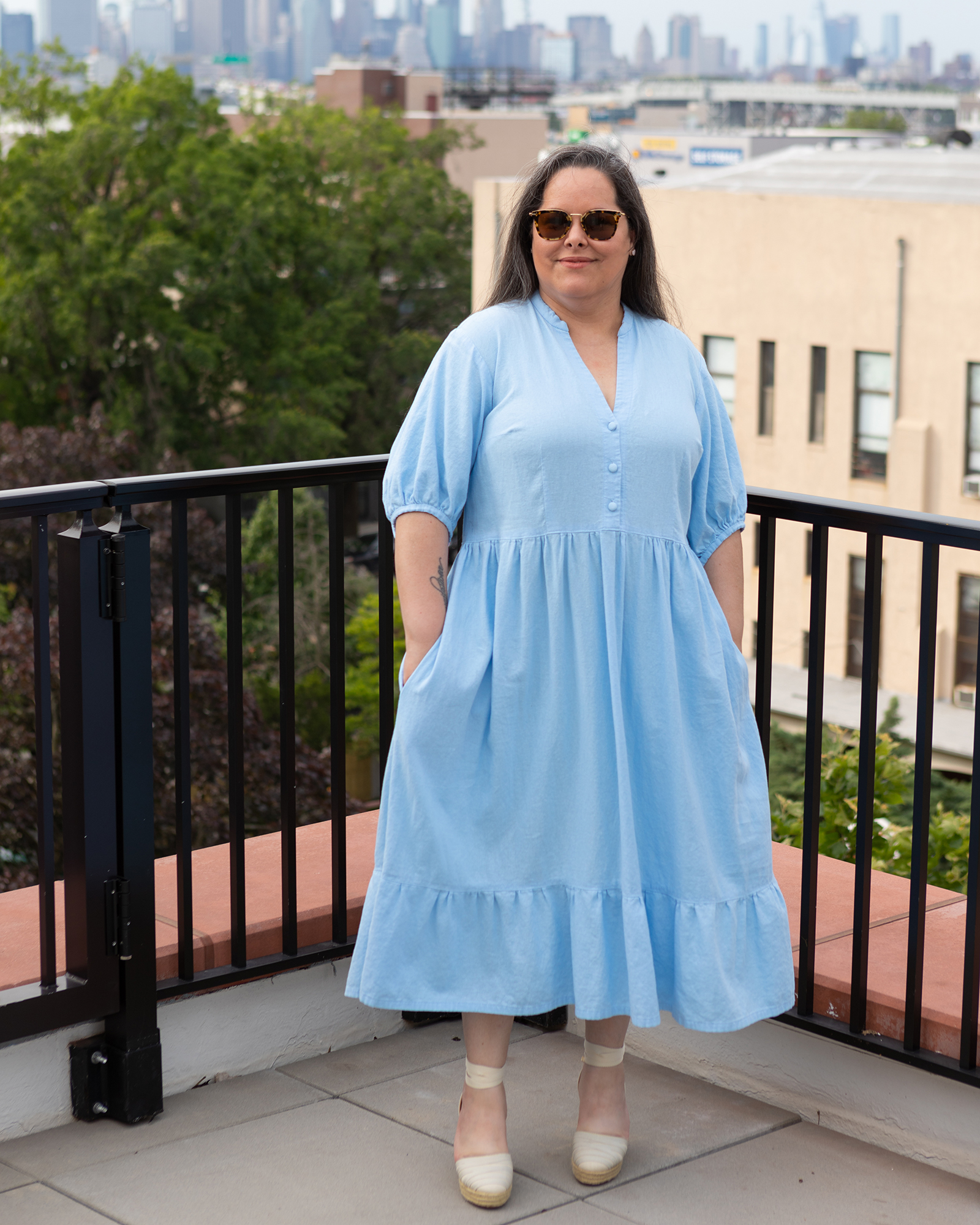 I had long been wanting to make something inspired by the Little Women Atelier dresses, and I'm especially fond of this one, so I didn't need any convincing.
I thought the most difficult part of making this dress I had in my mind would be to find the right fabric, but it was actually easy. A couple of years ago I bought some linen/rayon blend called Brussels washer linen that I loved so I started there. I was ecstatic to find it also comes in this beautiful light blue colorway called "frost."
I was in business.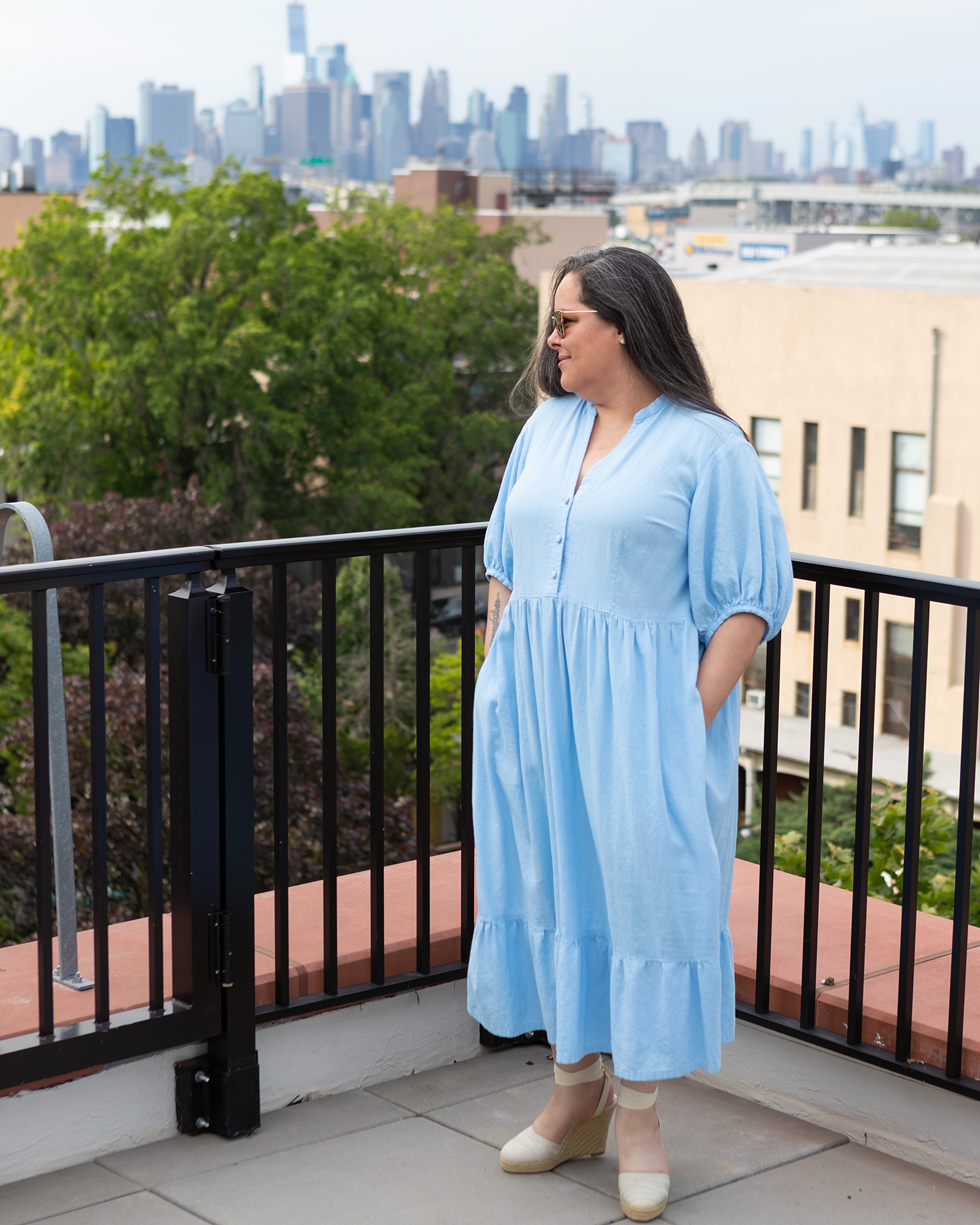 The hacking of the dress itself was relatively simple and it was really just the sleeves that needed to be hacked.
I wanted sleeves like the ones from McCall's 7969 – big, gathered, and cuffed. Ah, that Strawberry Shortcake cottagecore nap dress!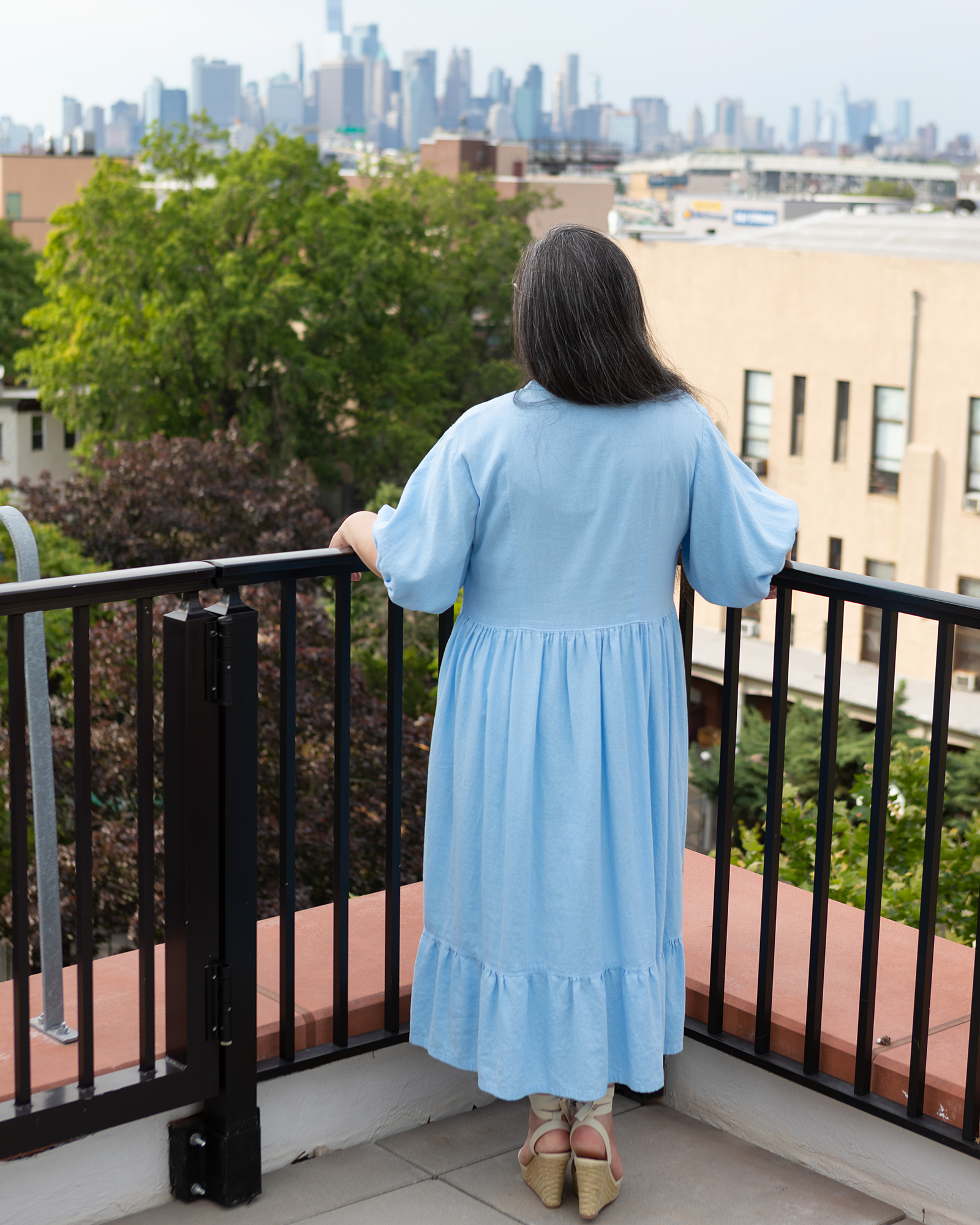 Those are raglan sleeves though so I used them more as a guideline than an actual replacement.
I traced a clean copy of my Myosotis short sleeves, made some slashes from bottom to top leaving little hinges, and then spread it out as much as I could. I also lengthened them to come down to just below my elbow. Doing it this way ensured that the sleeve seams would still match the bodice since that seam line was not changed.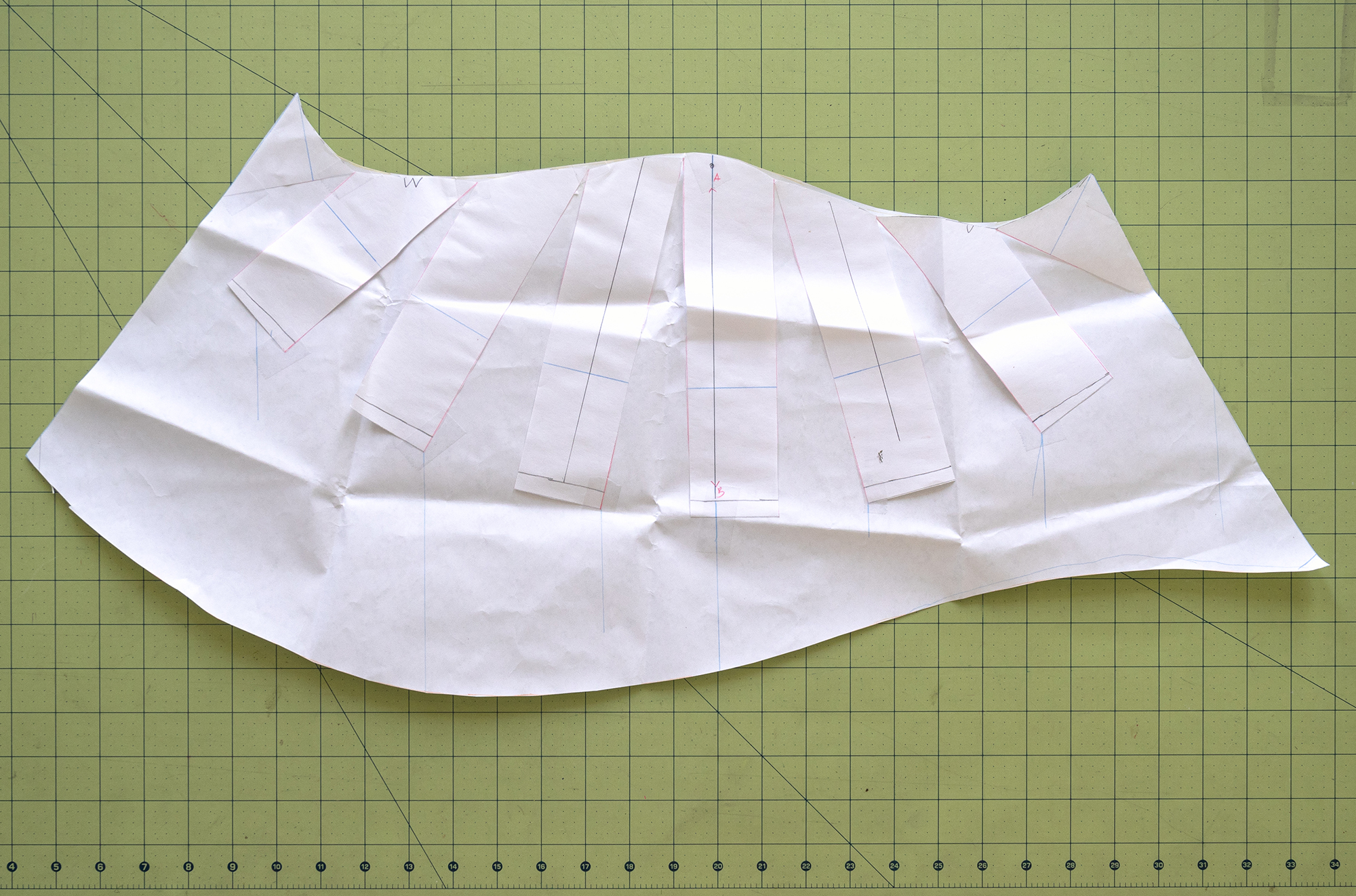 The next step was to curve the hem so that, like in the McCall's 7969, the front of the sleeves is higher than the back. Again, I used the McCall's sleeves as a guide.
I had to play around with the draft a bit to get all the seams to match and to avoid weird angles, but I got there.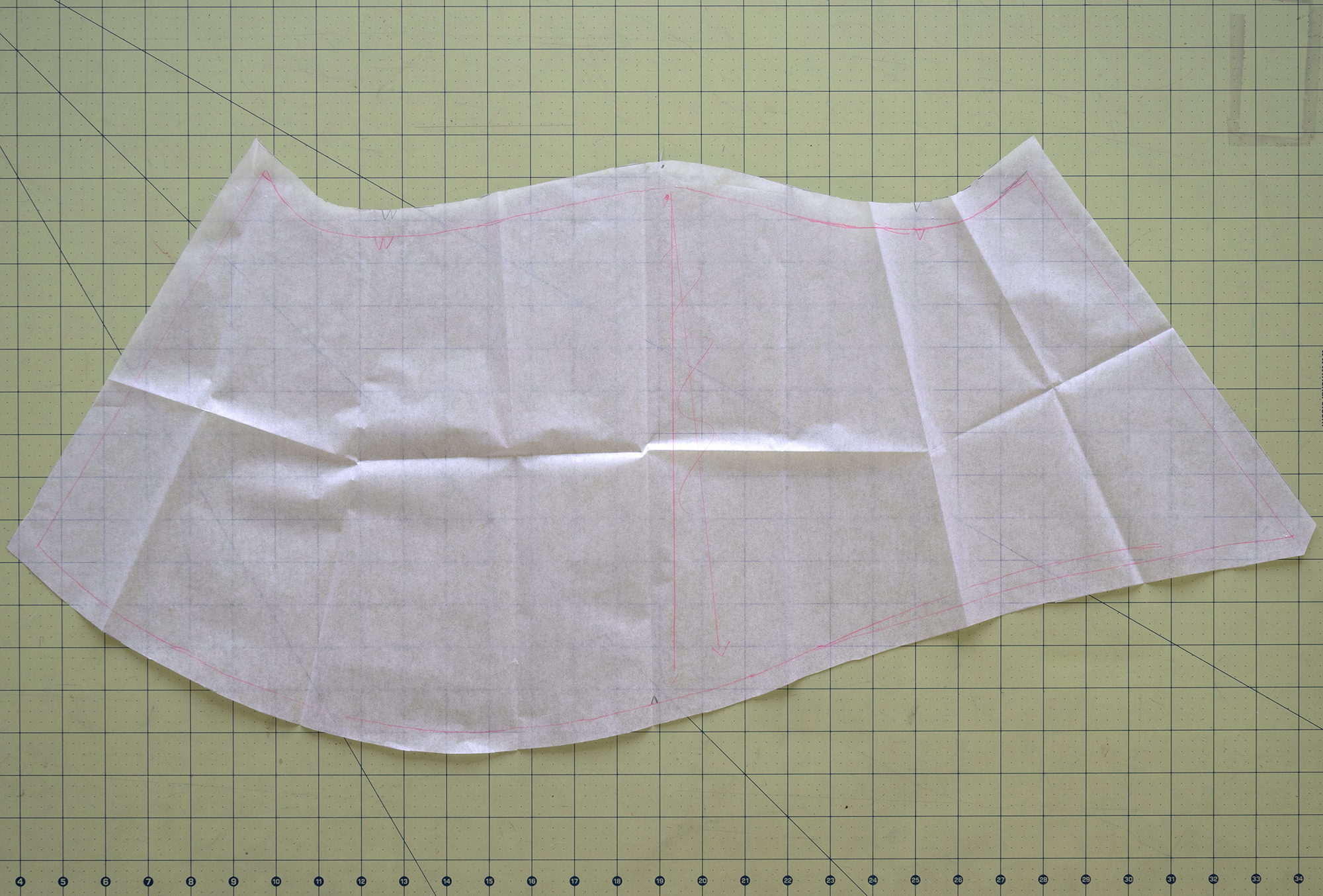 That said, these are more or less bishop sleeves and there are actual professional and methodical ways of drafting them, which also include slashing and spreading. If I had been drafting from scratch I would have done that. But I felt confident that following the shape of the McCall's sleeve bottom, scaled down for my new Myosotis sleeves would work.
In the end, my hacked Myosotis sleeves are not as voluminous as the McCall's sleeves, but that is fine. The basic shape, minus the raglan, is more or less the same. They are, however, dramatically different from the original Myosotis sleeves.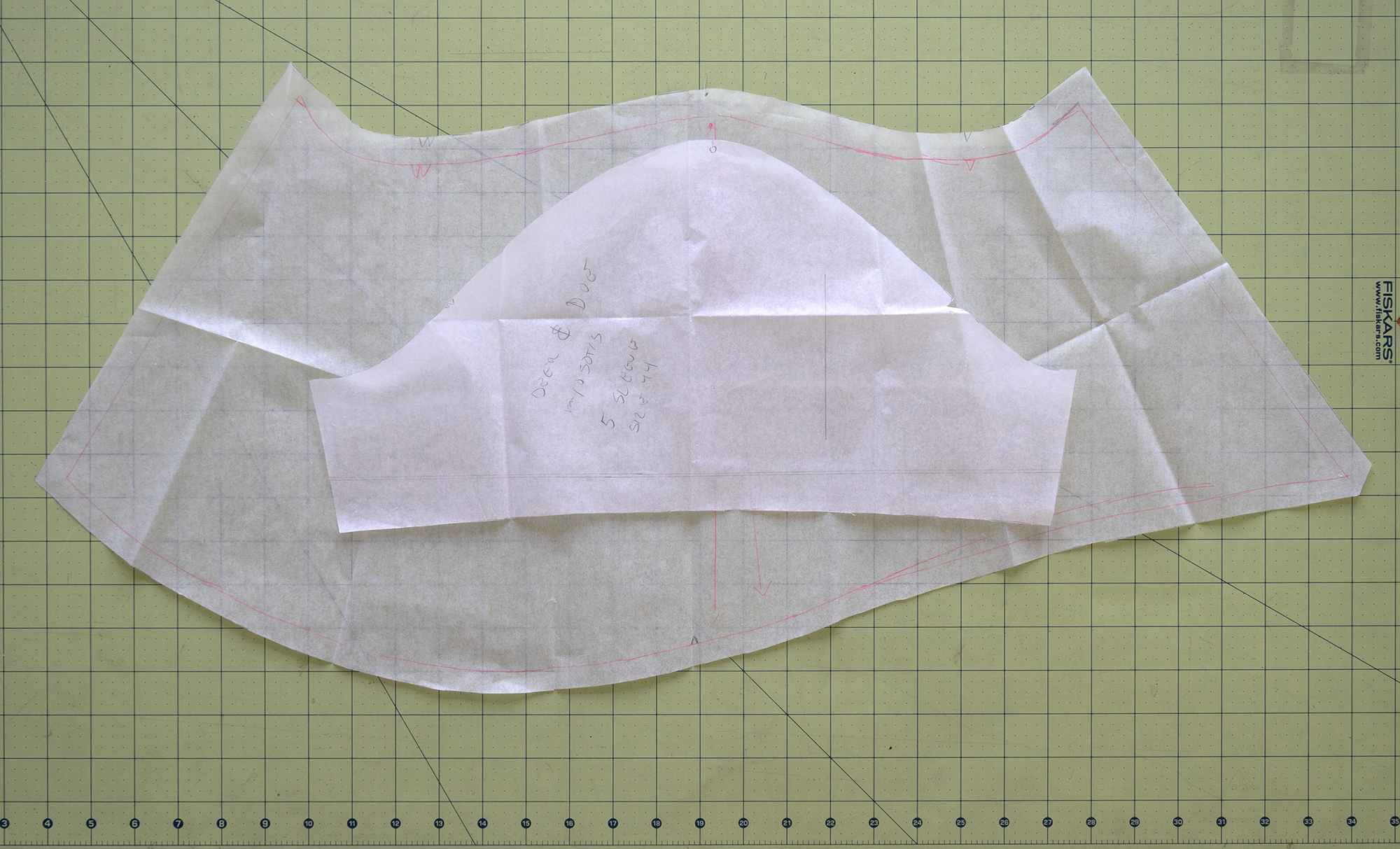 The other thing I did to make this dress look like what I wanted was to use the skirt piece of the Myosotis meant to go without the ruffle, and then added the ruffle anyway. This gave me the length I needed. In the past, I have made the shorter skirt with the ruffle.
I used self-covered buttons for a more streamlined look.
The dress came out exactly as I had envisioned. I absolutely love it.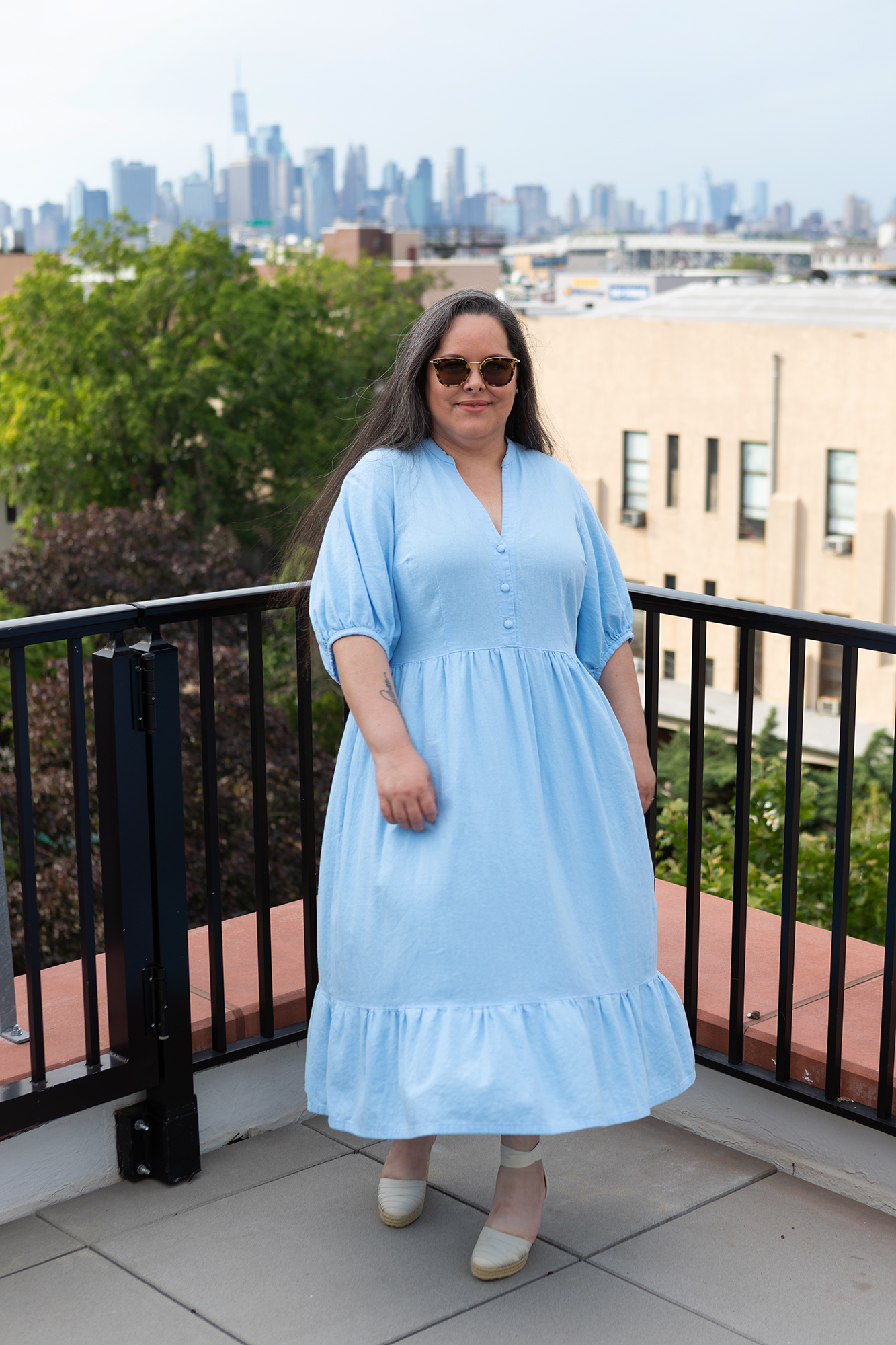 One thing I have noticed is that the weight of the sleeves pulls down the shoulders a bit, making the whole thing look like a slightly dropped shoulder design.
While I didn't anticipate this (I should have, linen is heavy), I like it! It looks a lot like the Little Women Atelier dresses, which DO have dropped shoulders.
Happy accident, I guess.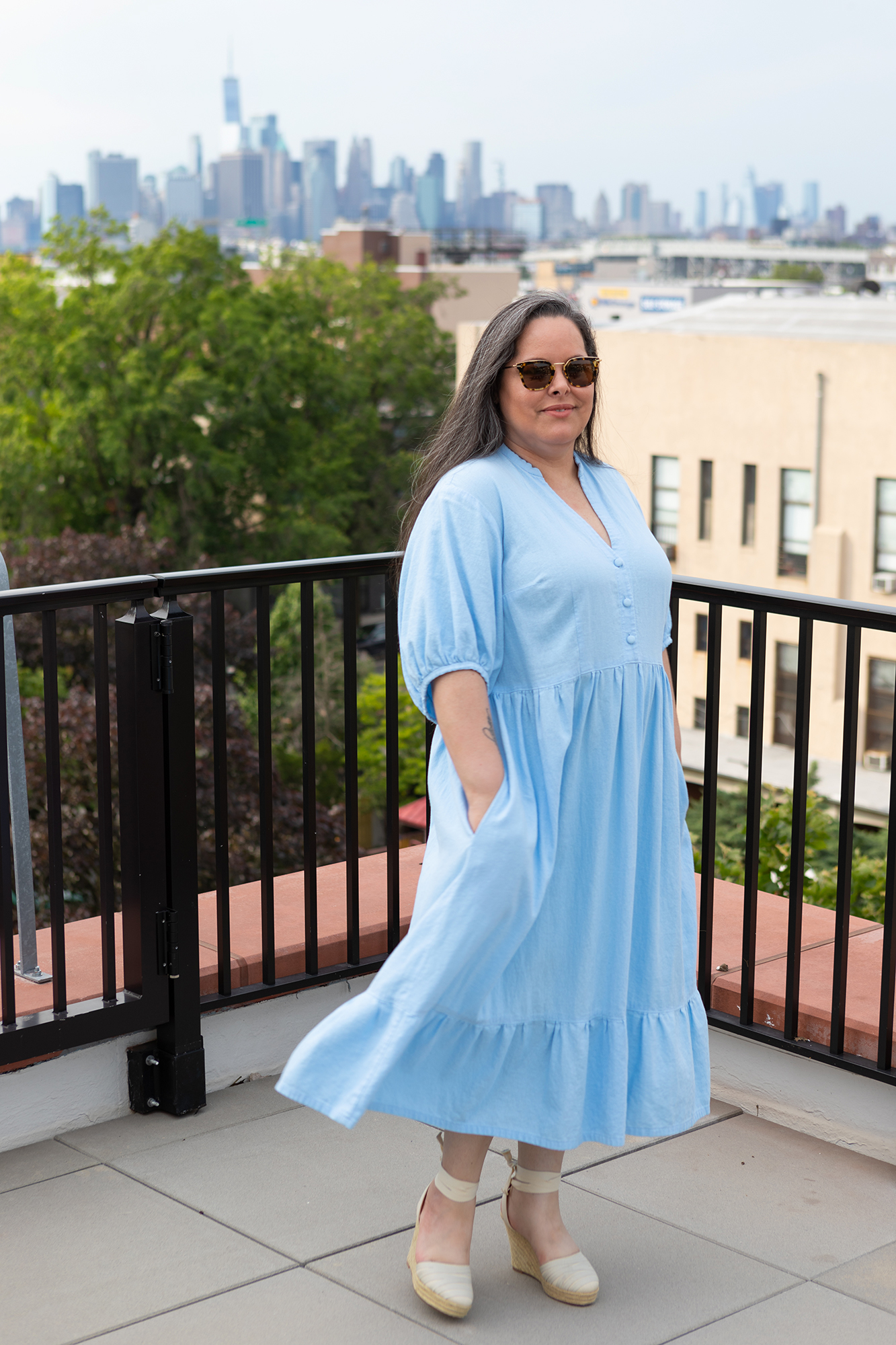 I hope you have enjoyed seeing how I made this cottagecore Myosotis Dress hack!