I'm currently, as you may have noticed, on a long ruffled skirt and fluffy sleeves kick. So, when Cashmerette Patterns released the Roseclair Dress a couple of weeks ago, I immediately bought the envelope pattern.
I debated which size range to buy since I'm in the top end of one and bottom end of the other one. In the end, I went with the 12-32 range because there was more leeway for me there.
The moment the pattern arrived at my door I made a muslin. I loved the dress that much.
While I waited for the pattern to arrive, I ordered this fabric. It's a pastel stripped seersucker and I was inspired by a dress I saw on Instagram.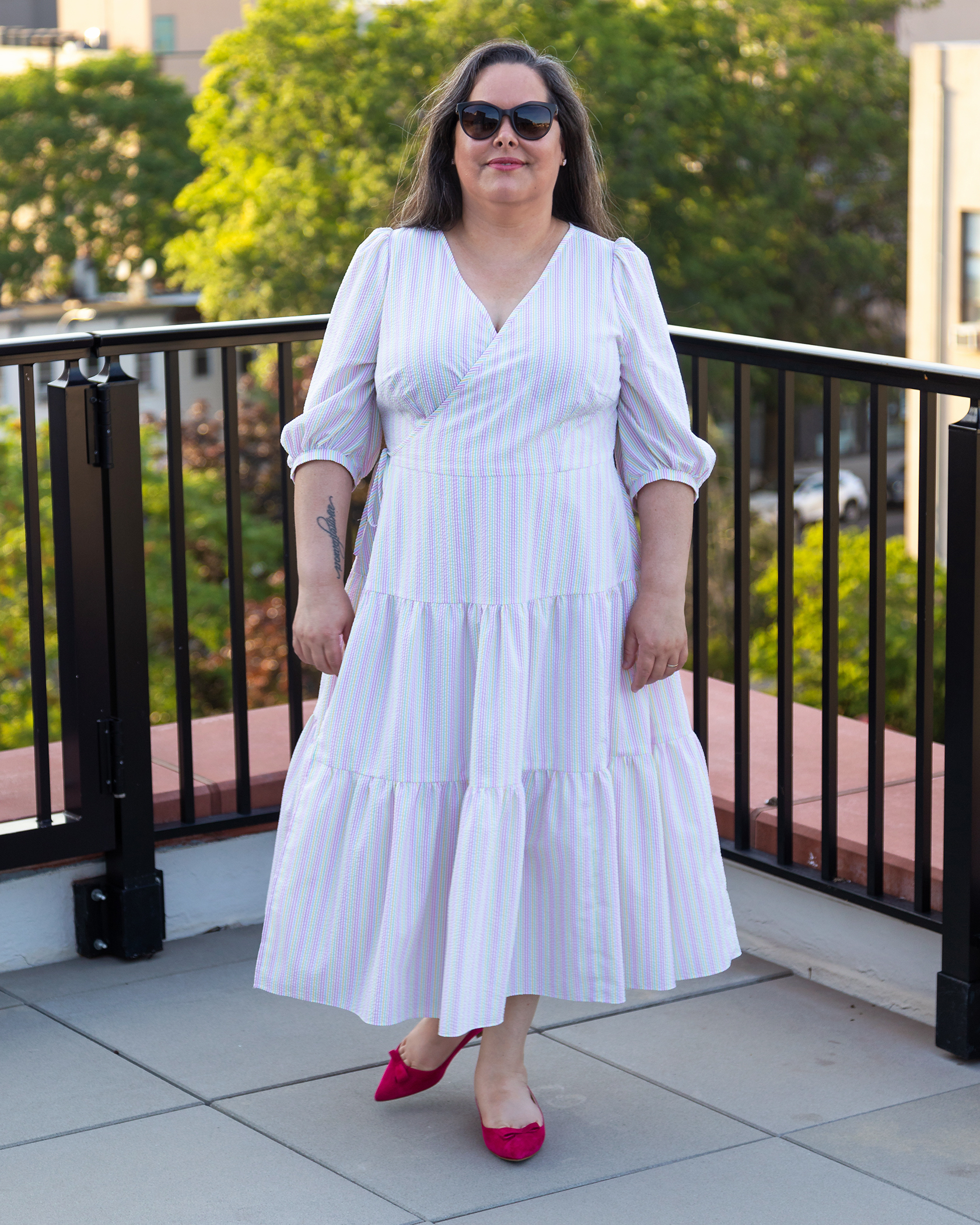 This was my first Cashmerette pattern and I didn't know what to expect fit-wise but I wanted to give myself a head start with some minor fit adjustments. I chose the size 14 E/F (that's the cup size) and graded out to a size 16 at the waist.
Then, based on the information I had read about someone who is 5'3″ and made it, I chose to shorten the bodice 3/4″ before I even cut out the muslin. I also made a small swayback adjustment.
Much to my surprise, with those small changes, the fit was spot on for the bodice.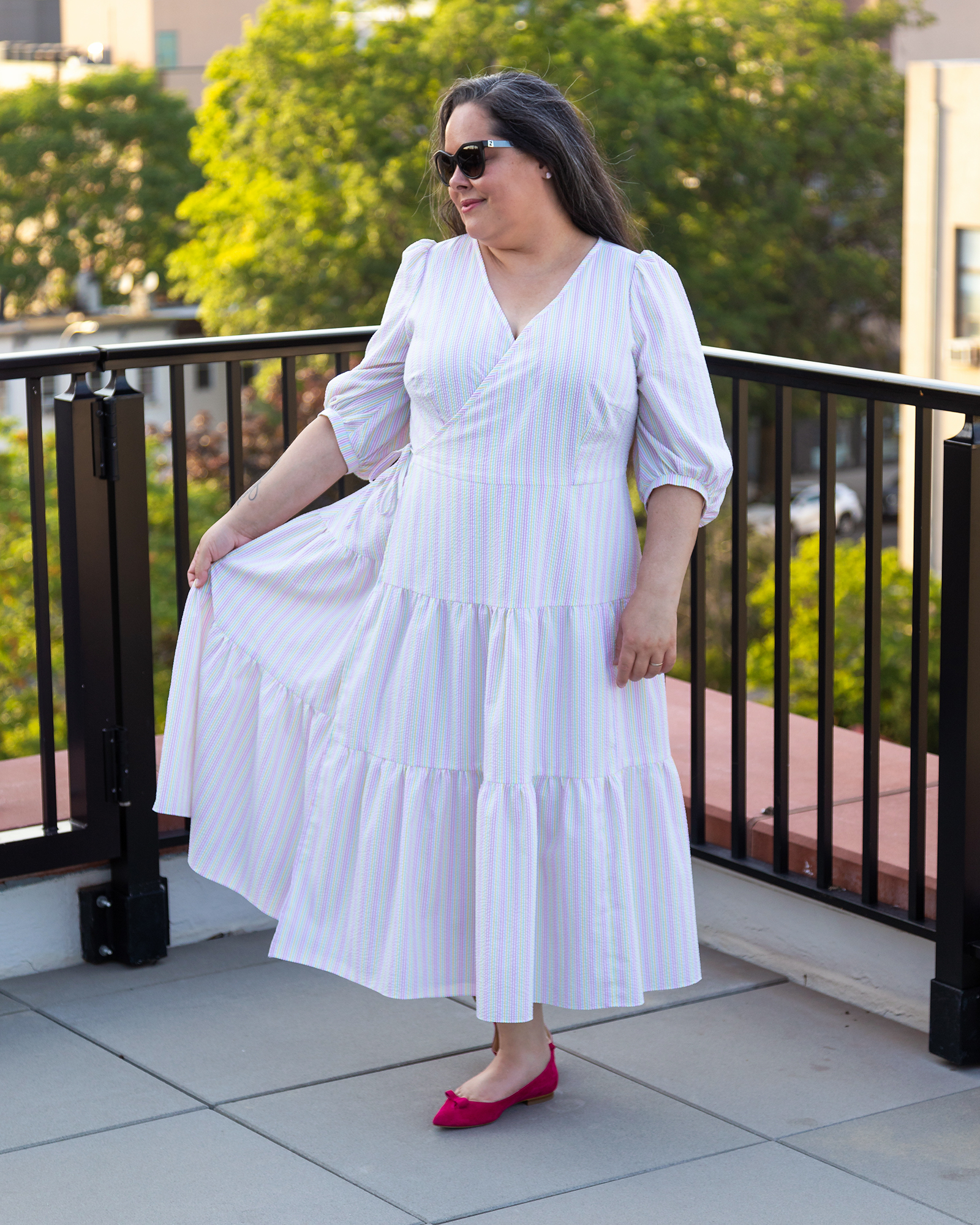 I didn't muslin the skirt, there is just too much fabric in it to be worth it. But, again, based on my height, I decided to shorten it quite a bit.
I shortened the skirt part that attaches to the bodice 1/2″. Then I shortened each tier 1.5″.
So, counting bodice and skirt, I shortened the dress 4 1/4″ in total.
Even with all that shortening, my dress is still almost a maxi length on me.
I also shortened the sleeves, both the sleeve piece and at the cuff. The sleeve I shortened 1″ and the cuff 2″, which is almost half of the total cuff length.
Unfortunately, I didn't anticipate that the cuff would not be wide enough for me. At this length, the sleeve kept catching on my elbow and I couldn't move my arms up unless I brought the sleeves up over my elbow.
After I got these photos, I removed the original cuff and replaced them with cuffs that I cut 2″ wider (not longer). That fixed most of the issues with the sleeves.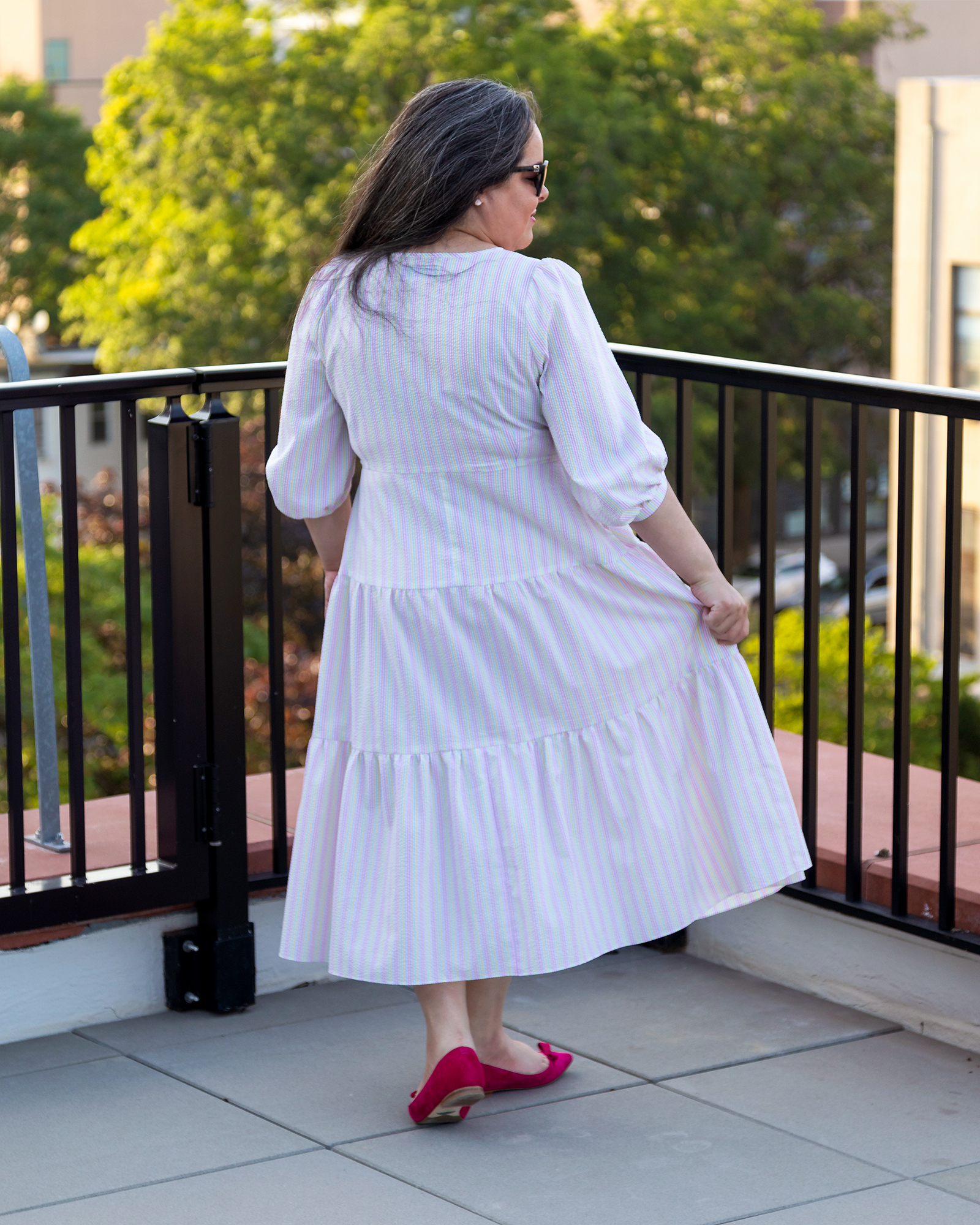 However, if I was to make this dress again, I would make a full bicep adjustment because it feels like I could use a bit more room there when I lift my arm.
Despite the sleeves, which no longer bother me, I LOVE the fit of the dress. I love that the shoulder seams and sleeve seams are on the right places. The darts point to the right places too.
I also love that the neckline did not gape at all, which is usually a problem on these types of necklines in many other patterns from other companies. I think Cashmerette has really done an excellent job with getting the patterns right.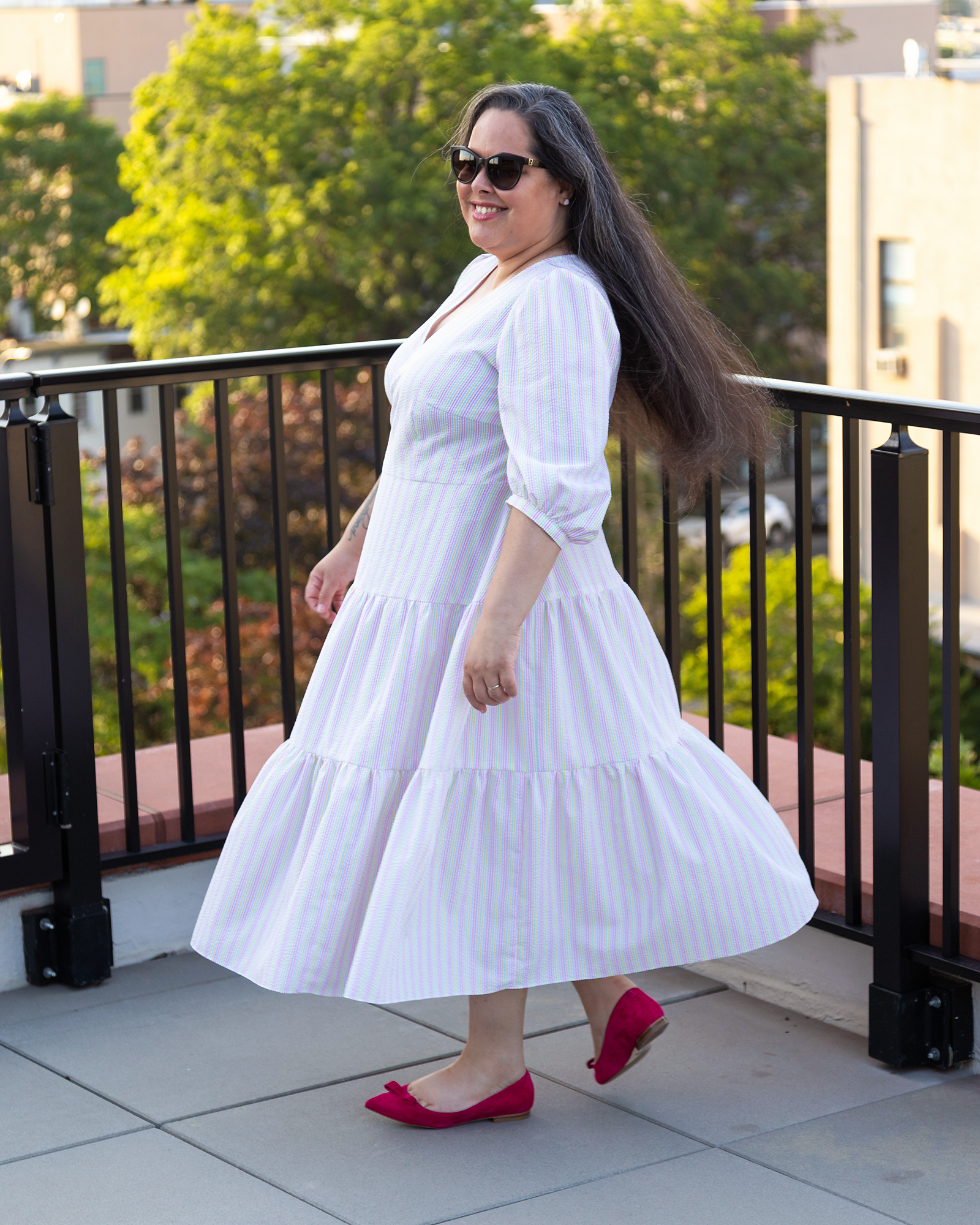 As for the hem, I really did not want to do a 1/4″ hem on 161.5″ of fabric so I used a narrow hem foot instead. The hem is, obviously, narrower than intended but that is not an issue. Honestly, I think it looks cleaner this way.
And lastly, I did not expect that it would be difficult to tie the ties at the side. So difficult! This is not the pattern's issue, it's me. I'm not very flexible and I'm pretty fluffy so doing the dress up is a bit of a workout. It's not impossible, but it's something to keep in mind if you, like me, are not very flexible, or if you have limited range of motion.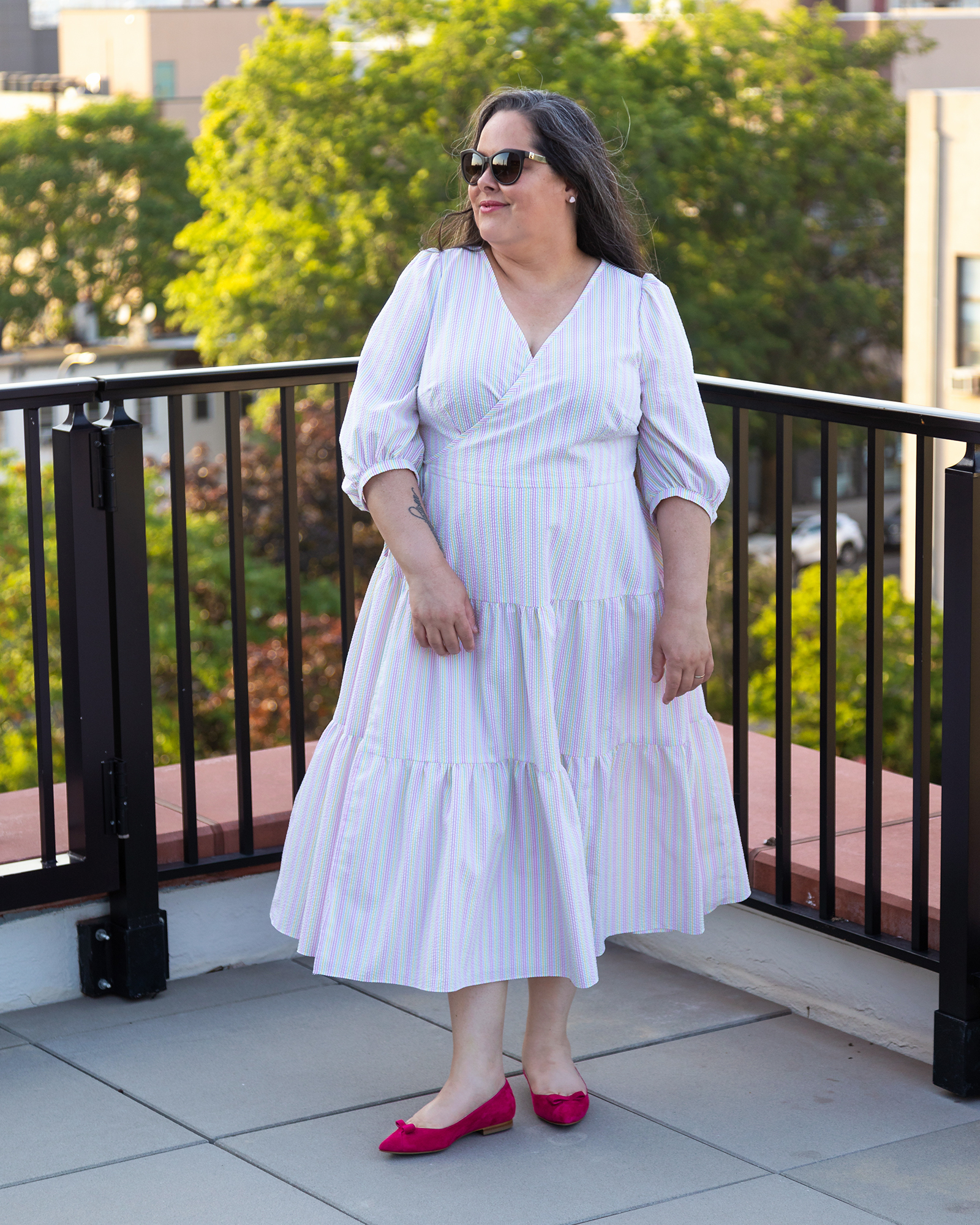 That said, I LOOOOOOVE this dress. I made it in seersucker and I love the body the fabric gives the dress without adding much weight. I do think you need a light fabric to make this because there is so much of it in the dress that a heavy, or even medium-weight, fabric might make the whole thing too heavy to wear.
Honestly, I never thought I'd find a true wrap dress that would work for me, but I was wrong. The Cashmerette Roseclair dress is definitely for me.
The shoes I'm wearing at the Sarah Flint Natalie flats in the color Pomegranate. This color isn't available anymore but I absolutely love Sarah Flint shoes. They have great arch support and are comfortable AND cute.