If you look back through my sewing posts, you'll see that I rarely make dresses. That I made two in May is a miracle.
The reason for this is mostly that when you are fitting dresses, you have to fit the lower body and the upper body, versus only one of the two when making separates.
For the same reason, I rarely buy dresses. I cannot get my upper body and lower body to fit in one size of ready-to-wear dresses. Sometimes I can't even get all of my upper body to fit in one size. What fits around the bust is usually huge everywhere else.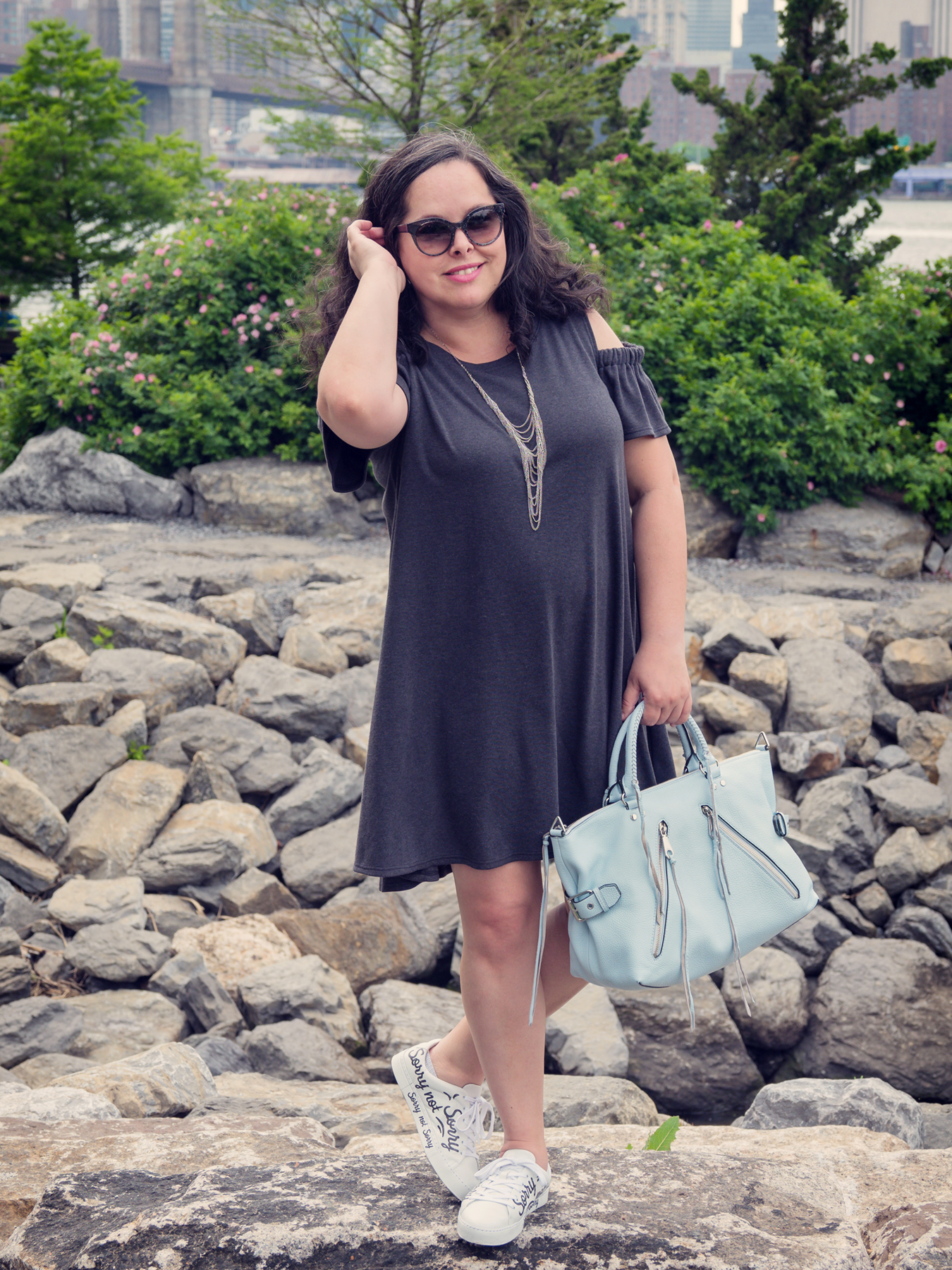 The thing is though that when I find a dress that fits well enough, I actually like the way I look in dresses. But again, making them myself is complicated and I live for the finished garments and don't cherish difficult project that takes a long time and eleventy muslins. But I really have to try harder because I do love dresses.
So, when I saw this pattern from Simplicity for a trapeze-style knit dress, I had to try it. What sold me on it was that it looked really short on the model so I knew it'd be just right for me, eliminating the need of having to do a length adjustment. Short chick problems.
The pattern is pretty simple, with the only slightly difficult part being the sleeves.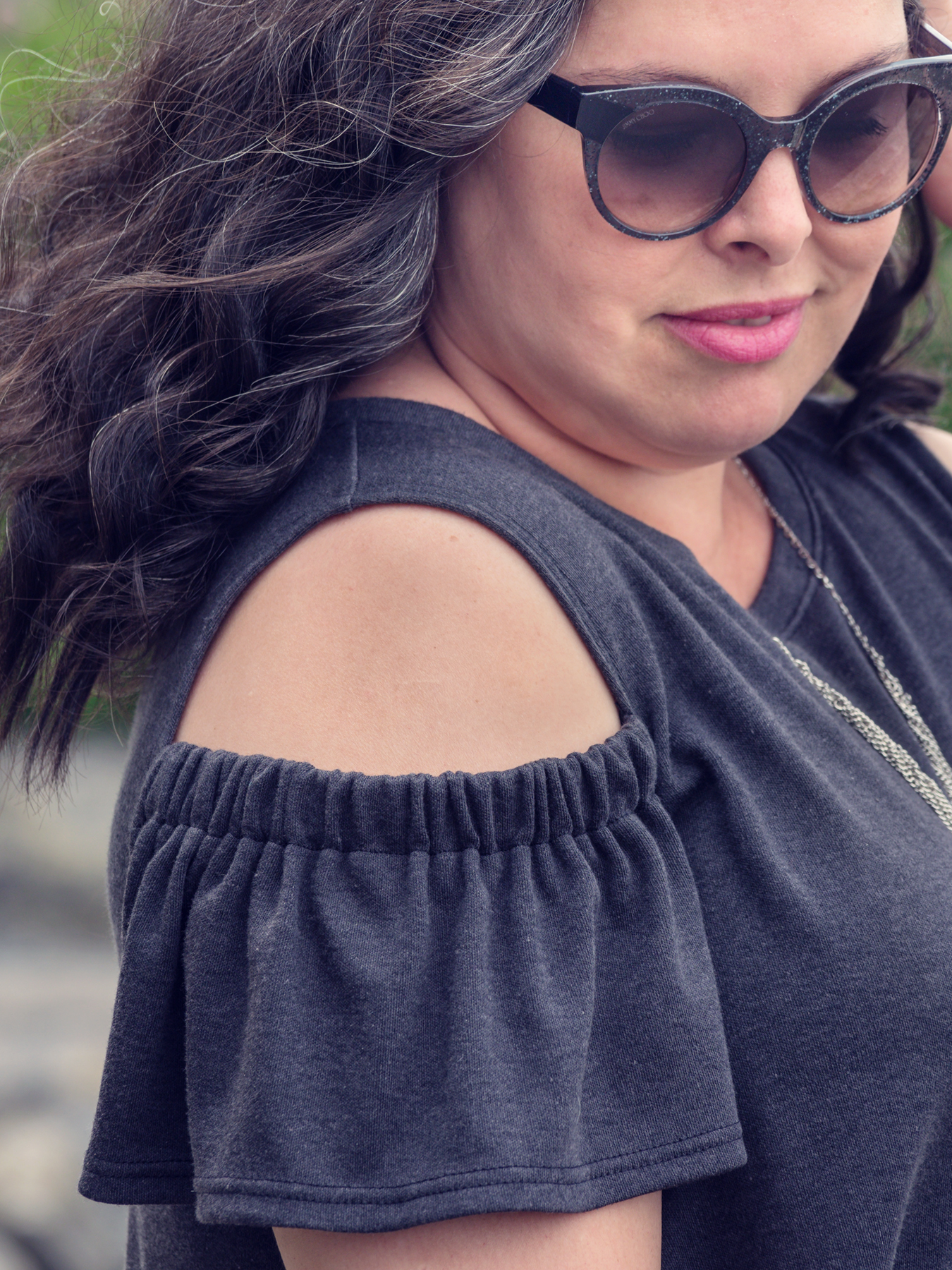 I made view B in a size 14 in gray interlock and made no fitting adjustments whatsoever. That said, if I was to make it again, I would had a couple of inches at the bottom of the center front, grading it to nothing at the side seams to accommodate for the fabric that my bust takes up so the hem is level.
That would be only for my own modesty preferences but not at all necessary. I would also use one inch less for the sleeve elastic than what the pattern calls for.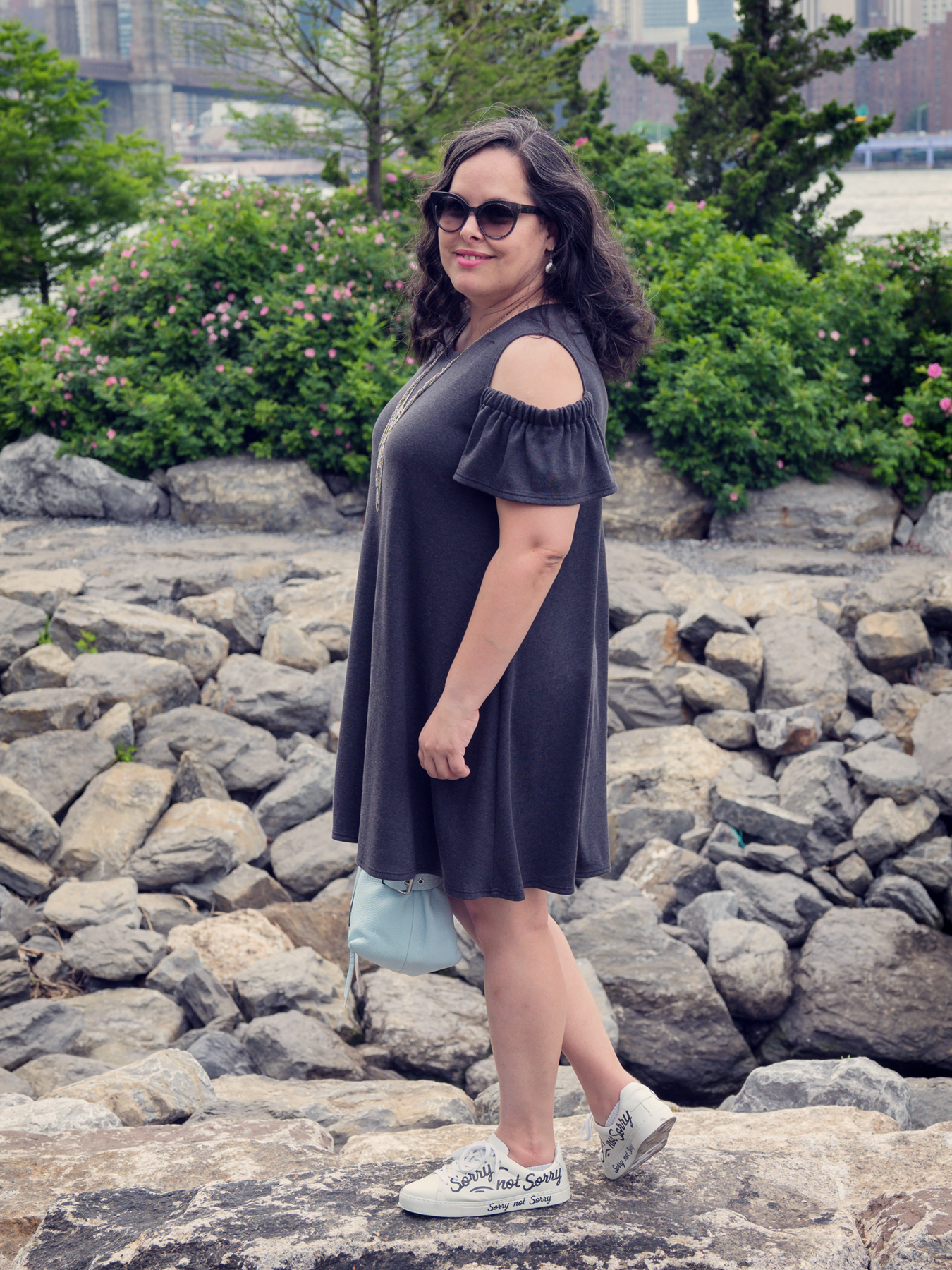 Speaking of which, notice the length. I am 5'1.5″ and this dress is short. Trapeze dresses need to be short so that you don't look like you're wearing a night gown, but if you are much taller than me, this dress will come up to mid-thigh.
Simplicity does not hide how short this dress is though, you can see it right on the model on the envelope. You've been warned plenty!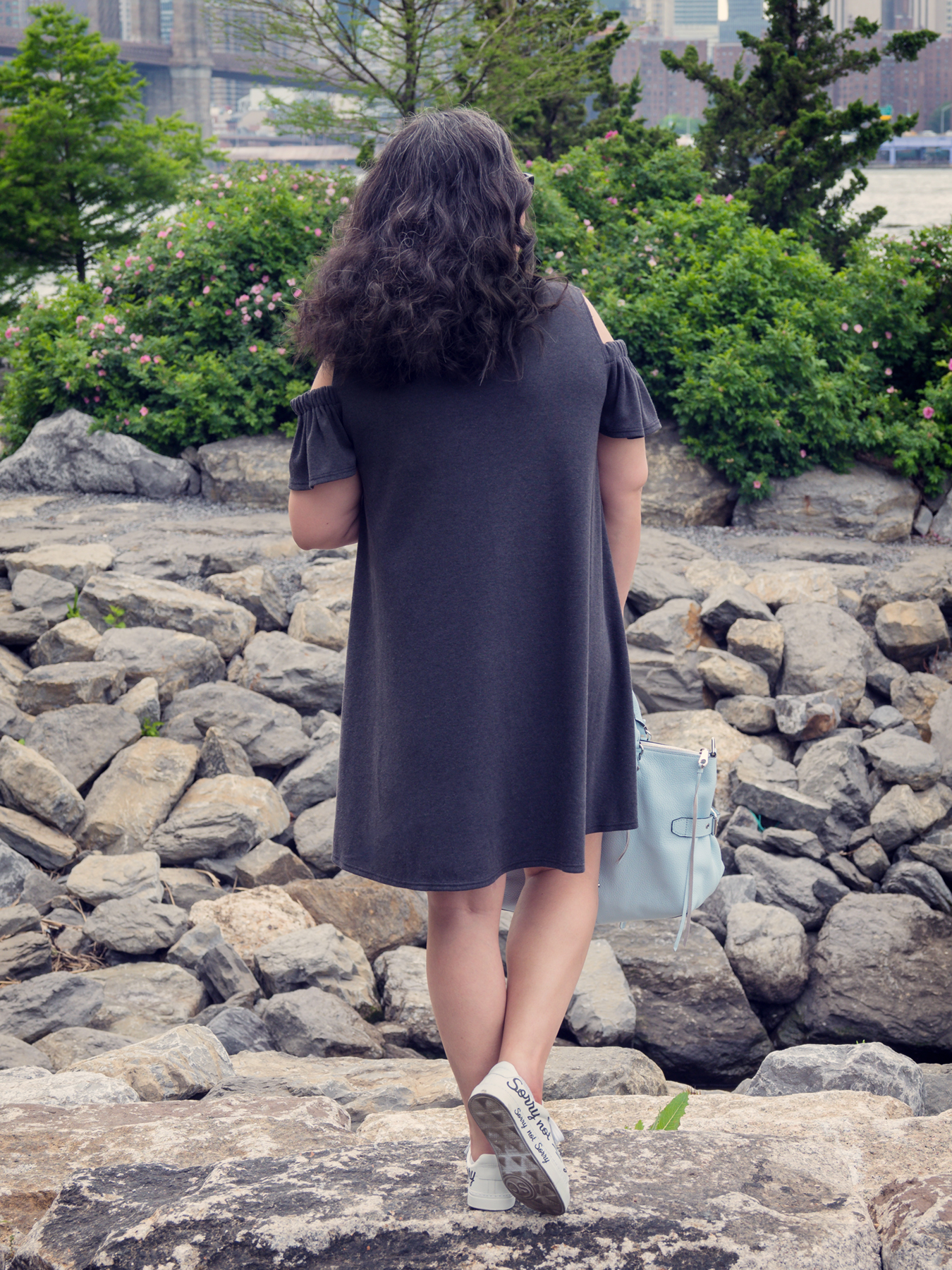 I love this dress so much! I think depending on the fabric you use, you can make it casual or fancy. Imagine making this out of a metallic knit! Party!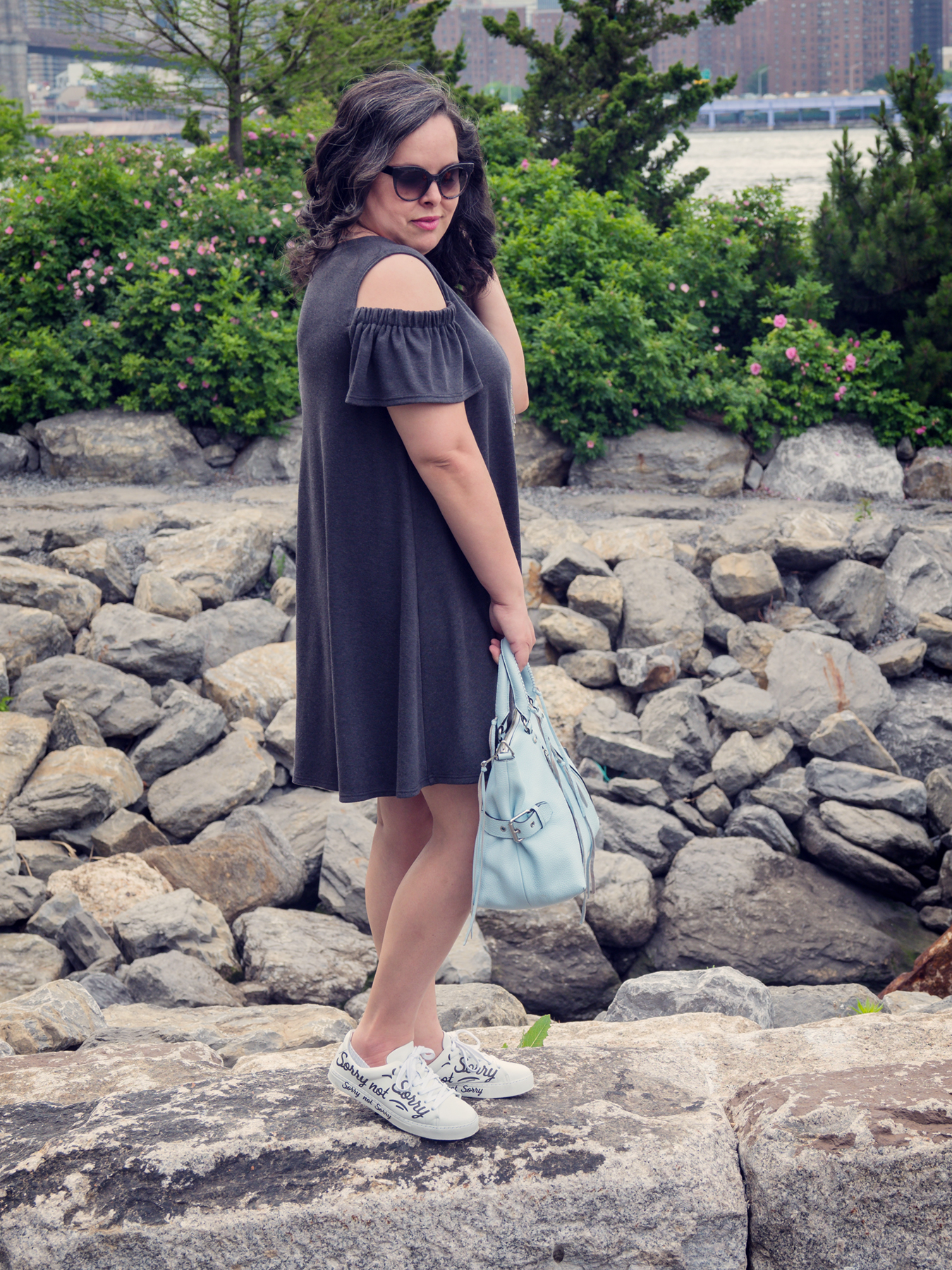 Even in the fabric I used, it's casual worn with sneakers, but it'd be dressier if I wore it with heels.
One word on the sizing, as with all Big-4 patterns (Big-1 now, really since McCall's, Vogue, and Butterick, who were already one company, bought Simplicity) there is A LOT of ease. Going by my bust size, I should have made a size 18. This is a knit though so I went for the 14 based on the finished garment measurements and I'm very glad I did.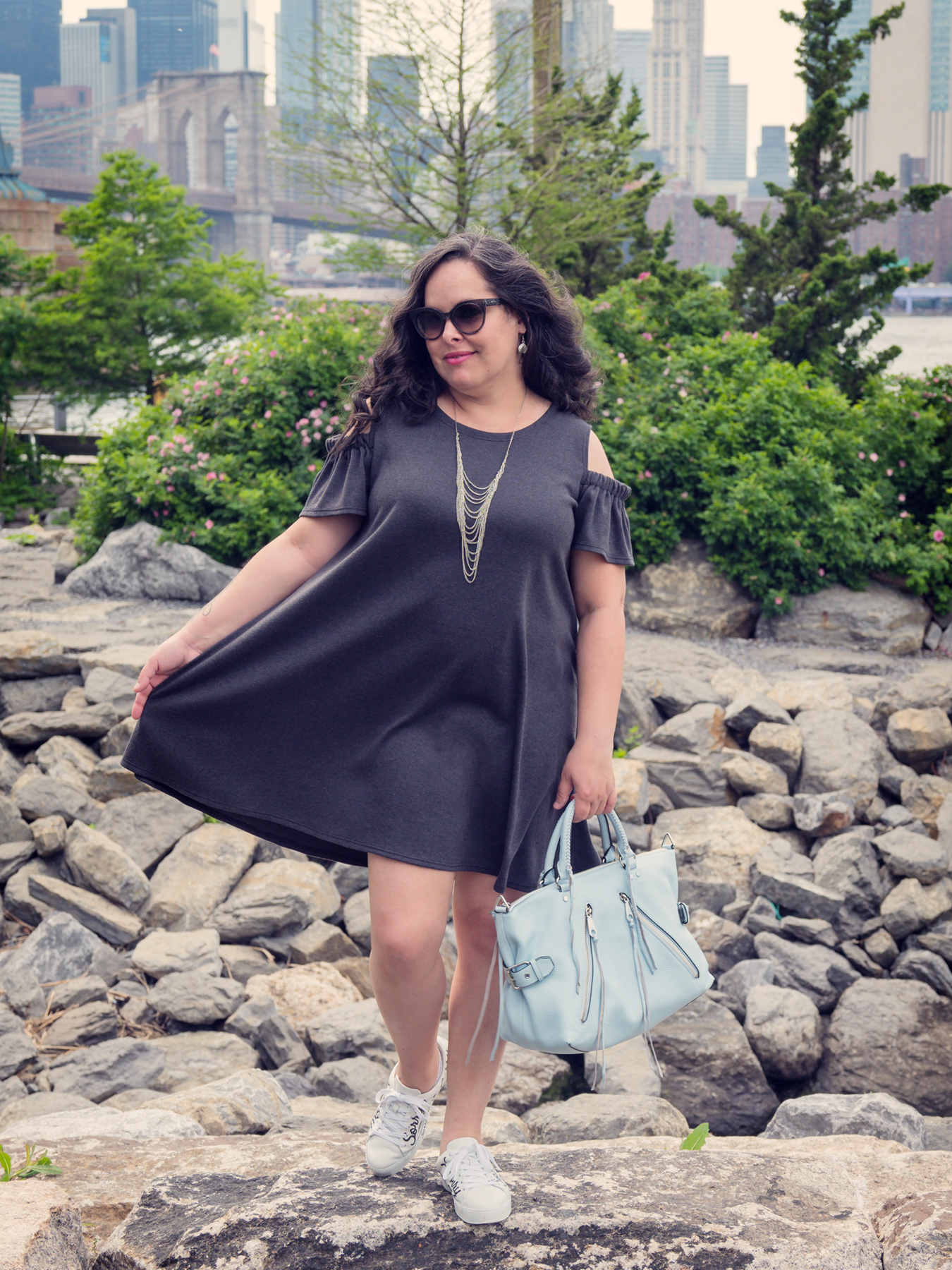 I always say that I'd like to make anther of whichever pattern I'm blogging about but I will follow through with this one, pinky swear!