While I was in Seville doing research earlier this year, I met a very nice fellow graduate student from a university pretty close to mine back in the US and we hit it off right away. She kept showing up to the archive wearing the cutest clothes, which I assumed she got in the US.
One day I finally asked her where she got the blue velvet bomber jacket she was wearing (it was January, it was cold) and she told me she got it at Maje, just a few blocks away, in Seville's shopping district.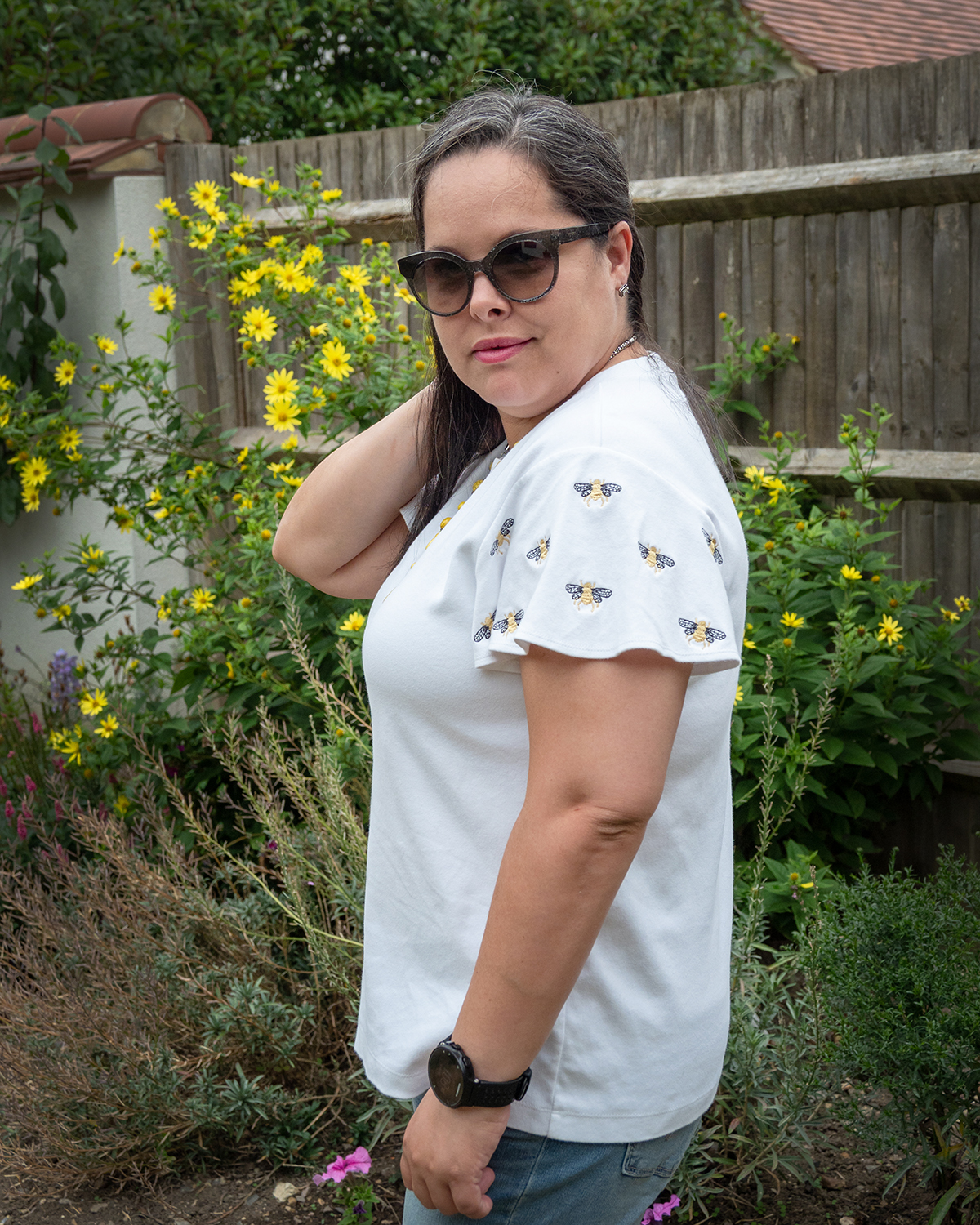 It took me a while to find the store, I misheard the name so I couldn't find it on the map. Then one day about a month and a half later I was wandering around and saw a sign for the store. It was then that I realized that I had the name wrong all along. I thought she had spelled it Moge. Duh.
I went inside and couldn't find the jacket in my size, but I looked around anyway. I found this really cute white t-shirt with fluttery sleeves with bees embroidered on them. I picked it up and nearly died when I saw the price.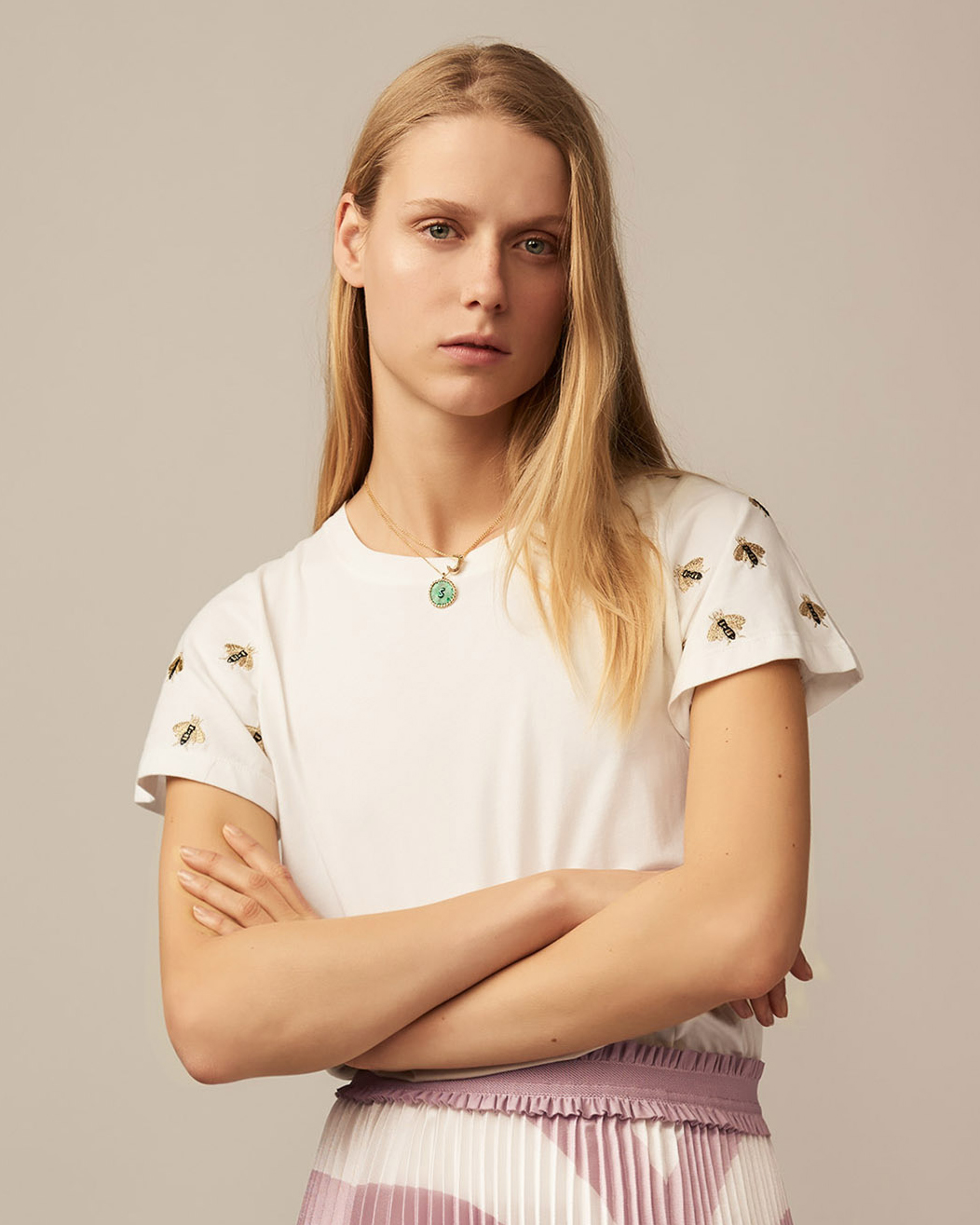 It was €95 ($125 in the US store, and £100 in the UK). I put it back quicker than you can say "bee." That much money for a t-shirt is preposterous. No way, no how.
So, I kept thinking about the damned t-shirt, and decided that I was going to make one when I got home.
Lucky for me, I have an embroidery machine.
When I got back home, that t-shirt was one of the first things I tackled. I was not prepared, however, for the labor of love that it would become.
I made careless mistakes with the embroidery, avoidable mistakes with the sizing of the shirt, etc. The t-shirt you see here is the second complete shirt, the first was a wader.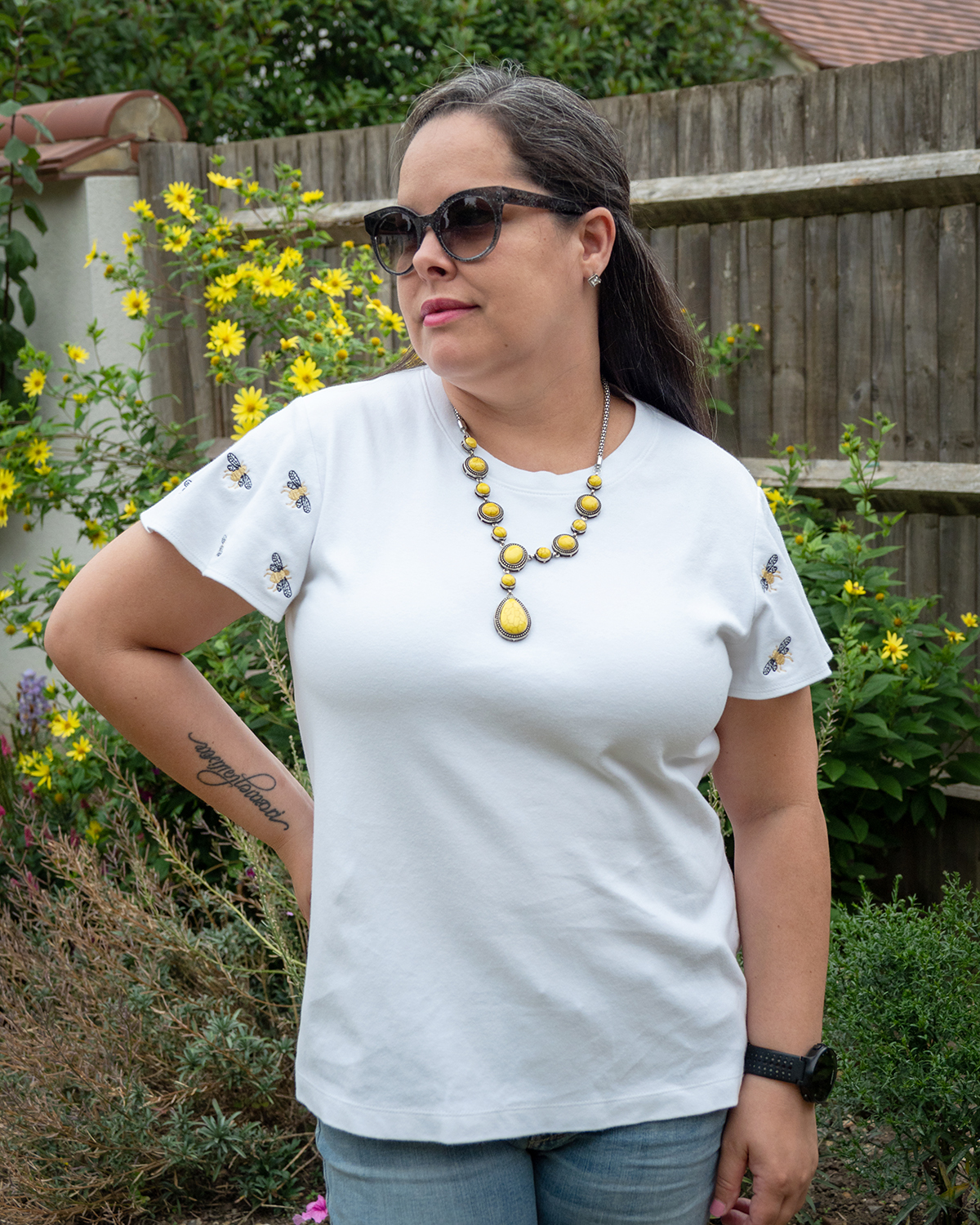 But I REALLY wanted that t-shirt, and I was NOT going to let it defeat me.
I will spare you all the details of failure and mistakes, but you can hear me talk about it in this projects video.
For this version, I used the Crew Neck t-shirt pattern from the Sew U Home Stretch. I've used this pattern before so I knew more or less how it would fit.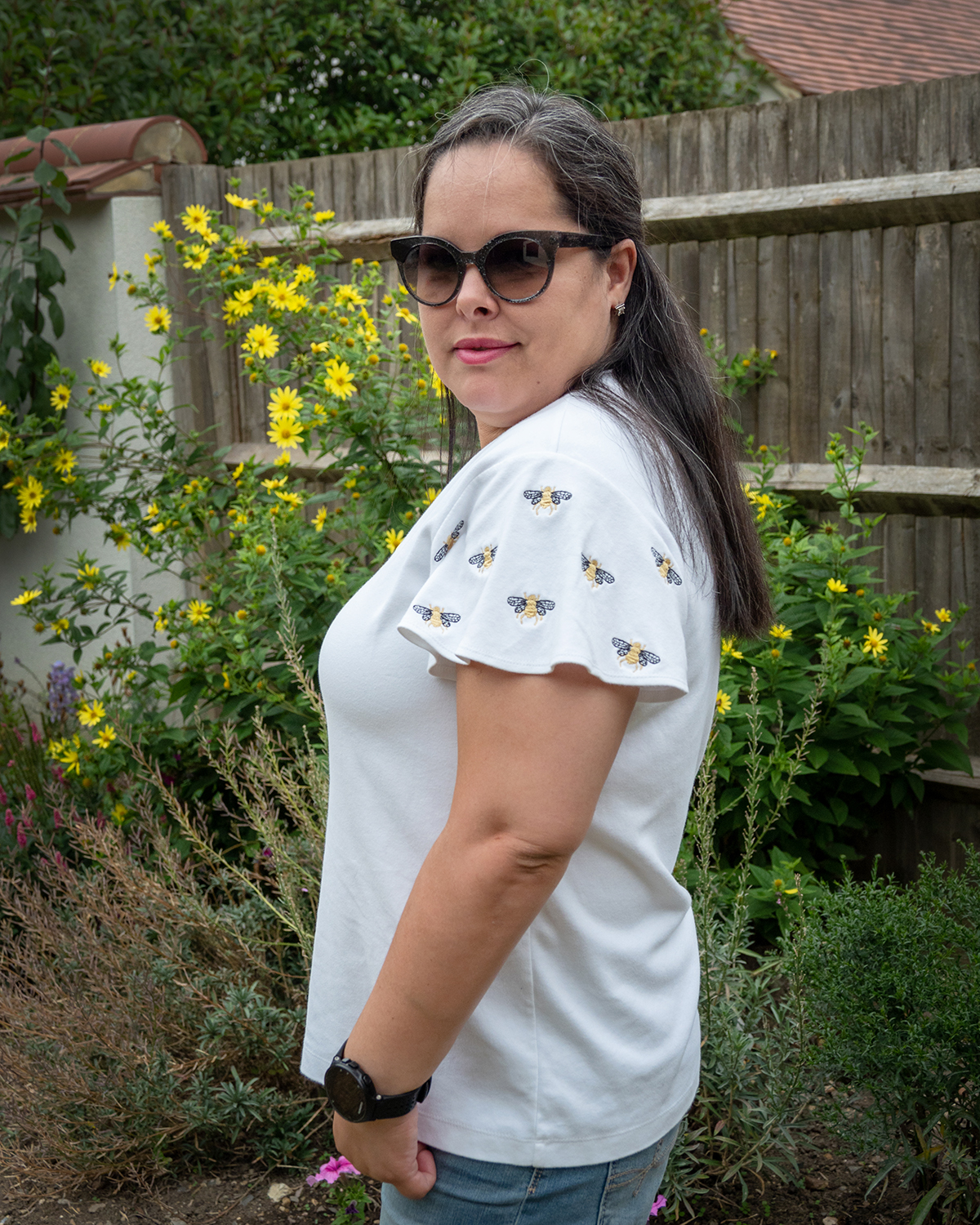 The Maje t-shirt has flutter sleeves, so I redrafted the sleeve pattern to get the look.
The bee design is from Urban Threads, and although they are not an exact copy of the Maje bees, they are close enough.
There are 10 bees on each sleeve, and that was the most time consuming part of all of this. In case you don't know, it takes a long time to hoop, embroider, rehoop, embroider, and so on 20, TWENTY, bees.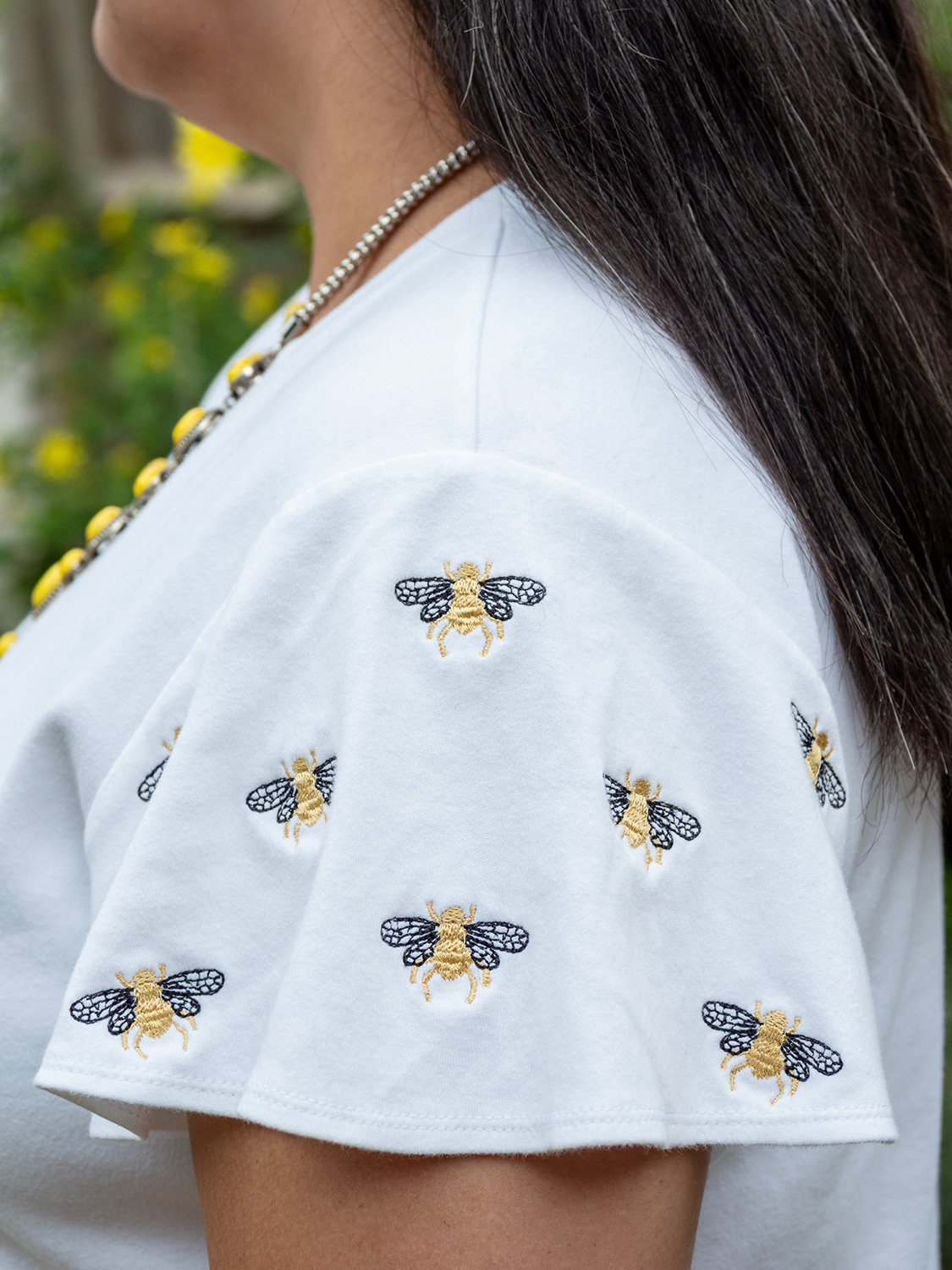 For the fabric I wanted something that was a bit beefy so that it could support the embroidery but also so that it maintained some shape with the drape. I went for a white interlock from Robert Kaufman. It was perfect.
The cost of the t-shirt came to around $25, give or take. That's $100 less than what Maje US sells it for. Not too shabby.
I'm, of course, not counting the blood, swear, and tears or the hours spent on this project. Or the first t-shirt that was re-purposed.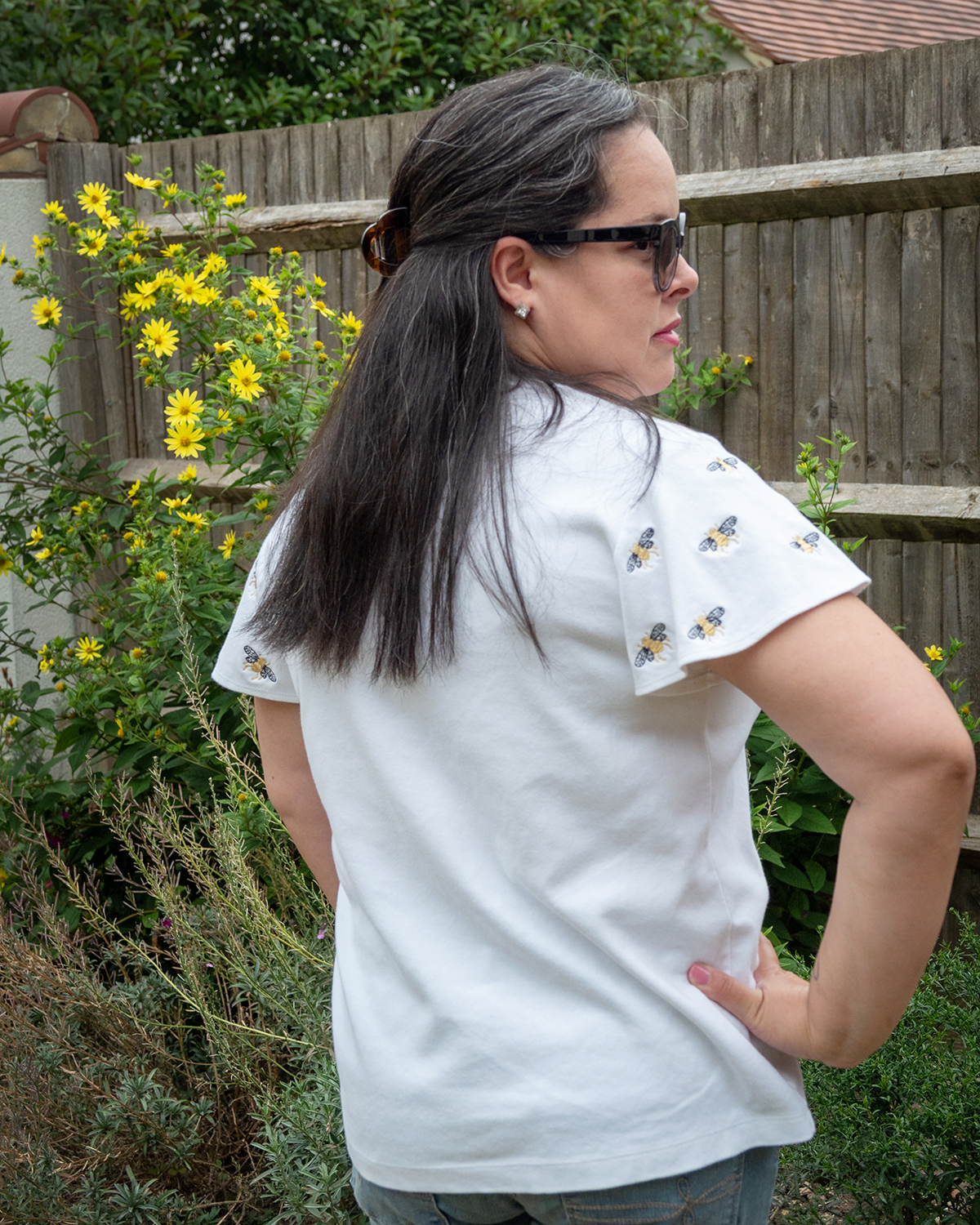 There was lots of swearing, but swearing is free.