Happy Halloween!
After a four year-hiatus from Halloween costume making I'm back it!
This year my son decided that he wanted to be Mario from Super Mario Maker for Halloween. The problem was that Super Mario Maker costumes do not exist in ready-to-purchase form.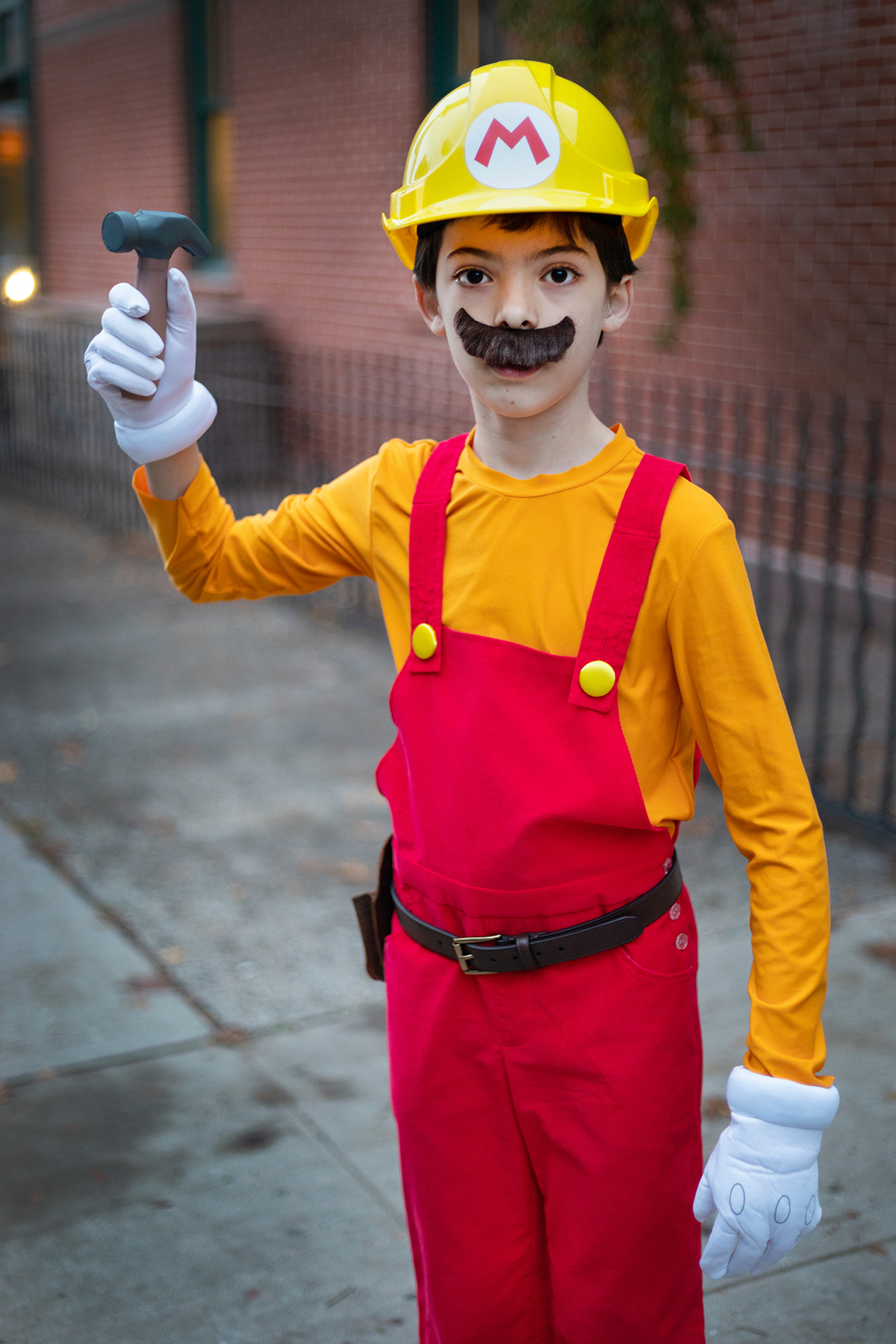 So, I started thinking about how to go about not just making the clothing but organizing the accessories, which really is what makes the costume what it is.
I knew I could make red overalls and an orange shirt, but I had to find fabric that remotely resembled the colors in the game (it's harder than you think!).
Luckily, I found a very similar double brushed poly knit from Fabric Mart, and, again, as luck would have it, I had two yards of fire engine red baby wale corduroy that I had bought the earlier this year to make something that in the end didn't work out.
Perfect.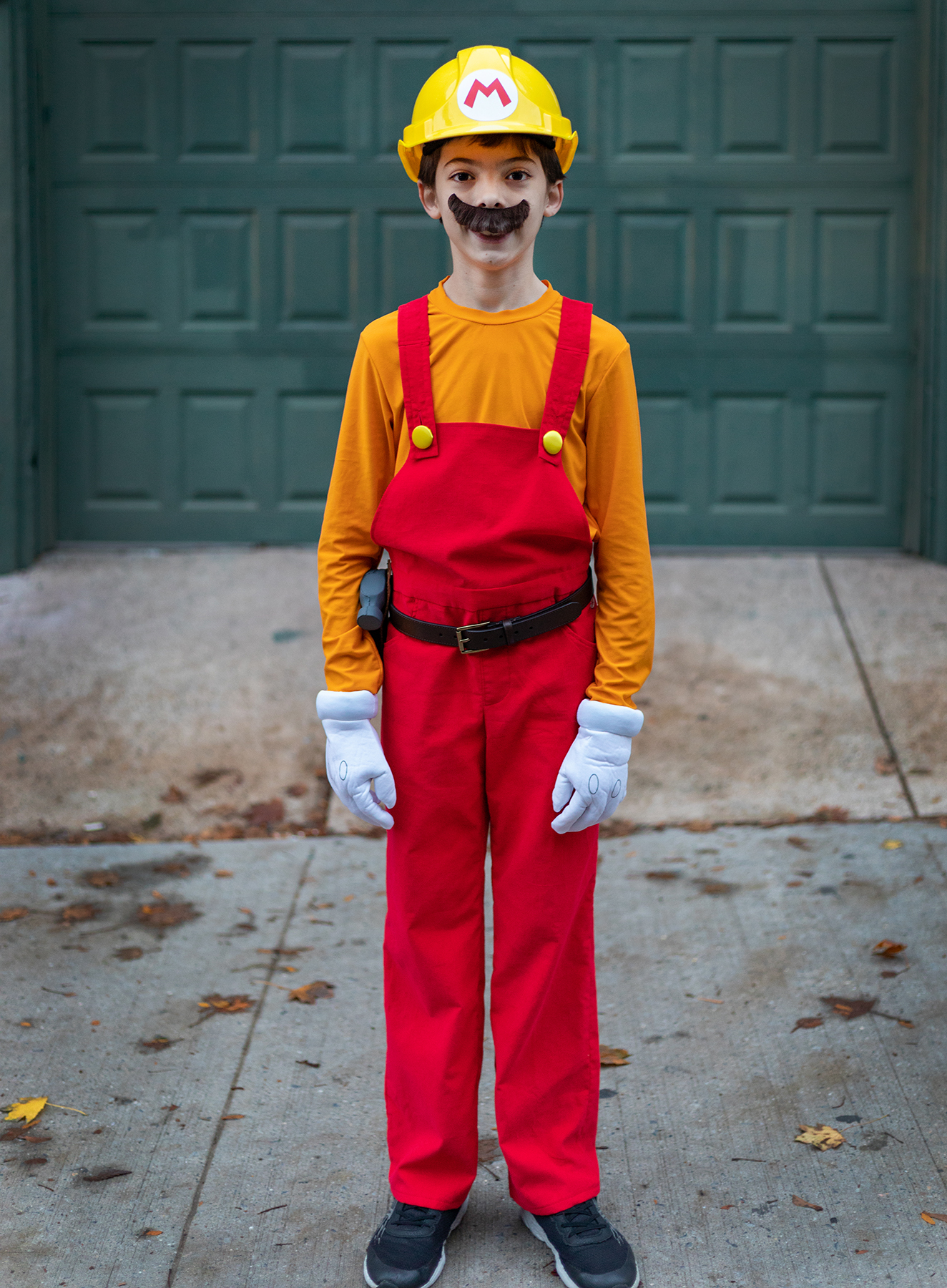 The t-shirt was easy, it's style 23 from Ottobre Design 04/2018. I knew that he wouldn't wear that shirt outside of the costume, and the fabric doesn't fray, so I opted to leave it un-hemmed at the body and the sleeves.
The overalls took a little more searching, but after looking at what seems like hundreds of kids patterns, I settled on this Burda Kids 9464. It had the right shape and silhouette.
I made the overalls in size 140/11, which fits my son great everywhere except for the shoulder straps, which were exceptionally short. REALLY, really short.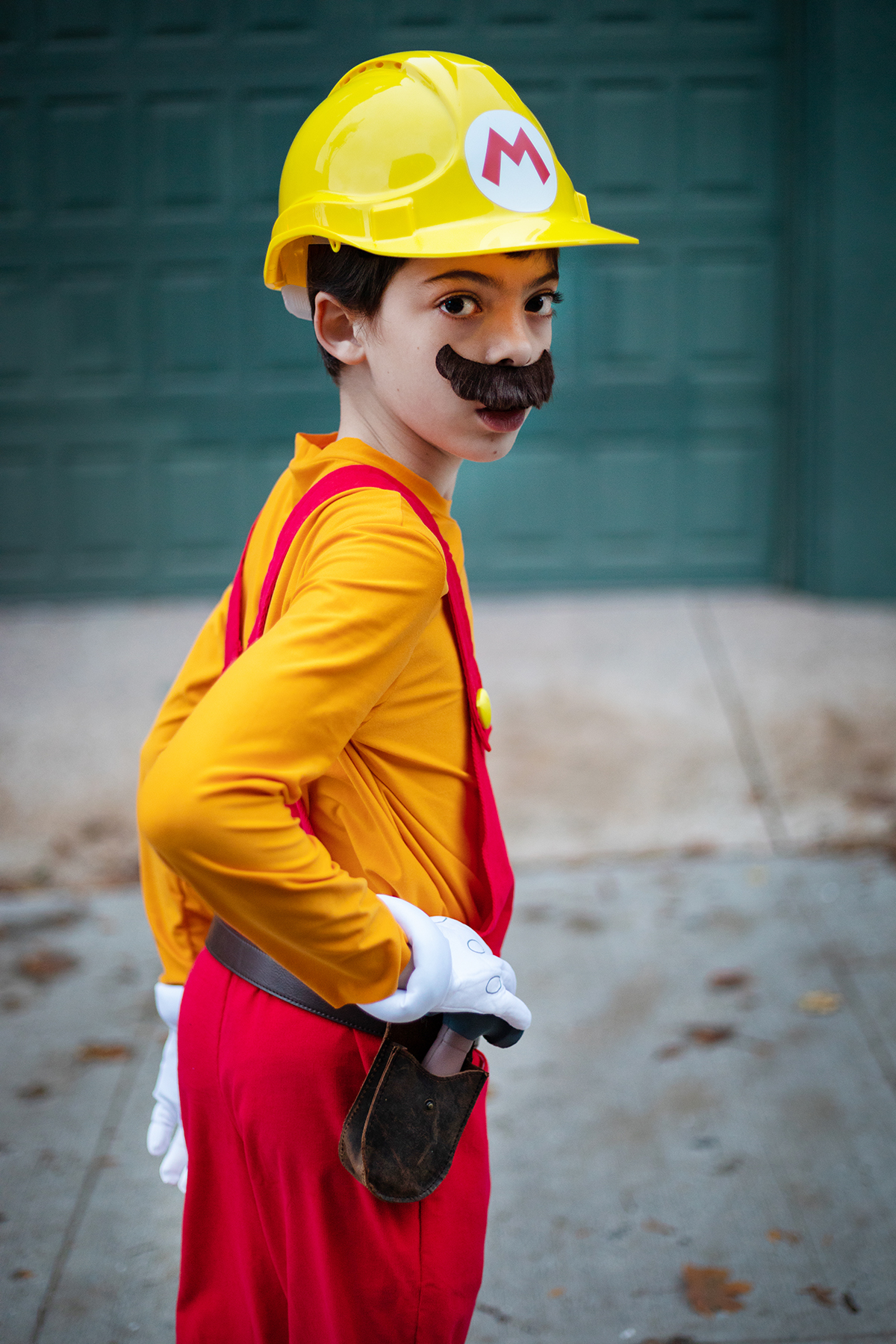 Even without folding them to accommodate the closure type that the overalls are supposed to have for actual, non-costume, wear, it did not meet the bib by a long way.
I ended up adding a 5 inch extension after sewing them just so that it would actually button. In hind sight maybe 4 inches would have been enough.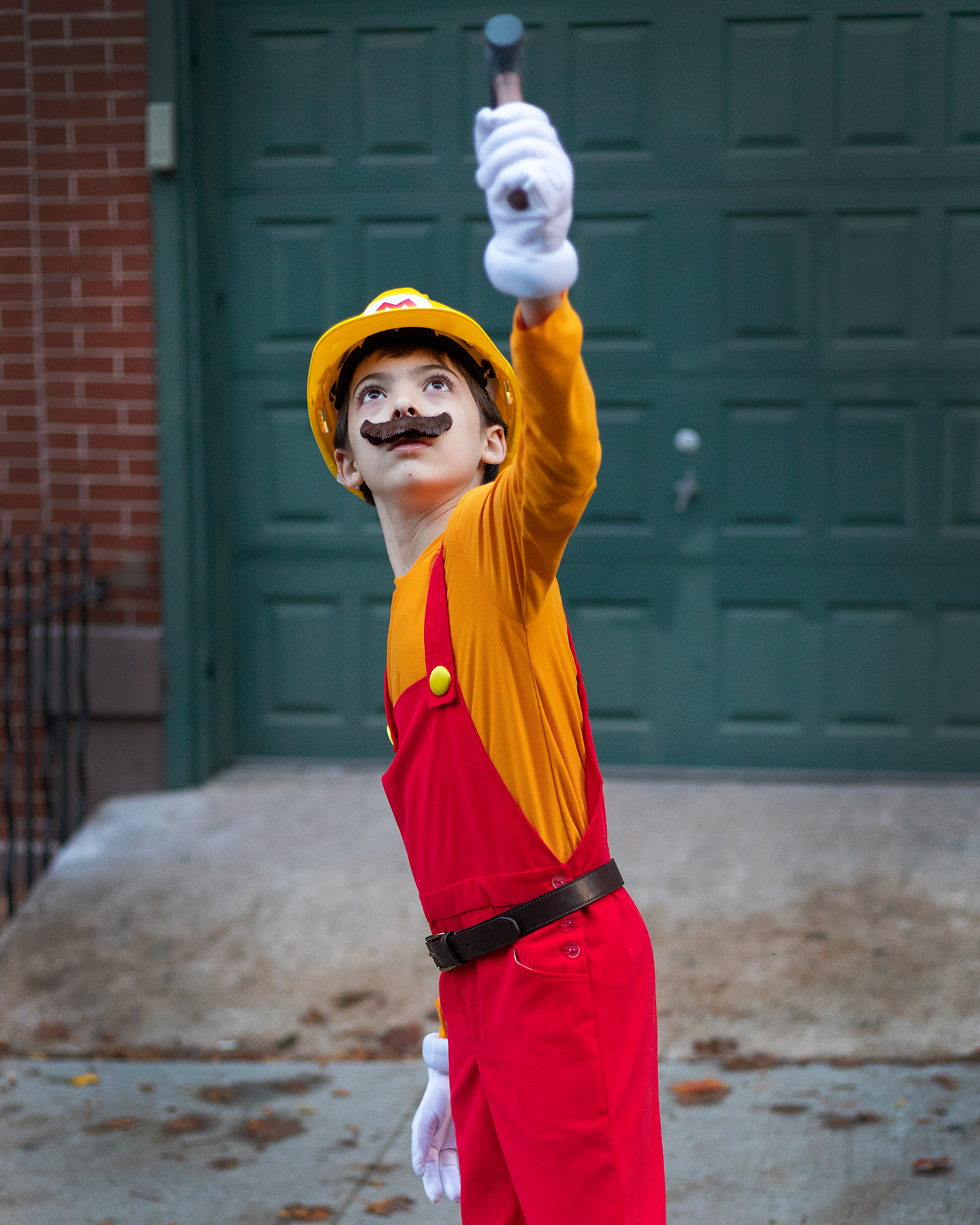 The buttons were another challenge. I walked up and down the Garment District and could not find any domed yellow buttons with a shank. In fact, I didn't see many large yellow buttons, period.
I was about to admit defeat and use some pretty orange ones when it occurred to me that I could just make covered buttons. So, I bought a 1 1/8″ covered button kit, some bright yellow ribbon, and voila, yellow domed buttons with a shank!
The accessories took a bit more imagination. My husband and I spent some time looking around the internet for real, not costume, stuff to cobble together into something resembling the accessories Super Mario Maker has in the game and official photos, and I think we did pretty well all things considered.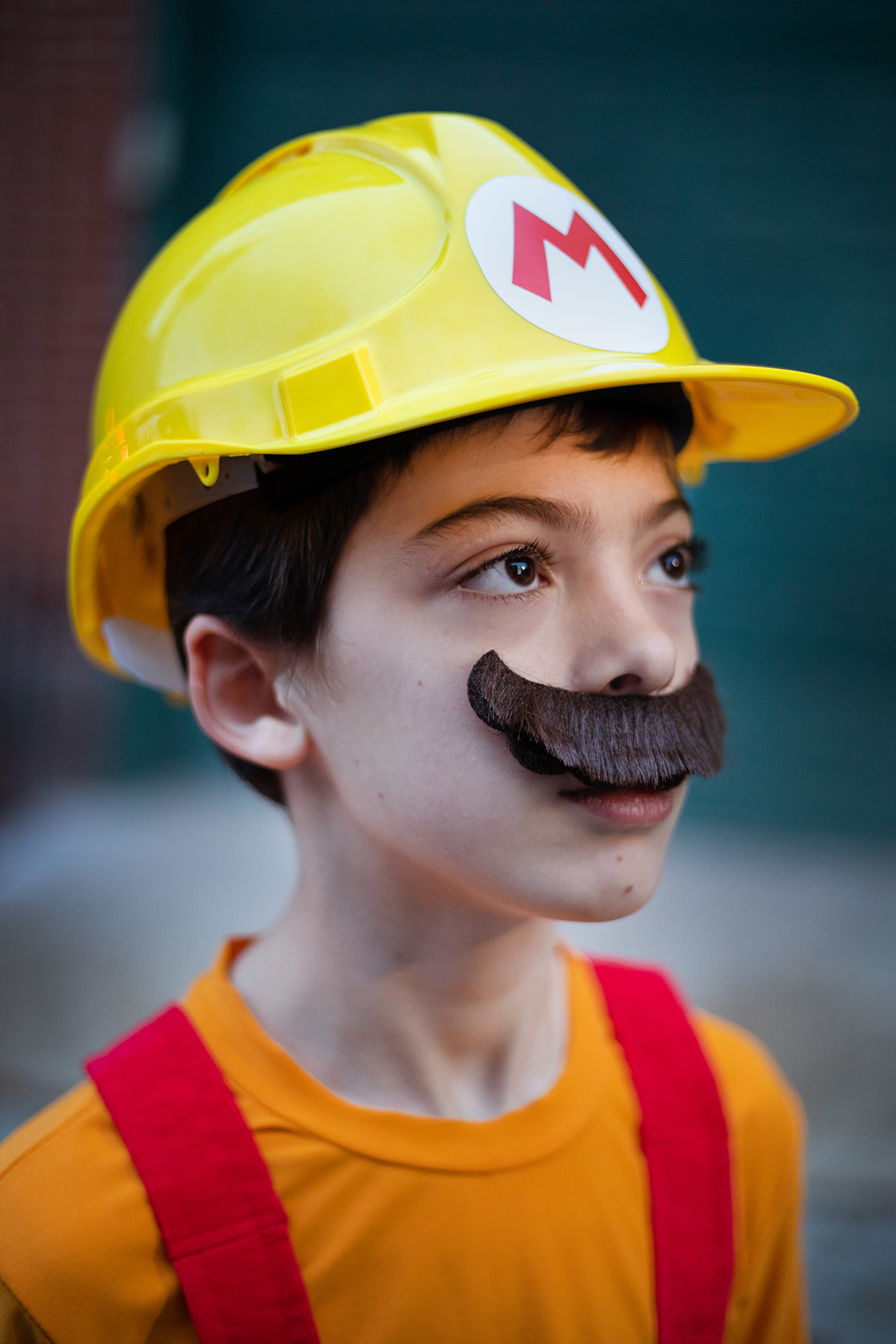 The hat is a real kids' hard hat with a Super Mario sticker on it. The belt is a real belt that he will use again, and the pouch is a small tool pouch.
The hammer is a stress toy hammer that looks pretty real, or at least more real than all the toy hammers we looked at.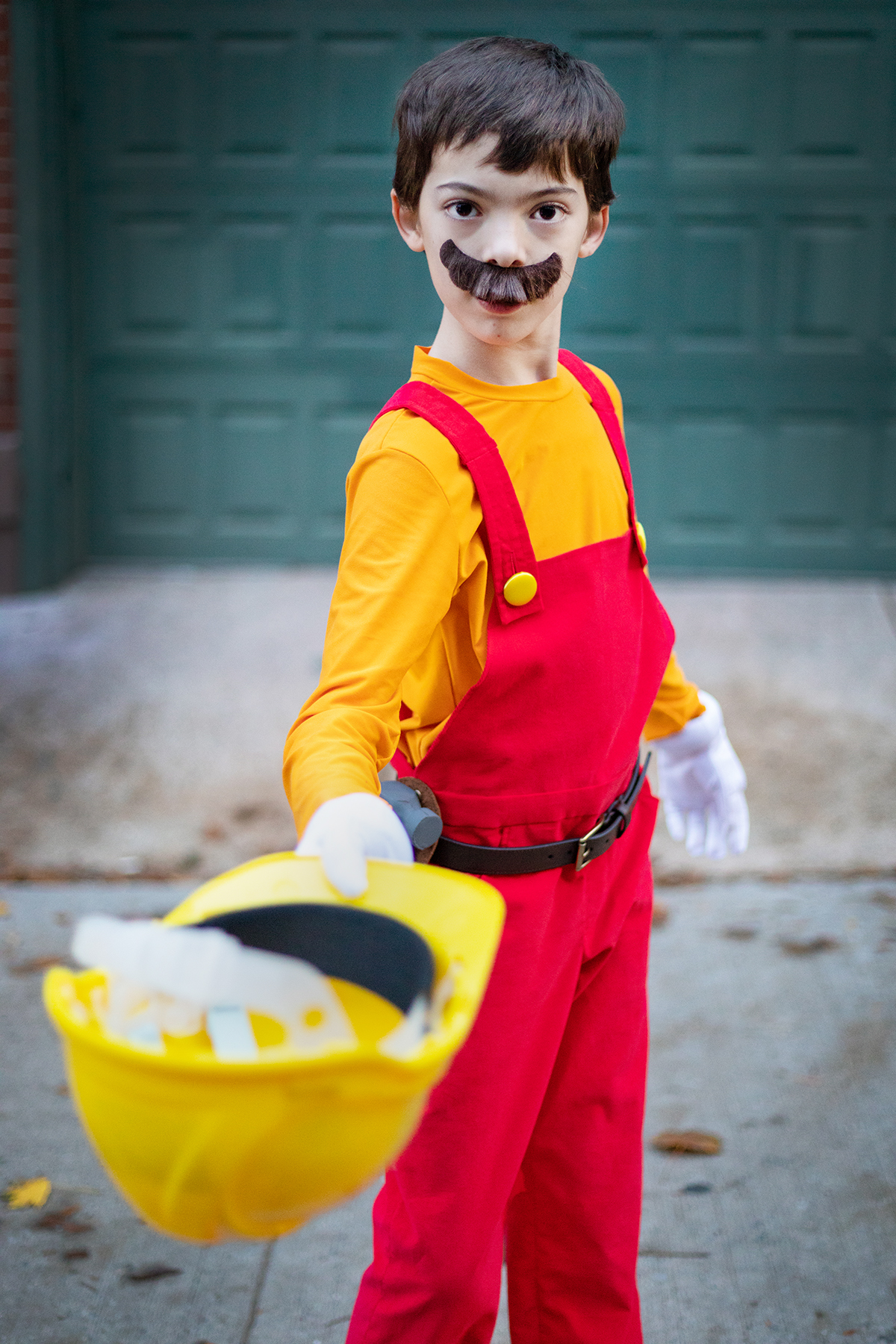 The mustache and gloves came from an actual Super Mario costume kit that included the traditional Super Mario cap but not the clothing.
So, grabbing things from here and there, the Super Mario Maker costume was complete and my son is over the moon with it.
I'm also pretty happy with how it turned out.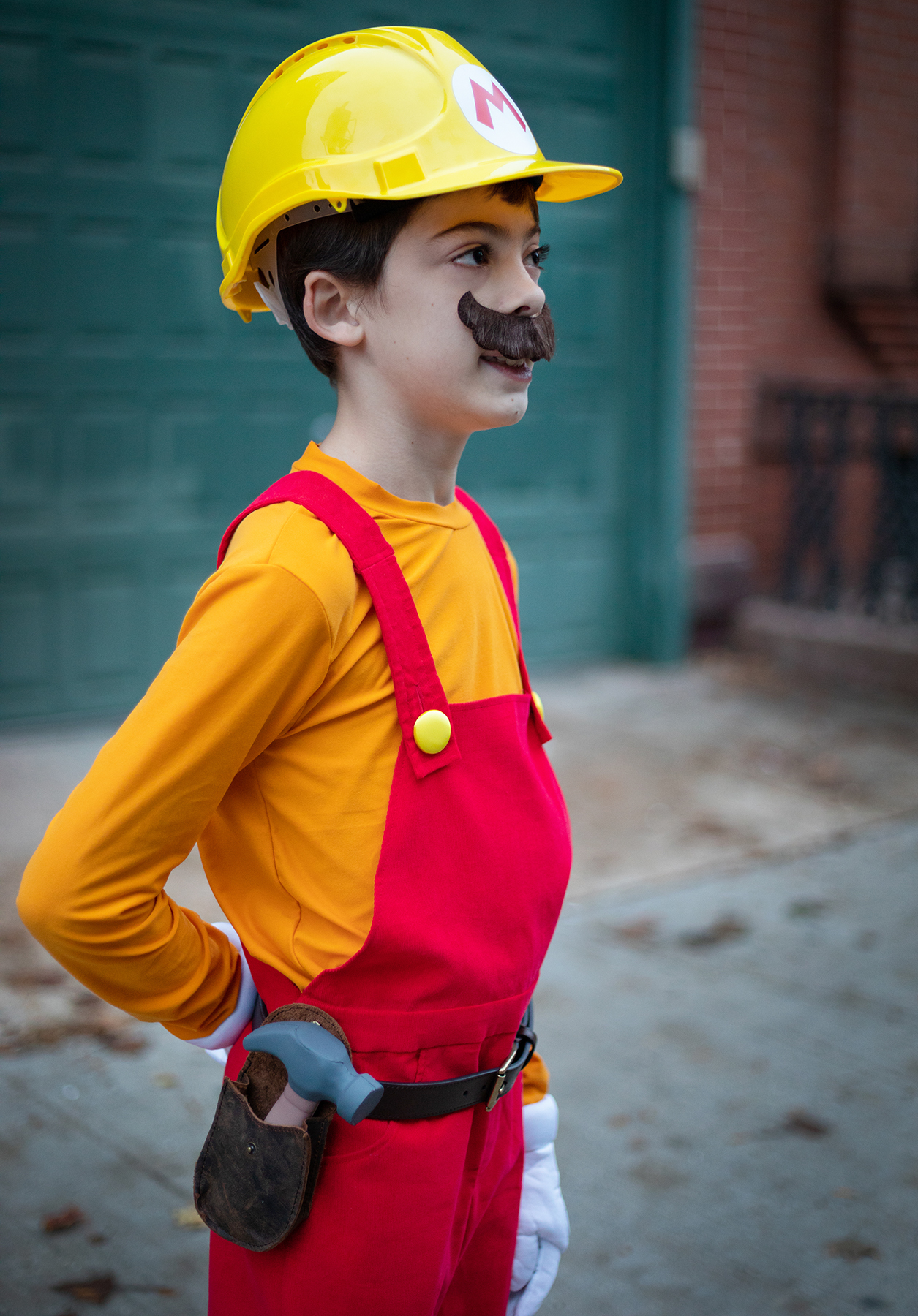 I do wonder how much longer he'll want to dress up, he's 11.
I think my Halloween costuming days may be numbered.